National Fuel Gas (NFG) has been a mostly overlooked, vertically integrated, natural gas-focused investment that covers most of the industries involved in the Marcellus shale gas boom. NFG is the local utility for gas distribution in the greater Buffalo, NY to Erie, PA geography. NFG owns pipelines to export Marcellus gas to Canada and for connections to other major interstate pipelines along with gathering pipelines and storage assets. NFG is one of the largest landowners in the Marcellus - not leasers, but actual owners of the acreage and mineral rights, and is very active in exploring and producing its substantial number of drilling sites. In addition, NFG owns 93,000 acres of timberland. So, take your pick - upstream, midstream, or downstream.
Of interest to investment historians could be that National Fuel Gas is one of the earliest gas utilities in the US. Founded in 1902, NFG engineers also discovered the principle of storing natural gas in depleted underground gas fields, along with being the first gas utility in the country to offer equal monthly billing of utility bills.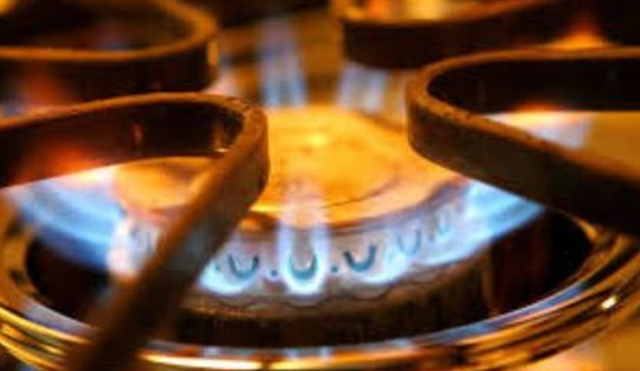 Talking about history, National Fuel Gas has paid a dividend for the past 115 years and has raised it every year for the past 47 years. In the streak of first-rate Dividend Champions, NFG is tied for 14th for the most consecutive years of dividend increases.
The company operates with 5 reporting segments: Exploration and Production, Pipeline and Storage, Gathering, Utility, and Energy Marketing, with Energy Marketing contribution a minor amount. As shown in the slide below from the May Investor's Presentation, for FY Sept. 2017, Exploration and Production adjusted earnings per share generated 45.2% of the total $3.30 or $1.50, Midstream (Gathering, Storage, and Pipelines) contributed 38.2% of the total or $1.27 and Utility generated the balance at 16.6% or $0.55. From management's recent forecast, these percentages in FY2018 will shift slightly with a decrease in E&P profits offset by an increase in Midstream profits.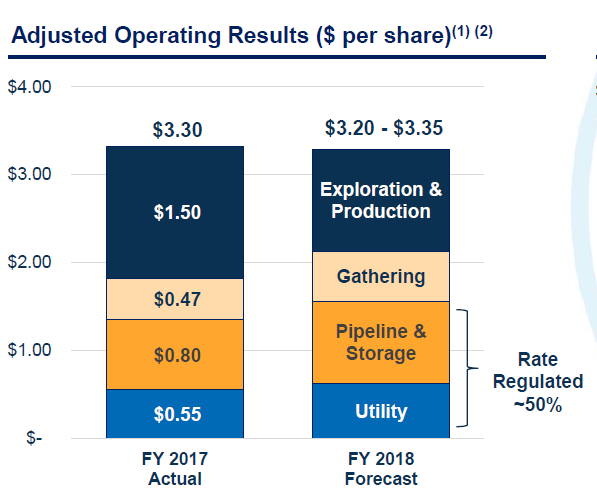 The largest segment of NFG's profits is from the E&P segment. NFG operates this segment using the name Seneca Resources and owns large swaths of the Marcellus natural gas shale acreage and selected oil reserves in California. As of Sept. 30, 2017, NFG had proved developed and undeveloped reserves of 30.207 million barrels of oil and 1.9 trillion cubic feet of natural gas. The backbone of the segment is fee ownership of 715,000 acres in the western fairway of the Marcellus and addition 70,000 acres of leased acreage. The location of these is shown below. Of interest to most investors should be the large percentage of fee land where there are no royalties paid nor production requirements to retain the mineral rights on the land. Management is currently accessing the prospects for reserves in the Utica shale of their property. From their presentation, management believes they have significant multi-zone drilling sites that are economical at ~$2.00 /Mcf, including Marcellus Shale with 635 well locations remaining on about a quarter of the total acreage and Utica Shale with 500+ well locations. 125 of the Utica prospective wells are on existing Marcellus pads. Management believes its Appalachia production can increase by 15% to 20% a year for the next 5 years.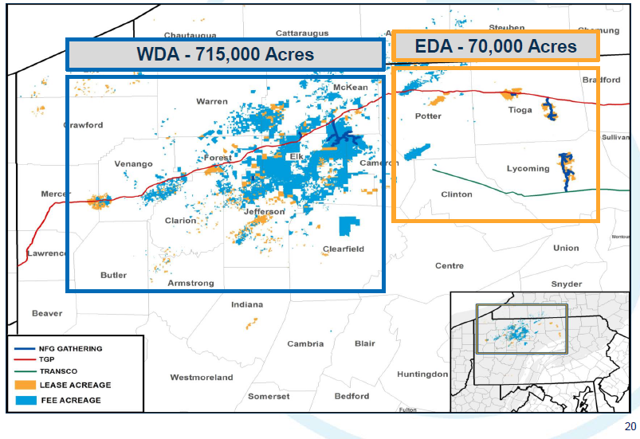 Adding to this is a secondary oil production profile in California, with about 10% of the total company-wide bcfe production in 2018. Overall, NFG has been a relatively aggressive hedger and seller of fixed-price production. For the remainder of FY2018, 67% of production is hedged or contracted at a fixed-price tapering off to 46% in FY2019, and 28%, 17%, and 13% for FY2020, FY2021, and FY2022, respectively. However, this hedging does not remove all commodity risk as demonstrated by the decline in expected realized natural gas pricing after hedging from $2.95/mcf in FY2017 to $2.50 in FY2018, for a decline of 15%. Oil pricing is expected to do a bit better with expected realized price after hedging to climb from $53 to $58 a barrel.
The next biggest segment is the combination of Gathering, Storage, and Pipelines, which represents the Midstream assets. While management separates them into different reporting groups, combined, these businesses account for 38.2% of FY2017 EPS. Gathering pipelines are historically unregulated and are sensitive to throughput volumes, which are dependent on production which is dependent on commodity pricing. Storage and Pipelines, on the other hand, are FERC-regulated. The firm owns and operates more than 2,800 miles of interstate natural gas pipelines. Below is a map of the location of NFG's midstream assets, also from their investor presentation: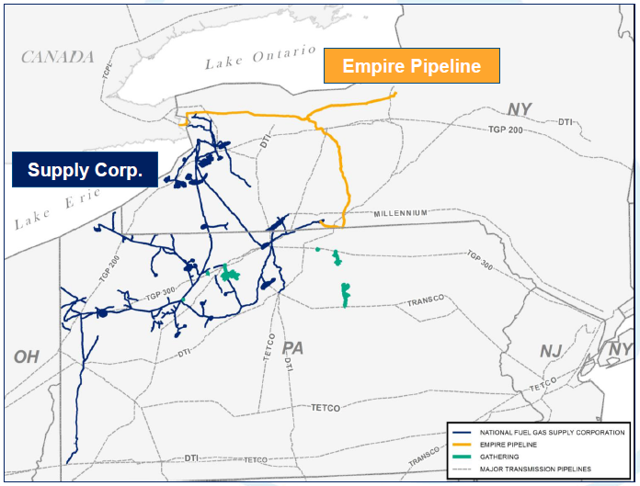 NFG is working on several expansion projects to increase natural gas takeaway flow from their acreage. The first is an expansion of their Empire Pipeline capacity by 41%. The Empire Pipeline is one of the major Marcellus field exit pipelines to the north. The FERC permit applications were filed as of Feb. 2018. In addition, NFG is expanding several of its more local pipelines to increase flow to its utility and to a new ethylene cracker facility being built by Shell Chemical Appalachia, LLC. There is also a proposal to expand and reroute an existing pipeline to service an expanding gathering pipeline footprint costing $300 million and due for completion in 2021.
The biggest pipeline project on the drawing board is the $455 million Northern Access Pipeline, which will substantially increase the northern flow of product out of the Marcellus. This major project is expected to assist in alleviating takeaway bottlenecks. However, NFG has been fighting the State of New York's Dept of Environmental Conservation DEC over site permitting for more than 5 years. Although the project has FERC approval, the DEC last year again denied construction permits over a stream, effectively terminating the second revised pipeline route. Management is appealing the latest ruling with the US Court of Appeals for the 2nd Circuit and to the FERC to either set aside the DEC ruling or to overrule it. Decisions are pending on both actions.
Northern Access pipeline is just another example of much-needed energy infrastructure being blocked by state regulators to the detriment of a wide band of citizens, both in and out of their state. Pushback against this project has been widespread from environmental groups, including Sierra Club and Riverkeeper, despite an environmental assessment ruling in July 2016 that FERC saw no negative environmental impacts of the project. FERC granted a stamp of approval for the project on Feb. 4, 2017. Nearly 70% of the proposed main pipeline is to be co-located in existing pipeline and power line rights-of-way. Of interest is Sierra Club's contention that denial was in the best interest of the US as 71% of the new capacity would be exported to Canada and exporting natural gas to Canada should be discouraged.
The Utility segment acts as a regulated natural gas LDC, or local distribution company, for 750,000 customers in western NY and northwestern PA, basically in and around Buffalo and Erie. Two-thirds of customers are within the NY regulatory jurisdiction. Like all regulated gas utilities, this segment provides very stable cash flows and predictable returns on investments. At 16% of earnings per share, the LDC is the foundation of the firm.
The New York Public Service Commission allowed ROE seems a bit light at 8.7%, based on its 2017 ruling and a 43% equity structure. According to the American Gas Association, S&P Global Market Intelligence has preliminarily calculated that ROEs in approved rate cases decided in 2017 averaged 9.72% for gas utilities. While the allowed ROE trend line for all utilities has been on the decline almost as long as interest rates have been low, the allowed ROE for NY is 10% below the national average.
Intriguingly, the PA allowed ROE is categorized as a "black box settlement". This means the allowed ROE is negotiated privately between the regulators and the regulated and the actual ROE is not made public. If an accountant was so motivated, one could reverse-engineer the ROE from the various components of NFG's SEC filings. It is sufficient to suggest the Pennsylvania Public Utility Commission used 9.8% allowed ROE for other gas utility rate considerations in 2017, according to the AGA, and NFG's allowed ROE for PA is probably around the same.
According to the presentation, the utility segment purchased approximately $275 million in natural gas and Seneca produced approximately $388 million in gas revenues during FY2017. While only 47% of gas production was sold inter-company, affiliated business comprised 60% of transportation and 46% of storage revenues. In addition, all incremental production volumes of natural gas will utilize in-house gathering assets.
Overall, 50% of earnings are regulated either as a gas distribution utility or as a pipeline and storage operator.
National Fuel Gas expansion is based on an aggressive capital expenditure program. As with most regulated firms, a growing base of regulated assets improves profit profiles over time. Of the FY2018 capex budget, one-third is tied to the regulated businesses of pipelines and utilities. The balance is in the E&P and gathering segments. Below is a table of NFG's capex budget for the previous 5 years. As shown, the decline in energy prices from FY 2015 and beyond severely restricted both capex budgets and overall company short-term profitability.

The aggressive nature of its capex doesn't go unnoticed by the credit agency guys. According to the headlines, S&P and Fitch both reviewed NFG last fall and issued a Stable Outlook with similar ratings of BBB. Below is a Moody's more in-depth review as of Feb. 2016, also with a stable outlook but a rating downgrade from Baa3 to Baa2. Keep in mind the E&P industry was in the midst of widespread credit downgrade events due to a collapse of oil and gas prices. Moody's maintains its Baa3 rating.
Moody's downgraded National Fuel Gas' senior unsecured rating to Baa3 from Baa2 with a stable outlook. This reflects weaker cash flow prospects from the E&P business segment, slower anticipated growth in midstream volumes and Moody's expectation of elevated financial leverage through 2017 as the company tries to balance its capital spending and dividends against operating cash flows. While the company's stable and significant cash flows from the regulated pipeline and natural gas distribution businesses will continue to provide strong rating support, the company will have limited flexibility to reduce leverage over the next two years in a challenging oil and natural gas price environment. Despite plans to scale back capex significantly, the company will continue to spend a substantial amount of growth capital to expand its midstream and E&P operations, and as a result, will lack free cash flow through 2018. However, the company has the ability to reduce capital spending and delay midstream projects supporting its E&P development program if industry conditions do not improve. The Baa3 rating is supported by Moody's expectation of adequate liquidity and covenant cushion as well as continued cost reductions in the E&P business.
National Fuel Gas is the second largest position of the Gabelli Utility Fund (GABUX), an income mutual fund focused on mid-cap utilities. NFG comprises 4.8% of the Fund's assets. GABUX has been a large shareholder for many years and, in 2014, instigated an unsuccessful proxy fight to split the company into regulated and unregulated businesses to assist in unlocking shareholder value. Although he has been reducing his holding slightly, Gabelli is the third largest NFG shareholder behind S&P ETFs and Vanguard Funds.
From Gabelli's first quarter fund comments:
National Fuel Gas Co. is a diversified natural gas company. NFG owns a regulated gas utility serving the region around Buffalo, New York, gas pipelines that move gas between the Midwest and Canada and from the Marcellus to the Northeast, gathering and processing systems, and an oil and gas exploration and production business.

NFG's regulated utility and pipeline businesses, as well as its California oil production business, provide stable earnings and cash flows to support the dividend, while the natural gas production business offers significant upside potential. Natural gas prices have been depressed over the past few years, but NFG's net ownership of 785,000 acres in the Marcellus Shale, holds enormous natural gas reserve potential and the company has proven to be among the lower cost producers.

We continue to expect above average long-term earnings and cash flow growth from improving gas prices, growing gas production and strategically located pipeline expansion. The company has increased its dividend for 47 consecutive years.
Based on commodity-driven influences, combined with industry-wide reserve re-evaluations and non-cash write-downs in late 2015 and early 2016, management has earned a disappointing B- for Equity Quality from CFRA Stock Reports. Fastgraph.com graphically shows the roller coaster ride of share prices since 2008. With a historic PE of 17.4, the current valuation of 15.8 PE and a current yield of 3.2% imply share prices are not overvalued.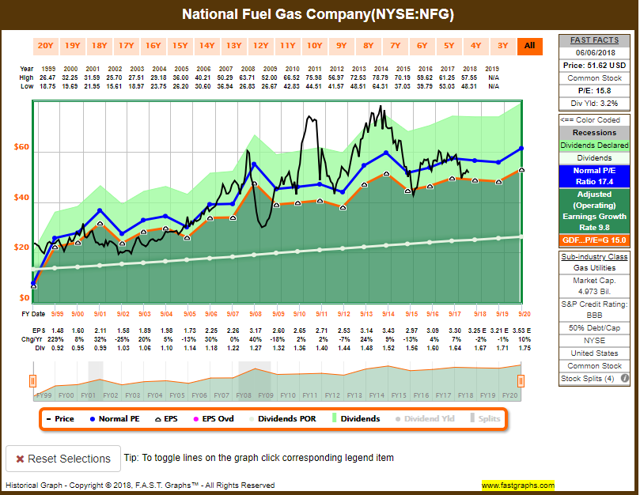 Over the previous 20 years, management has generated returns on invested capital ROIC ranging from 7.5% to 11.2%, with the most recent 9/17 of 9.0%. Consistency in ROIC generation is a critical for maintaining long-term shareholder returns.
The chart below compares NFG price over the past 5 years with a few of its component businesses industry performance. Included in the chart are returns for Hennessy Gas Utility Fund (GASFX) at +15%, S&P Oil and Gas E&P ETF (XOP) at -30% and an Energy MLP Index ETF (AMLP) at -45% vs. NFG at -15%. While it is never easy to buy into a losing investment, NFG's performance has been better than many of its peers.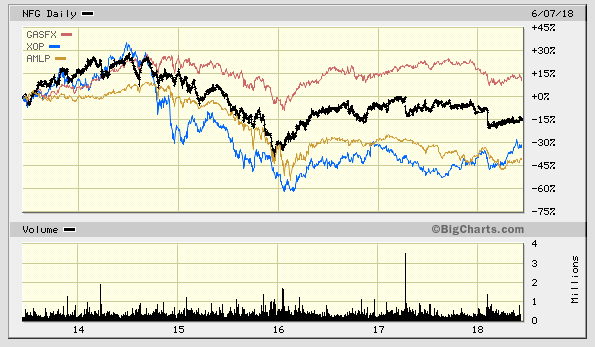 Management has been a good steward of shareholders' equity. Since 2003, NFG has only raised its share count by 1.3 million with 84.2 million shares currently outstanding. According to Morningstar, over the past 10 years, NFG has a cumulative free cash flow, or operating cash flow minus capital expenditures, of breakeven based on total capital expenditures of $7.06 billion. Helping this was $261 million free cash flow generated last year. Since 2009, total liabilities have slowly increased from $3.2 billion to $4.4 billion as of 9/17.
I have owned NFG since early 2012 and, while disappointed in its total return, believe management has done a good job navigating the issues of Marcellus gas development along with building local midstream assets. I would recommend NFG to investors seeking a balanced and diversified natural gas company focused on the Marcellus. I am looking to add to my position on share price weakness this summer, if any.
Author's Note: Please review the obligatory disclosures on my profile page.
Disclosure: I am/we are long NFG.
I wrote this article myself, and it expresses my own opinions. I am not receiving compensation for it (other than from Seeking Alpha). I have no business relationship with any company whose stock is mentioned in this article.