Overview
Millions of Americans suffer from food allergies, with peanut allergy being the most popular among those. Aimmune's (NASDAQ:AIMT) CODIT (Characterized Oral Desensitization Immunotherapy) therapy is designed to be a one-time series of treatments that raises a patient's tolerance of peanuts enough to prevent a serious adverse reaction if that patient is accidentally exposed to peanuts. While it does not allow patients to regularly consume peanuts, it provides peace of mind and assurance that they will not face a potentially life threatening anaphylaxis. As someone with a peanut allergy myself, I can attest that this insurance is incredibly valuable, both from a cost to the medical system perspective and from a stress perspective. Living with a peanut allergy can be quite stressful as you are always double and triple checking to ensure you don't eat peanuts; this can be especially challenging when you are traveling. Additionally, one accidental exposure can necessitate an expensive hospital visit which can run in the tens of thousands of dollars. This last point is particularly important as it will be the primary driver behind Aimmune's pricing strategy - i.e., it will be able to argue it should receive pricing in the same range as drugs like Sovaldi because the therapy is only a one-time series of treatments that can potentially save the healthcare system tens of thousands of dollars over time.
Aimmune's primary competitor is DBV Technologies (NASDAQ:DBVT), which had a major issue when its trial data it presented in late 2017 failed to show efficacy.
CODIT Therapy
Despite being a proper drug, Aimmune's CODIT therapy is actually conceptually quite simple. It consists of giving patients an increasing dose of peanut material over time to cause the patient's body to build up the proper antibodies to be able to process peanut material. The treatment consists of ~12 visits to the allergist twice a month for 6 months and daily at-home dosing between visits. Then, to maintain the tolerance, patients take a daily dose with food. The company expects to apply for FDA's breakthrough approval process by year-end 2018, and expects to potentially receive that approval in early 2019.
Nestle Investment
Nestle (OTCPK:NSRGY) originally invested $145mm in Aimmune in a strategic investment in November 2016. When Aimmune raised capital earlier this year, Nestle participated to maintain its 15% ownership stake and invested another $15mm. The most interesting and in my opinion underappreciated aspect of the Nestle investment is that Nestle switched its 13G filing to a 13D filing when it made the second investment in 1Q 2018. From the filing:
"The Reporting Persons from time to time review their investment in and collaboration with the Issuer. Based on such review and depending on the price and availability of the Issuer's securities and the terms of the existing agreements between the Reporting Persons and the Issuer, including the Standstill Covenants, the Reporting Persons will take such actions in the future as the Reporting Persons may deem appropriate in light of the circumstances existing from time to time. Subject to the terms of the Standstill Covenants, if the Reporting Persons believe that further investment in the Issuer is attractive, whether because of the market price of the Common Stock or otherwise, they may acquire Common Stock or other securities of the Issuer either in the open market or in privately negotiated transactions. Similarly, depending on market and other factors and subject to the terms of the Standstill Covenants, the Reporting Persons may determine to dispose of some or all of the Common Stock currently owned by the Reporting Persons or otherwise acquired by the Reporting Persons either in the open market or in privately negotiated transactions. Subject to the terms of the Standstill Covenants, the Reporting Persons may also propose or take one or more of the actions described in subsections (a) through (j) of Item 4 of Schedule 13D and may discuss such actions with the Issuer and Issuer's management and the board of directors, other stockholders of the Issuer and other interested parties." - Source
Nestle has a standstill agreement in place that forbids it from pursuing any transaction with Aimmune - this agreement expires in November 2018:
During the term of the Collaboration Agreement (which extends through November 23, 2018, unless earlier terminated or otherwise extended by the parties) and for so long as NESTEC or its affiliates hold not less than 10% of the Issuer's Common Stock, NESTEC is entitled to designate one nominee to serve as a director on the Issuer's board of directors. Upon the closing of the 2016 Equity Investment, the Issuer increased the size of its board of directors from six to seven directors to facilitate the appointment of NESTEC's nominee, Gregory Behar, to its board. Additionally, pursuant to the Standstill Agreement, so long as the Collaboration Agreement is in effect, NHS is prohibited from taking certain specified control actions towards the Issuer without the prior written consent of a majority of the Issuer's board of directors who are not affiliated with NHS.

Source: Nestle AIMT 13-D, filed 3-5-18
One reasonable question you might ask is what is a food company doing investing in a peanut allergy biotech venture? The answer I believe lies in the fact that the millions of Americans with allergies are prevented from eating certain Nestle products or their families are forced to avoid those products - Nestle likely views this investment as increasing the market size it can address with its food products.
Given the schedule 13-D filing Nestle made, I believe it is likely Nestle and others will seek to potentially acquire Aimmune as it gets close to full commercialization of its CODIT therapy. It is also worth noting that there is likely a range of other ways to leverage the peanut CODIT therapy to address other food allergies like milk, gluten, shellfish, etc.
From the company's recent investor deck: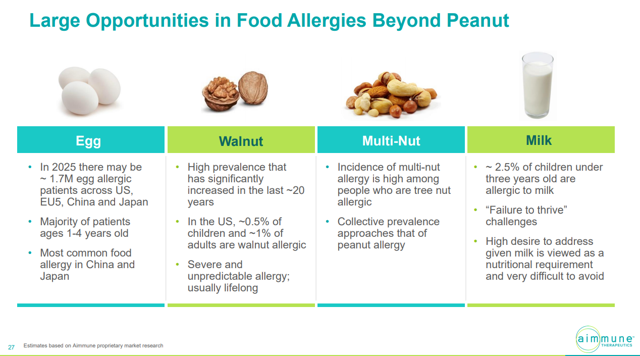 Valuation
Aimmune currently has a fully diluted market cap of ~$2bn; some rough math around potential market size and pricing suggests this is a very attractive valuation. In a September 2017 conference call, the company stated on pricing:
"And we're thinking about costs in the U.S. in dollar terms, in the $5,000, plus or minus, for the up-dosing phase. Something like that annually for the maintenance phase but those have very broad figures at the moment."
Given the company is initially focused on the under 17 age group of the peanut allergy demographic, it has pointed to a potential patient pool of 1.7mm people based on estimates for 2020 population demographics. That alone could constitute mid to high 9 figure annual revenues, or potentially even higher. There is also a lot of value in the potential extension of CODIT to other allergies.
Catalysts
FDA approval of CODIT therapy in next 12 months.
Potential acquisition of Aimmune by either large healthcare company or Nestle.
Risks
Since CODIT has already completed phase 3 testing and demonstrated efficacy, that part of the process has already been derisked. The main risk now is if DBVT is able to produce better data than it has in the past and become a competitor in the peanut allergy market - nevertheless, it is still several years behind.
Reimbursement risk - CODIT is a new and novel therapy, so Aimmune will need to convince payers it is worth thousands of dollars - I believe this is likely as CODIT would be a substantial net positive to overall healthcare spending as it would dramatically reduce emergency room visits.
Disclosure: I am/we are long AIMT.
I wrote this article myself, and it expresses my own opinions. I am not receiving compensation for it (other than from Seeking Alpha). I have no business relationship with any company whose stock is mentioned in this article.