Market Volatility Bulletin: Vol Shorts Need Buy-The-Dip To Hold To Make Roll Decay Work In Their Favor
Summary
US stocks bucked the trend for lower equity prices on Friday, with futures traders "buying" the pre-market dip.
Some US indices are printing all-time highs... will the S&P follow or churn some before making its mind?
Roll yield is where vol shorts made so much money in 2017. The VX term structure looks favorable, but they need buy-the-dip to hold for the strategy to really hold.
Market Intro

CNBC: 12:15 PM EST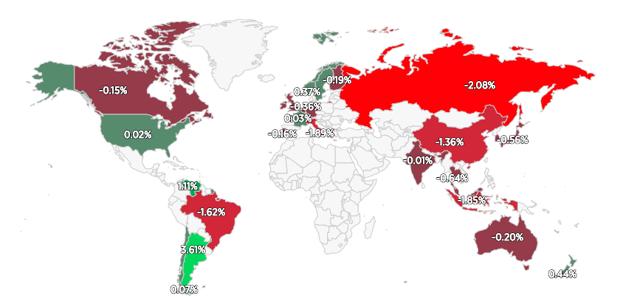 International stocks (VGK, EEM, ACWX) struggled in the Friday session, purportedly with the specter of trade concerns taking credit or blame for the slump. S&P futures (SPY) tumbled in the pre-market to a low of 2,752, and subsequently rebounded to more or less flat territory for the day.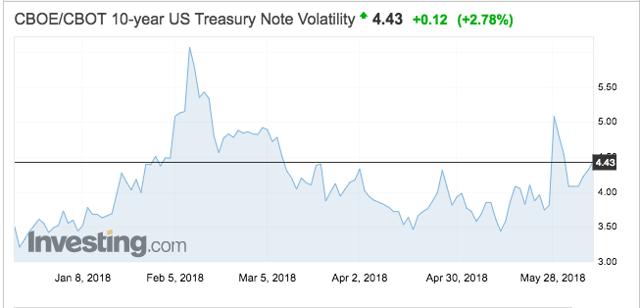 Treasury volatility is getting a lift today, even while the 10-year note yield sits unchanged. Treasury vol (IEF, TLT, AGG) is in my opinion an important ingredient to effect change in US equity vol.
Thoughts On Volatility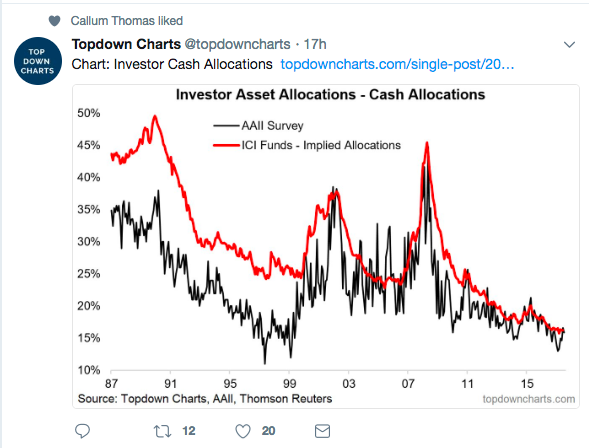 Investor allocations (black line above) are naturally down quite a bit from the 2008 to 2009 peak. Additionally, we appear to be in perhaps the bottom 15% or so of observations. On the other hand, investor cash allocations do look to have bounced off the lows put in six months or so ago. I assert that investors got a little too complacent, and when vol kicked in, they increased allocations to cash. If volatility continues to settle, we'll likely see a retest of the lows.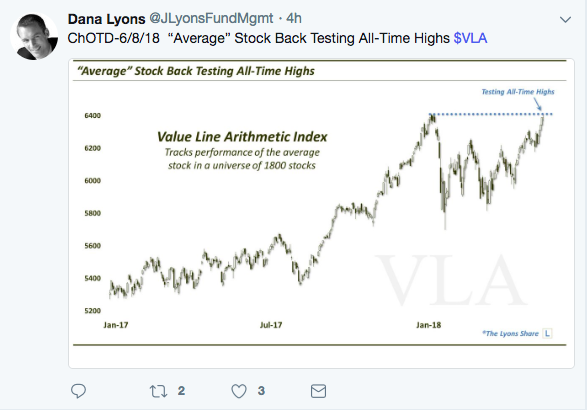 Dana Lyons takes a more technical approach to trading and investment. He looks at a large variety of indexes. After a strong dip, the Value Line Arithmetic Index is making a retest of its all-time highs. The real question to my mind is how likely the S&P is to cooperate with the NASDAQ (QQQ) and Russell 2000 (IWM), which are intent on muscling higher.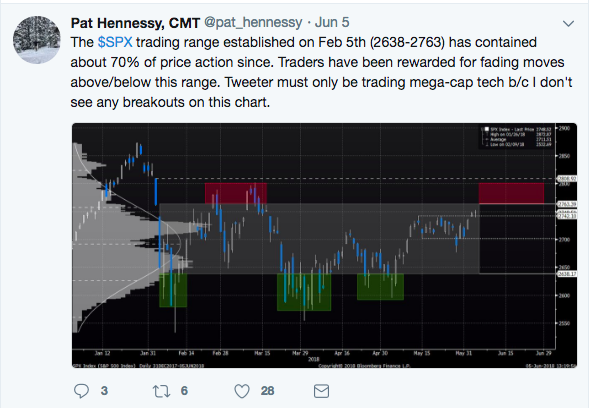 The last few days' price action for the S&P and VIX products echoes that we are currently in the zone where we should rethink calm and optimism, at least for the time being. We really did get some vertical spills right in this region, and I do think traders will be sensitive to that.
Term Structure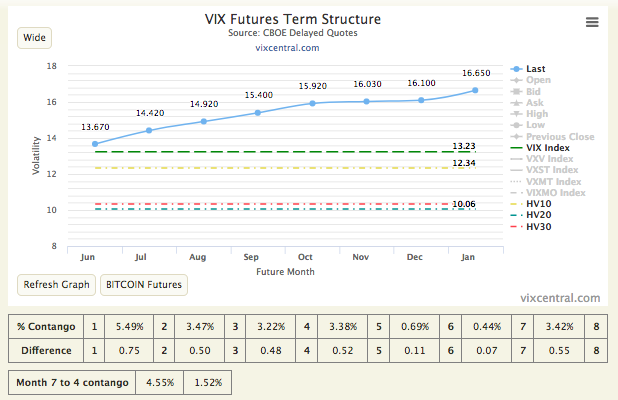 The back end of the term structure looks pretty lonely up there! Even the M3 rests almost five full vol points above the HV 30. My interpretation is that any jerks higher in spot vol, which are definitely possible and even likely over the next few weeks, are simply not all that likely to correspond to much in the way of movement at M3 or beyond. I assert that the back end really needs a giant shakeup in realized vol to get a boost, while hanging out where we are now will lure those contracts lower by a vol point or so.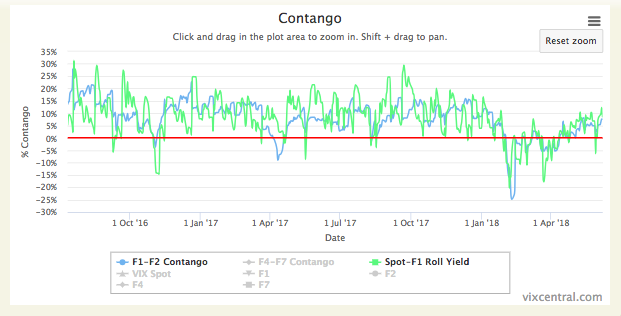 While we discuss contango and backwardation with some frequency in this bulletin, the Spot-F1 roll yield is really what drives profitability. Even prior to the vol explosion of early February, the roll yield was gradually descending beginning perhaps around the September '17 F1 expiration. Now we observe the opposite pattern, which warns against holding longs during spikes if and as they occur.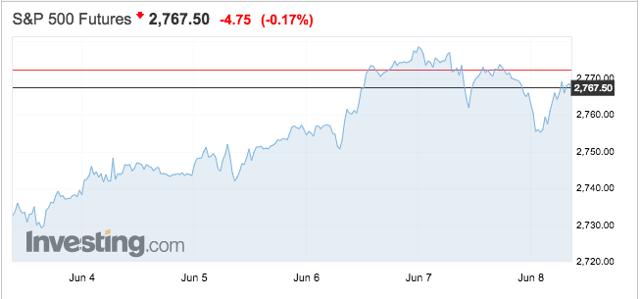 While the screw does appear to have turned lower for the time being on the S&P's advance, note that the dip did get bought on a couple occasions over the last couple sessions. The futures hitting their lows in the pre-market and bouncing (at least for the present) suggests the return of dip buying, which is an essential ingredient to success of the short-vol strategy (SVXY) over longer holding periods. To my mind, SVXY is almost a perfect instrument for expressing confidence in the buy-the-dip pattern, as that phenomenon is what sets the stage for collecting decay premium.
Conclusion
If this is your first time reading Market Volatility Bulletin, thanks for giving it a try. If you're a regular, we thank you for your ongoing contributions in the comments section.
Thank you for reading.
Please consider following us.
Disclosure: I/we have no positions in any stocks mentioned, and no plans to initiate any positions within the next 72 hours. I wrote this article myself, and it expresses my own opinions. I am not receiving compensation for it (other than from Seeking Alpha). I have no business relationship with any company whose stock is mentioned in this article.
Additional disclosure: I actively trade the futures and options markets, potentially taking multiple positions on any given day, both long and short. I also hold a more traditional portfolio of stocks and bonds that I do not "trade". I do believe the S&P 500 is priced for poor forward-looking returns over a long timeframe, and so my trading activity centers around a negative delta for hedging purposes.