Wow, what a wild week for solar stocks! The recent announcement by the NDRC to slow down solar development in China has sent solar module stocks down by 20-30%: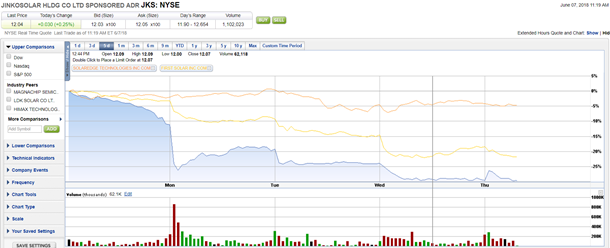 As we can see, both First Solar (FSLR), and JinkoSolar (JKS) have fallen over 20% in less than 5 trading days. The reason is clear - the large reduction in Chinese solar installations could cause a global glut of solar modules, forcing down the average selling prices - ASPs.
What is surprising is that SolarEdge Technologies (SEDG) is also down on the news. Obviously, if the ASPs decline this would hurt the margins of firms like First Solar and JinkoSolar, but with reductions in the ASPs, we would see a significant increase in solar installations worldwide, which means more of SolarEdge's products being sold, and hence higher revenues and profits.
This is why we are suggesting the paired trade - buy both SolarEdge and First Solar. My top 2 picks for the solar sector for 2017 were First Solar and SolarEdge.
The Chinese NDRC decision
Here is some information on the NDRC decision:
The NDRC said on June 1 it would add just 30 gigawatts of capacity this year, down from a record 53GW in 2017, as it tried to "optimise" the pace of construction. It would not approve new solar plants that required subsidies, and would cap smaller-scale "distributed generation" (DG) on rooftops at 10GW, half of last year's rate.

Surging solar capacity has left China's power grids creaking, unable to build sufficient transmission infrastructure. The finance ministry has also struggled to find billions of yuan in subsidies owed to new projects.
So it appears 30GW less installation than anticipated. Important to note as I described in my original bullet points - this is a short-term decision to allow the Chinese Grid to catch up to the past few years of record solar installations. So again, this is not a policy shift or change, just a needed pause to allow for the infrastructure for future growth.
Another quote from the above article:
There are people who believe the Chinese photovoltaic market has grown too quickly," they said. "In fact, photovoltaic power generation occupies just 1.7 per cent of the total."

China's National Energy Administration said on Thursday, after the letter was first publicised, that it had met solar industry representatives on Wednesday and promised to speed up the launch of a quota system forcing regions to buy more renewable power.
Again, it is clear China has not changed its long-term goal of maximizing solar penetration on its grid - both utility scale and distributed generation - DG. As many SA followers already know, China has embraced the EV revolution. China has even stated its goal to stop selling Internal Combustion Vehicles in the near future.
Google "Chinese Pollution," to get an idea about China's policy on cleaner energy sources:
More Chinese cities get black marks for pollution failures
Vehicle emissions become China's major source of air pollution
China regions vow to step up pollution crackdown after central...
This China pollution issue has become a major political issue in China. The 2 targets to curtail and eliminate - coal-fired generation, and ICE vehicles. Less coal-fired generation means China needs more solar, and obviously more EVs mean much high electric load growth, which leads to higher demand for solar.
These 2 trends only lead to much higher solar installation in china for the next decade. This decision is a short-term requirement to enable much faster long-term growth.
The Trade: Buy First Solar and SolarEdge, and sell covered calls
First Solar is basically sold out through 2020 as bookings have soared for it utility scale series 6 modules. So the short-term slowdown in Chinese installations should not affect its earnings or cash flow for the next two and a half years. After that time frame, China will again increase it solar installations once the grid is more able to handle.
Many other scenarios also exist:
Weaker players like Yingli Green Energy (YGE) being forced out of the market.
Production curtailments from the tier one Chinese firms.
Strong demand dynamics as ASPs fall well below 30 cent per watt.
Strong USA resistance to any Chinese modules entering the market below cost - dumping will not be allowed.
In my earlier article on First Solar and SolarEdge, another important factor is how both firms are fundamentally sound - great balance sheets and conservative management. My price range for First Solar has not changed - $75-100. As of this writing, The share price is approaching $52.
SolarEdge Technologies
The Company's products include SolarEdge Power Optimizer, SolarEdge Inverter, StorEdge Solutions and SolarEdge Monitoring Software. Its product roadmap consists of categories, including power optimizers, inverters, monitoring services, energy storage and smart energy management. The Company's power optimizers provide module-level maximum power point (MPP) tracking and real-time adjustments of current and voltage to the optimal working point of each individual PV module. The Company's solution consists of a direct current (DC) power optimizer, an inverter and a cloud-based monitoring platform that operates as a single integrated system.
SolarEdge sells the balance of systems - BOS hardware/software that are needed for every solar array installation. So if the ASPs fall significantly for the largest hardware component of a solar array - then more solar arrays will be installed. This is Economics 101, as prices fall, demand increases.
The Trade:
Buy 500 shares of both First Solar and SolarEdge Technologies, and sell the 2019 $55 leap calls:
| | | | | | |
| --- | --- | --- | --- | --- | --- |
| FSLR | $53.00 | 500 | $26,500 | $6.50 | $3,250 |
| SEDG | $53.00 | 500 | $26,500 | $8.00 | $4,000 |
So as of June 7th, you can buy both at around $53. Then sell the strike price $55 January 2019 calls as shown above. Total cash premiums of over 7K, with more upside to $55. This represents over a 25% rate of return.
If you wish to be more aggressive, just buy both and hold. The trade has balance since what harms First Solar will benefit SolarEdge Technologies.
Final Thoughts
We see this recent announcement by China to be a short-term necessary move to allow for much higher solar growth in the future. As for First Solar, the short term is known as their bookings are solar through 2020 - therefore we feel the market has overreacted - creating a special situation value play.
In the short term, we see global ASPs for modules falling significantly, creating a windfall for firms such as SolarEdge Technologies as these lower total cost of solar ownership drive demand much higher.
Disclosure: I am/we are long FSLR, SEDG.
I wrote this article myself, and it expresses my own opinions. I am not receiving compensation for it (other than from Seeking Alpha). I have no business relationship with any company whose stock is mentioned in this article.