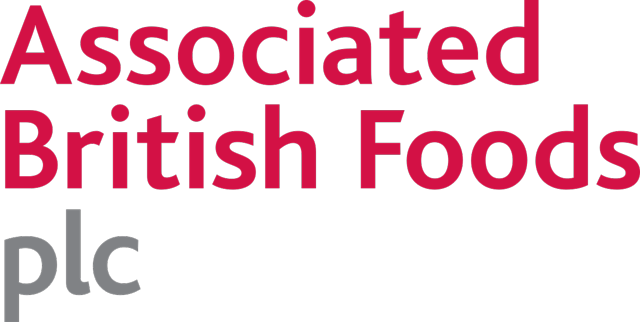 Associated British Foods (OTCPK:ASBFF) (OTCPK:ASBFY) is a British food and retail company with its business divided into 5 segments: Retail business (Primark), Grocery, Sugar, Agriculture, and Ingredients. The company has been operating since 1935, and, through the years, the company has shown that it can adapt and grow. In looking long term, I believe the company will continue to grow, and this presents a good buying opportunity.
Diversified Geographically and by Industry
Below shows how the sales and profits are earned between businesses:

(Source: AB Foods Financials)
In looking at the sales and profit by business (above), the retail business makes up almost 50% of the AB Food's revenue with the remaining food business making up the balance.
By geography, below are the sales and profit figures:

(Source: AB Foods Financials)
Based on the above, 75% of the sales and profits come from UK, Europe, and Africa for 2017. This figure was much bigger a couple years ago, but, in recent years, Americas and Asia Pacific have been steadily gaining ground.
Being diversified by industry and geography gives AB Foods a natural advantage that most companies do not have. This helps offset some of the risk in any one business and in any one region.
The sugar business in 2015 to 2016 is an excellent example, while sugar prices collapsed in this period, the increase in sales from the other four businesses helped offset the drop in sugar sales.
Retail Business (Primark) is in Growth Mode
Primark's profit numbers tell an interesting story. In the last four years, it has been averaging 8.0% to a high of 18.6%:

(Source: AB Foods Financials)
There is a long list of companies out there struggling to adapt to consumer tastes. Primark appears to be one of the few exceptions out there. Although Primark is still trying to figure out the US market, there are still plans to open more stores there.
In my recent trip to Lisbon, I was at a mall on a Tuesday evening, and the mall was largely empty. But the one store that was packed with people was Primark. Shoppers there was not just buying one or two items but stockpiling on everything in their shopping baskets. This shows the immense appeal of Primark's brand.
Primark's retail success isn't a surprise. Its business model banks on offering lower prices than the competition on its fashion items. Given how the economy is still uncertain and consumers are looking for ways to save money, Primark is in the perfect niche right now.
Strong Piotroski F Score
AB Foods has a consistently strong Piotroski score. 2017 shows the company earning a score of 9, which means the company has a very strong financial position: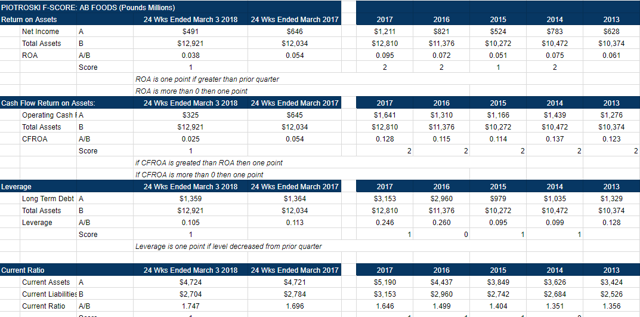 In looking at the 24-week period ending March 3, 2018, the Piotroski score was a 5, and this is due to a drop in its gross profits from the prior year. This isn't too much of a concern as its balance sheet ratios continue to be positive.
Conclusion: Buy
I understand that, recently, Goldman Sachs had downgraded AB Foods because of exchange rate fluctuations and its weak sugar business. But I think this could be a bit shortsighted. Exchange rate risk aside, fundamentally, the balance sheet remains strong, and the company is not highly leveraged. Primark's foray internationally should help grow its bottom line.
I rate AB Foods a buy.
Disclosure: I/we have no positions in any stocks mentioned, and no plans to initiate any positions within the next 72 hours.
I wrote this article myself, and it expresses my own opinions. I am not receiving compensation for it (other than from Seeking Alpha). I have no business relationship with any company whose stock is mentioned in this article.
Editor's Note: This article discusses one or more securities that do not trade on a major U.S. exchange. Please be aware of the risks associated with these stocks.