Real Estate Weekly Review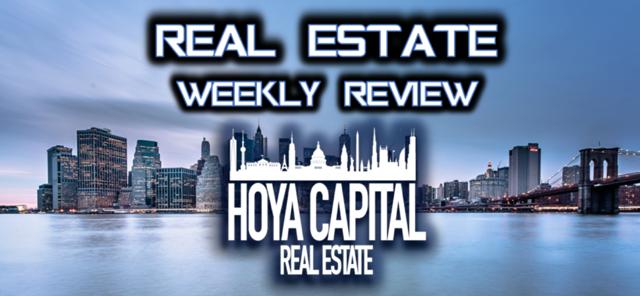 Following a dismal start to 2018, real estate sectors have quietly delivered strong performance over the last quarter. REITs have jumped more than 11% since bottoming in early February while homebuilders have climbed more than 5% off of recent lows. The REIT ETFs (VNQ and IYR) rose 1% this week while homebuilding ETFs (XHB and ITB) jumped more than 4%.
As oil prices have stabilized, so too have benchmark interest rates, helping to lift the interest-rate-sensitive segments of the market. Crude oil (USO) finished the week flat while natural gas (UNG) dipped nearly 3%. Retail REITs were the outperformers in the real estate sector following encouraging remarks and updates from REIT Week and strong retail sales according to Redbook data. Single Family Rental and Storage REITs also provided operational updates that were above expectations. We discuss our takeaways from the conference below.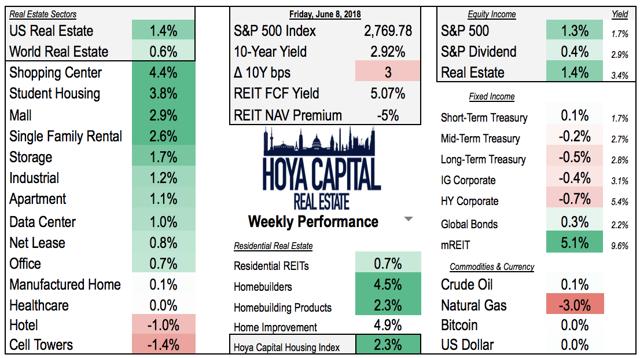 (Hoya Capital Real Estate, Performance as of 1pm Friday)
In other areas of the real estate sector, mortgage REITs (REM) finished the week higher by nearly 5% while international real estate (VNQI) finished higher by a half-percent. While it was a slow week on the real estate economic data front, The Hoya Capital Housing Index, which tracks an average of residential REITs, homebuilders, homebuilding products, and home improvement retailers, climbed more than 2%. US Household net worth exceeded $100 trillion for the first time ever in the first quarter, boosted by a nearly 2% QoQ rise in home equity.
REIT Week Recap
This week, we had the opportunity to attend REIT Week, the industry's annual conference in New York City. We attended and listened to dozens of company presentations, hearing discussions ranging from the technical specifications of fiber optics (Crown Castle) to rainfall patterns and soil quality of farmland (Farmland Partners), and plenty of "bread-and-butter" discussions about the economics of roof replacement (Raven) and rent growth trends.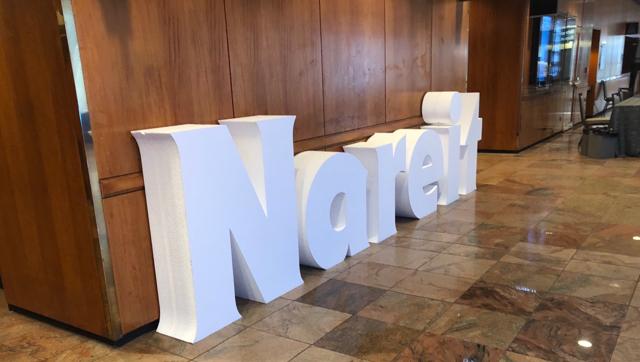 Overall, the general tone of the conference was noticeably more upbeat than in 2017, no doubt helped by the recent outperformance of the sector since early Spring after a dismal start to the year. US economic growth continues to surprise to the upside led by robust labor markets, helping to buffer the impact of supply growth in the residential and office sectors. Sentiment in the retail sector was night-and-day from last year as the "retail apocalypse" narrative has faded as retailers are embracing the "omni-channel" approach and as fundamentals appear to be inflecting higher. Interest rates have shown near-term stabilization after surging higher since late 2016, prompting the recent rally that has allowed many acquisition-oriented REIT sectors to regain their coveted NAV premium. Below we discuss some of the incremental notes we took away from the conference.
On NAV Discount: Private Markets Are Irrational
Even after the recent rally, many sectors continue to trade at sizable discounts to the private-market-implied NAV. REITs are generally believed to perform best when trading at modest NAV premium, which reflects a superior cost of capital relative to private markets and helps to fuel accretive acquisitions and new development. This warranted NAV premium is the essence of the competitive advantage of the REIT model and its importance cannot be overstated. Without it, the rationale for becoming or remaining a REIT is compromised.
The most hotly debated question among all industry participants has been: Who is right: REIT or private market investors? The consensus at the conference was that private markets are "illogical" but that REITs are nevertheless undervalued. In an efficient and rational market, the REIT model is expected to command a valuation premium for several primary reasons: liquidity, efficient and professional management, wider and cheaper access to capital, and transparency.
Ironically, private market investors are actually applying a valuation "discount" to these characteristics, particularly on the issue of transparency. The overemphasis on Sharpe Ratios and flawed "risk-adjusted return" metrics make the smoothed volatility of private market real estate more appealing for large private investors. Private market asset managers are paying-up for opacity: the ability to "believe" (and report to their investors) that the valuation of underlying assets isn't actually changing on a daily or weekly basis. There was debate over what would be the catalyst that caused a re-evaluation of this flawed logic.
IPOs to Remain Muted
Until REITs recapture the coveted NAV premium on a broad-based level, we are unlikely to see substantial IPO activity in the major sectors. We will continue to see special situation IPOs, however, through spin-offs and activity in non-major sectors.
REITs Still A Consensus Underweight
Generalist investors (particularly mutual funds) are still meaningfully underweight REITs. The "rates up, REITs down" narrative is still widely-held across the asset management industry and many managers cannot be convinced otherwise. This mentality is helping to drive the high interest-rate correlations, regardless of how rates actually impact REITs on a fundamental level. This underweight was a significant source of active manager's alpha in 2017.
GICS Sector Breakout Wasn't A Game-Changer
The GICS sector breakout was not as much of a game-changer as many in the industry had expected, but the blunted impact may have been the result of unfortunate timing. In late 2016, REITs were separated from the financial sector in several industry classification systems including GICS, which happened to be right when interest rates began to rise after the election. REIT "Independence Day" was expected to spark a renewed interest in the sector and close the underweight-gap among active managers.
REITs Are Increasingly Held in Index Funds
Index funds now hold 25-30% of outstanding REIT shares which is more than any equity sector. Many REITs have "extreme" levels of passive ownership. The reasons for and implications of this heavy passive concentration are a source of continued debate. The consensus is that this passive concentration may be leading to inefficient pricing and can be a source of continued alpha for REIT-dedicated investors.
REIT Balance Sheets Well Prepared To Deal With Rising Rates
REIT balance sheets in "pristine" condition to withstand rising rates. REITs are retaining more free cash flow than they ever have. While in the private markets, investors are "paying up" for juiced-up leveraged returns, REIT investors are generally not rewarding leverage, so managers are keeping debt in the 30-40% of MVA range. The consensus remains that REITs should not be substantially impacted by modestly higher interest rates. The FFO Tailwind for refinancing with cheaper debt, however, has tailed off and will become a modest headwind going forward.
Winners and Losers of REIT Week
Retail, residential, data center, and storage REITs were the clear winners from REIT Week following encouraging updates across each of these sectors. Notably, the lower-productivity mall REITs including CBL (CBL) and Pennsylvania REIT (PEI) each jumped more than 9% on the week as management expressed confidence that fundamentals should inflect up beginning this year. In general, most retail tenants are finally in growth-mode after years of contraction and store rationalization. DDR (DDR), National Storage (NSA), Kimco (KIM), Preferred Apartments (APTS), Education Realty (EDR), Macerich (MAC), and CyrusOne (CONE) were also strong performers.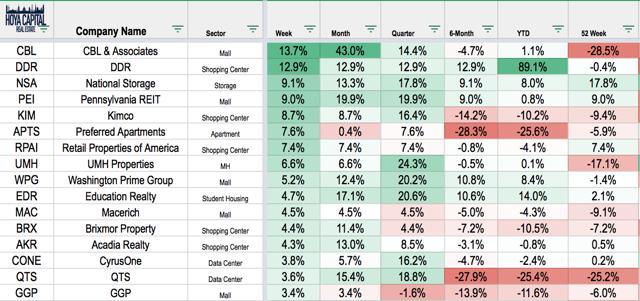 Hotel REIT and cell tower REITs were the lone sectors to trade lower on the week. Sunstone (SHO), Diamondrock (DRH), RLJ Lodging (RLJ), Summit (INN) dragged down the hotel index despite reports from STR this week that the hotel industry is on-pace to deliver yet another year of record occupancy and RevPar results. Tower REIT Crown Castle (CCI) and American Tower (AMT) also finished the week lower.

2018 Performance
REITs are now lower by 3% YTD on a price-basis, underperforming the S&P 500, which is higher by nearly 4%. Homebuilders are off by nearly 11%. The 10-Year yield has climbed 52 basis points since the start of the year, aided by the 10% climb in the price of crude oil.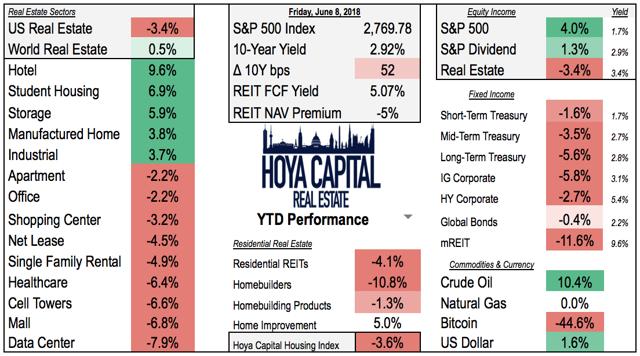 Hotel, manufactured housing, storage, and industrial REITs have led the way so far in 2018 while retail REITs have continued to lag. Below is the total return performance by real estate sector, as categorized by NAREIT.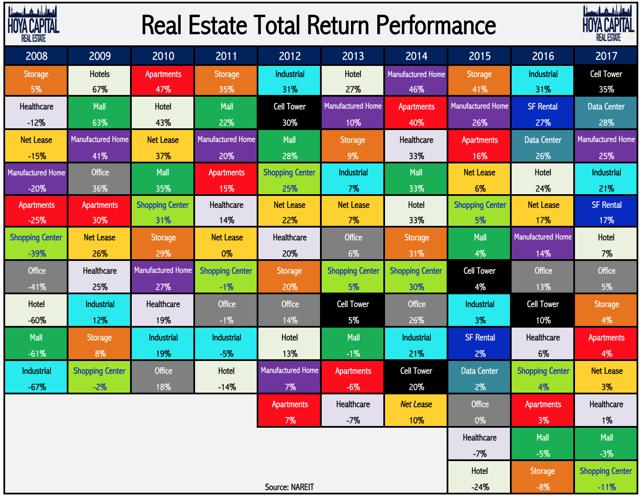 Real Estate Earnings Recap
Last week, we published our 1Q18 earnings summary: Real Estate Earnings Recap: Fundamentals Improving in 2018. Following a disappointing 2017 beset by earnings misses and downward revision, REITs delivered surprisingly strong results in 1Q18. This quarter, REITs easily surpassed expectation and their own conservative guidance. REIT metrics appear to have bottomed in 2017. Same-store NOI growth rose 2.5% on a TTM basis. Dividends and FFO/share improved in 1Q18 but remain modestly lower YoY.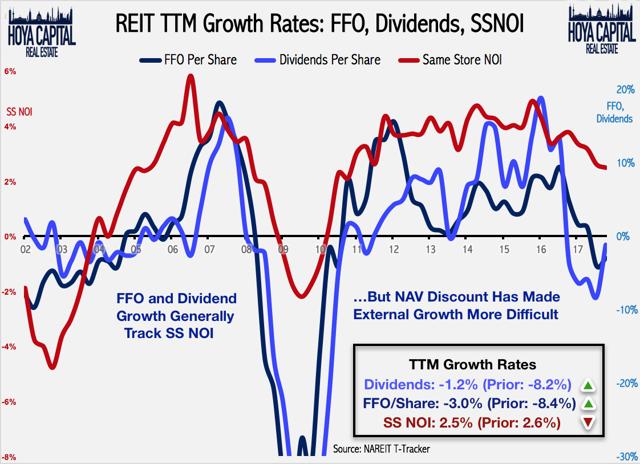 Fundamentals are showing signs of improvement across most sectors, reversing a downtrend that began in late 2016. Resilient demand has buffered the impact of peaking supply growth. Private market valuations remain firm. The persistent NAV discount across most sectors, however, has made acquisition-fueled growth more difficult. Overall, REITs were net sellers last quarter for just the second time since 2009.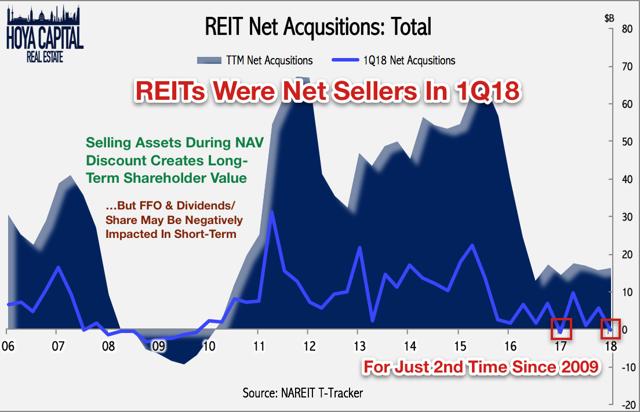 Development-oriented REITs, however, are better-positioned to benefit from the NAV discount. Fueled by firm private market values, development yields remain attractive in many sectors, though these yields have shown signs of compression in recent quarters as costs rise and cap rates have softened slightly. The development pipeline remains near a record-high at $42 billion, exceeding the 2008 peak of $38 billion. The industrial and residential sectors pipelines remain full while the retail sector continues to see only modest redevelopment and almost zero new development.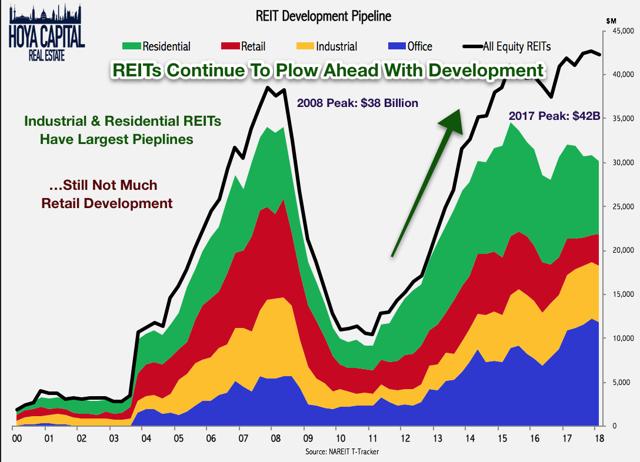 Overall construction activity peaked in 2017, but many sectors continue to deal with an inventory overhang that will linger at least through 2018. Demand growth remains the wild-card for fundamentals.
Real Estate Economic Data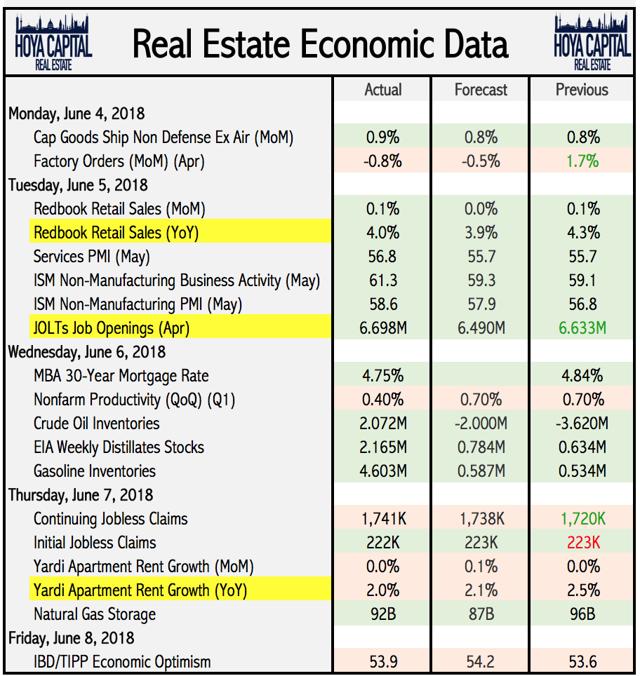 (Hoya Capital Real Estate, HousingWire)
JOLTs Data: A Job For Every Unemployed Person
It was a slow week for economic data, but there will be a flurry of data next week including CPI, PPI, and retail sales data. The highlight of this week was JOLTS data, which showed that job openings climbed to a new record high in April. Total job openings now exceed the total number of unemployed people for the first time since 2000.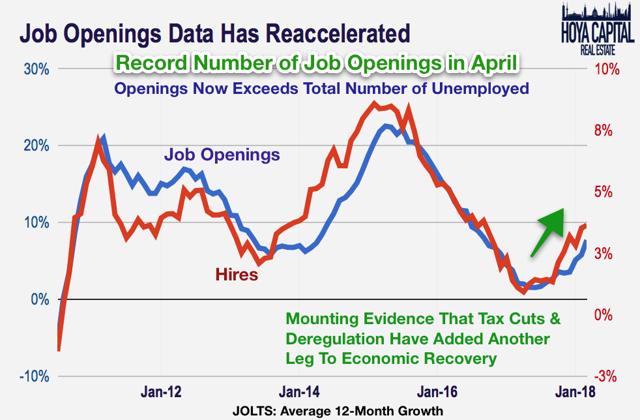 This week, we published our update on the office sector: Office REITs: Jobs, Jobs, Jobs. Despite a record 92 consecutive months of job growth, office REITs have yet to fully recover from the previous recession. The sector has been a perennial underperformer since 2007. Spurred by sky-high valuations, developers have added supply at a frenetic pace since 2013. Supply growth continues to be an issue in coastal markets after rent growth peaked in 2015. Tax reform added a new twist to office markets. Office REITs tend to be concentrated in the high-tax coastal markets that are likely to be negatively impacted by tax reform.
Bottom Line
Following a dismal start to 2018, real estate sectors have quietly delivered strong performance over the last quarter. REITs have jumped more than 11% since bottoming in early February. As oil prices have stabilized, so too have benchmark interest rates, helping to lift the interest-rate-sensitive segments of the market. REITs rose 1% this week while homebuilders jumped 4%.
The REIT industry held their annual REIT Week conference in New York City. Overall, the general tone of the conference was noticeably more upbeat than in 2017. The disconnect between REIT and private market valuations was the most hotly-debated topic. Private market investors are incorrectly discounting REIT volatility and pay-up the opacity of less frequent mark-to-market valuations. US economic growth continues to surprise to the upside led by robust labor markets, helping to buffer the impact of supply growth in the major real estate sectors.
Be sure to check out all of our reports to see how each real estate sector stacks up: Net Lease, Malls, Industrial, Data Center, Apartments, Shopping Center, Hotel, Office, Healthcare, Industrial, Single Family Rental, Cell Tower, Manufactured Housing, Storage, Homebuilders, and Student Housing.
Please add your comments if you have additional insight or opinions. We encourage readers to follow our Seeking Alpha page (click "Follow" at the top) to continue to stay up to date on our REIT rankings, weekly recaps, and analysis on the real estate and income sectors.
Disclosure: I am/we are long VNQ, SPY, MAA, CPT, OHI, PLD, GGP, STOR, SHO, SUI, ELS, ACC, EDR, DLR, COR, REG, CUBE, PSA, EXR, BXP, EQR, INVH, SPG, HST, TCO, AMT, SBRA, AMZN.
I wrote this article myself, and it expresses my own opinions. I am not receiving compensation for it (other than from Seeking Alpha). I have no business relationship with any company whose stock is mentioned in this article.
Additional disclosure: All of our research is for educational purposes only, always provided free of charge exclusively on Seeking Alpha. Recommendations and commentary are purely theoretical and not intended as investment advice. Information presented is believed to be factual and up-to-date, but we do not guarantee its accuracy and it should not be regarded as a complete analysis of the subjects discussed. For investment advice, consult your financial advisor.