"The markets do whatever they have to do to frustrate the most people." - Unknown
History tells us that when it comes to market corrections, they will occur in terms of either price or time. Just as the words imply, price corrections are more abrupt, they tend to grab an investor's attention. They also attract headlines and stories that tend to cause high anxiety. Consolidations in time are more subtle, but can be just as frustrating. Both are necessary to work off an overbought condition.
For the most part, market corrections are misunderstood in the sense that they are a necessary fact of life in investing and part of the overall investment cycle. Instead many investors fear these consolidation phases and find themselves in a constant state of high anxiety. You see, prices that are going up are fine, but when prices go down, everyone starts asking "why"? After all, this can't be happening so we have to start searching for THE reason.

There is no mystery, and it is really very simple, to have rallies, you need to have declines and vice versa. This year the stock market has given investors a taste of both, a 10% price drop in February, that has been followed by sideways price action for the better part of 3+ months. During that time we have heard a lot of reasons as to "why" this was all happening. Some of the soothsayers then extrapolated that to dire scenarios with crashes and crises that they saw on the horizon.
Corrections and periods of consolidation in the market can be extremely frustrating as they occur, but as mentioned they are necessary in terms of working off excesses. Last January the S&P was starting to look like a very overbought situation that could have turned into an outright bubble if left unchecked. The situation looks much more reasonable today.
Part of the reason this current period has caused anxiety for some might be very simple, they have been spoiled. The chart below shows the historical annualized returns of the S&P 500 over the last one, two, five, ten, and twenty years. Through the end of May, the S&P 500 has returned 14.4% in over the last year. Over the last two years, the annualized return is an even more impressive at 15.9%.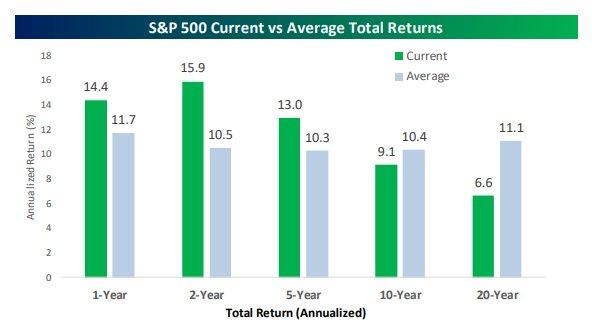 Source: Bespoke
Compared to the long-term historical average, one-, two-, and five-year returns remain above their long-term historical averages. The moment stocks aren't going up, and going up in a big way, people get nervous, and start searching for reasons. Relax, it is how the stock market works.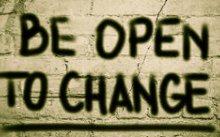 It should be obvious now that all of those folks searching for reasons who expended all of that energy were wasting their time. Time that should have been spent looking around at the data and watching the price action.
In the last two to three weeks, there has been a hint of change in the air. Change that could be signaling the completion of this current market phase. The major indices made more progress this past week during this consolidation phase as the Nasdaq Composite joined the Russell 2000 in posting another new record closing high.
No one can say for sure what will come next, so we just continue to watch and wait for the next step in the formation of a new uptrend. Before we get too euphoric, it must be said that the official end to this corrective phase can't happen until the S&P 500 manages to take out its prior all-time highs. That will then mark a resumption of the 9+ year bull market. I can't pick the exact date and time, but I will repeat what has been said here before, we haven't seen the highs in the S&P just yet.

Economy
The consumer appears to be in good shape.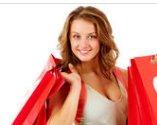 U.S. household net worth rose at a 4.2% rate in Q1 to $100.8 trillion, a record-high. That is up from the $99.7 trillion prior record-high in Q4, according to the Fed's Z.1 report.
Analysts expect a 9% growth rate in net worth in Q2, given rising stock and home prices that should allow that amount of asset value rise after the 3.8% Q1 increase. This comes alongside an assumed 4% liability rise after the 1.1% Q1 climb.
Net worth in Q1 sat 83% above the $55.0 trillion cyclical trough in Q1 of 2009. Asset value growth in Q1 included a 7.2% growth pace for real estate, alongside a 2.5% growth pace for financial asset values.
Total liabilities are still just 14.7% above the $13.6 trillion cycle low in Q1 of 2012 that marked a hefty 7.0% decline from the $14.6 trillion cycle high in Q3 of 2008 that analysts have yet to exceed. Before this cycle, outright drops in liabilities were rare, as analysts last saw a quarterly liability decline in Q1 of 1983 with a 1.9% drop. Before that analysts saw a drop in Q1 of 1975 of 0.5%.
Household debt continues to fall, driven mostly by an ongoing decline in home mortgage debt which is only about 50% of GDP. Consumer credit dropped sharply month over month. We should also note that total household net worth is still over 500% of GDP; while liabilities are falling, assets are rising too.
All of this is a healthy situation that will lead to continued economic growth. A fact that in my view is being overlooked by many pundits.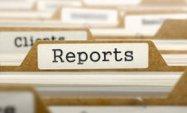 Markit PMI Services climbed 2.2 points to 56.8 in the final May print (it was 55.7 for the preliminary reading) after edging up 0.6 points to 54.6 in April. The index was 53.6 last May. The employment component improved to 54.8 from 54.5 previously and is the best since September 2015. The composite index increased 1.7 ticks to 56.6 (55.7 preliminary) from 54.9 in April. It was 53.6 last year. The employment component also rose to 54.7 from 54.4 in April and is the highest since May 2015.
Chris Williamson, Chief Business Economist at IHS Markit:
The US economy kicked up a gear in May. A markedly improved service sector performance takes the final composite PMI reading above the flash estimate and to its highest for over three years. The composite PMI is a reliable leading indicator of GDP, and has risen to a level which is consistent with the economy growing at an annualized rate of approximately 3.5%.

With business optimism about the year ahead running at one of the highest levels seen over the past three years, it looks likely that good growth momentum will be sustained in coming months. However, the survey also reveals increased concerns regarding rising costs and the impact of tariffs. Across both manufacturing and services, companies' costs are now rising at one of the strongest rates seen over the past seven years, which will likely feed through to higher consumer prices in coming months.
May ISM Non-Mfg Index Composite reported at 58.6 vs. consensus expectations of 58.0.
Wholesale inventories edged up 0.1 in April, with sales up 0.8%. March inventories posted a 0.2% gain, with sales 0.4% higher. The biggest movers in inventories were a 2.2% decline in drugs and a 0.9% increase in computers. For sales, there was strength in machinery, up 1.9%, petroleum, up 1.5%, and computers, up 1.2%. The inventory shipment ratio slipped to 1.28 from 1.29 (revised from 1.26).

April Job Openings (JOLTS) report come in at 6.69 million vs. consensus of 6.54 million. While quit rates remain lackluster, the aggregate number of job openings is at a new record high, and there are more openings than unemployed workers for the first time in the history of the data (since 2000).

Global Economy
We have seen some slowing in the Eurozone PMI data recently and it has been an area to watch. Ned Davis Research:
Although most economies saw slower manufacturing momentum in May, sustained strong readings in the U.S., and China, support a continuation of the global expansion for the time being.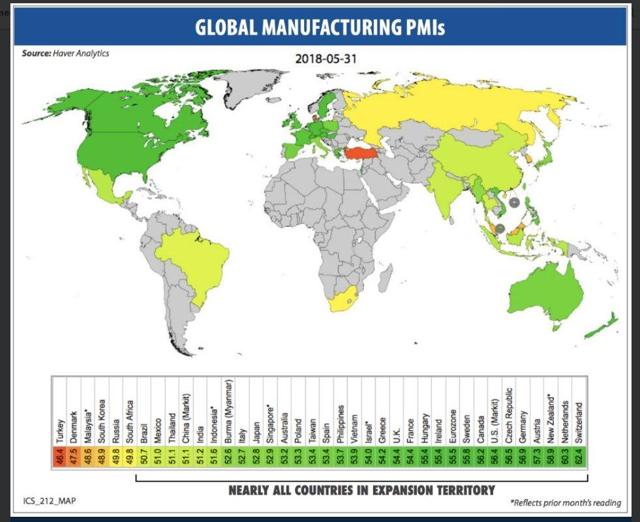 Chart courtesy of Ned Davis Research

Eurozone Composite PMI fell to a one year low with a May reading of 54.1 down from the April report of 55.1.
Chris Williamson, Chief Business Economist at IHS Markit:
The pace of eurozone economic growth sank to a one-and-a-half year low in May, and has now slowed continually since January's peak to suggest that the region is on course for its worst quarter since 2016. The survey signals GDP growth of 0.4-0.5% for the second quarter, but there is much uncertainty as to whether the pace will continue to weaken in coming months.

On the upside, companies reported business to have been disrupted by an unusually high number of holidays in May, especially in France and Germany, suggesting growth could rebound in June. But many other companies reported that demand has softened compared to earlier in the year.

Measured across both manufacturing and services, both new order inflows and expectations regarding future business activity have descended to 18-month lows, meaning hiring has also been scaled back. Pricing power has also waned in line with weaker growth of demand.
Eurozone Retail Sales was a positive surprise, rising sharply to 51.7 from the April read of 48.6. Alex Gill, economist at IHS Markit:
The latest PMI data signaled a more positive month for the eurozone retail sector, with sales returning to growth on both a monthly and annual basis. In turn, this contributed to the sharpest round of job creation in the current 31-month sequence of hiring.

The positive trends were lop-sided when looking at country data, however. The rise in monthly sales was driven by a sharp rise in Germany, though a slight increase was also recorded in France. Meanwhile, Germany was the only country to register a rise in year-on-year sales, while Italy recorded a marked decline.
Europe Sector PMI signaled widespread growth across the vast majority of monitored sectors during May. That made it four consecutive months of improvement.

Caixin China General Services PMI was unchanged in May at 52.3. Commenting on the China General Services PMI data, Dr. Zhengsheng Zhong, Director of Macroeconomic Analysis at CEBM Group:
The Caixin China General Services Business Activity Index stood at 52.9 in May, unchanged from the previous month's reading. The employment index continued to rise, while the new business index slipped slightly, indicating a positive change on the supply side and marginally weaker demand across the service sector.

The changes led to a softer rise in prices charged, easing the upward pressure on service prices. However, input costs rose at a faster pace after slowing for three consecutive months, suggesting that the upward pressure on costs has not completely eased. The index of business expectations, a gauge of service providers' confidence towards the 12-month outlook for activity, improved noticeably, reaching its highest since June 2017, indicating that companies were confident about their prospects.

The Caixin China Composite Output Index, which covers both manufacturers and service providers, stood at 52.3 in May, the same as April's reading, implying a stable macroeconomic trend. The indices of input costs and output charges both rose, showing that price growth remains supported. The index of expectations regarding future output rose to a relatively high level, suggesting optimism across both the manufacturing and service sectors. However, the impact of the recent credit contraction on small businesses is worthy of attention.

Nikkei Japan Services PMI slows to a May reading of 51 down from the prior month report of 52.5. Joe Hayes, Economist at IHS Markit:
The Japanese service sector continued along an expansionary path during May; however the pace of growth failed to improve on April's six-month high, rising to only a mild extent. There were worrying signs of deteriorating demand conditions, with new sales increasing at the softest rate in 20 months. In an effort to support business activity, firms began to clear their backlogs of work. Outstanding business decreased for the first time in five months during May.

To the upside, there were mentions among panelists that the continued upturn in order books had encouraged them to raise prices. However, the rate of inflation was the weakest seen across the current ten month bout of rising charges.
Nikkei Asia Sector PMI disclosed that machinery & equipment was the strongest performing sector during May, as output growth quickened to the sharpest since July 2014.
The U.S. economic data continues on a solid upward trajectory. On the other hand, the global data, while still in expansionary mode is being reported with mixed results.

Earnings Observations
FactSet Research Weekly Update:
Earnings Growth: For Q2 2018, the estimated earnings growth rate for the S&P 500 is 19.0%. If 19.0% is the actual growth rate for the quarter, it will mark the second highest earnings growth since Q1 2011 (19.5%).
Earnings Revisions: On March 31, the estimated earnings growth rate for Q2 2018 was 18.6%. Six sectors have higher growth rates today (compared to March 31) due to upward revisions to EPS estimates, led by the Energy sector.
Valuation: The forward 12-month P/E ratio for the S&P 500 is 16.6. This P/E ratio is above the 5-year average (16.2) and above the 10-year average (14.4).
Earnings Scorecard: For Q1 2018 (with 99% of the companies in the S&P 500 reporting actual results for the quarter), 77% of S&P 500 companies have reported a positive EPS surprise and 77% have reported a positive sales surprise.

The Political Scene
The North Korea summit has been set. When I looked around for a link to share on the topic, the only informative piece was the Wikipedia link provided. Everything else that I found centered around how the U.S. is preparing for the meeting, and what would happen if nothing is accomplished. More opinions, conjecture, and speculation arriving at conclusions before the meeting begins.
Newsflash, the North Korea situation has been a thorn in the side of the world for over 60+years. The fact that there even is a meeting is a plus. The stock market rose in the '90s when President Clinton was dealing with the rogue regime. The reason, an improving economy. Similar to today.
Another "noise " event on tap for next week, the G7 meeting. Any knee jerk reaction to either of these events will be an opportunity to buy stocks that may be on your watch list.

The Fed
Since we have seen a nice rally, we could easily start to see profit taking coming into play soon, and of course that will be blamed on interest rates. I do believe that for the most part that the hikes are priced in.
If I am wrong and the market sells off over any interest rate fears it will be a buying opportunity. The economic data here in the U.S. is supporting rising rates and can withstand increases at these low levels. I can't guess where the 10-year Treasury will be three or six months from now, I'll leave that up to the PhDs out there. But will say, they aren't close to a level that concerns me.

Sentiment
Weekly AAII sentiment reported that Bullish sentiment, expectations that stock prices will rise over the next six months, rose 3.9 percentage points to 38.9%. Optimism was last higher on February 21, 2018. The historical average is 38.5%.
Neutral sentiment, expectations that stock prices will stay essentially unchanged over the next six months, fell 4.3 percentage points to 34.4%. Even with the decline, neutral sentiment remains above its historical average of 31.0% for the 16th consecutive week.
Bearish sentiment, expectations that stock prices will fall over the next six months, edged up 0.4 percentage points to 26.7%. Bearish sentiment remains below its historical average of 30.5% for the eighth consecutive week and the 22nd time out of the past 26 weeks.
This is just the second time in the past 15 weeks that optimism is above average.

Crude Oil
The weekly inventory report surprised analysts with a build of 2.6 million barrels in the past week. Most were expecting a decline. Gasoline inventories rose by 6.4 million barrels. While products inventories rose sharply, net exports were very, very strong, mitigating some of the bearishness from this report overall. However, the price of crude found some stability. WTI closed on Friday at $65.64, down $0.23.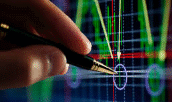 The Technical Picture
Market Breadth has really bounced back, with 68% of S&P 500 stocks back above their 50-day moving averages. That's the strongest since the correction began by far. All but two sectors have readings above 60% as well, and four sectors have readings above 75%.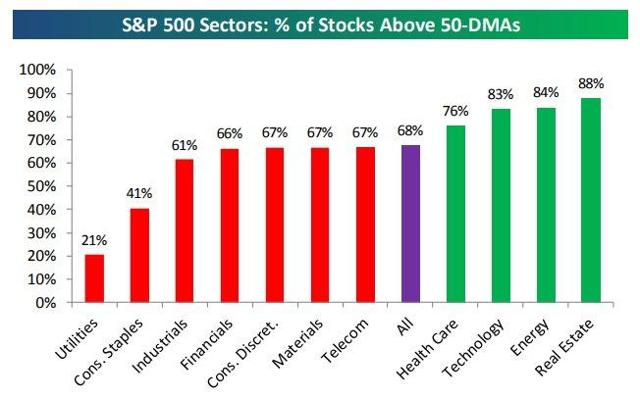 Source: Bespoke
There is another change taking place from what we experienced since February when the market first sold off. During the initial part of the consolidation phase, the market was very weak in the latter part of each trading day. Since the S&P has regained some momentum and leveled off, the late day selling has abated. Most days now see adding buying coming in during the end of the trading day, a positive sign.
The S&P broke through a resistance point this week as it cleared the May 14th high of 2,742, and that signal spurred more buying. Friday's close was yet another high in this mini rally off of the May 3rd low.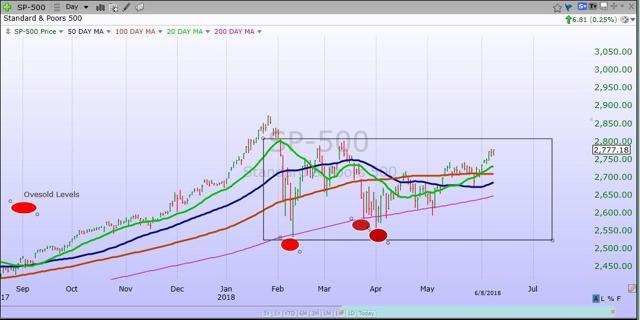 Chart courtesy of FreeStockCharts.com
The next challenge will be a close above 2,786, with the next real resistance at the old highs (2,873). As the S&P approaches those levels, the more resistance it will encounter. Investors can expect more sideways, backing and filling action. It is all part of the base building pattern for the next leg higher. I would use any sell off over interest rate jitters, or any one of other "noise" issues that have plagued the market recently to ADD to positions.
While we've seen some rotation out of recent winners lately, the broad S&P 500 continues to show strength, and the likelihood of a move back to all-time highs gets stronger and stronger each day.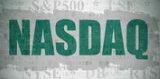 Another new all-time high leaves the index extended in the short term.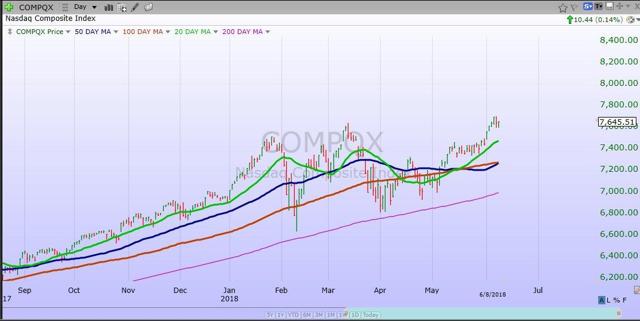 Chart courtesy of FreeStockCharts.com
The next move may be a retreat back to the major support trend lines, before the advance continues. Use those pullbacks to your advantage, the Nasdaq isn't done going higher.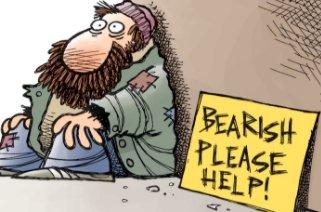 Market Skeptics
I still find plenty of missives that continue to tell me that this stock market isn't on firm ground, it is all built on Fed liquidity, and is as overvalued as any stock market has ever been. I continue to read that there are too many issues that could cause a huge sell off at any moment to be invested in equities. Then there is this piece. You may not be aware of it but according to Morgan Stanley we are in a bear market.
The most hated bull market in history marches on to the tune of the naysayers. I do know this. We don't' hear the words "New all time high" and "Near all time highs," during recessions and bear markets.
Some common sense please, this is a secular bull market that inst done going higher.

Individual Stocks and Sectors
As shown below, the Consumer Discretionary sector has joined Technology in the double-digit gains club by moving up 10.8% YTD. The four sectors that are down of any significance are all either defensive or interest-rate sensitive.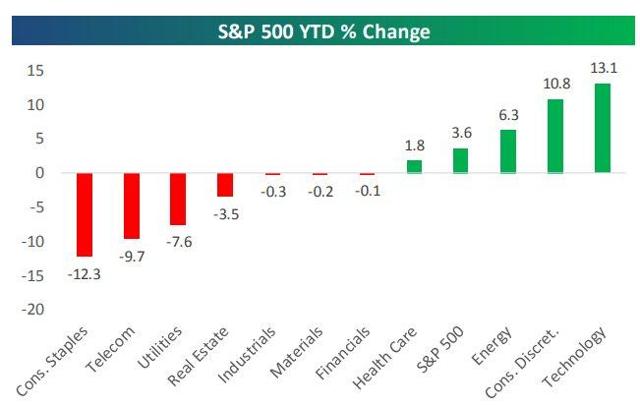 Source: Bespoke
Technology, Financials, Healthcare, Industrials, and Energy remain at the top of my list as I search for opportunities. The "value" lies in the Financials. Now may be the time to look at the large center money banks that have paused in their respective long term rallies.
The fundamental picture for the large money center banking industry could not look any better than it does right now. Positive regulatory reform and a positive interest rate backdrop in an improving economy.
If crude oil has truly stabilized here in the mid-$60s, the energy sector continues to hold some value and looks attractive. The only thing I would be doing with Technology and select Healthcare is adding on dips.
With a healthy consumer I may start to look around at some Consumer Discretionary names while continuing to hold on to Alibaba (BABA) and Amazon (AMZN).

The "noise" continues! North Korea, Iran, China, Russia, collusion, who is colluding, midterm elections, higher gas prices, rising interest rates, low unemployment, increasing wages, rising inflation, continued European worries, a ping-pong type market, and now the potential of threatened trade wars. Is it possible that all this "noise" could create enough uncertainty in the market to pull the rug out from the idea that new highs are ahead?
Of course anything is possible, but so far it hasn't stopped two major indices from reaching new all-time highs. Price action that is telling us what is really going on. As we look down the road, the near-term debate is a summer stall or a summer rally?
Bespoke Investment weighs in with its view. The composite chart of the S&P 500 throughout the calendar year shows the average path that the S&P has taken throughout the year going back to 1980.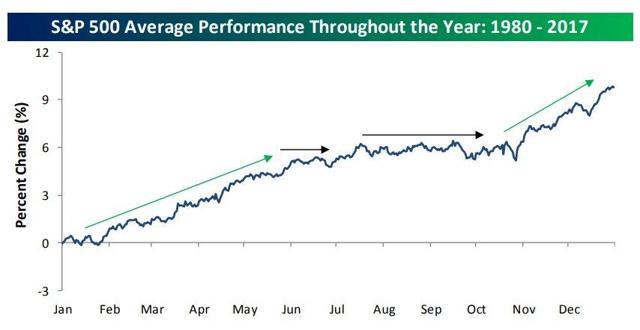 Source: Bespoke
As shown, two periods of strength for the index bookend a sideways pattern during the summer months from June through September. Keep in mind that this pattern in being shown over the course of some 37 years giving us an idea of what the next few months may look like.
While I like to use historical patterns in my strategy, I also like to stay flexible and go with the flow. Therefore while the information presented has some value, I don't form pre-conceived notions that it HAS to be that way.
Last year, the S&P rose 10% from June 1st to September 30th.
The message remains the same. The way to proceed is to follow the trend until it changes, and let the others worry about when they perceive that change will take place, and for what reason. This bull market has shown the latter strategy has been a fool's errand. It's simple, stay the course.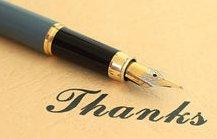 to all of the readers that contribute to this forum to make these articles a better experience for all.
Best of Luck to All!
Disclaimer: This article contains my views of the equity market and what positioning is comfortable for me. Of course, it is not suited for everyone, there are far too many variables. Hopefully it sparks ideas, adds some common sense to the intricate investing process, and makes investors feel more calm, putting them in control. The opinions rendered here, are just that – opinions – and along with positions can change at any time. As always I encourage readers to use common sense when it comes to managing any ideas that I decide to share with the community. Nowhere is it implied that any stock should be bought and put away until you die. Periodic reviews are mandatory to adjust to changes in the macro backdrop that will take place over time.
The stock market is always difficult to navigate; add in the upcoming geopolitical noise and it can be a real challenge. The Savvy Investor Marketplace is unique, a place where the fear of others is used as an advantage. "Savvy" Portfolios continue to outperform the major indices. A summer rally or the summer doldrums is the question that needs an answer. Please consider a subscription to the service that has provided results, with reviews to back up that claim.
Disclosure: I am/we are long BABA, AMZN.
I wrote this article myself, and it expresses my own opinions. I am not receiving compensation for it (other than from Seeking Alpha). I have no business relationship with any company whose stock is mentioned in this article.