Since mid-2016, GDP has been on a long term improvement trend. Yet little seems to be trickling down to the masses.
The primary dynamic pushing GDP growth over the past year has been business investment. The year-over-year growth of real (inflation adjusted) personal consumption expenditures has remained in a tight range between 2.6 % and 2.8 % since mid-2016 (red line on graph below).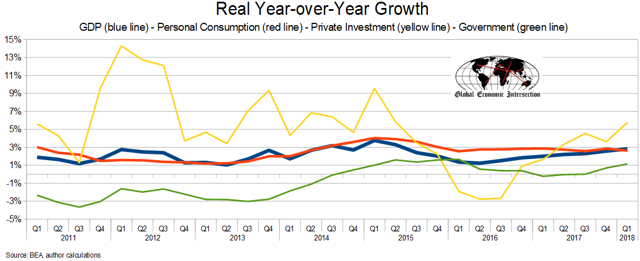 Consumer expenditures cannot continue to grow faster than income for extended periods of time. The graph below illustrates the relationship between income (DPI) and expenditures (PCE) - showing clearly income and expenditures grow at nearly the same rate over time - but over the last 2+ years consumption growth remains well above income growth.
Indexed to Jan 2000, Growth of Real Disposable Income (blue line) to Real Expenditures (red line)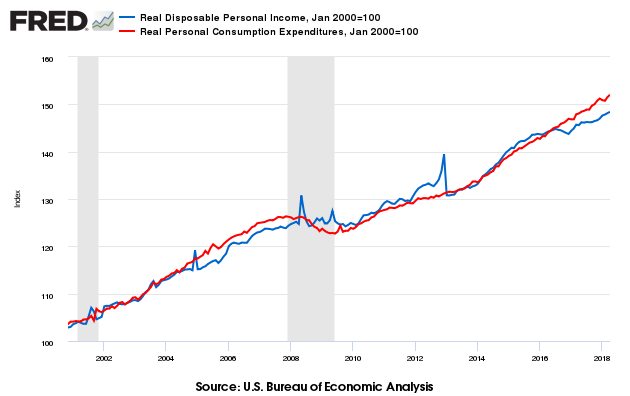 One of the two major ways one can have more money to spend is to save less - and that is happening.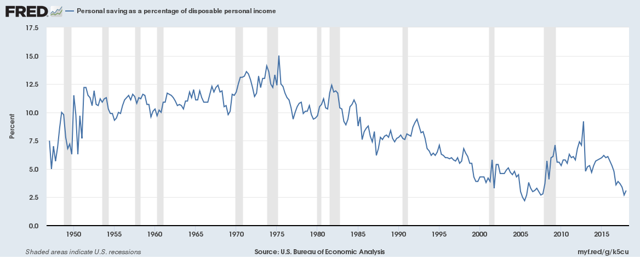 The other major way to spend more money is by spending borrowed money.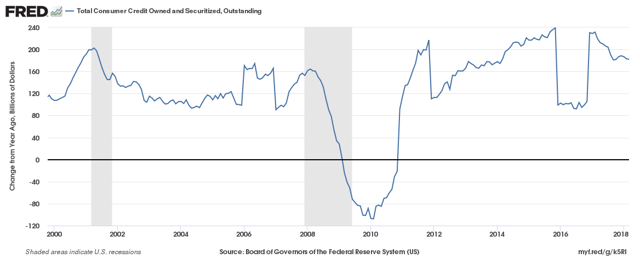 In the above graph, the blue line is the annual growth in dollars of consumer credit (does not include mortgages). There is a significant amount of borrowed money entering the system. For the last year, the rate of growth of consumer credit has been slowing - partially due to rising interest rates. Interest rate increases generally walk hand-in-hand with inflation.
And most of all wage growth is now being offset by inflation.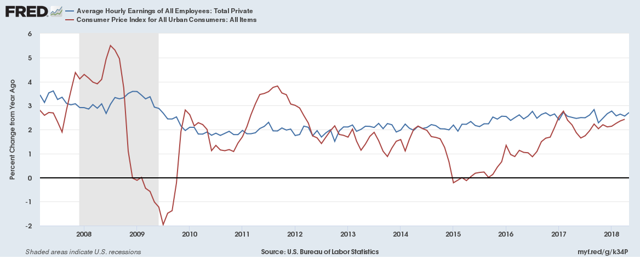 I do not have high hopes that Joe and Jane Sixpack will be better off in the near future - even though the economy is improving. The 21st century has not been kind to the Sixpacks - first, their home value took a nose dive (with many losing their homes), then many lost their jobs - and now, when most who want to work are working, inflation is eating away at their income.
My usual weekly wrap is in my instablog.
Disclosure: I/we have no positions in any stocks mentioned, and no plans to initiate any positions within the next 72 hours.
I wrote this article myself, and it expresses my own opinions. I am not receiving compensation for it. I have no business relationship with any company whose stock is mentioned in this article.