Among the many software and technology companies that have gone public in a very active first half of 2018, DocuSign (DOCU) perhaps shines the brightest of them all. The company has been absolutely lionized by investors and by Wall Street, with most analysts tossing lavish praise at the company for disrupting a legacy market and generating the recurring billings that investors have come to love and expect from the SaaS software sector.
All of these positive notes are true - DocuSign is a fantastic company with a tremendous growth trajectory. However, these factors always have to be taken in the context of DocuSign's valuation, and at the moment, the company's value proposition to investors is looking precarious.
The first earnings quarter after going public is always a huge milestone for newly minted IPOs, as it often sets the tone with Wall Street and to the investing public. Often, analysts don't already know what to expect because they had little guidance to lean on for the quarter and for the fiscal year, so the beats (and misses) are often of the largest magnitude in this introductory quarter. And like many other companies that have become adept at managing expectations, DocuSign beat Wall Street's estimates by a very large margin in Q1, sending shares up another 3%. This tacks another cherry on top of a consistent rally that has taken DocuSign up to about 2x its IPO price of $29 in little more than one month: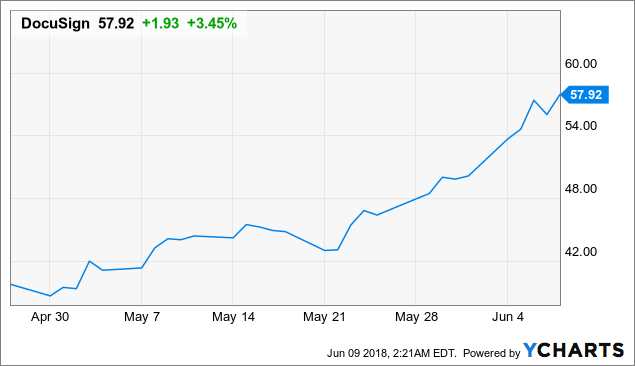 In my view, DocuSign needs to take a breather. IPOs can often experience this kind of manic buying, but as the recency of the deal begins to fade and the stock becomes comped against its peers in the broader sector, their valuation premiums can begin to dissipate. This is also often triggered by the lockup expiration date, which for DocuSign will occur in late October and likely trigger a wave of selling from insiders whose shares will free up for the first time.
A quick valuation check - at DocuSign's post-earnings share price of $58, and applying the total share count of 152.1 million from its finalized IPO prospectus, the company has a market cap of $8.8 billion, already putting it in the top quartile of largest software companies despite opening to the public at a market value of half that. After netting off the company's $270 million of balance sheet cash and the $465.4 million it expects to raise in net proceeds from the IPO (the quarter that DocuSign just reported ended on April 30, prior to the IPO closing date - thus, the IPO funds have not yet been recorded in the balance sheet), and adding back $547.9 million of convertible debt, DocuSign's enterprise value is $8.66 billion.
Along with its Q1 earnings release, DocuSign also unveiled guidance for the remainder of FY19, forecasting a revenue range of $652-658 million (+26% y/y at the midpoint) versus analyst expectations of $627.6 million (+21% y/y). This puts DocuSign's valuation at a stunning 13.2x EV/FY19 revenues, one of the richest multiples in the SaaS software sector - and certainly a handsome premium for a company that is forecasting to grow below 30% next year. For some context, other ~30% growth SaaS stocks include the likes of fellow recent IPO Dropbox (DBX), which is trading at 9.2x forward revenues, as well as its rival Box (BOX) which is trading at 6x forward revenues. Other ~30% growth comps are shown in the chart below: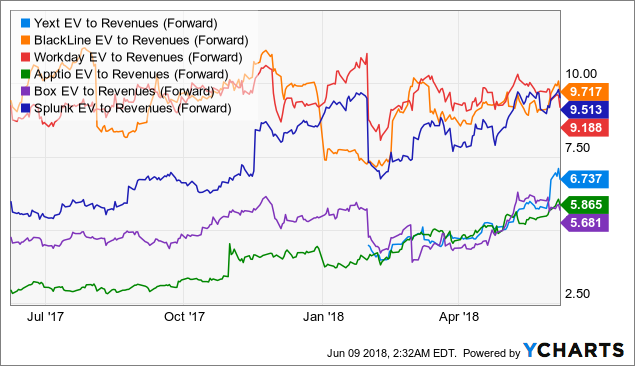 In my view, there is simply no room for upside in a stock that is already valued at such a steep premium to peers. Of course, there is the chance that DocuSign is guiding conservatively for the year (as many SaaS companies are known to do) and its revenue attainment actually ends up landing closer to $680-690 million for the year (+32% y/y and closer in line to its current 37% y/y growth rate), but even then, DocuSign's valuation would still be in excess of 12.5x forward revenues. This is a fantastic stock that has a meaningful growth opportunity for the longer term, but there will be much better opportunities to own this stock at a much cheaper price down the road.
Q1 download
Let's take a look at DocuSign's Q1 earnings results:
Figure 1. DocuSign Q1 earnings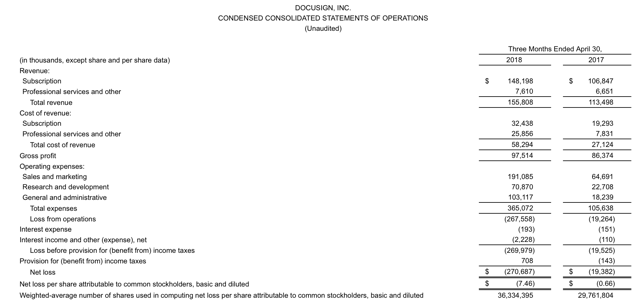 Source: DocuSign investor relations
Revenues grew 37% y/y to $155.8 million, matching its unreported Q4 exiting growth rate of 37% y/y and smashing analyst targets of $146.1 million (+29% y/y). Effectively, investors are cheering DocuSign's signal to the markets that its growth likely won't fall beneath 30% for at least several quarters, which is what analysts had been predicting.
What is disappointing, however, is the fact that DocuSign's billings growth trailed revenue growth at 33% y/y. For any recurring revenue software company like DocuSign, the billings metric actually captures more of a long-term view of revenue success, as it measures the change in deferred revenues (essentially the backlog that can be recognized as revenues over the next 12 months). When billings growth trails revenue growth, it's usually a sign that revenue growth will begin to decelerate. Seeing as subscription revenues comprise 95% of DocuSign's total revenue base, it's important to watch for the billings trend as the company moves forward.
On the upside, however, DocuSign saw a high level of dollar-based net retention in the quarter, which essentially measures how much the company was able to upsell to its existing client base. Michael Sheridan, DocuSign's CFO, commented as follows on the earnings call:
"High levels of customer satisfaction were again reflected in our strong net dollar retention of approximately 114% in the fiscal quarter, consistent with the historical rate that generally ranges from 112% to 119%. Our commitment to and investment in customer success also drove sizable expansions at existing customers. By the end of the quarter customers with ACV greater than $300,000 grew to 215, a 40% year-over-year increase."
Strong repeat business, as well as especially a 14% average upsell as seen in this quarter, is a huge driver for margin growth as the company doesn't need to outlay massive sales dollars to acquire that customer's revenues all over again. Continued net retention strength will be key to DocuSign's profit story going forward.
Elsewhere in the quarter, the profit story isn't as clear as the company's IPO triggered a massive RSU vesting that was expensed against the income statement this quarter. On a pro forma basis, that nets out the effects of these RSU grants; however, DocuSign managed to trim expenses down to 77% of revenues (down 8 points from 85% in the year-ago quarter). Its pro forma EPS of $0.01 was also a major beat over analyst expectations of -$0.07.
DocuSign also excelled on the free cash flow front, where the company managed to generate positive FCF of $8.8 million versus a loss of -$7.5 million in 1Q17. We still note, however, that the implied FCF margin of 6% still trails far behind Dropbox's much-revered ~28% FCF margin, despite the latter trading at a significantly lower revenue valuation.
Key takeaways
DocuSign has been the subject of a lot of hype in the markets these days, especially after posting blowout Q1 earnings. Savvy investors, however, would be wise to steer clear of the hype and wait for a better entry point on DocuSign shares. At 13.2x forward revenues, DocuSign is essentially priced for perfection - and as we've seen over the past several quarters with massive stumbles from the likes of once-hot IPOs like Snap (SNAP) and Cloudera (CLDR), the golden halo of the IPO doesn't always last long.
At the outset of its IPO, DocuSign traded almost exactly in line with Dropbox at 9x forward revenues. Both companies had a set of pros and cons against the other - DocuSign was growing at a faster rate and had a more unique product, whereas Dropbox was much larger in scale and had achieved significant FCF margins. A par or near-par valuation between the two is highly appropriate, and I wouldn't touch DocuSign until it also settles down to 9x forward revenues, implying a price target of $41 and 30% downside from current levels.
Disclosure: I/we have no positions in any stocks mentioned, and no plans to initiate any positions within the next 72 hours.
I wrote this article myself, and it expresses my own opinions. I am not receiving compensation for it (other than from Seeking Alpha). I have no business relationship with any company whose stock is mentioned in this article.