Recent legislation has been serving as a tailwind for business development companies (BDCs). The passage of this year's omnibus spending bill, which included the Small Business Credit Availability Act (SBCAA),1 as well as last year's tax reform were expected to positively impact BDCs. In fact, since the spending bill's March 22 announcement, the MVIS US Business Development Companies Index was up 6.9%, outperforming the main U.S. equity and other high yield indices.2
Analysts covering the space have generally expected the tax plan to be a modest net positive for BDCs, in part due to the lower tax rate combined with its limits on the deductibility of interest expense.
Meanwhile, one of the main implications for BDCs from the SBCAA is the leverage limit increase from 1:1 to 2:1. The new limit is modest compared to the much higher leverage, on average, of banks or mortgage REITs. For example, this increased leverage flexibility would allow BDCs to invest conservatively with relatively stronger risk-adjusted return potential, subject to shareholder or board approval. This could reduce the need for lower grade investments to help enhance yield potential. However, how much of, and to what extent, the BDC universe will employ this new flexibility remains to be seen.
The Current Case for BDCs
BDCs currently average about 9.3%3 in dividend yield and over 80% in loan portfolios with floating rate loans, which may allow BDCs to benefit from a rising interest rate environment.4 As such, BDCs may serve as a complement to income allocations to help enhance yield without adding significant interest rate risk. In addition, BDCs have historically offered a competitive risk/return tradeoff when compared with high yield bonds, leveraged loans, and equities across the market capitalization spectrum.
Annualized Standard Deviation versus Annualized Return (%)
8/4/2011 - 5/31/2018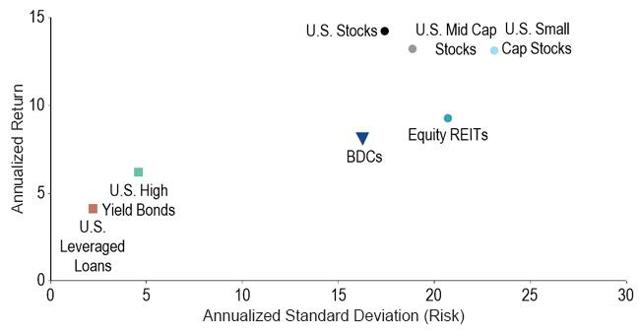 Source: FactSet, Bloomberg. Data as of May 31, 2018. Past performance is no guarantee of future performance. Index performance is not indicative of fund performance. Indices are not securities in which investments can be made. See index descriptions and additional disclosures below.
Allocating to BDCs can help investors gain exposure to the growth and income potential of privately held companies, which has traditionally been limited to institutional or high net worth investors. BDCs lend to and invest in small- to mid-sized private companies, which tend to be either rated below investment grade or not rated at all. Therefore, investors should have a risk tolerance for securities rated below investment grade (i.e., high yield/BB+ or below). Furthermore, publicly listed BDCs are equities and may be sensitive to investor sentiment and subject to greater volatility than high yield bonds or leveraged loan portfolios.
Along with historically attractive income and growth potential, given their access to the private middle market space and high relative yields, BDCs also have a high level of floating rate loan exposure. Combined with the recent tax reform and passage of the SBCAA, we believe the current case for BDCs is compelling. High yield and equity income investors may want to consider a diversified allocation of BDCs to complement their traditional income portfolios.
Investors can gain exposure to BDCs through VanEck Vectors® BDC Income ETF (BIZD®).
IMPORTANT DISCLOSURE
1 Small Business Credit Availability Act (SBCAA) changes certain capital structure requirements for business development companies (BDCs).
2 Source: FactSet. Data as of 5/31/2018 since the 3/22/2018 announcement of the SBCAA.
3 Source: FactSet. Data as of 5/31/2018. Dividend yield is the dividend per share, divided by the price per share.
4 Sources: BDC financial statements as available on the BDCs comprising the MVIS® US Business Development Companies Index (MVBIZDTG). Data as of 3/31/2018, as available on the BDCs' Web sites.
This content is published in the United States for residents of specified countries. Investors are subject to securities and tax regulations within their applicable jurisdictions that are not addressed on this content. Nothing in this content should be considered a solicitation to buy or an offer to sell shares of any investment in any jurisdiction where the offer or solicitation would be unlawful under the securities laws of such jurisdiction, nor is it intended as investment, tax, financial, or legal advice. Investors should seek such professional advice for their particular situation and jurisdiction.
The indices listed are unmanaged indices and do not reflect the payment of transaction costs, advisory fees, or expenses that are associated with an investment in any underlying exchange-traded funds. Certain indices may take into account withholding taxes. Index performance is not illustrative of fund performance. Indexes are unmanaged and are not securities in which an investment can be made.
Fund performance current to the most recent month end is available by visiting vaneck.com. Historical performance is not indicative of future results; current data may differ from data quoted.
BDCs: The MVIS US Business Development Companies Index is a rules-based index intended to track the overall performance of Business Development Companies (BDCs). U.S. High Yield Bonds: ICE BofA ML US High Yield Index (H0A0) tracks the performance of U.S. dollar-denominated below investment grade corporate debt publically issued in the U.S. domestic market. Qualifying securities must have a below investment grade rating. REITs: FTSE NAREIT Equity REITs Index is a broad-based, free-float adjusted market capitalization weighted index consisting of equity real estate investment trusts. U.S. Leveraged Loans: S&P/LSTA U.S. Leveraged Loan 100 Index seeks to mirror the market-weighted performance of the largest institutional leveraged loans as determined by criteria based upon market weightings, spreads, and interest payments. U.S. Stocks: Standard & Poor's 500® Index, calculated with dividends reinvested, consists of 500 widely held common stocks covering the industrial, utility, financial, and transportation sectors. U.S. Mid Cap Stocks: Russell Midcap Index measures performance of the 800 smallest companies (31% of total capitalization) in the Russell 1000 Index, with weighted average market capitalization of approximately $6.7 billion, median capitalization of $3.6 billion, and market capitalization of the largest company $13.7 billion. U.S. Small Cap Stocks: Russell 2000 Index is an index measuring the performance of approximately 2,000 small-cap companies in the Russell 3000 Index, which is made up of 3,000 of the biggest U.S. stocks.
MVIS US Business Development Companies Index is the exclusive property of MV Index Solutions GmbH (a wholly owned subsidiary of the Van Eck Associates Corporation), which has contracted with Solactive AG to maintain and calculate the Index. Solactive AG uses its best efforts to ensure that the Index is calculated correctly. Irrespective of its obligations towards MV Index Solutions GmbH, Solactive AG has no obligation to point out errors in the Index to third parties. The VanEck Vectors BDC Income ETF (the "Fund") is not sponsored, endorsed, sold or promoted by MV Index Solutions GmbH and MV Index Solutions GmbH makes no representation regarding the advisability of investing in the Fund.
Business Development Companies (BDCs) invest in private companies and thinly traded securities of public companies, including debt instruments of such companies. Generally, little public information exists for private and thinly traded companies and there is a risk that investors may not be able to make fully informed investment decisions. Less mature and smaller private companies involve greater risk than well-established and larger publicly-traded companies. Investing in debt involves risk that the issuer may default on its payments or declare bankruptcy and debt may not be rated by a credit rating agency. Many debt investments in which a BDC may invest will not be rated by a credit rating agency and will be below investment grade quality. These investments have predominantly speculative characteristics with respect to an issuer's capacity to make payments of interest and principal. BDCs may not generate income at all times. Additionally, limitations on asset mix and leverage may prohibit the way that BDCs raise capital. The Fund and its affiliates may not own in excess of 25% of a BDC's outstanding voting securities which may limit the Fund's ability to fully replicate its index. Small- and medium-capitalization companies may be subject to elevated risks. The Fund's assets may be concentrated in a particular sector and may be subject to more risk than investments in a diverse group of sectors.
Diversification does not assure a profit nor protect against loss.
ICE Data Indices, LLC and its affiliates ("ICE Data") indices and related information, the name "ICE Data", and related trademarks, are intellectual property licensed from ICE Data, and may not be copied, used, or distributed without ICE Data's prior written approval. The licensee's products have not been passed on as to their legality or suitability, and are not regulated, issued, endorsed, sold, guaranteed, or promoted by ICE Data. ICE Data MAKES NO WARRANTIES AND BEARS NO LIABILITY WITH RESPECT TO THE INDICES, ANY RELATED INFORMATION, ITS TRADEMARKS, OR THE PRODUCT(NYSE:S) (INCLUDING WITHOUT LIMITATION, THEIR QUALITY, ACCURACY, SUITABILITY AND/OR COMPLETENESS).
The information herein represents the opinion of the author(s), but not necessarily those of VanEck, and these opinions may change at any time and from time to time. Non-VanEck proprietary information contained herein has been obtained from sources believed to be reliable, but not guaranteed. Not intended to be a forecast of future events, a guarantee of future results or investment advice. Historical performance is not indicative of future results. Current data may differ from data quoted. Any graphs shown herein are for illustrative purposes only. No part of this material may be reproduced in any form, or referred to in any other publication, without express written permission of VanEck.
Fund shares are not individually redeemable and will be issued and redeemed at their net asset value (NYSE:NAV) only through certain authorized broker-dealers in large, specified blocks of shares called "creation units" and otherwise can be bought and sold only through exchange trading. Shares may trade at a premium or discount to their NAV in the secondary market. You will incur brokerage expenses when trading Fund shares in the secondary market. Past performance is no guarantee of future results.
An investment in the Fund may be subject to risks which include, among others, credit risk, call risk, and interest rate risk, all of which may adversely affect the Fund. High yield bonds may be subject to greater risk of loss of income and principal and are likely to be more sensitive to adverse economic changes than higher rated securities. International investing involves additional risks which include greater market volatility, the availability of less reliable financial information, higher transactional and custody costs, taxation by foreign governments, decreased market liquidity and political instability.
Investing involves substantial risk and high volatility, including possible loss of principal. Bonds and bond funds will generally decrease in value as interest rates rise. An investor should consider the investment objective, risks, charges and expenses of the Fund carefully before investing. To obtain a prospectus and summary prospectus, which contains this and other information, call 800.826.2333 or visit vaneck.com. Please read the prospectus and summary prospectus carefully before investing.