Envy is a really stupid sin because it's the only one you could never possibly have any fun at. - Charlie Munger
Trading Analytics
Welcome to the edition of Integrated BioSci Rounds Report for June 08, 2018. As usual, we'll elucidate notable trading analytics for the day, recent insider transactions, and interesting market developments. Without further ado, let's take an overall assessment of the bioscience space. As follows, the iShares Nasdaq Biotechnology ETF (NASDAQ:IBB) traded up $0.35 (+0.32%) at $110.11. Moreover, the SPDR Biotech (NYSE:XBI) exchanged hands $0.25 lower at $96.30 (for -0.26% losses). It's likely that investors were trading with a mixed sentiment for the day. Regardless of the daily inclination, there are substantial prospects in the bioscience sector: one that delivers hope for patients while rewarding supporters with substantial wealth in the long haul.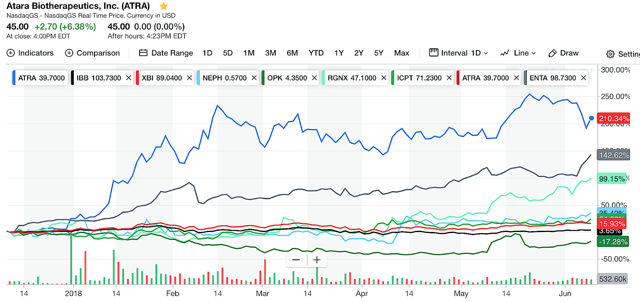 Figure 1: Notable BioSci movers. (Source: Yahoo Finance)
Moving to specific equities, Atara Biotherapeutics (NASDAQ:ATRA) won the highlight spot of the day. Accordingly, the stock appreciated by $2.70 to close the session at $45.00 for over 6.3% profits. Headquartered in South San Francisco, CA, Atara is focusing on the innovation allogenic T-cell immunotherapies (A-TCI) to service a vast number of cancers and autoimmune diseases (as depicted in figure 2). A-TCI functions quite similarly to CAR-T: both molecules enlighten the key regulatory cells of the immune system (i.e. the T-cells, which are analogous to the generals of an army). In specific, Atara's A-TCI primed the intelligence of CD8 (killer) T-cells to detect and destroy cancers. This is important, as killer T-cells are adept at attacking viruses (to kill virus-induced tumors). Of note, tab-cel is an off-the-shelf Epstein-Barr virus ("EBV")-specific A-TCI. Accordingly, the FDA gave the firm the nod to commence their two phase 3 trials (MATCH/ALLELE) for ATA-129 in patients with rituximab-refractory EBV associated PTLD. In addition, the said molecule gained the orphan designation from both the FDA and the EMA. The agency also awarded the mentioned drug as a Breakthrough Therapy while the EMA put it in the Priority Medicines regulatory pathway. In addition, Health Canada placed it in the expedited approval category.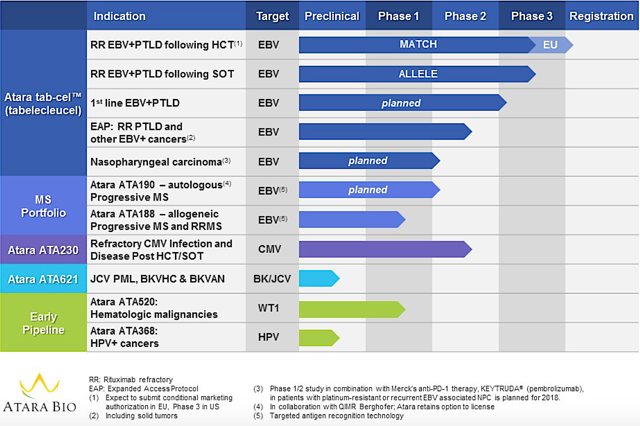 Figure 2: Therapeutic pipeline. (Source: Atara).
Atara is hitting its growth inflection with multiple powerful catalysts. First, the firm recently deepened its research relationship with Memorial Sloan Kettering ("MSK") for the development of the next-generation gene-edited CAR-T. Second, the company recently partnered with TrakCel for Atara MatchMe (a product delivery logistic solution for off-the-shelf, A-TCI). Third, there is an onboarding of new talents.
On June 07, 2018, Atara announced that Utpal Koppikar has joined as CFO. Mr. Koppikar brings in a wealth of experience and an extensive track record of performance. He held several senior financial leadership positions at Gilead Sciences (NASDAQ:GILD) such as VP of corporate and operations finance. The new CFO also served in multiple finance roles of increasing responsibility at Amgen (NASDAQ:AMGN). He began his career at Honeywell Aerospace (formerly AlliedSignal). Commenting on the recent development, the CEO (Dr. Isaac Ciechanover) enthused:
Utpal brings deep expertise in financial management and has an accomplished track record in global biotechnology financial operations. His experience in commercial finance and market access across diverse therapeutic areas, including in immuno-oncology and CAR-T, will be critical as we advance tab-cel development and pre-commercial activities as well as expand our off-the-shelf T-cell immunotherapy platform in autoimmune and infectious diseases.
Insider Transactions
In monitoring insider transactions, one should analyze the data with the grain of salt. That being said, we wish to share with you insight from the former Fidelity-Magellan Manager Peter Lynch: "Insiders might sell their shares for any number of reasons, but they buy them for only one they think the price will rise." As featured in table 1, the interesting transactions came from Aileron Therapeutics (ALRN). On June 08, 2018, Manuel Alvado purchased 1.0K shares for $5.6K. Back on June 01, the SVP and CFO Donald Dougherty also bought 2.0K shares for $10.4K. Despite the small new transactions, new positions are usually encouraging signs. Moreover, the overall purchasing has been quite aggressive since 2017.

Table 1: Notable insider transactions. (Source: Openinsider)
Based in Cambridge, MA, Aileron is focusing on the development and commercialization of stapled peptide therapeutics to service cancers and other diseases. As shown in figure 3, the focus of the pipeline is on ALRN-6924. Being evaluated in various clinical trials, ALRN-6924 reactivates p53-mediated tumor suppression by targeting both of the primary p53 suppressor proteins, MDMX and MDM2. Of note, the stock has been trading on a downtrend for the past year. Whether the trading trend will reverse remains to be seen. The fact that there is an overwhelming number of insider purchases warrants a consideration by investors.

Figure 3: Medicinal pipeline. (Source: Aileron)
Bioscience Catalysts
On June 08, 2018, the FDA announced that US District Judge Neal Biggers of the Northern District of Mississippi issued a consent decree of permanent injunction between the US and Delta Pharma. The Agency stated that despite the company's repeated promises to correct deficiencies, there is still ongoing violations. Consequently, Judge Bigger now prohibits Delta Pharma from manufacturing, processing, packing, holding or distributing of its drugs until they comply with the FDA regulation. Commenting on the event, FDA Commissioner Dr. Scott Gottlieb noted:
The FDA is committed to help ensuring that compounded drugs are made under appropriate production standards and that we're fulfilling the public health goals of the Drug Quality and Security Act. That legislation envisioned an important role for outsourcing facilities to help supply providers with compounded medicines, but it also required that these firms meet good manufacturing practice requirements. When we find outsourcing facilities that continue to violate the law by not adhering to these manufacturing requirements, and put patients at risk, we're going to hold them accountable under the law. At the same time, we're also pursuing new policy steps to help make it more feasible for compounders to meet the requirements of becoming an outsourcing facility. We're committed to ensuring that we balance the need to preserve access to appropriately compounded drugs with our commitment to help protect patients from drugs compounded under substandard conditions.
The aforesaid catalyst has several ramifications. One, it underlies the FDA's tireless due diligence in ensuring the protection of the well-being of countless Americans. Second, it signified that despite the push for more therapeutics is important to Dr. Gottlieb; however, he also strikes for a balance between quality and quantity. Ultimately, this fits into the theme that this decade is a great one for investing in therapeutic innovation. And, we invite investors to check out various innovators as featured in our Specialty Reports focusing on CAR-T/immunotherapeutic, nonalcoholic steatohepatitis ("NASH"), infectious disease, and gene-based therapy.
Final Remarks
In all, the bioscience market closed the week with a mixed sentiment. Nevertheless, many firms under our coverage continued to rally. Atara topped our list due to its strong momentum that is powering by solid fundamentals. We expect the various catalysts to materialize into increasing value for shareholders. That aside, Aileron witnessed the strong insider purchases and thereby deserves a second look by investors. Last but not least, the stellar FDA due diligence continues to deliver hopes to patients and ensuring the protection of Americans' health while serving as the industry tailwind for therapeutic innovators.
Author's Notes: We're honored that you took the time to read our market intelligence. Founded by Dr. Hung Tran, MD, MS, CNPR, (in collaborations with Analyst Vu, and other PhDs), Integrated BioSci Investing ("IBI") is delivering stellar returns. To name a few, Nektar, Spectrum, Atara, Madrigal and Kite procured over 187%, 164%, 221%, 243%, and 83% profits, respectively. Our secret sauce is extreme due diligence with expert data analysis. The service features a once-weekly exclusive Alpha-Intelligence article, daily analysis/consulting, and model portfolios. Of note, there is an IBI version of this article that is a higher-level intelligence with extensive details, in which we published in advanced and exclusively for our subscribers. And, we invite you to subscribe to our marketplace now to lock in the current price and save money for the future.
Disclosure: I/we have no positions in any stocks mentioned, and no plans to initiate any positions within the next 72 hours.
I wrote this article myself, and it expresses my own opinions. I am not receiving compensation for it (other than from Seeking Alpha). I have no business relationship with any company whose stock is mentioned in this article.
Additional disclosure: Our research articles are best used as starting points in your own due diligence. We are not registered investment advisors and our articles are not construed as professional investment advice.