It's time for the monthly dividend income update. As always, you can find the updated info at any time here Dividend Income Spreadsheet and the Portfolio Spreadsheet.
Summary
Dividend Income for May 2018: $726
Year-to-year growth: 115%
Purchased Oaktree Capital (NYSE:OAK) for $4,000
Reinvested Dividend in Novo Nordisk (NYSE:NVO) and Nordea (OTCPK:NRBAY) (OTCPK:NRDEF)
Travelling to Fukuoka, Kyushu and Okinawa
Living while Saving
May is the month of spring in the Northern Hemisphere. Now that May in the books, it's time to write the monthly dividend income update. Here in Tokyo, I've had spring ever since the Cherry Blossom Season started.
As always, before we move on to simple things such as talking about money, I want to share the plan for the upcoming weeks. As you know, I'm based in Tokyo, so the plan for this week is to fly from Tokyo to Fukuoka before heading over to Kyushu with a couple of friends.
We are going to rent a car and just drive around in the prefecture. As you know, I've been to more than 25 countries around the world. One of the things I've learned is that it's good to have an overall plan, but never follow a detailed plan. Just go somewhere and enjoy the moments. That's what I'm planning to do, but I can't wait to climb the volcano Mount Aso.
The weekend after that I'll be heading over to Okinawa with more friends and walk around in a small island called Kume Island. My plan is to sit on the beach, watch the sea along with my friends while drinking a ton of beers all night long.
Travel Tip:
If you want to travel everywhere, decrease your need for comfort and your budget expands ten-folds. I promise. Hotels can easily cost $100 or $200, but a cheap homestay or hostel can cost $10-20. That's wasted money in my view which I could use on adventures and activities. Do you really need that comfort? It's all about what you're used to and think you might need.
Dividend Income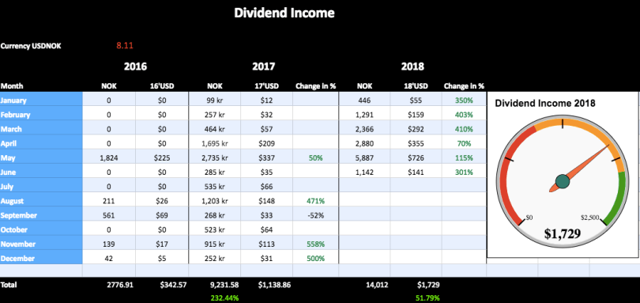 The total dividend income for May landed on $726 which is a 115% increase from May 2017. I find that highly satisfying since the prior dividend payment in 2017 was $327 which isn't bad at all. However, the snowball is gaining speed month by month.
The total dividend for 2018 is now 14,012 NOK or $1,729 which means a 51.79% increase from 2017.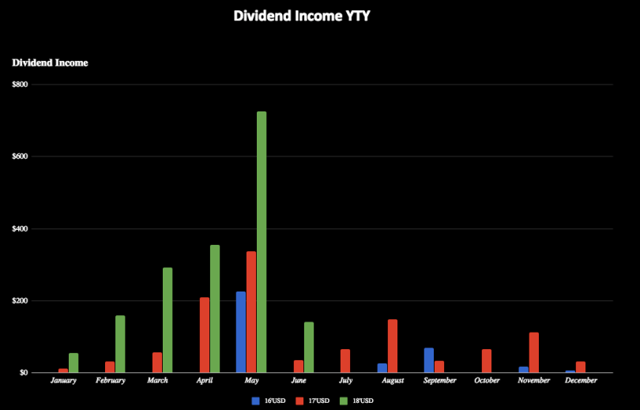 Dividend per Month, Day and Hour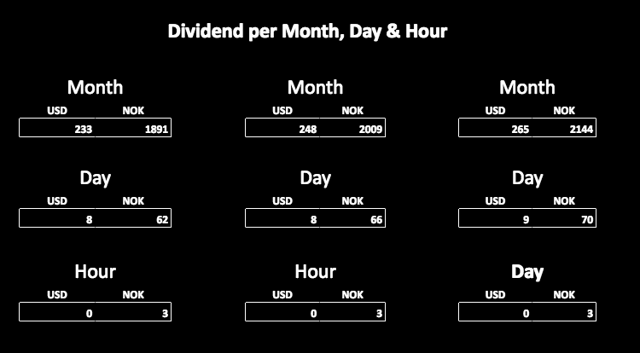 SleepMoneyTotal from Mr.Robot
The SleepMoneyTotal is the name suggested my loyal reader Mr.Robot which shows how much money I make while sleeping. So far, it's only $3 or 21 NOK, but I can't wait to see a much larger number here. Knowing that you earn money while sleeping is highly satisfying.

Accumulated Dividend Income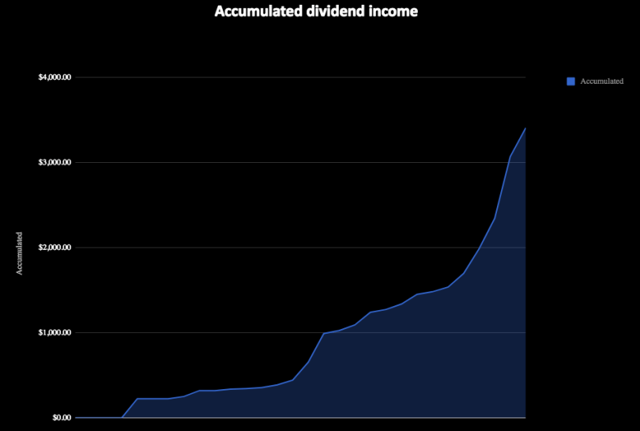 Portfolio Action
As you can read from the summary, I bought shares in Oaktree Capital for around $4,000 around the middle of May. I also promised to write a huge blog post where I explain why. I will do that, but as of now, I'm too busy so that will have to wait for now. Writing posts when you don't really have time results in bad quality, and that's something I want to avoid. So, stay tuned and you will see.
Other than that, I reinvested the dividend into Novo Nordisk and Nordea which both trade at a 20% discount or more to my target price.
Forward Dividend Income for 2018, 2019 and 2020

As a result of my dividend reinvestment, my dividend payment for 2019 and 2020 (excluding reinvestment and adding more capital) is $2,975 and $3,174. Huge numbers which will grow even further when I redeploy my dividends.
Editor's Note: This article discusses one or more securities that do not trade on a major U.S. exchange. Please be aware of the risks associated with these stocks.