Midstream corporations and MLPs finished roughly where they started this week. But along the way, on Thursday, both AMZ and AMEI reached their highest levels since mid-February. The gains through Thursday slipped away Friday and the MLP Index closed back at its 200-day moving average. Midstream held up in a bad week (within a bad year) for income securities like utilities.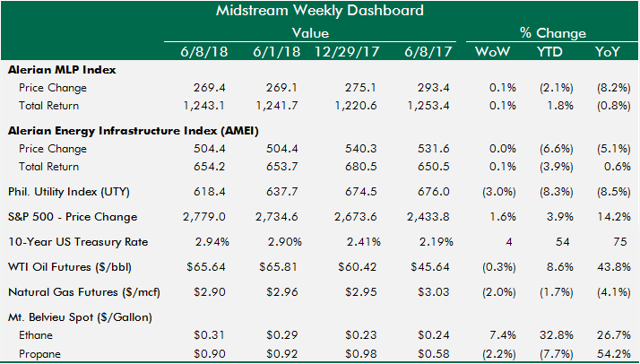 Found World, Rising Kingdom?
In the ongoing nostalgia film review (i.e. pop culture indoctrination) at my house, my kids and I have re-discovered Jurassic Park. That's probably not an accident given the 5th installment of the franchise (Fallen Kingdom) premieres this month. Also, this Monday (6/11) is the 25th anniversary of the release date of the original film.
Midstream treaded water alongside the rest of the market this week, awaiting the next macro event. The volatility index (VIX) closed below at its lowest point since January 26th. If you're cynical or a fan of chaos theory like Ian Malcolm in the Jurassic Park films, you'd take this calm as a precursor to pain.
We've become conditioned to be cynical like Goldblum's character. But what if this time, things didn't immediately go bad for the heroes (in this case, midstream investors), and there was no running and no screaming? Wouldn't that be nice?
Because Jeff Goldblum is a national treasure, and his portrayal of rock star chaos expert Ian Malcolm is so iconic, what follows are several other quotes from Malcolm that struck chords with me when thinking about the world of Jurassic Park through the lens of midstream and MLPs.
"The scientists were so preoccupied with whether they could, they didn't stop to think if they should."
This quote could be about MLP bankers. Hopefully bankers will be more thoughtful with structuring new MLPs in the future. That is assuming they will have a chance to create new MLPs in the future.
Hammond: "Don't worry, I'm not making the same mistakes again." Malcolm: "No, you're making all new ones."
Not all midstream companies will be winners in the next upcycle. Some will make the same mistakes that crushed others in the past. Being choosy when allocating to midstream is more critical than ever, and the winning management teams will be those who adjust with the times.
"Yeah, but John, if the Pirates of the Caribbean breaks down, the pirates don't eat the tourists."
This quote reminds me of L.P. unitholders getting the short end of the stick in simplification or sponsor M&A transactions. The unique corporate governance challenges of MLPs continue to rear their ugly heads in strategic transactions usually driven by sponsor motivations.
"I'm always on the lookout for the future ex-Mrs. Malcolm."
This quote reminds me of investors who continue to be excited about higher-yield MLPs even after being burned by doing so in the past with big distribution cuts. The great thing about this quote is how unapologetic and self-aware Malcolm is when he says this. Savvy investors likewise know better that to chase illusive high yields, but they go for it anyway.
"Life finds a way."
I wanted to end with the one famous line by Malcolm that is more optimistic than cynical. The lesson of the first film is chaos ensures that despite best efforts at control, life cannot be contained. Maybe midstream and MLP stock prices likewise cannot be contained and management teams will find a way to position their companies to realize benefits from a very positive fundamental backdrop. My contention is that some midstream companies will find a way, and that's good enough for me because me and my team should be able to identify those.
Winners & Losers
Liquids-focused MLPs grabbed the top 4 spots this week, including two with offshore footprints (GEL and SHLX). PAA's analyst day highlighted infrastructure constraints slowing the pace of completions in the Permian, and long-term pipeline transportation opportunities. On the downside, ENLK was the big loser among midstream MLPs, following the sponsor sale, but it was a big outperformer last week.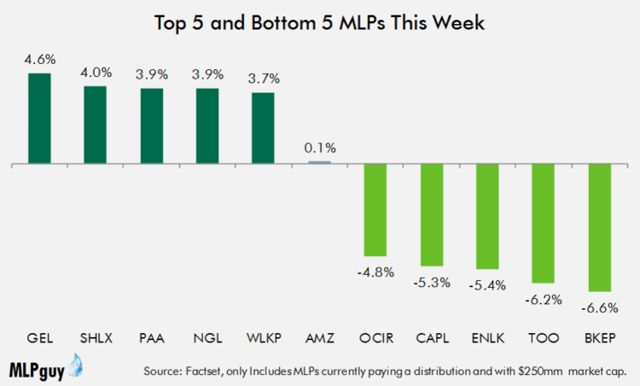 NGL made it two straight weeks in the top 5. On the year-to-date leaderboard, PAA's strong week pushed it back into the 5, CEQP and ENBL fell back a bit, and CEQP and NRP are still at the top. Liquids strength manifested itself in the bottom 5 as well, with EEP and BPL escaping the bottom 5.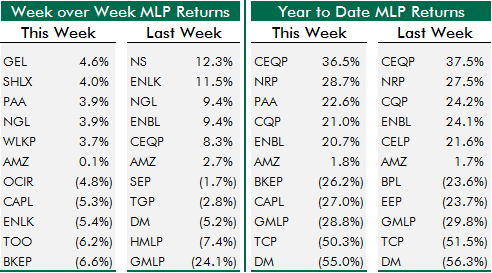 General Partners and Midstream Corporations
GPs and U.S. midstream corporations were slight underperformers compared with Canada and MLPs this week. TEGP led the way, PAGP didn't have the same bounce of PAA. On the downside, SEMG was a liquids-focused stock that didn't get the positive treatment that most others did this week, despite hosting a tour of the HFOTCO terminal after the PAA analyst day. ENLC was the worst performer on the news that DVN sold its controlling stake to PE firm GIP.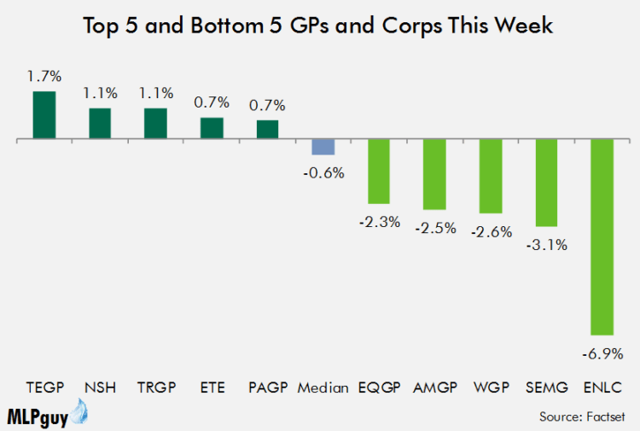 NSH held its gains from last week, but the rest of the top 5 last week gave back some of last week's gains. YTD, ETE and TRGP climbed into the top 5, replacing ENLC and WGP. SEMG took over the bottom spot, and WMB is still lingering near the bottom.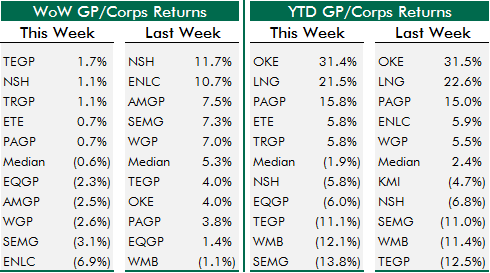 Canadian Midstream
Canada fared best this week overall, with the Enbridge entities leading the way, although the group traded in a tight band. Not much news in Canada this week, but big catalysts upcoming with ENB's Line 3 recommendation later this month and LNG Canada's expected FID sometime over the summer.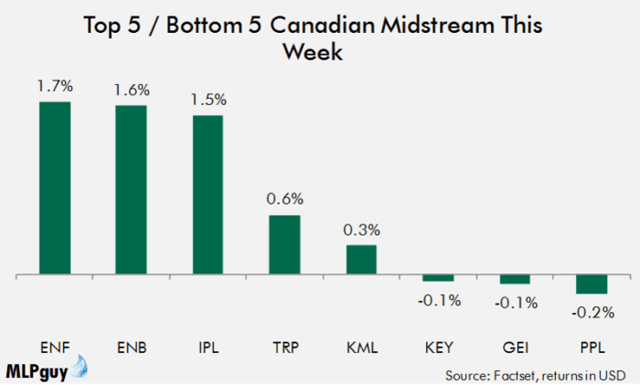 Year to date, not much change from last week.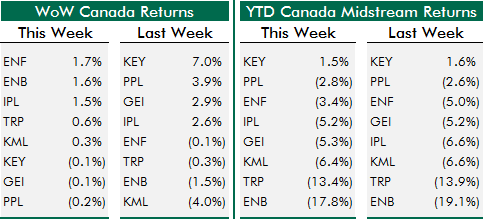 News of the (Midstream) World
Further evidence this week that many MLPs are not the masters of their own destiny. Control of EnLink changed hands, removing some uncertainty and adding some different uncertainty to that story. Earlier this quarter, ANDX investors were similarly treated to some unit price whiplash after its sponsor announced a merger. In related news, my children have no say if my wife and I decided we wanted to spend our summer vacation in a tent somewhere with no iPads.
Capital Markets
Growth Projects/M&A
Other