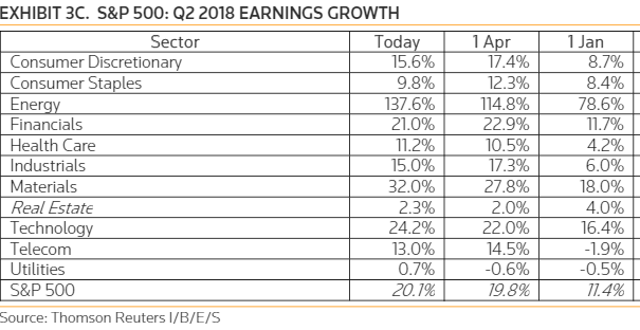 The above was cut-and-pasted from Friday, June 8th's "This Week in Earnings" and the table shows how S&P 500 expected earnings growth has tracked by sector since Jan. 1, 2018. Q2 2018 will obviously benefit from tax reform and the reduction in corporate tax rates, but S&P 500 revenue growth for Q2 2018 is still expected at a healthy 8% rate.
The weekly S&P 500 earnings data:
Fwd 4-qtr est: $163.82 vs. last week's $162.84
PE ratio: 17x
PEG ratio: 0.79x
S&P 500 earnings yield: +5.89% vs. last week's +5.99%
Year-over-year growth of fwd est: +21.5% vs. last week's +21.5%
A quick look at the Tech sector's expected forward earnings growth:
Q1 2019: +2.6%, vs. +9.7% (est)
Q4 2018:+14.9% vs. +13.9% (est)
Q3 2018: +16.5%, vs. +15.4% (est)
Q2 2018: +24.2% vs. +22% (est)
Q1 2018: +36.4% vs. 23.4% (actual)
The first column of numbers is actual/expected growth as of June 8, 2018, and the second column is as of April 1, 2018.
With Q1 2018 earnings practically complete, readers can see how strong actual tech earnings were versus the expectations as of April 2018.
Will Q2 2018 be as strong? So much depends on Apple (NASDAQ:AAPL). The fact that investors are seeing upward revisions to Tech earnings for Q2 2018 through Q4 2018 is comforting.
However, look at Q1 2019 and how that estimate's growth rate has fallen. Should we be worried? Hard to say - if there is a problem with Tech earnings beginning in Q1 2019, then the stocks should start to discount that issue shortly.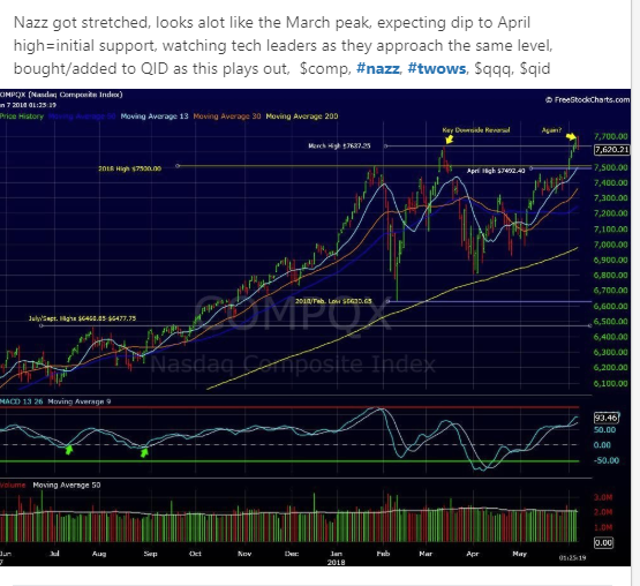 Here is a chart cut-and-pasted from Gary Morrow's work as June 7, 2018 where Gary indicates a potential double-top for the Nasdaq on the chart. (Note the word, "potential" - the chart has to resolve itself.)
The Nasdaq is worth watching this coming week.
For Q1 2019 so far, only the Energy and Real Estate sectors have seen upward revisions to the expected Q1 2019 data as of Friday. Still, it's a little early. We'll know more by late July 2018.
The FOMC announcement is also coming this week as well as European and Japan central bank pronouncements.
Big week ahead for "macro" monetary policy headlines.
Thanks for reading.