Kimberly-Clark (KMB) is a consumer staples company that manufactures prominent household brands for tissues, toilet paper, diapers, and feminine hygiene products.

With the stock having hit a 52-week low recently and with the consumer staples and utilities sector being trashed in preference for technology, we looked at whether this was a chance to get in on a bargain opportunity.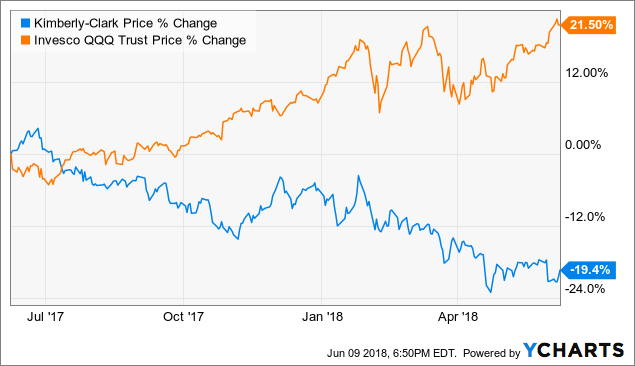 KMB data by YCharts
The cool stuff
While pretty much no one calls a consumer staples company "cool," we thought we would list the stuff we do like about this one under that heading. KMB products are a household name and, in many cases, supersede the actual product or are synonymous with it. For example "Do you have a Kleenex?" is far more likely the question you would hear versus "Do you have a tissue?". The other thing that stands out for KMB is the commitment to return cash to shareholders.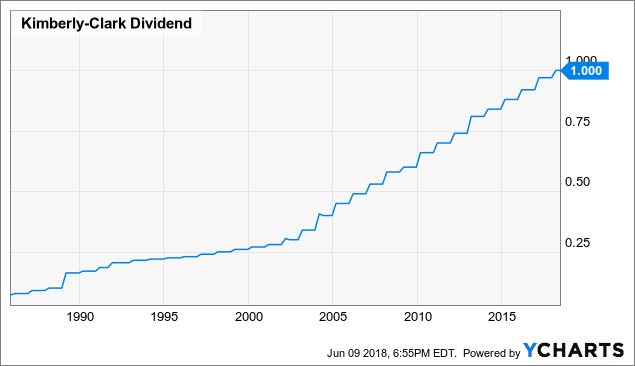 KMB Dividend data by YCharts
Those gradual step ladder dividend climbs have made many, many shareholders reach for a Kleenex to wipe away tears of joy as they read their monthly brokerage statements (increasing demand for a key product for KMB and creating a vicious cycle).
So do we take the plunge
KMB's dividend yield is now higher than at most points over the last 3 decades.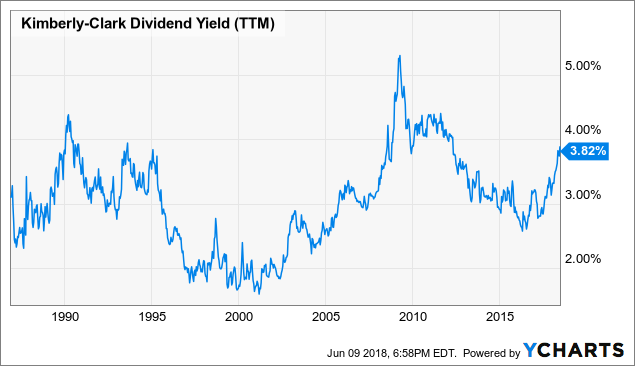 KMB Dividend Yield (TTM) data by YCharts
With an adjusted EPS of $7 expected this year, the payout ratio will still be a rather low sub 60% and the stock is now trading at about 14X expected earnings. So why has the stock taken such a beating?
There are three core issues for KMB that currently weigh on the stock:
1) Consumer staples is fiercely competitive with store brands and other brand name companies intensely competing for the same dollars.
2) The low interest rates have seduced KMB to take on a good deal of extra debt, and that is weighing on some investors' mind as rates rise.
3) Finally, the recent jump in commodity prices has hit KMB's net margins hard. KMB was fortunate that it benefited from tax cuts at around the same time and that helped boost adjusted EPS.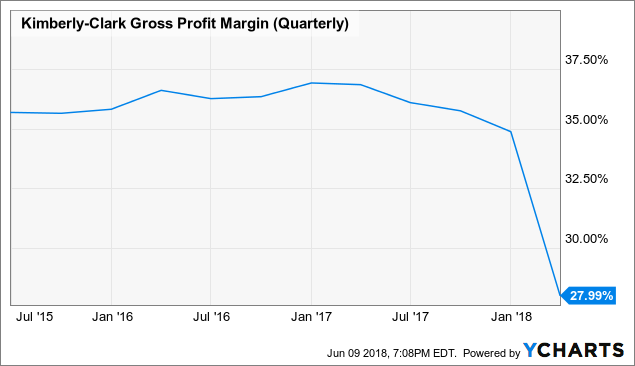 KMB Gross Profit Margin (Quarterly) data by YCharts
Here's our take on these three issues.
1) Consumer staples markets are intensely competitive, but KMB has shown great, long experience in creating growth in spite of that. The size and scale that KMB has are matched by a few competitors, and for most markets, we think the company should be able to maintain market share. So while the current environment is rough, we think KMB is up to the challenge here. Additionally, some losses in developed markets will likely be made up through growth in emerging markets.
2) While debt has gone up, KMB's debt metrics are extremely comfortable. While the company may be at the higher end of the range compared to Colgate-Palmolive (CL), Procter & Gamble (PG) and Unilever (UL), this is still a consumer staples company that we are talking about. A debt to EBITDA of 2.3X is still extremely low, especially in a world where utilities regularly sport a 5X multiple on this same metric.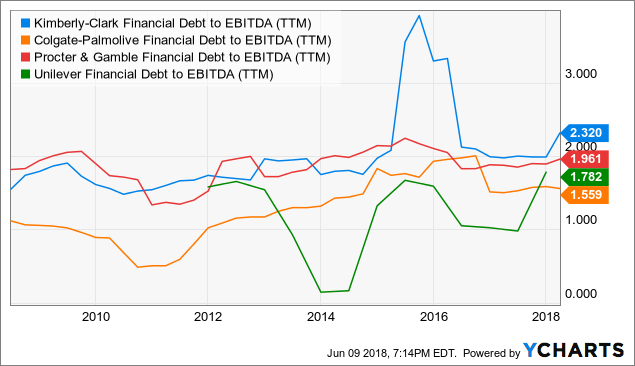 KMB Financial Debt to EBITDA (TTM) data by YCharts
3) While we are sanguine about the first two fears, we are not so buoyant about the third risk factor. KMB's gross and net margin deterioration is something to be concerned about. While many believe oil is in a short-term uptrend and will head back down soon, we hold the view that we are in a much longer-term upswing for oil and other commodities. We can see the impact the commodity cycle has on KMB's gross margins.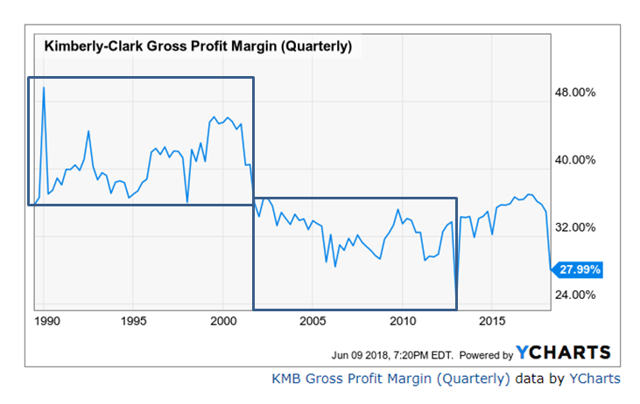 In the late 1990s till the year 2000, KMB's gross margin fluctuated much higher, in a range of 40-45%. In the ensuing commodities bull market, it fell rather sharply and stayed in a 27-35% range. You can see the perk up between 2015 and 2017 as oil prices headed lower. Finally, you can see the nasty drop off corresponding with the sharp up moves in lumber and oil prices in 2017-2018. Interestingly, even in 2015-2016, KMB was never able to regain its former gross margins in spite of commodity prices being at an all-time inflation adjusted low. This probably reflects the intense competitive-internet-driven environment of today. So if we believe (and we do believe) that commodities are in a long-term uptrend, KMB will have continuing intense challenges. You can see the price performance during the "commodity super-cycle" to get an idea of what we are talking about.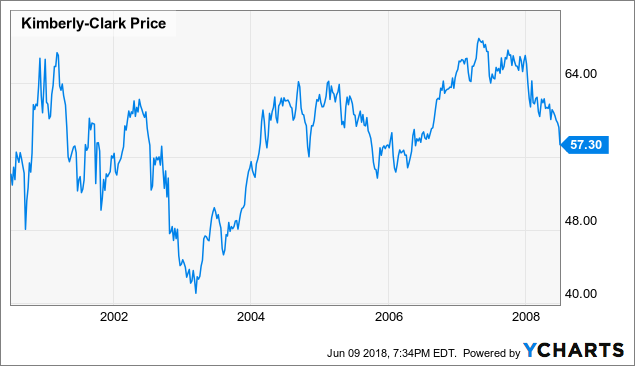 KMB data by YCharts
This mediocre performance was not driven by multiple compression either, but rather mainly by earnings.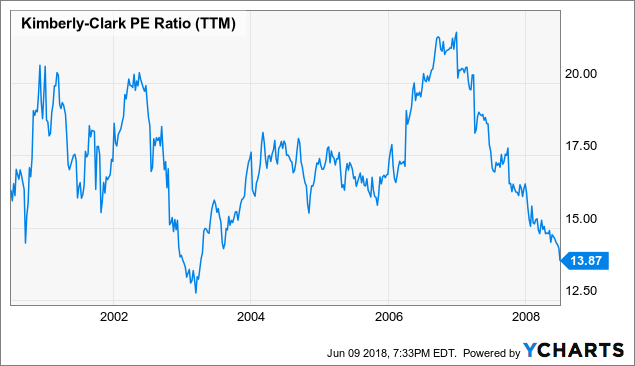 KMB PE Ratio (TTM) data by YCharts
Conclusion
KMB is a solid company offering a sound dividend yield. The debt metrics are fine, and if anyone can compete today in the consumer staples area, KMB can. We are not purchasing simply as we believe that the company lacks very strong pricing power to offset what we think is a longer-term commodities bull market. Should you believe the opposite, this might make sense for your portfolio. We also think that this might be close to the bottom of its range in terms of PE ratio, so selling naked at the money puts to capture the dividends and some expected upside might still be worth considering here in spite of the risks. We will be monitoring for such trades and alert our subscribers should we find something compelling.
For more analysis such as this, alongside real-time alerts to sell insurance (puts) to panicked investors and lottery tickets (calls) to euphoric investors, please consider a subscription to our marketplace service Wheel Of Fortune.
About "Wheel Of Fortune"
Wheel of Fortune is a leading and comprehensive marketplace service, dedicated to picking the best risk-adjusted opportunities in stocks, bonds, ETFs, and CEFs. We look for securities from an income and capital appreciation standpoint and focus primarily on managing risk in trades. We use options frequently to minimize risk and enhance returns.
We invite readers to have a closer look at our investment strategy and our best current picks. For more information, click here.
Disclaimer: Please note that this is not financial advice. It may seem like it, sound like it, but surprisingly, it is not. Investors are expected to do their own due diligence and consult with a professional who knows their objectives and constraints.
If you enjoyed this article, please scroll up and click on the "Follow" button next to my name to not miss my future articles. If you did not like this article, please read it again, change your mind and then click on the "Follow" button next to my name to not miss my future articles.
Disclosure: I/we have no positions in any stocks mentioned, and no plans to initiate any positions within the next 72 hours. I wrote this article myself, and it expresses my own opinions. I am not receiving compensation for it (other than from Seeking Alpha). I have no business relationship with any company whose stock is mentioned in this article.
Additional disclosure: We are long energy stocks.