In the last article, I highlighted the potential of Reolysin for the treatment of metastatic breast cancer. Although breast cancer is the most promising and advanced indication, there are other opportunities for Oncolytics which will be discussed here.
Pancreatic is promising:
Previously, Oncolytics has already completed phase II studies for pancreatic cancer. Metastatic pancreatic cancer is notoriously difficult to treat and less than 4% of patients survive to the 2 year time-point. In a controlled-trial, the combination of Reolysin with chemotherapy (carboplatin and paclitaxel) significantly increased the number of patients surviving to 2-3 years as seen in the chart below (note the different between the control and test group in the green box). Furthermore, the company evaluated Reolysin with a different chemotherapy agent (gemcitabine) in a non-controlled trial and demonstrated a similar overall survival benefit.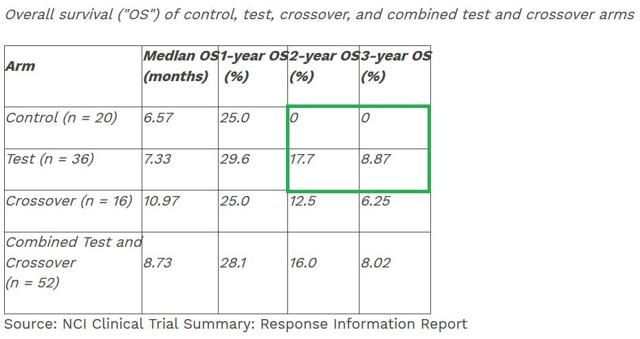 Instead of continuing to study Reolysin in combination with chemotherapy, Oncolytics believes that there is more potential in combining Reolysin with immunotherapies. The rationale is that Reolysin will increase immune recognition of cancer cells, acting in a complementary fashion to Keytruda. Out of six evaluable patients in a phase I study (Reo 024), three patients had stable disease at 126 days, 277 days and 504 days. This is impressive considering that these patients already had metastatic disease and were receiving second-line therapy. Patient biopsies revealed reovirus infection of the cancer cells with immune infiltrates.
In support of this data, Oncolytics has recently announced a partnership agreement with Merck to study the combination of Reolysin with Keytruda in a phase II study later this year. Reolysin's ability to act in a complementary fashion to existing therapies will help Oncolytics secure future partnership deals.
Multiple Combinations for Multiple Myeloma:
In partnership with Celgene (NASDAQ:CELG), Oncolytics is studying the combination of Reolysin with the blockbuster drugs Revelimid and Pomalyst/Imnovid for the treatment of Multiple Myeloma. The phase Ib trial began in September 2017 and should report data in early 2019.
Other combinations being examined for relapsed/refractory multiple myeloma. The University of Southern California is looking at combining Reolysin with Bortezomib and Dexamethosone. A separate phase I pilot study is examining the use of Reolysin with Carfilzomib and Dexamethosone. Multiple Myeloma is a large and expanding market due to the aging population, this is evidenced by the massive revenues generated by Celgene with Revelimid. The use of Reolysin for multiple myeloma is being approached from multiple angles and adds to the value of the pipeline for Oncolytics.
Is Oncolytics a Buyout Candidate?
I believe that Oncolytics is undervalued relative to its pipeline potential and therefore it may be a buyout candidate. Merck would be natural fit due to their recent partnership in combining Reolysin with Keytruda for pancreatic cancer. In addition, Oncolytics is looking at combining Reolysin and Keytruda for other indications such as prostate or colorectal cancer, which may further benefit Merck.
Merck has already showed interest in the field of viral therapies with their purchase of Viralytics for close to $400 million. Viralytics has completed only one non-controlled phase II trial for melanoma and a few phase I studies. Oncolytics has significantly superior evidence of overall survival benefit for the breast and pancreatic cancer than Viralytics has for melanoma. Bristol-Myers Squib could also opt to acquire Oncolytics since they have their own PD-1 immunotherapy Opdivo, which could be used in combination with Reolysin. They previously entered in a deal with PsiOxus Theraputics worth up to $886 million to combine their viral therapy with Opdivo, currently being studied in a non-controlled phase I trial.
Although a buyout is a possibility, I hope that it does not happen in the short-term and would rather leave the quick money on the table. In my opinion, the premium paid in a buyout today would not adequately reflect the underlying potential this company has. With a market cap consistently under $150 million, I believe Oncolytics can significantly appreciate in value before any buy-out is considered.
Risks with Oncolytics:
As with any micro-cap stock in the biotech industry, there are considerable risks involved. Due to low volume, Oncolytics can experience substantial volatility. In addition, small biotech companies are almost always cash flow negative each quarter and must continue to secure funding through partners, debt or share issuance. Oncolytics does not have any immediate cash concerns. After listing on the NASDAQ, the company recently closed an $8.9 million dollar public offering. Therefore, they should not require any further share dilution in the near-term (into 2019) unless their operating costs rise substantially. Oncolytics will commence its Phase III trial in breast cancer later this year. Any delays in trial execution could pressure the price in the near-term, while long-term success of this trial will be critical for this stock to take off.
Disclosure: I am/we are long onc.TO, oncY. I wrote this article myself, and it expresses my own opinions. I am not receiving compensation for it (other than from Seeking Alpha). I have no business relationship with any company whose stock is mentioned in this article.
Editor's Note: This article covers one or more microcap stocks. Please be aware of the risks associated with these stocks.