No one knows what returns we will generate from stocks over the next decade or more. Anything can happen from outrageous positive returns to an elongated recession that leads to negative returns. We simply don't know. That said, we do know the present and the current earnings yields and potential growth rates that might enable an educated guess or guesstimate.
In 2015 I penned how Gravity Helped Warren Buffett Predict Stock Market Returns from 1999.
In 1999 we were approaching the end of one of the greatest bull markets in US stock market history and there was great concern over valuations and expected returns. Mr. Buffett was reasonably accurate in predicting the returns from 1999, and as per the article title he used Gravity, er make that interest rate moves, to predict the returns. One of Mr. Buffett's more famous quotes is that rates work like gravity on stock prices, pulling or repelling the prices in either direction. From my previous article ...
... we need first to look at one of the two important variables that affect investment results: interest rates. These act on financial valuations the way gravity acts on matter: The higher the rate, the greater the downward pull. That's because the rates of return that investors need from any kind of investment are directly tied to the risk-free rate that they can earn from government securities. So if the government rate rises, the prices of all other investments must adjust downward, to a level that brings their expected rates of return into line. - Warren Buffett
Stocks earnings yields are in competition with the risk free yields and generally the lower risk bond yields of various types of bonds. When you read that gravity article you'll see that Mr. Buffett laid out a couple of interest rate scenarios and the expected 17 year returns from 1999. The actual return for the S&P 500 (IVV) for the period was 4.92% annual. Warren was not that 'far off'.
One of the most popular evaluation methods for predicting stock returns is the CAPE (Cyclically Adjust Price to Earnings) method that smooths out the price to earnings ratios over a longer period, compared to using a static PE ratio. It proved to be quite accurate for quite some time, but then, well like many tools of prognostication, it fell apart. A new paper from Vanguard suggests that the reason for the 'failure' is that the CAPE does not take into account the interest rate environment. The CAPE is sans Gravity. The CAPE expects stock prices to revert to the norms based on the earnings yield available. We have not reverted, we have a new normal and it's possible that the event is simply delayed.
Here's a link to A new way to value the stock market: The "fair-value" CAPE.
And here's the most telling chart that compared the traditional CAPE with the modified CAPE, CAPE + Gravity.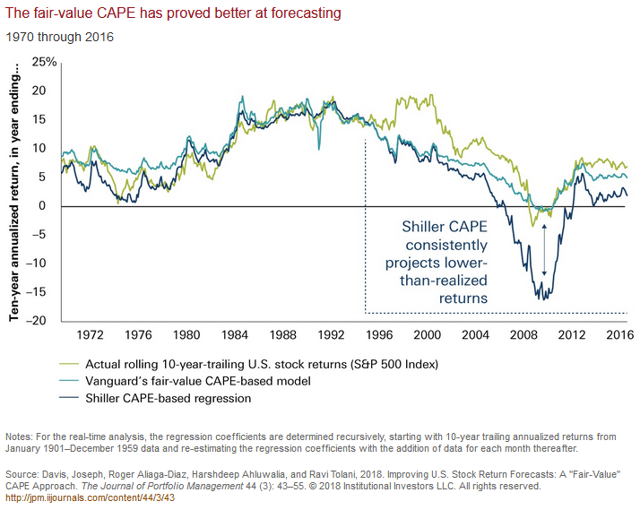 We see that the modified CAPE is certainly better, but hey, nobody's perfect in the land of predictions. As the saying goes ...
Predictions are difficult to make, especially about the future.
The conclusion from the Vanguard paper is that expected 10 year returns from today are in the area of 3-5% annual. That's quite meager for sure, by historical standards, but keep in mind stocks can deliver zero returns of longer periods of several years to a decade. See the lost decade for US stocks, 2000-2009.
What does that mean? I would not suggest that anyone change their investment strategy based on 'expected' returns. We'll get what we get. If one is young(ish) and in the accumulation stage they might simply invest on a regular schedule and accumulate shares or units. If we get some major market corrections along the way (that's a likelihood, but hey anything can happen or not happen) that will be an opportunity, a PE ratio reset when investors are able to typically buy more shares and potentially more earnings yields. Yes earnings yields can fall apart in recessions. In that case investors are stocking up on shares in anticipation of greater economic fiscal health and the eventual return of generous earnings yields and higher stock prices. Now certainly, we can't time that market correction, but when it arrives keep on keeping on. If you can find some more funds, invest more.
And perhaps more importantly, keep in mind that the US stock market is not the only available developed market for investing. Most investors have an incredible home bias, that can be a disadvantage in some periods, once again see that lost decade for US stocks when Canadian (EWC) and International Developed (EFA) (VEA) markets did quite well. Investors might also consider adding some bonds to the mix for portfolio risk management and the ability to take advantage of any higher bond yields that might appear over time. Yes bond prices will get hit, but over time that bond component will deliver greater income. You can construct your bond portfolio in a manner so that it can more quickly take advantage of those higher yields.
One might embrace a traditional bond universe ETF such as (AGG) or if they're looking for great market insurance that has the potential to move up when stock markets get hit hard (inverse relationship), they might consider the hated longer dated treasuries (TLT). If we do move through periods of great volatility it's quite possible that the traditional balanced or balanced growth model will outperform an all stock portfolio even for an extended period.
If one is approaching retirement or in retirement they might simply manage the risks as is always prudent no matter what PE ratios are, or what the scaremongers are up to. For retirees I often offer my article on How Retirees Made It Through The Last Two Recessions article. It was simple asset allocation that once again combined some US large cap dividend payers, some International exposure and those bonds to manage stock market sequence of returns risk.
And retirees might simply be prepared for very modest returns. That might mean adjusting spending plans, or spending rates when the markets get hit hard.
All said, an investor should be optimistic over the longer term, but should always prepare for the market corrections and perhaps very modest returns. If we believe in the economies of the world, and if we believe in economic progress, we invest. And who knows we might even continue to be rewarded and surprised to the upside.
It's the stock market. It will do what it wants to do. The stock markets are a guaranteed investment; they're guaranteed to go up, down or sideways. That's a prediction I am happy to make.
Happy Investing.
Author's note: Thanks for reading. Please always know and invest within your risk tolerance level. Always know all tax implications and consequences. If you liked this article, please hit that "Like" button. If you'd like notices of future articles, click the "Follow" button.
Disclosure: I am/we are long AAPL, NKE, BCE, TU, ENB, TRP, CVS, WBA, MSFT, MMM, CL, JNJ, QCOM, MDT, BRK.B, ABT, PEP, TXN, WMT, UTX, LOW, RY, BNS.
I wrote this article myself, and it expresses my own opinions. I am not receiving compensation for it (other than from Seeking Alpha). I have no business relationship with any company whose stock is mentioned in this article.