Shares of leading recreational vehicle maker Thor Industries (THO) sold off the other day after Q3 earnings missed estimates. Cost pressures caused by Trump's steal and aluminum tariffs were the main reason for the weakness, but these are headwinds the market has been expecting for some time now. THO's market cap has fallen by more than one-third YTD and the selling is overblown in light of what are otherwise very favorable industry trends. We believe THO is undervalued and that a buy makes sense at these levels.
Figure 1: THO Stock Performance Graph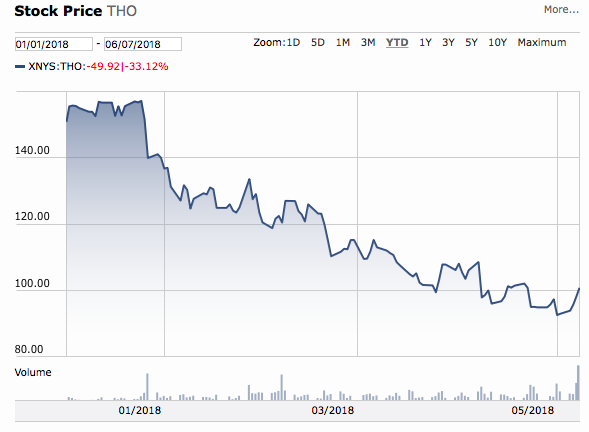 Source: Morningstar
The selling started back in January when an analyst downgraded THO and key competitor Winnebago (WGO) to "Neutral". Now, one downgrade doesn't usually warrant this kind of market response, but the analyst's warnings were validated in Q2 when management expressed concerns about rising labor and raw materials costs. Thus, the stock continued to slide after Q2 even though the quarter was actually quite strong: earnings increased 23% y/y and THO beat estimates on both the top and bottom lines.
Fast-forward to Q3 and the cost headwinds once again took center stage. Revenues increased 11.9% to $2.25B (beating estimates by $10M), but this time earnings came up short of estimates. Gross margin took a hit due to increased warranty expenses and slightly higher labor and raw material costs, thus the majority of the 19.9% EPS increase resulted from a lower corporate tax rate. While labor costs moderated, management said that it's still experiencing price inflation in raw materials and commodity-based components due to the steel and aluminum tariffs, and that earnings will continue to be effected.
There's no doubt that these tariffs are a negative for RV manufacturers like THO, but the fears are overblown. The sector is positioned for sustainable, long-term growth thanks to favorable demographic tailwinds that make the cost pressures look tame in comparison. The stock is currently priced at historical lows, but continued execution and a favorable economic backdrop should see THO grow earnings at similar rates to the past.
Valuation
THO currently trades at a trailing P/E of 11.8, which is below THO's minimum P/E ratio from the previous 10-year cycle (12.3) that occurred in the aftermath of the financial crisis. In other words, the stock is priced for a recession.
Figure 2: Historical P/E Ratios

Source: Madison Investment Research
But the RV industry is anything but languishing, and is actually in the midst of one of its strongest upswings on record. The strength continued last year despite an increase in interest rates and significantly higher fuel costs, and this isn't some short-term rally that hinges on one or two macroeconomic variables.
Figure 3: RV Unit Shipments (in thousands) 1981 – 2017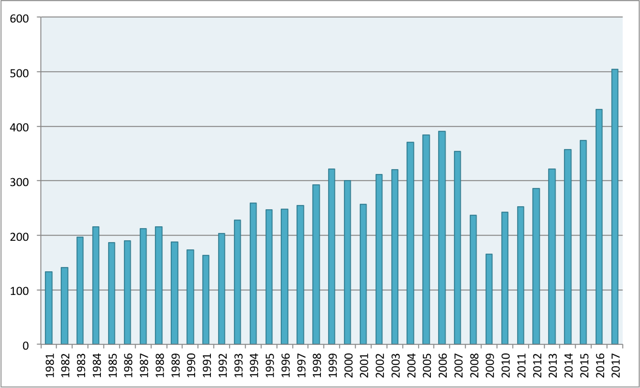 Source: RVIA
The current industry environment is close to ideal: consumer confidence is high, unemployment is low, housing and financial asset prices keep rising (fueling the wealth effect), and it's easier and cheaper for consumers to get credit than it was in the past. Sure these are all cyclical factors, but the longer-term picture is promising as well.
Demand is being driven by favorable demographic and lifestyle trends; namely the ongoing strength of baby-boomer customers, and a shift in consumer preferences from material goods to experiences and activities, which is resulting in a lot of first-time and younger buyers. In fact, unlike previous expansions, the current upswing has been driven largely by new customers adopting the RV lifestyle and adopting it at a younger age than the industry has seen historically. This growth should be more sustainable over the long term.
In terms of the outlook for FY18, management expects another record year. The company did warn of tough y/y comps, specifically in the fourth quarter, and the cost pressures are something to keep an eye on.
But for long-term investors with a big-picture focus, the costs headwinds are relatively insignificant. Metal price volatility has been an issue for years (Figure 4), and THO has managed to keep gross margins stable for the most part (Figure 5). In fact, between 2009 and 2012 the producer price index for aluminum increased ~40% but THO's gross margin in 2012 was actually higher than it was in 2008. Similarly, over the last two years the index increased by roughly the same amount but TTM gross margin was higher than it was in 2015.
Figure 4: Producer Price Index for Aluminum Sheet and Strip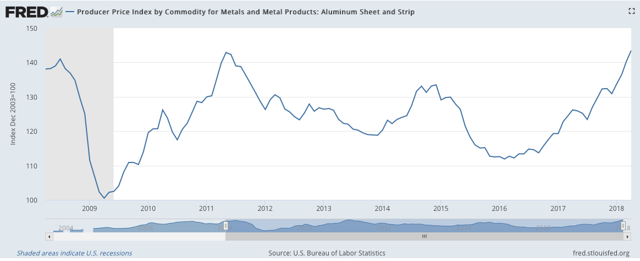 Source: FRED
Figure 5: Gross Margin %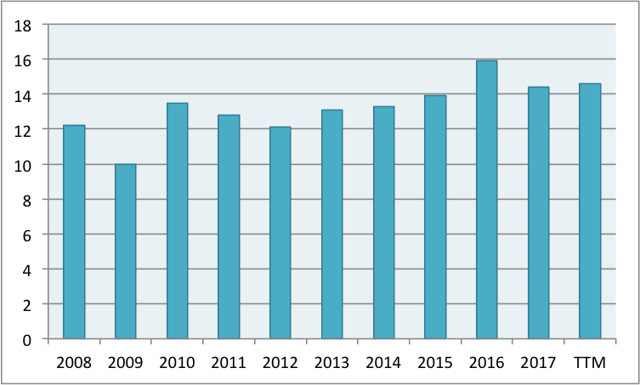 Source: Madison Investment Research
Conclusion
The fears surrounding THO are overblown and we believe the stock is a compelling choice for long-term investors at the current valuation. THO is essentially priced or a recession but industry conditions are close to ideal and the RV market is expanding with new and younger customers. Historically the company has been able to keep margins relatively stable during periods of significant raw material cost volatility, and we don't see any reason to doubt management now.
Disclosure: I/we have no positions in any stocks mentioned, and no plans to initiate any positions within the next 72 hours.
I wrote this article myself, and it expresses my own opinions. I am not receiving compensation for it (other than from Seeking Alpha). I have no business relationship with any company whose stock is mentioned in this article.