The Walt Disney Company (NYSE:DIS) has been dominating the media and entertainment industry for many years. It has produced many movies which we live our childhood with. It is the brand which cannot be replaced easily in our minds. However, at the current stock price, Disney is trading at only 13.54x P/E, a much lower valuation than the S&P 500's at 24x P/E. In addition, it yields 1.59% in dividends. Let's take a closer look to determine whether Disney is a good buy now.
Business snapshot
Disney has four main business segments, including Media Networks, Parks & Resorts, Studio Entertainment and Consumer Products & Interactive Media. In 2017, the company only had positive growth of 14% in the Parks and Resorts segment, while Media Networks, Studio Entertainment and Consumer Products & Interactive Media experienced a year-over-year drop in operating profits. The biggest business segment, Media Networks, decreased by 11% to $853 million in 2017 due to a decrease in ESPN and lower equity income by investors. Indeed, ESPN has been a drag on the company's financial results. Although the affiliate revenue increased, the high programming expenses and low advertising revenues are the causes for the decline in ESPN's results. Investors should not be discouraged by the short-term operating performance. There are some strategic moves that Disney is focusing on driving the business forward.
Strategic shift to streaming services
Following the global trend in the subscription economy, Disney acquired a majority stake in BAMTech, the global leading company in direct-to-consumer streaming technology and service provider of data analytics and marketing services, paying an additional $1.58 billion to own an additional 42% in the company. Following this investment, Disney owns 75% in BAMTech. Robert Iger, chairman and CEO of Disney, commented: "This acquisition and the launch of our direct-to-consumer services mark an entirely new growth strategy for the Company, one that takes advantage of the incredible opportunity that changing technology provides us to leverage the strength of our great brands."
With this acquisition, Disney has been expanding plans for the first direct-to-consumer service under the ESPN brand. In addition, by 2019, the company will also launch its streaming service under the Disney brand, allowing subscribers to watch video-on-demand of famous animated movies from both Disney and Pixar, including Toy Story 4, The Lion King, etc. Thus, with this corporate strategic shift, Disney also ends the distribution agreement with Netflix (NASDAQ:NFLX), taking on the direct-to-consumer streaming service by itself.
Indeed, the streaming services will increase the value of Disney in the future. Netflix, the global dominant streaming service provider, has experienced significant growth in subscriber numbers over time.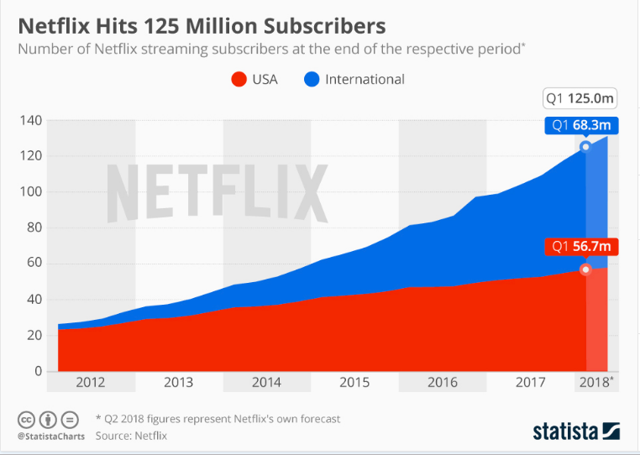 Source: Statista
Since the first quarter 2011, its total subscriber number has seen exponential growth, from 23.6 million to 125 million, a compounded annual rate of 26.9%. For Disney, it has a competitive edge over Netflix in terms of recruiting users due to the existing subscribers of its cable networks. In 2017, the number of subscribers for ESPN, Disney's cable networks globally has reached more than 1.3 billion. I personally think that the company can grow its streaming subscribers at a faster rate because it is a content owner, has a strong existing global brand, and has a huge number of existing cable network subscribers. Morgan Stanley estimated that Disney would have 30 million subscribers in the next 10 years.
Hulu plays an important role in the new strategic moves
In the transition to the new media era, another Disney's business will make a huge impact. It is Hulu, another streaming service of television series. Since the beginning of the year, Hulu's subscribers have grown from around 17 million to more than 20 million for now. However, the service is still generating losses. Hulu's losses are not expenses, but rather an investment in programming and marketing for its growth, a part of Disney's transition to its new distribution strategy.
Disney's footprint in China
In 2017, only the Parks and Resorts segment enjoyed positive growth in revenue and operating income. This business segment generated $18.4 billion in revenue, 8% growth, and $3.78 billion in operating income, a year-over-year growth of 14%. The main growth contributor to this segment was the growth in international operations, especially a full year of operations in Shanghai Disney Resort.
Shanghai Disney Resort is one example of what Disney can do to enter the largest consumer market in the world. The resort is actually controlled by the Chinese government, which has a 57% stake. Many investors are worried about copycats in China, but that is no longer the case with Disney. By closely working with the Chinese government, the company can prevent the copycats. Last November, five copycat hotels near Disney's parks were fined by the governments, and nearly 2,000 counterfeit Disney items were seized in Hangzhou. The company chairman and CEO said that Shanghai Disney Resort is the structure which works. "They have a tremendous amount riding on it." Thus, with the ongoing relationship with the Chinese, Disney will definitely benefit when it wants to expand consumer products and streaming services in China.
The acquisition of Twenty-First Century Fox (NASDAQ:FOXA)
The deal of acquiring Fox would give Disney a lot of creative content for streaming services. Fox has great movie database, including Logan, The Martian, Star Wars, etc. It also has great television series, such as New Girl, This is Us, Modern Family, and Homeland. Fox's global sports platform, including 22 regional sports networks and other sports right in Europe, India, and Latin America, fits well with EPSN's strategy to become the leading global sports media brand. With the ownership of Sky, Disney could have direct relationship with 23 million households that are Sky's subscribers. Last but not least, the deal has made Disney the global leader in the direct-to-consumer streaming service business, with a controlling interest in Hulu in the U.S., Sky in Europe, Hotstar in India, and the new Disney- and ESPN-branded services.
Key takeaway
Disney has strong legacy with a famous brand which is loved and respected around the world. With its strategic shift to streaming services, the strong footprint in China and the Fox acquisition deal would give the company a very bright future to dominate the entertainment media business globally. DIS is a stock investors should own in a long run.
Disclosure: I/we have no positions in any stocks mentioned, and no plans to initiate any positions within the next 72 hours.
I wrote this article myself, and it expresses my own opinions. I am not receiving compensation for it (other than from Seeking Alpha). I have no business relationship with any company whose stock is mentioned in this article.