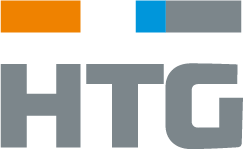 According to their website,
HTG Molecular Diagnostics (HTGM), Inc.'s mission is to empower precision medicine at the local level. The company's proprietary HTG EdgeSeq technology automates multiplexed molecular profiling of nucleic acids in a wide variety of solid and liquid samples, even when very limited in amount. The extraction free workflow paired with detection by next-generation sequencing offers many advantages and enables meaningful applications, such as identifying biomarkers important for precision medicine, understanding the clinical relevance of these biomarkers, and, ultimately, identifying treatment options.
Next Generation Sequencing
Prior to next generation sequencing (NGS), laying out the entire genome of one human took nearly a decade. Today, it takes no more than a day. While NGS can be utilized for a variety of reasons, we will focus the majority of our attention on its use in oncology.
NGS is utilized to identify and target specific tumor mutations, providing a personalized approach to care. Currently, because it is still in its infancy, the use of NGS is restricted to research purposes. It is likely to become commercialized in the future as doctors will profile patients according to the genes they present with to determine the best course of treatment.
Centers for Medicare & Medicaid Services
In March, the Centers for Medicare & Medicaid Services (CMS) approved coverage of NGS. Released as a statement:
Today the Centers for Medicare & Medicaid Services (CMS) took action to advance innovative personalized medicine for Medicare patients with cancer. CMS finalized a National Coverage Determination that covers diagnostic laboratory tests using Next Generation Sequencing (NGS) for patients with advanced cancer (i.e., recurrent, metastatic, relapsed, refractory, or stages III or IV cancer). CMS believes when these tests are used as a companion diagnostic to identify patients with certain genetic mutations that may benefit from U.S. Food and Drug Administration (FDA)-approved treatments, these tests can assist patients and their oncologists in making more informed treatment decisions. Additionally, when a known cancer mutation cannot be matched to a treatment then results from the diagnostic lab test using NGS can help determine a patient's candidacy for cancer clinical trials.
This will help HTG to be reimbursed for their services in the future.
HTG EdgeSeq Technology
Launched in 2014, EdgeSeq utilizes NGS to generate a molecular profiling library for detection of genes. A few different customers are utilizing this technology. Amongst them include academic institutions and biopharmaceutical companies. HTG's product pipeline is consisted of a number of proprietary molecular profiling libraries.
HTG intends to expand their portfolio with concentrations on immuno-oncology and next generation pathology.
Sources of Revenue
Currently, the company has two main sources of revenue: research use only and from collaborative development services for companion diagnostic development programs for biopharmaceutical companies. Revenue from the prior can then be broken down to (1) outright purchases of EdgeSeq or (2) use of EdgeSeq. Revenue from the latter includes services performed primarily for biopharmaceutical companies related to the use of EdgeSeq.
Revenue for the 1Q 2018 is as follows:

Source: HTG 10-Q filing
Customers
79% of the company's sales is from outside the US. 73% of that revenue (and 58% of total revenue) is derived from QIAGEN Manchester Limited (QML). The relationship with QML is a collaboration in which QML sets HTG up for statements of work (SOW), which serve as customers. Currently, there are three SOW. The company is not obligated nor would it be entirely prudent for them to reveal who the customers are, as the business relationships are of brevity.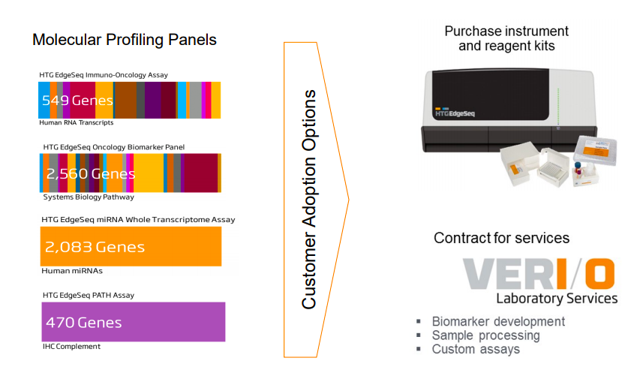 Source: HTG Corporate Presentation, February 2018
Fundamentals
HTG did $14.8M in revenue for 2017, representing 188% YOY growth. The company projects revenue for 2018 will be between $21 and $25M.
HTG ended the quarter with $20M in cash and cash equivalents. Recently, HTG entered into a senior debt facility for as much as $30M.
For the quarter ending March 31, HTG reported a net loss of $5.38M, in line with historical losses. They burned $2.7M in cash. They have ~ $9M in debt obligations.
The current market cap stands at $107M. Considering the significant growth HTG projects to achieve, its spectacular gross margins, and additional future growth drivers, it seems HTG is primed for significant appreciation going forward
Future Growth Drivers
HTG unveiled a new Precision Immuno-Oncology panel of over 1,300 genes at ASCO. The product is expected to be available in Q3.
HTG entered into a non-exclusive license and supply agreement with Firalis allowing Firalis to develop and commercialize a theranostic test to predict a rheumatoid arthritis patient's response to anti‑TNFα therapy, the primary therapy for millions of patients. The new assay using Firalis' gene expression signature, BIOPRED, would be commercialized on the HTG EdgeSeq platform.
Last December, HTG entered into a collaboration with Merck for biomarker research within Merck's KGaA pipeline. Because the six indications Merck intends to use HTG services are in phase 1 trials, no significant revenue is expected from this deal for 2018. But it is sure to add some value to revenue going forward for years to come.
Regarding CMS coverage of NGS technology,
I'd also like to note that we believe the recent announcement by CMS concerning their national coverage decision for NGS based FDA approved companion diagnostics for advanced cancer is believed to be very favorable for our business. The majority of our plant diagnostic assays are expected to be improved companion diagnostics with what now appears to be a clear reimbursement path for US market.
Regarding the collaboration with Firalis and going outside of oncology for additional opportunities,
We're highly oncology focused. We've got a laser approach to how we're looking at our growth mark in Immuno-Oncology but we're certainly not limited and we do not believe that gene expression profiling is limited to only one disease state. So in addition to Firalis, we have a number of other customers that are working with our technology and other disease states.
Regarding their competitive edge in immuno-oncology,
First of all, we believe this panel at the gene content is going to be at least double the content of other competitive products. Obviously some folks are utilizing full RNA seek to do similar types of studies, but for targeted panels in this space. We believe this will be a very comprehensive panel and larger than other offerings.
Regarding quarter-to-quarter revenue variances,
We believe margins that we saw in Q1 are going to be very indicative of what we expect to see for the full year. As far as the lumpiness we obviously are measuring ourselves sequentially year-over-year. We do not expect to see sequential quarters. We don't have enough history yet Mark to say that there's some sort of trend then we can look back on to seasonality or patterns.
Institutional Buying
Source: nasdaq.com
Technically Speaking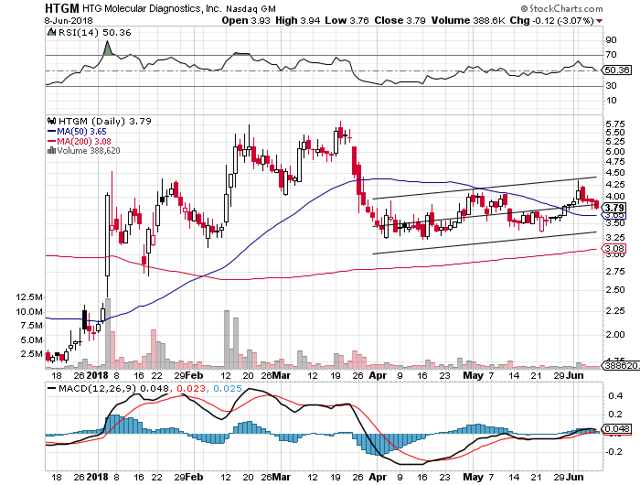 Chart courtesy of StockCharts.com
Given recent developments, HTG has been trading attractively. It will be interesting to see how price movement reacts when it comes close to the 50 MA.
HTG is a conviction buy with a price target of $5 to be met before EOY.
Risks
A significant amount of current revenue is derived from one source. A loss of relationship with this source will result in a large decrease in revenue.
HTG will face competition, often larger than it.
HTG has yet to net a quarterly profit and is unlikely to do so for some time. They may resort to dilution to operate business going forward.
All other risks can be assessed by reading their most recent 10-Q filing.
Summary
In Summary, we believe NGS will be very important going forward in medicine, particularly in the ever-growing field of immuno-oncology. HTG seems primed to take advantage of the wave of personalized medicine. Previously, we would diagnose a patient with "breast cancer" and place the patient on the same therapy that all "break cancer" patients receive. Due to advancements in technology and medicine, we now know that this isn't the best course. NGS is the future in targeting patient-specific variations that will enable doctors and patients, alike, to defeat their disease head-on.
Author's Note: For further insight into biotechnology stocks, please "Follow" Clover Biotech Research.

Disclaimer: The intention of this article is to provide insight, not investment advice. While the information provided in this article is intended to be factual, there is no guarantee and prospect investors are encouraged to do their own fact-checking and research before investing in a company. One must also consider one's own financial standings, risk tolerance, portfolio diversification, etc. before making a decision to buy shares in a company. Many of my articles detail biotechnology companies with little or no revenue. These stocks are, therefore, speculative and volatile. Even when prospects seem promising, there is no predicting the future. Losses incurred may be significant.
Disclosure: I am/we are long FENC, GBT.
I wrote this article myself, and it expresses my own opinions. I am not receiving compensation for it (other than from Seeking Alpha). I have no business relationship with any company whose stock is mentioned in this article.