United Parcel Service (UPS), otherwise known as UPS, has been a favorite of mine since the early part of this year, particularly because the company is benefiting from the rise of e-commerce and the steadily growing package traffic that is following. Despite this, the market has only focused on the negatives, knocking shares down due to a miss in holiday volumes. UPS is a blue-chip S&P 500 company. It is a consistent dividend payer with a well-recognized brand name, making this an ideal way for income investors to participate in one of the defining megatrends of this generation.
I last recommended UPS in an article on February 6th, when shares were still reeling from the holiday season. At the time, UPS was trading significantly below its average valuation despite the terrific long-term trends behind the stock.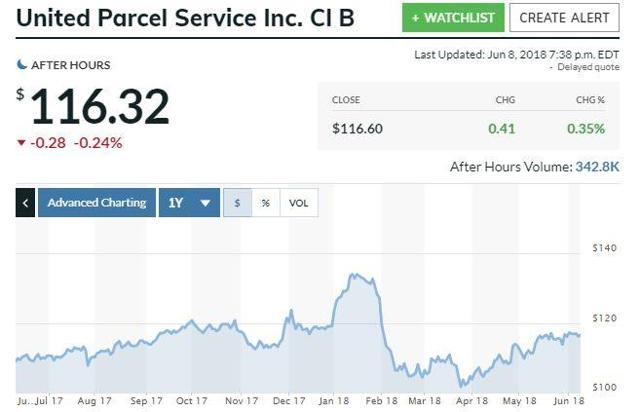 UPS has since recovered somewhat, but is still more than fairly valued. This article takes a look at UPS's latest quarter, and what income investors can expect from UPS going forward.
A strong quarter
UPS had a great last quarter, even though the markets didn't really give UPS enough love. Revenue climbed higher 10% and diluted EPS jumped 17%.
UPS saw growth from both domestic package volume and international exports. Domestic volume, which accounts for approximately two-thirds increased 4.6%, with domestic revenue rising a solid 7.2%. Revenue per piece even increased 2.5%, which means that UPS is making more money per parcel. International average daily exports rose 12% on a strong global economy (management commented that the global economy has not been so strong since 2010).
The overarching theme for UPS is a significant ramp up in capital expenditure to meet the growing package volume needs of the future. Late last year, management decided to enact a three year plan of heightened capex, for 2018 through 2020. This means a $6 billion capital budget for 2018, mostly to build new logistical facilities, purchase aircraft and invest heavily in information technology and automation. This is a multi-year project, one where UPS will not begin to see the benefits of until next year or so.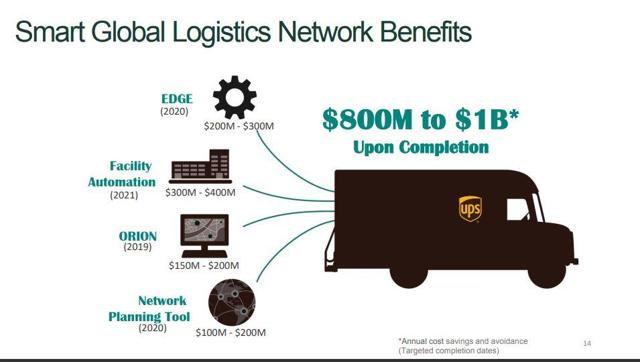 UPS's ongoing investment into automation and route planning should yield almost $1 billion in annual operational cost savings within the next three years. Graphic courtesy of UPS Investor Relations.
Management reaffirmed EPS guidance for the year; somewhere between $7.03 and $7.37. Assuming mid-point earnings, that would be EPS growth of almost 20%, thanks in part to this 'multi-year transformation,' and also in part due to tax reform. I would expect EPS growth in the high single-digits excluding the impact of tax reform.
Valuation
Despite UPS' success, shares are actually pretty cheap. According to data from FAST Graphs, UPS has averaged 19.4 times trailing earnings over the last ten years. Right now UPS trades at 17.8 times trailing earnings; a discount of 8.2%. Given UPS's growth trajectory, UPS is a strong buy right here, and is a strong buy so long as it is trading at any discount whatsoever. I do not believe that the market has priced in the benefits of tax cuts, specifically because UPS decided to indirectly put the proceeds of the tax cut into capital expenditure. Investors have a chance to take advantage of this by buying shares here.
Shares currently yield a solid 3.1%. In late 2017, the board raised the quarterly dividend from $0.83 to $0.91, a dividend hike of 9.6%. Since 2008, UPS has paid a dividend that is somewhere between 50% and 60% of EPS. In 2017, UPS's dividend per share was 55% of EPS, and I suspect the board will want to keep that ratio more-or-less constant. Therefore, investors should expect UPS to raise its dividend at just about the pace of normalized earnings per share. In 2018, I suspect that UPS will raise its dividend somewhere between 7% and 10%, probably depending upon the nearest round number in cents.
Either way, UPS will be growing its dividend for quite some time, particularly due to the strong trends behind the company's growth trajectory. One one end, e-commerce is fueling growth in package volume, and on the other hand, automation is holding down operational costs. UPS is an excellent way to get behind a strong secular growth trend and collect a solid dividend at the same time.
If you're interested in UPS feel free to follow me here on Seeking Alpha.
However, I write about this company when time permits, and that often means I am not able to do so regularly. I write about topics at much more regular intervals in my Marketplace service, Streaming Income. In that service I write about broader themes and provide multiple actionable ideas for income investors, with all articles and updates on a strict monthly or quarterly schedule, kept at a reasonable price geared for everyday income investors. I invite you to take a risk-free look.
Disclosure: I am/we are long UPS. I wrote this article myself, and it expresses my own opinions. I am not receiving compensation for it (other than from Seeking Alpha). I have no business relationship with any company whose stock is mentioned in this article.