Sometimes, Mr. Market just plain gets tired of bad news. When more bad news is announced, Mr. Market just runs away screaming. The closure of some Sears (NASDAQ:SHLD) stores may have been the final nail in the coffin. Time to leave the company for dead or roadkill. Serious investment prospects are long gone.
But the headlines in the papers do not always tell the full story, just the famous name stories. In the case of CBL & Associates Properties (NYSE:CBL), the total picture has changed even though the headlines are still blaring out one large (Bon-Ton (OTCPK:BONTQ)) bankruptcy liquidation or Sears management's announcement of more store closings.
Management actually noted at a recent conference presentation (click on CBL conference) that bankruptcies are proceeding at a materially slower pace than the previous year. Plus, more of the current bankruptcies result in reorganizations that lead to far fewer lease cancellations.
Management also noted that the Big Box replacement with new (and different types of) tenants has led to a sizable increase in customer traffic. Many of the anchor tenants did not generate all that much income. There was an age-old strategy to lure an anchor tenant department store with an extremely low or favorable lease (sometimes even sell that space to the retailer) in the hopes that anchor would generate traffic. That traffic would be used to entice a lot of smaller retailers to lease the rest of the mall at rates that would make the overall mall reasonably profitable. Lately, that strategy has disappeared as buying habits have changed. There is every chance that the new tenants will generate far more income than those they replace.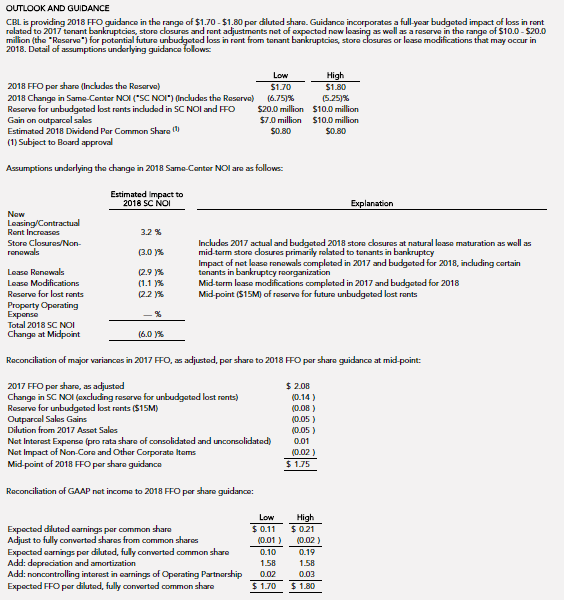 (Source: CBL & Associates Properties, Fourth Quarter 2017 Earnings Press Release)
Management originally guided to a "down year". The reserve was calculated for a reasonable amount of unforeseen events. Plus, the dividend was reduced to allow for more free cash flow "just in case". Instead of focusing on the robustness of the guidance, the market has instead assumed disaster from the headlines. No provision was made for proactive management action. Instead, each headline would be unanticipated by management.
Such a thought process is very typical of a market bottom. Management began the year by announcing an increase in sales per square foot. The latest tax cut and federal budget deficit should act as a stimulant. The announcement by management that sales should remain strong makes sense in the current context of news announcements. That retail strength probably means the retail bankruptcy pace will continue to slow. There may be some headline bankruptcies. But the pace that causes redevelopment expenditures to re-lease the empty space will slow. That slower pace will ease expenditures and allow the current cash flow to finance all necessary expenditures.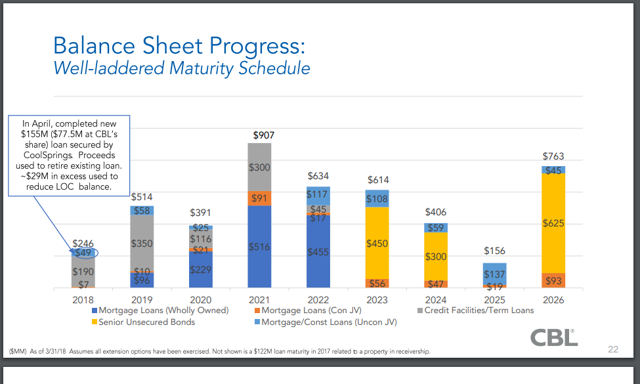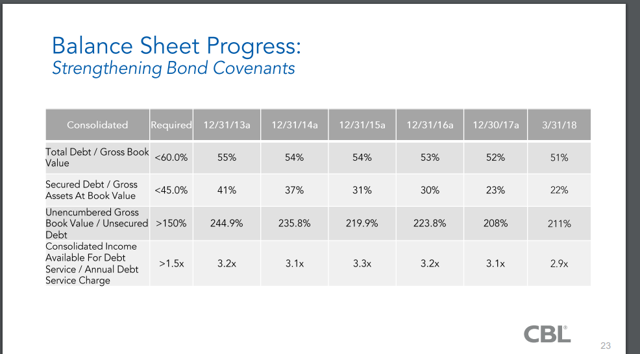 (Source: CBL & Associates Properties, May 2018 Investor Presentation)
Management also announced at the conference that much of the 2018 and 2019 maturities have now been refinanced or otherwise disposed. There has been some increase in the mortgage rates, but not enough to indicate that the lenders consider the company troubled. Management is now looking to refinance the 2020 maturities and will begun discussions with cooperating lenders.
Management is actually improving several key ratios over time, as shown above. At the same time, it announced a few project delays that will enable the liquidity to build further. There are plenty of projects underway, so a few small temporary delays may be a welcome aid to both cash build and liquidity.
Despite the headlines, management feels that it will spend at most $13 million of the $20 million reserve. On top of that is about $180 million (very roughly) of free cash flow that can serve as an extra reserve. The best negotiating stance when the tenants are stressed is one with a lot of cash and financial strength. Any sign of weakness will just be pounced upon.
Some have pounced on the continuing deterioration of occupancy and leasing rates as a terminal sign of weakness. But the large amount of bankruptcies last year created a lot of vacancies. The decrease in bankruptcies and corresponding liquidations will tighten the lease market as the year progresses. Much of the first half of the current fiscal year was dictated by the events of the last fiscal year.
There is always a push for new tenants to be ready for the important Christmas season business. The result of that is a surge of leasing activity in the second half of the year. Therefore, shareholders may not see the benefit of management plans until at least the third (and maybe not until the fourth) quarter. If the current retail improvement continues to improve this year, then the next fiscal year should report far stronger results. In short, the greatest amount of the challenges may have already passed in spite of the market fascination with some awful headlines.
Takeaways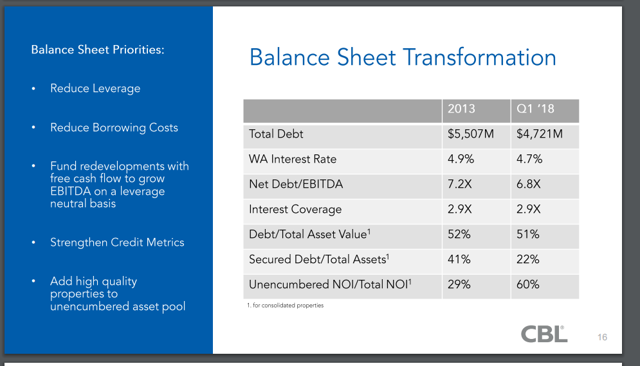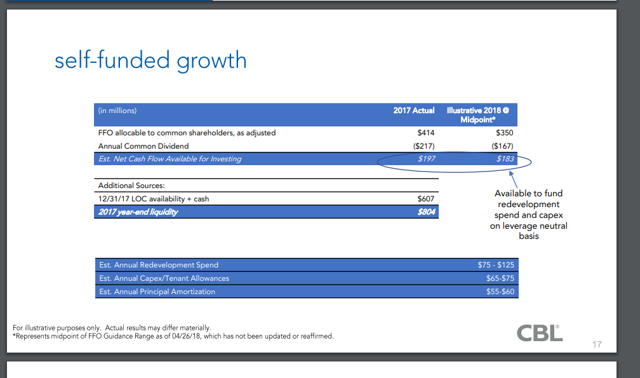 (Source: CBL & Associates Properties, May 2018 Investor Presentation)
Key balance sheet metrics have improved materially over the last few years. Management has kept the cash flow available for investing steady. As shown above, management did not have to cut the distribution. Instead, it proactively cut the distribution to maintain reserves and financial strength. Right now delevering, redeveloping empty spaces, and maintaining decent cash reserves are the appropriate priorities.
By all accounts, CBL properties had a significant amount of Big Box retailers that were struggling. But as long as those tenants pay rents, the landlord cannot kick them out. It is important to remember that these were once desirable tenants that were part of a profitable strategy. CBL management is now rearranging the malls to keep them in step with the changing times.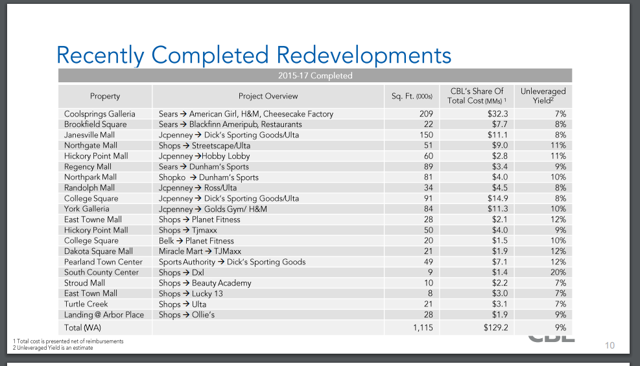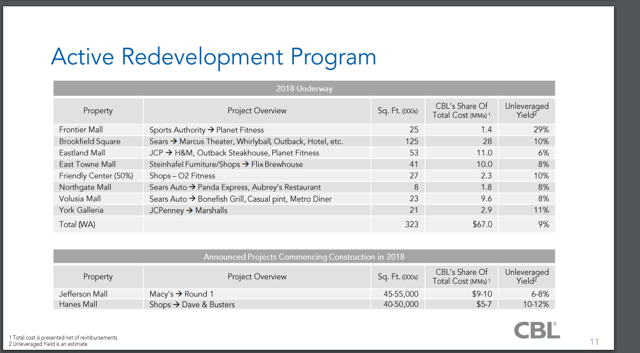 (Source: CBL & Associates Properties, May 2018 Investor Presentation)
The fact that more properties need to be renovated is not an indicator that the above redevelopments were not (or will not be) successful. This company apparently had a lot of exposure to some financially weak tenants. As more properties are renovated, the tide will turn and renovations will decrease. This process has tried the patience of Mr. Market for far too long. However, the new tenants recruited are very different from the tenants exiting. Therefore, the space requirements and the mall design are likely to require a change.
CBL reports that the average project costs about $10 million. There has been a market fear that a flood of anchor bankruptcies would result in cash expenditure far in excess of cash flows and lending capabilities.
That flood of bankruptcies is unlikely. But if it did happen, there are quite a few possibilities besides the very worst that worries Mr. Market. First, as is happening this year, bankrupt companies usually try to reorganize. Those reorganizations normally do not result in a spate of empty anchor spaces in the mall (or empty other spaces).
If a lot of large anchor stores do go under and decide to liquidate, management can try joint ventures. The anchor space could also be sold to a buyer with provisions to develop that space within a time limit and other relevant restrictions. Those proceeds could then be used to renovate other vacancies in the mall. In short, management should always be able to solve vacancy problems with the money available. It just has to be a little creative and flexible.
That does not mean there are no worries at all. It does mean that management should be able to handle future challenges with the resources available to the company when considering the most likely outcomes. Right now, management has continued to reiterate the original guidance given. Not one of the scary headlines has given any indication of violating the guidance assumptions. Instead, management has actually reduced some expenditures with the provision of quarterly updates.
Industry bottoms that correspond to market bottoms can be pretty scary. That is what makes contrarian investing so hard.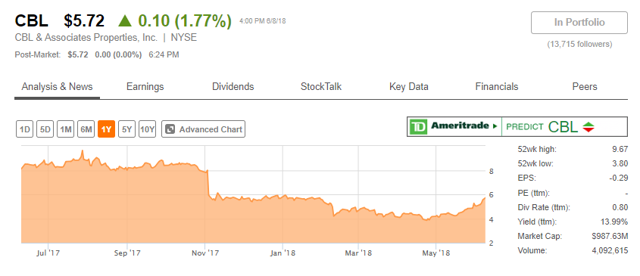 (Source: Seeking Alpha website, June 9, 2018)
As shown above, the stock price is beginning to ignore the scary headlines. That is one sign that the stock may have bottomed. More time will be needed to confirm that fact though. Another positive sign is the slight increase in sales per square foot, combined with management's comments about strong retail sales. The booming economy should also aid the recovery of leasing rates and occupancy rates.
In short, this company is looking forward to a better future instead of the disaster that Mr. Market worries about. There are things that can derail this recovery. A recession would do a lot of damage to the financial health of this company at this point. But bankruptcies are unlikely to increase in a very healthy economy. The diversification away from clothing and retailers should bear positive results in the near future.
Lenders are clearly granting CBL and its partners loan rates that are not indicative of a company in financial distress. Loans are being renewed on a timely basis as well.
Really, the only thing holding back the price of these partnership units is market sentiment. That sentiment should change the second half of the year, unless the economic outlook darkens materially. Even though the stock has rallied significantly off its lows, the price could easily double from current levels over the next 12 months.
CBL is clearly not a "buy and hold" income investment for widows and orphans. But the turnaround that appears to be underway makes the current distribution a whole lot safer than the opinion of Mr. Market. The distribution was proactively cut last year to a level that was far lower than was indicated by cash flow. The investments of that cash flow appear to be paying off handsomely.
Management still has quite a few redevelopments ahead. But the future pace of redevelopments may well slow going forward with the strong economy and improving retail climate. All this company needed was a slightly slower redevelopment pace. If a recession occurs, then all bets are off and a new future would have to be calculated. But right now, the current strong economy buys this management some very valuable time. Shareholders can bet CBL management will make wise use of that time.
Disclaimer: I am not an investment advisor, and this article is not meant to be a recommendation of the purchase or sale of stock. Investors are advised to review all company documents and press releases to see if the company fits their own investment qualifications.
I analyze oil and gas companies and related companies like CBL & Associates Properties in my service, Oil & Gas Value Research, where I look for undervalued names in the oil and gas space. I break down everything you need to know about these companies - the balance sheet, competitive position and development prospects. This article is an example of what I do. But for Oil & Gas Value Research members, they get it first and they get analysis on some companies that is not published on the free site. Interested? Sign up here for a free two-week trial.
Disclosure: I am/we are long CBL.
I wrote this article myself, and it expresses my own opinions. I am not receiving compensation for it (other than from Seeking Alpha). I have no business relationship with any company whose stock is mentioned in this article.