Business development companies ("BDCs") continue to rally likely for the reasons discussed in previous articles including:
Previously, BDCs were pulling back (since May 2017) and as mentioned in "BDC Buzz Begins Purchases Of Higher Quality BDCs," I have been buying additional shares of higher-quality BDCs, especially given the oversold conditions driving higher yields. Since March 1, 2018, the average BDC has easily outperformed the S&P 500 even before taking into account dividends paid. I am expecting BDCs to continue higher for many reasons, including the recently announced strong Q1 2018 results reported by most BDCs, with higher portfolio yields and management guidance for increased portfolio growth potential in 2018. Also, many BDCs reported higher-than-expected earnings and dividend coverage with increased net interest margins.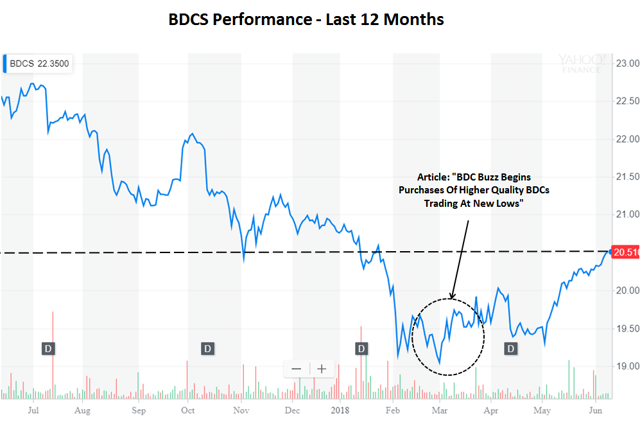 Seeking Alpha has decided to make articles such as this one available for the first 10 days only. The following articles are still available (for free) to all readers:
As shown below, many of the higher-quality BDCs that I have pointed out in my previous articles over the last two months have been growing or at least maintaining their book value/NAV per share over the last 12 months, including Main Street Capital (NYSE:MAIN), Gladstone Capital (NASDAQ:GLAD), Fidus Investment (NASDAQ:FDUS), Ares Capital (NASDAQ:ARCC), PennantPark Investment (NASDAQ:PNNT), Golub Capital BDC (NASDAQ:GBDC), TPG Specialty Lending (NYSE:TSLX), New Mountain Finance (NYSE:NMFC), Solar Senior Capital (NASDAQ:SUNS), TCP Capital (NASDAQ:TCPC), TriplePoint Venture Growth (TPVG), Hercules Capital (HTGC), PennantPark Floating Rate Capital (PFLT), and TCG BDC, Inc. (NASDAQ:CGBD).
Conversely, many of the BDCs with NAV declines have recently cut dividends, including Medley Capital (NYSE:MCC), Alcentra Capital Corp. (NASDAQ:ABDC), Oaktree Specialty Lending Corp. (NASDAQ:OCSL), Capitala Finance Corp. (NASDAQ:CPTA), KCAP Financial (NASDAQ:KCAP), Triangle Capital (NYSE:TCAP-OLD), Harvest Capital Credit Corp. (NASDAQ:HCAP), and Oaktree Strategic Income Corp. (NASDAQ:OCSI). These BDCs typically trade at a 20% to 30% discount to NAV.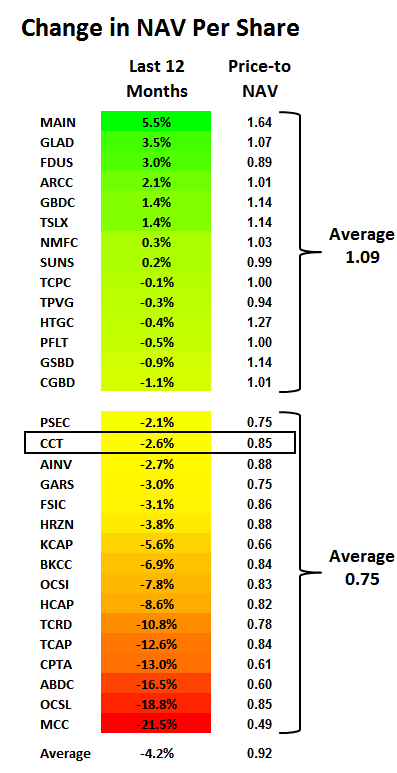 Source: SEC Filings and BDC Buzz

This article is a follow-up to "Is KKR BDC's 10% Dividend Yield Sustainable?" that discussed my reduced short-term target price for Corporate Capital Trust (CCT) to "take into account no additional special dividends after Q1 2018 due to likely lower dividend coverage in the coming quarters". Also, the article discussed an increase in non-accruals and "exposure to commodities, energy and retail sectors that I have taken into account when assessing its risk ranking".
CCT March 31, 2018 Upate:
For the quarter ended march 31, 2018, CCT reported just below my base case projections mostly due to lower-than-expected fee income but still covered its dividend by 97%. The company remains underleveraged but management will likely be actively growing the portfolio to increase net investment income ("NII") and dividend coverage over the coming quarters.
"our balance sheet leverage is still around 0.64 times, our target is 0.75 times. I'm not sure if you noticed, because I know our script was quite long, but Dan referenced more than $400 million of originated investments that have either closed or been committed to in April and so we feel well positioned from an origination perspective."

" And then if you fast forward to where we're seeing ourselves in Q2, I mean we've talked about April. I mean, April CCT committed to or closed on $400 million of deals. There's a scenario some of them don't get done, but we feel good enough on the call to have mentioned that number and then quite frankly some of those more liquidity tools could potentially unwind, but it's nothing more than that."
Source: CCT Earnings Call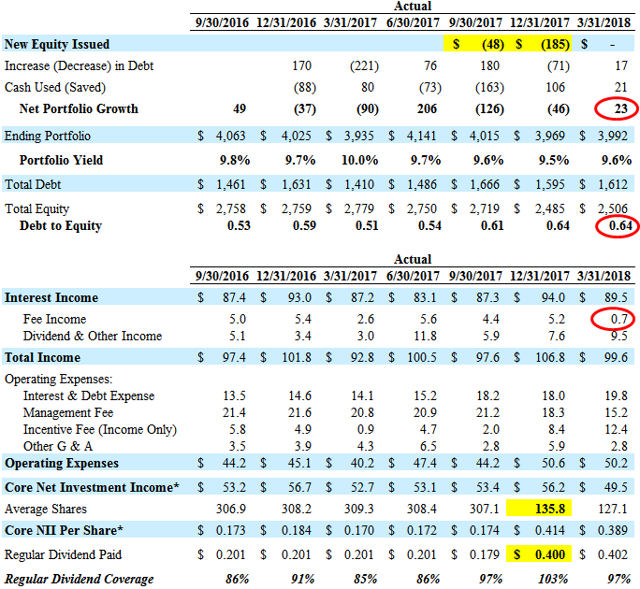 Source: SEC Filings and BDC Buzz
The board of directors declared a regular quarterly cash distribution in the amount of $0.402 per share, which will be paid on July 10, 2018, to shareholders of record as of June 29, 2018. Previously, the board declared a special cash dividend of $0.10125 per share payable on May 21, 2018, to stockholders of record as of the close of business on May 14, 2018.

Previously, the company reduced the dividend (even after taking into account the 1-for-2.25 reverse split of shares) in anticipation of the IPO as publicly traded BDCs have different metrics including coverage of the regular dividend with quarterly NII.
As mentioned earlier, the company is underleveraged and could result in lack of full dividend coverage. Currently, the company has a debt-to-equity ratio of 0.64 that does not take into account over $160 million in cash. CCT currently has around $575 million of available borrowing capacity: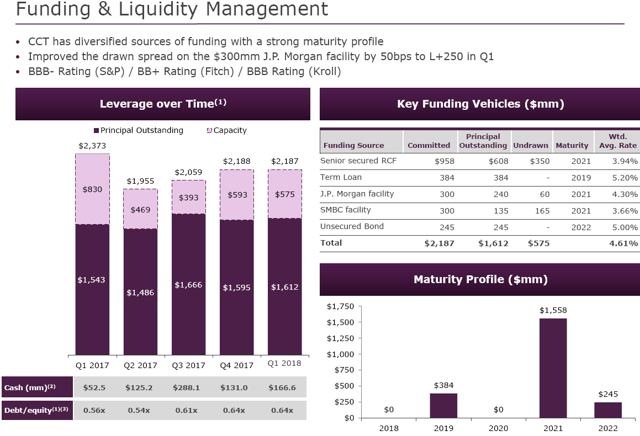 Source: CCT Earnings Call Slides
Its net asset value ("NAV") per share increased by $0.17 (from $19.44 to $19.72) due to net realized/unrealized gains of $0.18. However, non-accruals increased from 1.2% to 2.4% of the portfolio fair value (discussed next).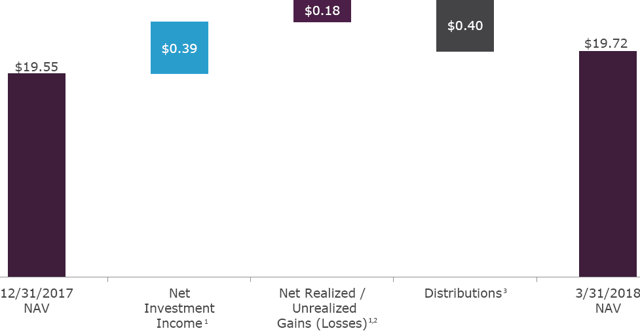 Source: CCT Earnings Call Slides
Willbros Group, Inc., and Proserv Acquisition, LLC were added to non-accrual both of which are energy-related investments. Hilding Anders, Rockport (Relay), Petroplex Acidizing, Inc., and AltEn, LLC also remain on non-accrual.
"As of March 31, we had six companies on nonaccrual, which in aggregate represented 2.4% of the portfolio based on fair value. During the first quarter, our investments in Proserv and Willbros were put on nonaccrual, while Square-2 and Charlotte Russe were removed from the list. We are actively working on our non-accrual positions and will continue to update you as things progress."
Source: CCT Earnings Call
It should be noted that most of the current investments on non-accrual are related to the previously discussed exposure to the energy and retail sectors that I have taken into account when assessing its risk ranking.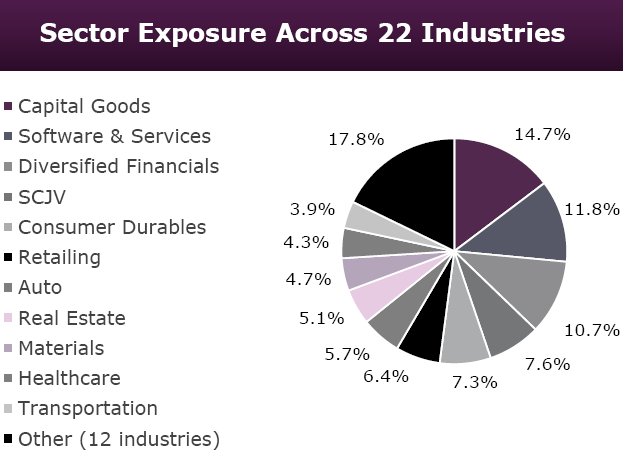 Source: CCT Earnings Call Slides
Also, CCT's portfolio credit metrics showed a meaningful decline from the previous quarter, including cash flow coverage ratios, and needs to be watched: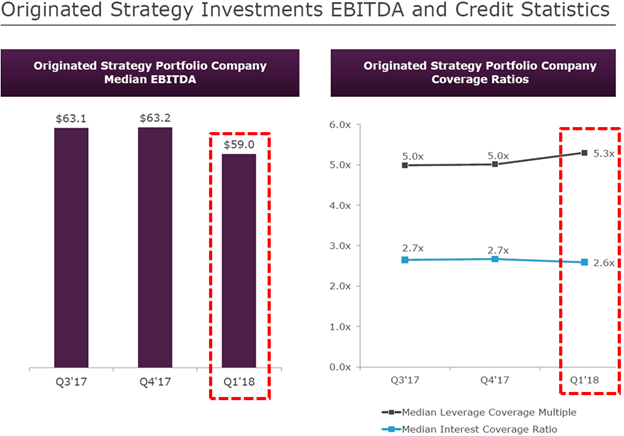 Source: CCT Earnings Call Slides
CCT has around 39% of its portfolio is first-lien debt (previously 42%) and another 29% in second-lien and 'other senior secured' debt for a total of almost 68% in senior secured debt.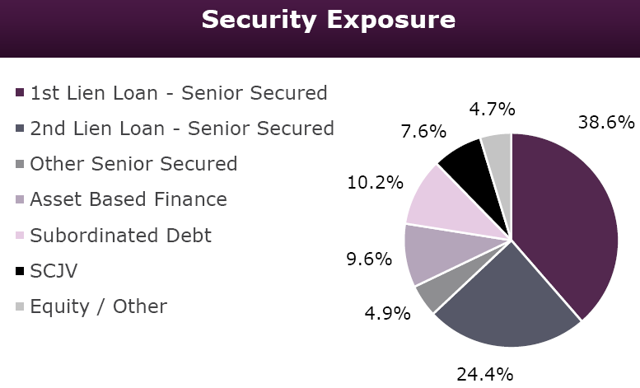 Source: CCT Earnings Call Slides
In March 2018, CCT's board of directors authorized a $50 million stock repurchase program and through May 11, 2018, CCT repurchased 990,288 shares for $16.67 million and an average price per share of $16.83 (14% discount to previous NAV of $19.55).
As mentioned in previous reports, the base management fee was reduced from 2.0% to 1.5% of assets and the incentive fee of 20% includes a lookback feature.

In May 2016, Strategic Credit Opportunities Partners ("SCJV"), a joint venture with Conway Capital, an affiliate of Guggenheim Life and Annuity Company and Delaware Life Insurance Company, was formed to invest up to $500 million in middle market companies. As of March 31, 2018, the SCJV accounted for around $303 million or 7.6% of CCT's total portfolio with no investments on non-accrual status.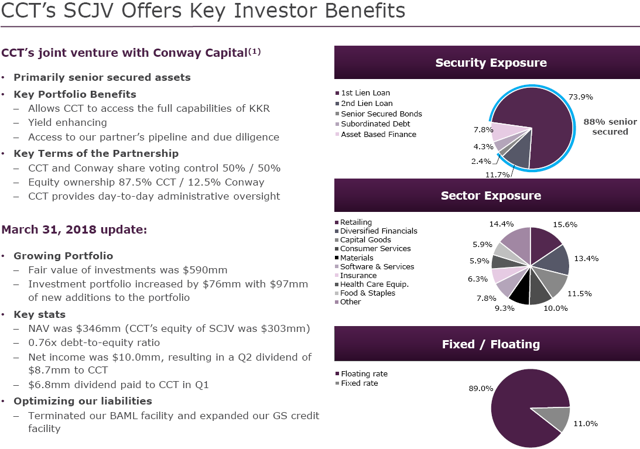 Source: CCT Earnings Call Slides
This information discussing CCT was previously made available to subscribers of Sustainable Dividends, along with real-time changes to my personal BDC positions, target prices and buying points, updated rankings and risk profile, any changes to dividend coverage and worst-case scenarios, and suggested BDC portfolio.
The information in this article was previously made available to subscribers of Sustainable Dividends, along with:
Target prices and buying points
Real-time changes to my personal BDC positions
Updated rankings and risk profile
Real-time announcement of changes to dividend coverage and worst-case scenarios
Suggested BDC portfolio
Disclosure: I/we have no positions in any stocks mentioned, and no plans to initiate any positions within the next 72 hours. I wrote this article myself, and it expresses my own opinions. I am not receiving compensation for it (other than from Seeking Alpha). I have no business relationship with any company whose stock is mentioned in this article.