Ian's Million Fund "IMF" is a real-money portfolio that I've written about monthly since January 2016 here at Seeking Alpha. The portfolio is a largely buy-and-hold group of ~100 stocks. Each month, I buy 10-25 of the most compelling stocks available at then-current prices, deploying $1,000 of my capital plus accumulated dividends. If things go according to plan, this portfolio, began when I was 27, will hit one million dollars in equity in 2041 at age 52. I intend it to serve as a model for other younger investors.
I was waiting anxiously for the calendar to roll into June. Plenty of top IMF holdings pulled back in May, creating some great values in many of the largest positions. As such, I'm looking forward to making purchases this summer to build out my IMF top holdings. In fact, for the month, I added to seven of the top 10 IMF's biggest equity stakes. It's nice when the market allows you to add to conviction positions at fair-to-attractive pricing.
For the month, there were 14 purchases with my fresh capital and a dividend reinvestment. In addition, I started two new positions, while the rest were additions to existing stocks. This month's purchases also include capital reinvested from the proceeds of the recent sale of CBL & Associates (CBL). Here are the month's purchases: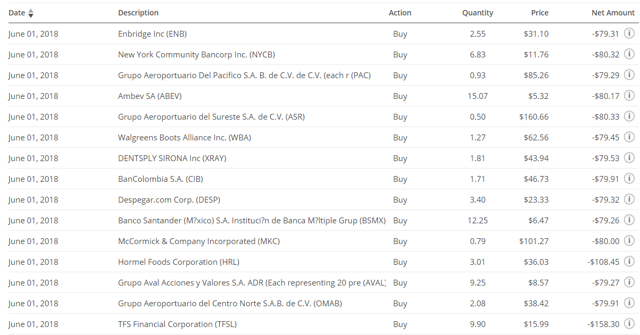 Let's start off with our dividend reinvestment of the month. Recently, I've been purchasing Campbell Soup (CPB) with the portfolio's accumulated dividends. However, another strong earnings report from Hormel Foods (HRL) has me feeling a sense of urgency. I'd been expecting the stock to stay in the 30s another couple of quarters, but after more strong results, the 40s may be on deck in the relatively near term. HRL stock already moved to new year-to-date highs following the earnings report and is near the 52-week high. The longer-term chart, in particular, looks splendid, with a move over 40 likely to trigger a big technical pop.
All that to say that I'm using May's dividends to add to the position in Hormel. It does increase the cost basis, currently under $34, a bit. But given where the stock is going, I don't mind too much. I intended to focus more on higher-quality holdings in 2018, but the flood of battered REITs and lower-quality consumer staples names has distracted me somewhat. Regardless, it's time to get back toward high-quality names.
With that in mind, let's turn to the first of our 15 purchases this month with my $1,000/month capital contribution. Probably not surprisingly, given the quality focus, it's McCormick & Co (MKC). McCormick's 12-month forward earnings estimate is up to $5.37. This is simply astounding. Remember that for full-year 2017, the company earned $3.72, which was already a record high for the firm.
However, the combination of tax cuts and the transformative deal for French's and Frank's Red Hot has launched McCormick to a new level of profitability. The market seems asleep at the wheel, as MKC stock is up only 5% or so since said deal went into motion last year.
Since 1991 (as far back as my data goes reliably), MKC stock has traded under a 15x PE ratio once (for a few months in 2008) and one other time under 16x (a few months in 2000). Aside from that, MKC stock has held an 18x or better PE ratio for 27 years running. Historical median PE is around 23x. Put 23x on the $5.37 forward earnings, and you get a stock price of $124. 18x earnings - the lowest we could reasonably expect outside of a recession - puts us at $97. That's a pretty capped downside from today's price.
Analysts see 10.4% EPS growth annually over the next five years, and the string of double-digit dividend hikes is likely to continue. Add it all up, and MKC stock is an compelling way to achieve probable compound returns in the 11-13% total return range going forward.
Turning to another Dividend Aristocrat, I'm continuing to stock up on Walgreens Boots Alliance (WBA). The stock remains under pressure. It continues to linger under 10x forward earnings as sellers fear that the pharmacy landscape is shifting too quickly. New entrants from online could badly disrupt the market. And, as it is, Walgreens is conceding lower margins on some drugs to keep share with the PBMs.
All that said, this is a Dividend Aristocrat trading near its highest yield in three decades. They've navigated plenty of changes in their industry before. At this valuation, I'm willing to continue giving management the benefit of the doubt.
Sticking with consumer stocks, it's time for one of the two new positions of the month. That would be Ambev (ABEV), the Americas orientated subsidiary of Anheuser-Busch InBev (BUD). I had wanted to buy Ambev back in 2016, but the Brazilian stock market recovered faster than I expected, causing Ambev to move out of my acceptable price range. Fast forward to now, however, and we're back in the sweet spot below $5.50/share: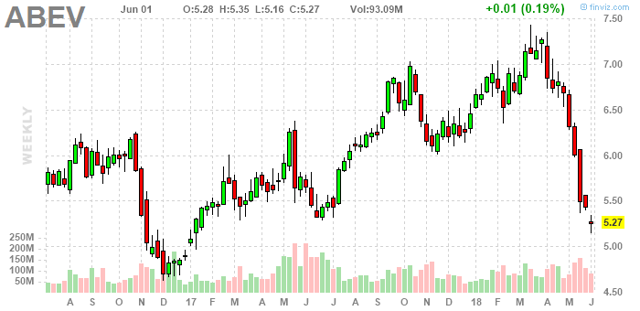 Ambev is in charge of Anheuser's beer operations for Canada, much of Central America, Brazil, and various other countries in the bottom half of South America. As you might expect, investors have turned negative on Ambev in a hurry since two of the company's major markets, Brazil and Argentina, are experiencing economic turmoil at the moment. That said, ABEV stock is down more than 30% since March, so we're getting a heavily discounted entry point to compensate for the risk.
As recently as the Q4 2017 quarter, Ambev appeared to be firing on all cylinders. Brazilian beer volumes grew by more than 5% (no big beer stagnation in Brazil), with revenues up much more due to price hikes. Now 2018 will probably see volume growth slow back down again. But Ambev is geographically diversified. It isn't a Brazilian pure-play. Yet shares are back to late 2016 levels, when Brazil was still in the midst of a much worse economic situation. From the $5.25 level, ABEV stock is also a pretty nice dividend play. While its dividend history is erratic in terms of steady payments, shareholders get rewarded quite frequently: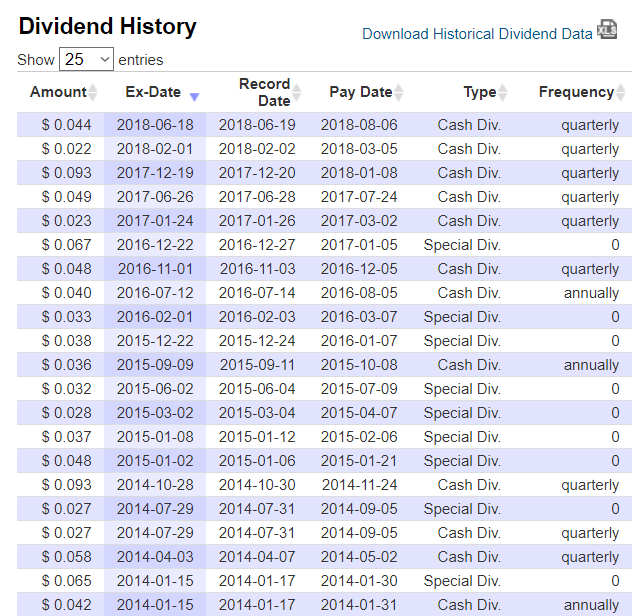 Data: Gurufocus
Sticking with the Southern Cone, let's jump to Argentina. I'm adding to the position in Despegar.com (DESP) this month, as shares have gotten slammed as part of the greater Argentina aversion trade. No matter that Despegar beat earnings for this past quarter, the stock popped for a day and then resumed dropping.
In Colombia, I added to both of the bank positions. Bancolombia (CIB) and Group Aval (AVAL) are significantly more attractive now that we know conservative candidate Ivan Duque will be the country's next president. Market reaction has been muted, likely because oil has slumped over the past few weeks and also Brazilian stocks are plunging, casting a shadow over the whole continent. Regardless, accelerating GDP growth plus a new business-friendly president with a mandate and control of the legislature sets up a highly advantageous situation over the next 12-24 months.
Sticking with Latin America, I'd been trying to hold off on Mexican stocks until after the Presidential vote there in July. But the country's stocks are in sharp decline heading into the vote, and at some point, I can't pass up a good value. In dollar terms, Mexico (EWW) is down almost 20% over the past two months and is much closer to the Trump inauguration lows than the summer 2017 highs: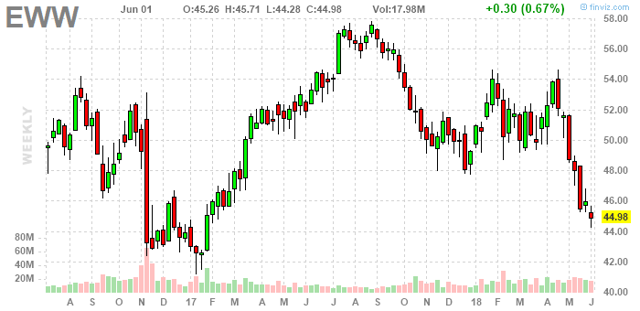 We need a new NAFTA agreement and either an election upset or sensible talk from the leftist front-runner once he wins to get back to 58 and reach new highs. Even barring that, it's not hard to see a path back to the low 50s for Mexico, as the economy is performing reasonably well, and it's clear that US-Mexican relations aren't heading off a cliff as the market feared back in November 2016.
First up is Banco Santander Mexico (BSMX). This is the highest risk of the portfolio's Mexican holdings. However, shares are down 40% since last summer and are now below the Trump inauguration lows. So, the risk/reward profile is quite favorable. The bank is highly profitable (1.6% ROA, 16% ROE) and trading at 8x (trough) forward earnings. It may take a while for investors to pile back into BSMX stock, but the 4% dividend yield does a nice job of rewarding patience.
In addition to that, I'm adding to all three of the Mexican airport operators. I've covered all of them extensively previously, both in Ian's Insider Corner and here on the public site. Traffic growth remains strong across the board - little has changed the fundamental theses for any of the three - the share price moves approve driven by macroeconomic factors, allowing for nice cost entries at today's pricing.
Turning to US banks, we've got two of the usual suspects this month. I laid out a comprehensive updated bullish thesis for New York Community Bancorp (NYCB) that was a recent Seeking Alpha Top Idea. See that here.
Also, TFS Financial (TFSL) remains cheap. However, the bank elected to raise the dividend from 68 cents per year to $1.00 late last month, setting off a powerful rally on elevated volume - and not surprisingly, it is a 47% dividend hike after all: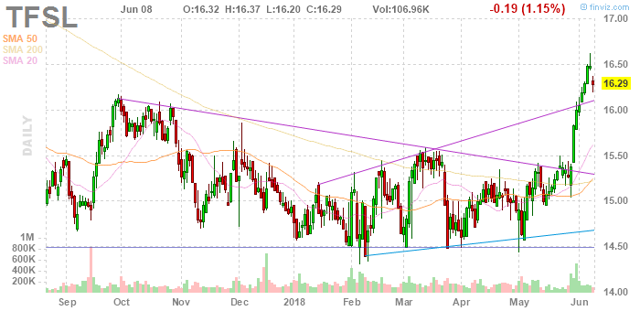 Given that the stock is trading at a single-digit PE ratio (once you account for the phantom MHC shares), the dividend is still well in the sustainable range (they will probably raise again next year in fact). Regardless, with the dividend at 6% now, expect the market to finally give TFSL stock some more attention. I still see fair value around $25, so there's plenty of upside to go along with the now gigantic dividend on offer. As such, I bought a double portion of TFSL for June in the IMF, as this may be the last call for cheap shares.
In energy, the rebound in oil and energy stocks at the end of May knocked a couple of potential buys off my list. That said, Enbridge (ENB) still looks like a great bargain at these prices. The company is consolidating various financing vehicles back into the mother corporation, which is great news for ENB stockholders, if significantly less so for the owners of the subsidiaries. The stock is back to within 5% of its 52-week low and sitting near 5-year lows, putting the dividend back up at 6.8%. That's pretty impressive for an energy company that is a C-corp and thus misses the MLP taxation hassle.
Wrapping up June's buys, a stock I've wanted to own for years has finally come down to fair value. Welcome to the IMF, Dentsply Sirona (XRAY). Dentsply is a leader in the dental specialties and consumables market, offering products for implants, orthodontics, 3D imaging, and other such markets. The company's stock surged ahead of its industry-changing merger with Sirona - alas, synergies never materialized in the way management hoped, leading to a vicious sell-off as of late: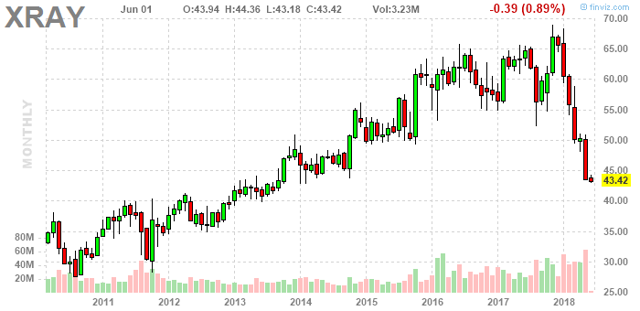 XRAY stock is now down to 15x forward earnings which is reasonable for this sort of business. I put this in the same camp as Novo Nordisk (NVO), that is to say, it's a classic demographics play.
In developed markets, the combination of an aging population and unhealthy diets bodes well for dental services demand. In emerging markets, a combination of swelling populations and a growing middle class boost demand for elective dental work. Overall, Statista sees the global dental market growing at 5.6%/year compounded over the next five years. In that sort of market, where Dentsply Sirona is a dominant supplier, it is a good bet to prosper. I'd love to buy XRAY stock under 40, and I'll hold off in my main portfolio if/until it gets there. But I'm happy to start nibbling for the IMF at 15x forward earnings.
Disclosure: I am/we are long THE STOCKS IN THE TABLE.
I wrote this article myself, and it expresses my own opinions. I am not receiving compensation for it (other than from Seeking Alpha). I have no business relationship with any company whose stock is mentioned in this article.