Introduction to Axalta Coating Systems
Axalta Coating Systems (AXTA) is a developer and manufacturer of coatings, which are used for light and commercial vehicles, other industrial uses, and refinish applications.
The company operates in around 130 countries, with over 13,000 employees and over 100,000 customers. The recent share price performance is as follows:

The stock has generally underperformed over the past year or so.
Axalta hasn't been public for very long; it was controlled by Carlyle Group (the global private equity firm), before being listed in November 2014. Carlyle Group exited AXTA stock fully the following year (during 2015). The company was previously known as DuPont Performance Coatings (DPC), part of DuPont (now: DowDuPont Inc. (NYSE:DWDP)). However, DuPont divested the division to Carlyle Group in February 2013.
In effect, Carlyle Group quickly purchased and then flipped the company to public markets (in less than two years), generating return of over 3x (see article on PE Hub). Since IPO, the share price has risen by about 45% (over 10% per year annualized).
Now, as an independent company, it has traded and posted financials for several years, so we are able to dig into the numbers and track its progress over time. Below is a table delineating its progress over the past four years: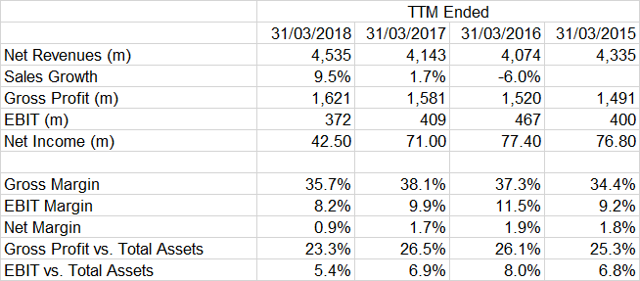 As the table shows, revenues have moved down and then up over the past three years. From base revenues of $4.3 billion three years ago, though, the compound annual growth rate is about 1.5%. Notwithstanding the recent sales boost, it is largely a mature business. This becomes especially clear when you realize that they have spent a lot of money on acquisitions (over $750 million in the past eight financial quarters).
Also note that the company does not pay dividends. The company is not really in a position to, as it is currently nursing a mountain of debt that is equal to almost 7x EBITDA:

Total debts are currently almost $4 billion. Interest coverage is hovering at around 2.5x, so the debts do seem manageable, and while net income is consistently less than 2% of revenues, its free cash flows are importantly far higher: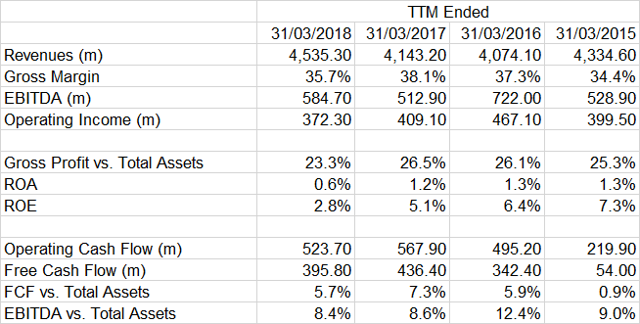 With $395.8m in free cash flow (operating cash flows minus net capital expenditures), the company's tight net margin becomes less problematic. After all, over the long term, free cash flow is generally more important, while net earnings can be financially engineered (or at least, far more easily engineered than free cash flows).
In terms of operating cash flows alone, the table below shows us the recent relationship between the higher operating cash flow and lower net income:

The relationship here is especially positive. At least one significant reason for this is that the company's depreciation and amortization expenses (which are added back to net income as part of the operating cash flow equation) are significant - both in absolute terms and relative to net capital expenditures:

In any case, the company is certainly not an aggressive earnings manipulator. However, this does not make it a great company. Sure, its free cash flows are strong, but what happens when we reconcile this with their absolute value to investors?
With a now fairly consistent free cash flow margin, let's assume the company continues to generate free cash flows at a rate of around 8-10% of sales (the actual rate is on average 9.2% over the past three years). At this point then, we need to make assumptions as to growth in sales over the long term.
But as noted, the company has spent a lot of money on acquisitions. What does underlying growth look like? First of all, in the table below, you will find segmented growth and trends for the past three full fiscal years:

Notes for 2017 as follows:
The Performance Coatings suffered negative organic sales growth; the reason for its overall positive growth was due to acquisitions. Per the FY 2017 10-K, "The increase in net sales for the year ended December 31, 2017 [for the Performance Coatings segment] was driven by increased volumes of 10.7%. This included a 12.0% benefit from acquisitions and organic volume decreases."
Transportation Coatings, which also benefited (marginally) from acquisitions, basically saw flat growth.
For 2016, Performance Coatings saw flat growth, while Transportation Coatings fell. 2015 also saw negative sales growth in both segments.
In summary, the company is acquiring growth. And with a debt-to-EBITDA ratio of almost 7x, the company's ability to continue acquiring growth is becoming increasingly limited, especially as its interest coverage ratio of 2.5x does not leave much more room to fall.
Going back to free cash flows, if it can continue to translate 8-10% of sales into free cash flows, but sales are mostly flat, we can presume that free cash flows are unlikely to increase at an impressive rate. If we assigned a discount rate of 8%, and took the last 12 months' worth of free cash flow of $395.8m, and rounded it up to $400m, we might find an enterprise value of around $6.7 billion.
However, because the debts now total around $4 billion (or about $3.4 billion net of cash), the equity value in this case would be $6.7 billion minus $3.4 billion, which works out to be about $3.3 billion. The company currently trades at a valuation of $7.8 billion.
For good measure, see the table below for current valuation ratios: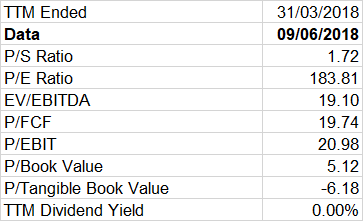 Clearly, investors are pricing in significant growth somewhere, and it's probably in the company's ability to cut costs. But its gross margin is not increasing, and its SG&A vs. sales in 2018 is just the same as it was in 2015. If they haven't made significant progress over the past few years, can they really be expected to cut costs significantly over the next few years? As Buffett once said:
Whenever I read about some company undertaking a cost-cutting program, I know it's not a company that really knows what costs are all about. Spurts don't work in this area. The really good manager does not wake up in the morning and say, "This is the day I'm going to cut costs," any more than he wakes up and decides to practice breathing.
If it isn't top line growth, and substantial cost cutting from the current SG&A margin of 22.1% is unlikely (it was as high as 23% over 2016-2017), and acquisitions are becoming increasingly difficult to finance, I don't know where the value is going to come from. If we're in the later stages of the business cycle, and it appears we are, I wouldn't want to be holding AXTA stock.
PPG Industries (PPG) is just one possible comparable company. This company's top line revenues fell by 23% in 2009 (vs. 2008). Its operating income fell by almost a third, while its 2008 debt-to-capital ratio was about 54%. Axalta's debt-to-capital ratio is currently about 72%, and it is less than a third of the size PPG was in 2008, and we could say it is less diversified.
The basic point is that any significant reduction in sales could affect Axalta disproportionately, relative to some peers. And even without a sudden shock, I do think the stock is significantly overvalued. Short interest is not too high according to Morningstar, at around 3.4%. This would be somewhat of a contrarian short. I think instead, it is one to simply avoid.
Disclosure: I/we have no positions in any stocks mentioned, and no plans to initiate any positions within the next 72 hours.
I wrote this article myself, and it expresses my own opinions. I am not receiving compensation for it (other than from Seeking Alpha). I have no business relationship with any company whose stock is mentioned in this article.