Australia's Cobalt Blue [ASX:COB] [GR:COH] [LN:0TK7] (OTCPK:CBBHF) recently defined a large cobalt-sulphide resource in Broken Hill, NSW, Australia. Furthermore, it has developed a gravity processing method to "upgrade" the resource by separating out the pyrite and thereby only needing to fully process 20% of the ore.
This has ignited a huge interest in the Broken Hill region of Australia to challenge the Democratic Republic of Congo's (DRC) dominance. Several juniors are now hoping to replicate Cobalt Blue's success and turn the district into a premiere cobalt mining center.
Ownership of tenements around Cobalt Blue's Thackaringa in Broken Hill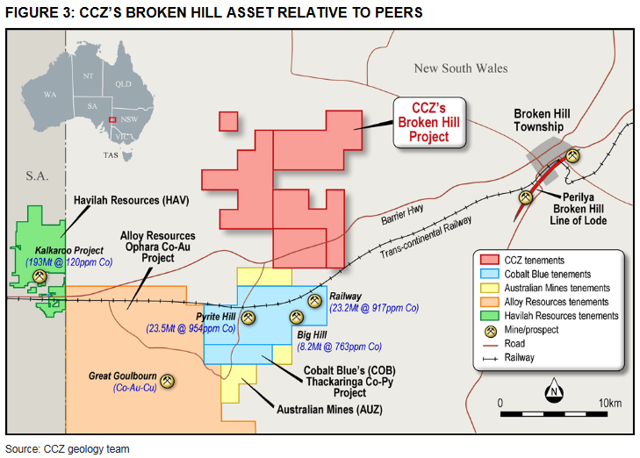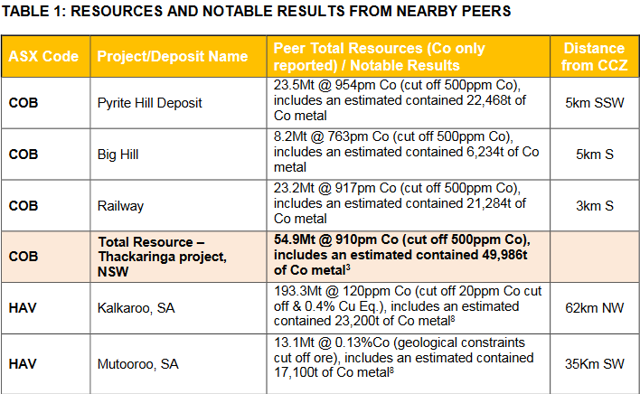 Source: Castillo Copper ASX release 19 March, 2018
Note: Cobalt Blue's resource has since grown to 61,000 tonnes of contained cobalt.
Cobalt Blue - Price = AUD 1.31
Cobalt Blue is optioned to 100% own the Thackaringa cobalt-pyrite sulphide project in NSW Australia. It is buying the cobalt mining rights from Broken Hill Prospecting [ASX:BPL] (OTC:BPLNF). Cobalt Blue currently has 61,000t of contained cobalt at an average grade of 0.0852%.
The company intends to have a low cost of production due to its pyrite sulphide ore type and a new way to process it using gravity separation. CEO Joe Kaderavek explained to me in our interview:
Thackaringa has a sulphide orebody so our processing is somewhat simpler. All mines operate at their ROM grade, but COB can recover 92% (via simple 1.2mm coarse crush and gravity separation) of this cobalt while deporting only 20% of this mass to a refinery. Think about that for a moment, refining is where the majority of production costs occur, and ours is processing only 20% of mined ore. That upgrade is not available to a laterite mine. This transformation is shown below:

Cobalt Blue's ore for processing is effectively upgraded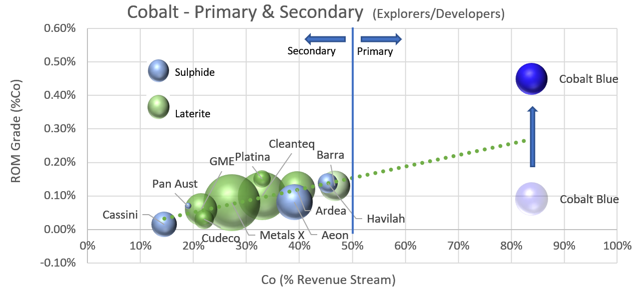 Further, laterites need acid, lots of it. Our process needs less than 10% of that equivalent.
The graph above shows that Cobalt Blue will refine a 0.4-0.45% cobalt concentrate (after gravity separation) versus 0.1-0.2% ore which is the case for the vast majority of global projects outside of the Congo.
You can read my full interview here - Cobalt Blue CEO Joe Kaderavek Talks With Matt Bohlsen Of Trend Investing.
A simple and low-cost gravity separation technique patented by Cobalt Blue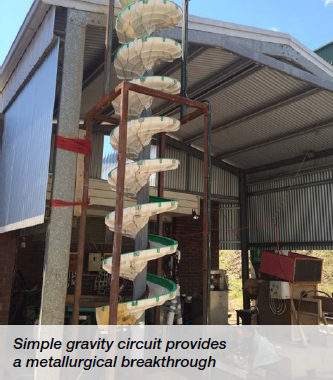 Source: Proactive Investors
Cobalt Blue continues to be my number one cobalt pick at this time, despite being up about 6 fold since I first wrote about it 5 months ago at AUD 0.23. Investors can read more in my article "Top 6 Cobalt Junior Developer Miners To Boom By 2021/2022."
My end 2021 price target is AUD 4.76, assuming a cobalt price of USD 30/lb and reaching 4ktpa production. Higher targets are also possible if it reaches 5ktpa production and if cobalt prices are higher.
Australian Mines [ASX:AUZ] [GR:MJH] (OTCQB:AMSLF) - Price = AUD 0.091
Australian Mines 100% own its flagship Sconi nickel-cobalt-scandium laterite project in North Queensland, Australia. At Sconi, it has already signed 100% of-take deal with Korea's SK Innovation (OTC:SKOVF) and advanced past the PFS stage. It also 100% owns the Flemington cobalt-scandium-nickel project in NSW next to Clean TeQ's [ASX:CLQ] (OTCQX:CTEQF) Sunrise project. The company also 100% owns tenements adjacent to Cobalt Blue, called its Thackaringa Cobalt Project. The later tenements are not huge, but they are in prime location and already show promising signs. A helicopter electromagnetic (AEM) survey was completed in late 2017, which identified priority targets for cobalt. Since then the company has done surface sampling and is awaiting results. You can read more here on page 26.
Australia Mines gives investors a solid and advanced nickel-cobalt laterite play, and further upside potential via its largely unexplored Flemington (adjacent to Clean TeQ) and Thackaringa projects. Investors can read more in my article "Top 6 Cobalt Junior Developer Miners To Boom By 2021/2022."
Current market cap is AUD 244m. A solid choice with exploration upside.
Australia Mines' Thackaringa tenements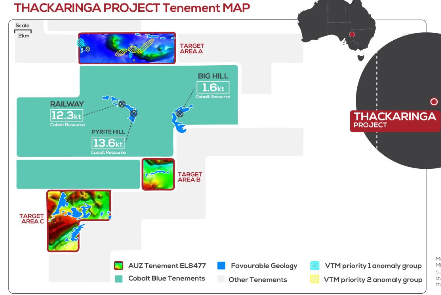 Havilah Resources [ASX:HAV] [GR:FWL] - Price = AUD 0.23
Havilah has two potential cobalt projects - The 100% owned Mutooroo copper-cobalt project about 60km west of Broken Hill in South Australia, and the nearby Kalkaroo copper-cobalt project. The Mutooroo project has the better cobalt grade (0.13%) for 17,100 tonnes of contained cobalt. The project covers a massive 1,574 km², and is still mostly unexplored. The ore type is the same as at Thackaringa, hence Havilah is collaborating with Cobalt Blue to test its ore. The company is working towards a PFS for Mutooroo in 2018.
Havilah's Mutooroo promising cobalt project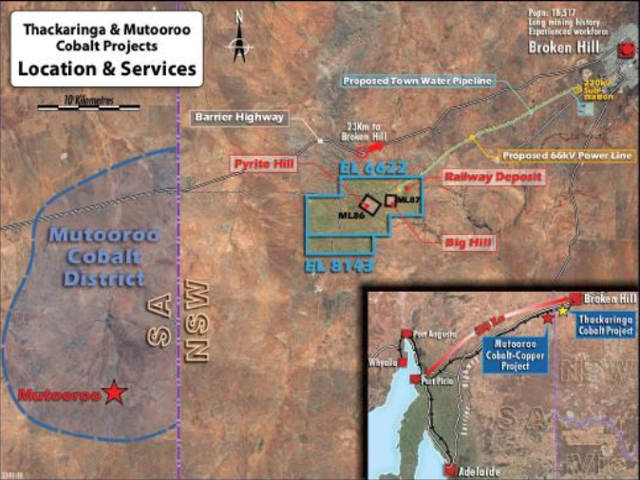 Havilah also has a 15% royalty on the Portia gold mine which assists its cash flow and its soon-to-be-developed North Portia gold project. It also has a massive iron ore project called Grants iron (within the Mutooroo area), and several other very promising exploration projects including the massive Jupiter Iron Oxide Copper Gold Target. Jupiter's magnets resemble the massive BHP (BHP) owned Olympic Dam. You can read more here.
Havilah's copper and gold summary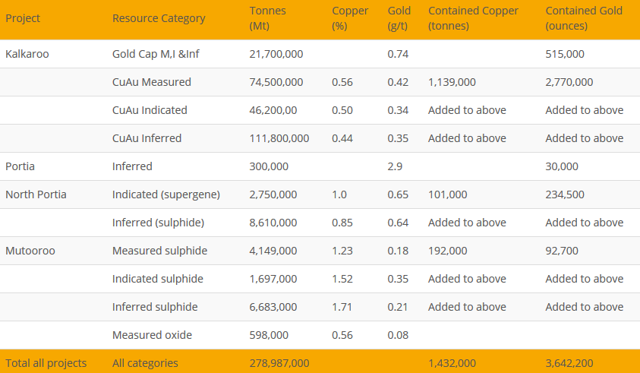 Current market cap is just AUD 50m. Huge resources and undervalued with plenty of upside potential if it can continue to progress.
Castillo Copper [ASX:CCZ] [GR:7OR] - Price = AUD 0.045
Castillo Copper Limited flagship project is the historic Cangai Copper Mine near Grafton in Northeast NSW. The project is comprised of volcanogenic massive sulphide ore deposit, with one of Australia's highest grade JORC compliant Inferred Resources for copper: 3.2Mt @ 3.35% (6 September 2017). In terms of contained metal, the Inferred Resource is 107,600t Cu, 11,900t Zn, 2.1Moz Ag and 82,900 Moz Au. A notable positive is the presence of supergene ore with up to 35% copper and 10% zinc which is ideal feedstock for direct shipping ore. Incrementally, the project holds five historic stock piles of high-grade ore located near Cangai Copper Mine.
In brief, CCZ's Australian assets are 100% owned and comprise four tenure groups detailed briefly as follows:
Jackaderry [NSW] includes Cangai Copper Mine, is in an area highly prospective for copper-cobalt-zinc, and made up of three tenements.
Broken Hill [NSW] which consists of two contiguous tenements prospective for cobalt-zinc that are located within a 20km radius of Broken Hill and just north of Cobalt Blue's ground. Castillo has discovered surface-level cobalt mineralisation up to 2,060 parts per million, with drill-hole intersections up to 7,000 parts per million.
Mt Oxide [QLD] made up of three prospects (two are contiguous) in the Mt Isa region, and are well known for copper-cobalt systems.
Marlborough [QLD] which includes three prospects located north-west of Gladstone (adjacent to Queensland Nickel mining leases) in an area with proven high-grade cobalt-nickel systems.
Current market cap is AUD 26m. Very cheap with large exploration upside potential.
Broken Hill Prospecting [ASX:BPL] - Price = AUD 0.12
Broken Hill Prospecting, "BPL," made the original discovery of the Cobalt Blue Thackaringa cobalt project. It has since optioned to sell the project cobalt mineral rights to Cobalt Blue but retain a 2% royalty deal on the cobalt and rights to any other metals.
In a January 2018 announcement, BPL stated it had "lodged three exploration licence applications in the Broken Hill Region....covering 209 square km", and "these three new projects, combined with the Company's exclusive rights to base and precious metals at the Thackaringa Cobalt Project (in joint venture with Cobalt Blue Holdings Ltd [COB]) form the nucleus of an expanded focus on the Broken Hill Region."
You can read more about BPL's "Tenement Acquisitions Underpin BPL's New Broken Hill Growth Strategy."
The company also has a mineral sands project.
BPL's Broken Hill tenements - The Broken Hill NW Project and The Main Line Project (light blue), and The Triple Chance Project (green)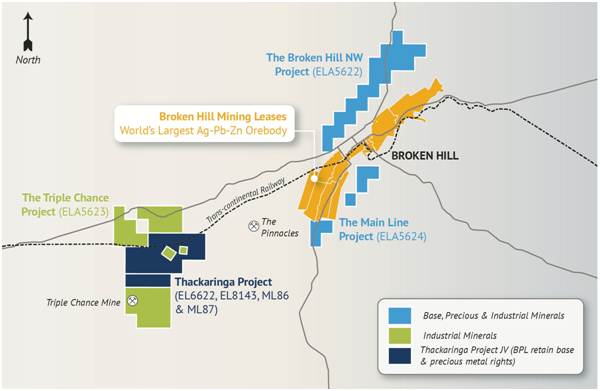 Current market cap is AUD 18m. A proven local explorer with exploration upside.
Alloy Resources Limited [ASX:AYR] - Price = AUD 0.01
Alloy Resources 100% owns the Ophara Cobalt-Gold Project which is located directly adjacent to Cobalt Blue's Thackaringa project and also next to Havilah's Mutooroo copper-cobalt project. In other words it is located right in between the two projects that already have significant cobalt resources. Its ore is the same as at Cobalt Blue.
The company has already has reported "numerous anomalies from historical aerial EM survey that are likely to represent sulphide conductors", and had some promising drill results in 2017 including "AORC002-8 metres @ 0.14% Cobalt and 0.43 g/t Gold, from within 15m @ 0.12% Co and 0.30 g/t Au."
The company also 40% owns the Horse Well Gold Project in Western Australia.
Investors can read more here.
Current market cap is AUD 13m. Early stager with high risk and potential for very high reward.
Note: The company recently announced a capital raise of AUD 1.15m at 0.008.
Others with tenements in the Broken Hill region
Archer Exploration [ASX:AXE], Silver City Minerals [ASX:SCI], Renascor Resources [ASX:RNU] [GR:RU8].
Comparison table
Cobalt projects

Contained tonnes

cobalt and Co grade

Other metals projects

Market cap (AUD
Australia Mines

Sconi

Flemington

Thackaringa

54,500t (Co @0.06%)

2,744t (Co @0.101%)

nickel
244m
Cobalt Blue
Thackaringa

(Co @0.0852%)

141m
Havilah Resources

Mutooroo

17,100t (Co @0.13%)

31,390t contained cobalt in total

Gold, Copper
50m
Castillo Copper
Broken Hill project
No resource yet. Early drill results - Co @0.7-0.2%
Cangai Copper Mine [NSW], Cobalt nickel [QLD]
26m
BPL
Broken Hill NW Project, The Main Line Project, The Triple Chance Project
No results yet.
Titanium, Zirconium
18m
Alloy Resources
Ophara Cobalt-Gold Project
No resource yet. Early drill results - Co @0.12%.
40% Horse Well Gold Project (WA)
13m
Risks
The junior cobalt miners are a risky sector. Risks include:
Sovereign risk - All of the stocks in this article are operating in Australia which is a safe jurisdiction. The Broken Hill district is perhaps Australia's most famous mining district.
The usual risks of investing in small companies such as liquidity risk, poor management, dilution, financing, and mining risks.
Cobalt prices may decline.
Copper, gold and in some cases nickel prices (or other metals) can be an important factor in the companies' economics rather than just the cobalt price.
Best to buy on local exchanges to avoid liquidity issues.
Conclusion
The cobalt region near Cobalt Blue just South-West of Broken Hill is rapidly becoming a hot spot for cobalt. The advantage is the sulphide pyrite ore and the ability to essentially "upgrade" the ore with Cobalt Blue's patented process. This is a potential game changer for Cobalt Blue and neighboring cobalt projects.
This is a relatively new discovery and as a result many of the projects discussed in this article are still extremely cheap with plenty of upside if they can follow in Cobalt Blue's footsteps. It can also benefit Cobalt Blue either via future tolling or royalty payments for access to its game-changing patented process.
Some of the cheaper nearby juniors currently are Castillo Copper, Alloy Resources, Broken Hill Prospecting, and Havilah Resources. My approach would be to invest some smaller money (as risk is higher) into the above four now while they are still very cheap. Should they find significant cobalt similar to Cobalt Blue, they will go on to be multi-baggers.
As usual all comments are welcome.
Trend Investing
Thanks for reading the article. If you want to go to the next level, sign up for Trend Investing, my Marketplace service. I share my best investing ideas and latest articles on the latest trends. You will also get access to exclusive CEO interviews and chat room access to me, and to other sophisticated investors. You can benefit from the hundreds of hours of work I've done to analyze the best opportunities in emerging industries, especially the electric vehicle and EV metals sector. You can learn more by reading "The Trend Investing Difference", "Recent Subscriber Feedback On Trend Investing", or sign up here.
My latest Trend Investing articles are:
My Cobalt Demand Versus Supply Model - May 2018
Castillo Copper Executive Director Alan Armstrong Talks With Matt Bohlsen Of Trend Investing
Havilah Resources Has Huge Potential
Havilah Resources CEO Walter Richards Talks With Matt Bohlsen Of Trend Investing
Cobalt27 Has A Rapidly Growing Portfolio Of 11 Streaming And Royalty Deals In Cobalt Juniors
Disclosure: I am/we are long COBALT BLUE (ASX:COB), AUSTRALIA MINES (ASX:AUZ), HAVILAH RESOURCES (ASX:HAV), CASTILLO COPPER [ASX:CCZ], ALLOY RESOURCES LIMITED [ASX:AYR]. I wrote this article myself, and it expresses my own opinions. I am not receiving compensation for it (other than from Seeking Alpha). I have no business relationship with any company whose stock is mentioned in this article.
Additional disclosure: The information in this article is general in nature and should not be relied upon as personal financial advice.
Editor's Note: This article covers one or more microcap stocks. Please be aware of the risks associated with these stocks.