When I wrote about fifteen market-beating CEFs last week, I briefly discussed Liberty All-Stars Growth Fund (ASG) as the most interesting of the eight domestic-equity funds in the list. I'd like to come back to the fund in a bit more detail.
The primary screen was for funds that had beaten the S&P 500 ETF (NYSEARCA:SPY) for YTD, 1 year and 3 years. ASG ranked with the leaders in total return at both market and NAV for the three time-frames. Plus it was the only fund among the fifteen that had Z-scores with negative numbers.
(Briefly, Z-scores for CEFs tell us how far the current premium/discount valuation is from the funds mean valuation. A negative Z-score means the fund is more discounted than the mean. The value of the Z-score is the number of standard deviations from the mean the current valuation is.)
In ASG's case, the fund has a small premium (currently 0.50%), and that premium has been falling. Its three-month Z-score is -2.30, so it's 2.3 standard deviations below its average premium for the last three months. For six months it's -0.60, and for a year it's 0.40.
Here's a chart showing total return (1 year) for the five domestic-equity funds that led for NAV returns plotted relative to ASG (the red line at 0%). Thanks to panda317 for making me aware of this slick charting tool from Stockcharts. On their page, you can click on one of the names and the chart will reconfigure relative to that one.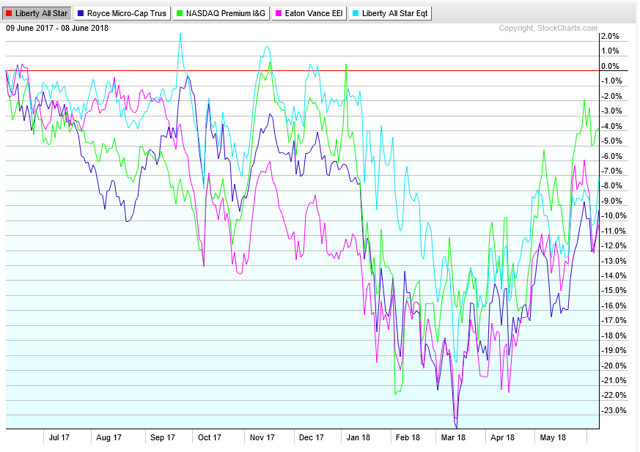 ASG has outperformed for the year, but its lead over the other four has been declining along with its premium. All of the other funds have positive Z-scores, so they are adding to market-based returns with the increasing valuation. We could have inferred this pattern from the relative Z-scores, but it's a lot easier to see it graphically.
It would be useful to have the chart for NAV returns, taking out the premium/discount fluctuations, but Stockcharts does not appear to have NAVs for QQQX or EOS. Here's what they do have.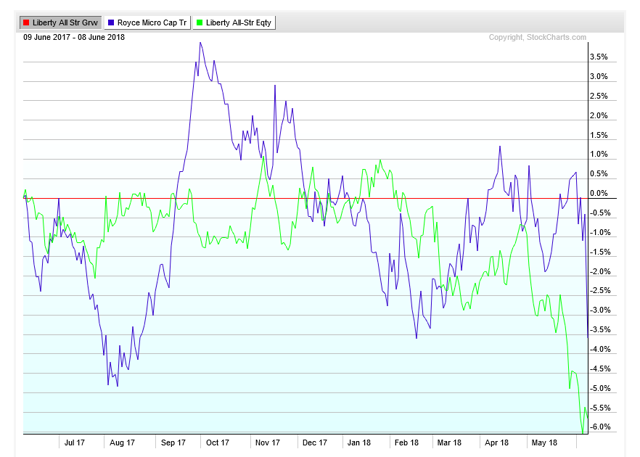 So, we have a fund that ranks with the highest flyers of all domestic-equity CEFs, and is carrying a small premium which is 2.3 standard deviations below its three-month average valuation. Clearly something to look at, so let's look at it.
First thing to note is that ASG is an unleveraged fund that does not use option strategies to generate income. This sets it outside the standard run of equity CEFs where one or the other of those strategies, sometimes both, prevail.
Morningstar considers ASG with its mid-cap growth group. Here's total return for ASG along with iShares Russell Mid-Cap Growth ETF (IWP) and a five-star OEF, T. Rowe Price Mid-Cap Growth (RPMGX), which has been crushing the Morningstar category for one- and three-years.

We can see that ASG has beaten them both for total return, but we also see that the beat is really for the past year. That has been sufficient to get it above the other two for three years (and five years, not shown here) because prior to this year, it kept pace with them.
Distribution yield for ASG is 7.27%, which is a solid payout for an unleveraged domestic-equity fund. The distribution is paid quarterly. The fund does not have a managed distribution, so the quarterly distribution varies with the fund's fortunes.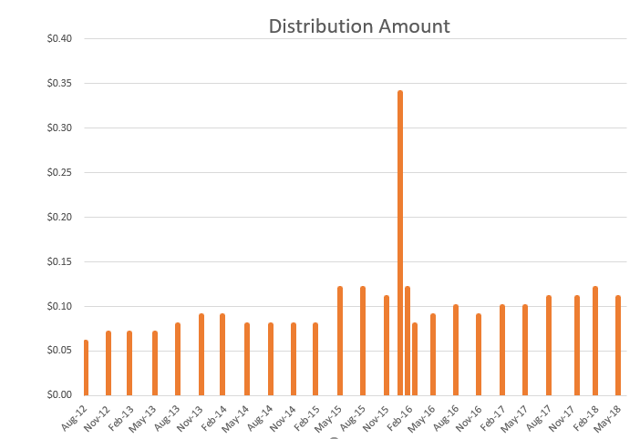 That distribution strategy means there is no return of capital and no failure to meet distribution coverage. The last time the fund paid return of capital as a component of its distribution was 2012.
For 2017, the distribution sources were ordinary dividends (6.8% qualified, 17.3% non-qualified) and long-term capital gains (75.9%). For 2014 through 2016 distributions were 100% sourced from long-term capital gains. Thus, the distribution is reasonably tax efficient.
The portfolio spans growth opportunities from micro- to giant-cap stocks.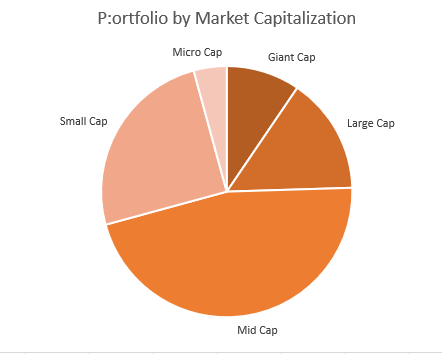 Relative to the mid-cap growth category, stock selection emphasizes cash-flow growth, which is 14.04% vs. a category average of -5.21%. Valuation measures, P/E, P/B, P/S and P/CF, trend higher than the category averages.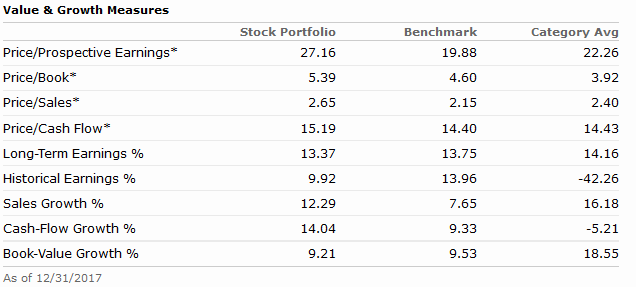 (Source: Morningstar)
The portfolio is managed by three separate management teams, one for large caps, one for mid-caps and one for small caps, which, I suppose, is what the All-Stars label is meant to indicate.
What I like about ASG is the fund's consistently solid performance record, its distribution policy, and its reasonable valuation.
Performance speaks for itself. The fund has slowed a bit in recent months, but over time it has performed admirably against its mid-cap benchmarks while paying a distribution more than double what the category pays.
The fact the ASG does not have a managed distribution policy appeals to me. One of the biggest risks in owning CEFs is from funds overpaying their distribution to meet unrealistic managed distribution policies. If the distribution is set too high, as all too many are, the high payout attracts income-seekers and drives up valuation for the fund. When the fund inevitably has to cut the distribution, those valuations often plummet as income-seekers abandon the fund. This scenario is off the table with ASG which removes, or at least diminishes, an important risk factor. My preference, especially in an equity fund, is for the fund to pay out what it earns consistently. Then I can go back and see how the distributions have played out over time to evaluate management's strategies on how they pay fund holders.
Finally, as I've noted, the top-performing CEFs are strongly overvalued at this time. Typically, CEF investors look for discounts. The top performers from the list of fifteen have an average premium of 5.0%. By that measure, ASG's near-par valuation is attractive. And, not one of those top performers other than ASG has a single negative Z-score.
The fund is not without its negatives, of course. Foremost among them, in my mind, is that it is a small fund with net assets of only $160M, which means liquidity can be problematic, especially in times of stress.
Disclosure: I am/we are long ASG.
I wrote this article myself, and it expresses my own opinions. I am not receiving compensation for it (other than from Seeking Alpha). I have no business relationship with any company whose stock is mentioned in this article.
Additional disclosure: I am not an investment professional and nothing I write here should be taken as professional advice. Everyone's personal situation is unique. It is the role of finance professionals to provide advice in the contexts of an individual's personal situation. What may be right for my investment goals and risk tolerances may well be quite wrong for someone else. Do your own due diligence. Consult with professionals on your own needs, objectives and tax circumstances before you invest. I do not give advice and ask that readers refrain from asking for it.