Thesis
Regency Centers (REG) reporter strong first quarter results that are to be expected from a company with a strong management team and highly performing properties. Shares are attractively priced with a 3.7% yield and robust growth ahead. I expect high quality shopping centers to continue to be in demand in spite of the supposed threat from the rise of e-commerce.
Tale of the tape
REG has seen high volatility since I recommended their shares: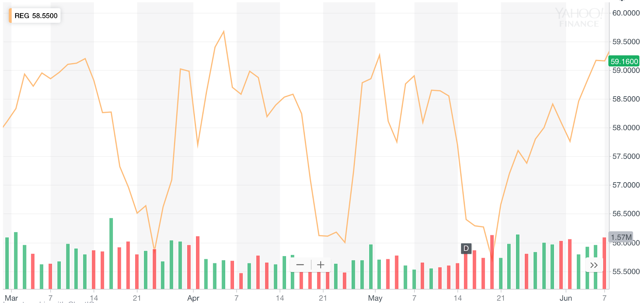 While I do believe that many of the share price declines seen in lower quality peers to be justified, I do not believe the disappointing share price performance seen at the higher quality REG to be justified especially when considering that treasuries are still yielding around 3%. This may indeed be a great chance to buy a high quality dividend grower on the dip.
Business Overview
REG is a REIT which owns 421 properties with 74% of net operating income ('NOI') coming from the top ten markets: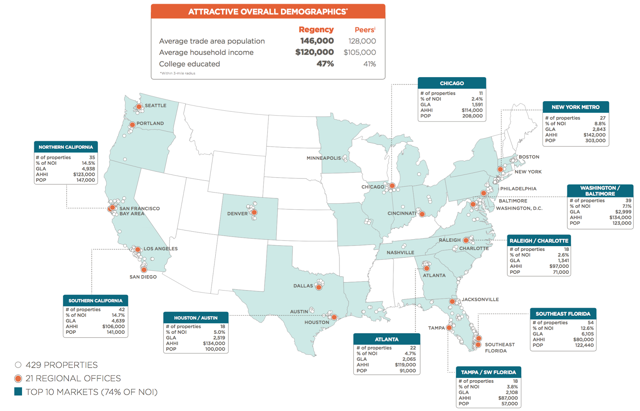 Their properties are specifically chosen to be located in areas with strong demographics as defined by education, population density, and income: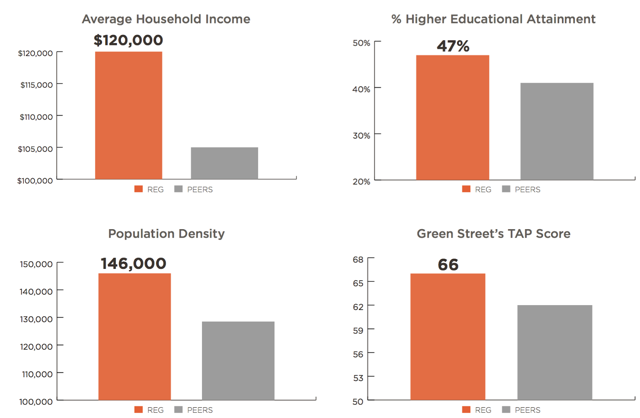 (2018 Investor Presentation)
While many readers may already understand the importance of having a grocery anchor in driving recurring foot traffic at shopping centers, REG in this regard further differentiates itself by having better grocery stores which have far superior sales psf: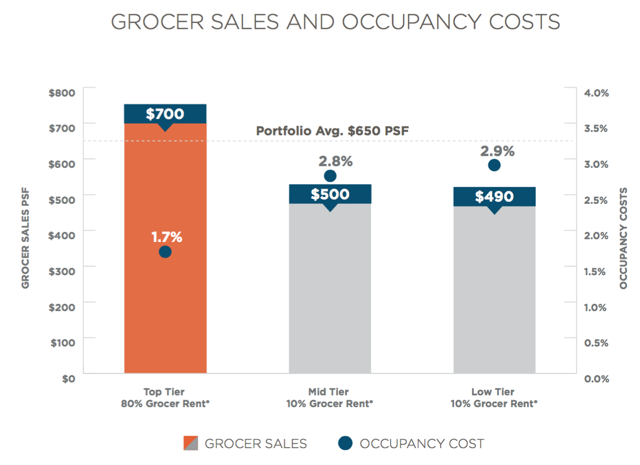 (2018 Investor Presentation)
One can argue that this is a self benefiting cycle as the grocery stores drive greater foot traffic to the center which in turn helps make the grocery stores even more profitable, continuing the cycle.
REG has a great history of generating industry leading same store NOI growth: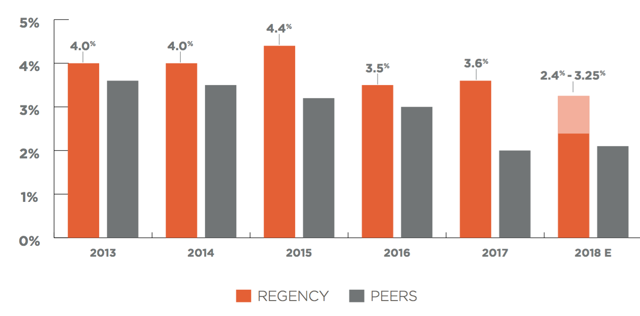 (2018 Investor Presentation)
This is driven in part due to in place rent increases and more importantly from "mark to market" opportunities within their portfolio which occur when tenants are paying below market rents. In particular REG notes that their anchors currently offer 40% mark to market opportunities.
In general a very important strategy for shopping center REITs is to buy properties with high mark to market potential, raise rents to markets over several years, sell off underperforming properties, buy new high quality properties with mark to market potential, and repeat.
In addition to their mark to market strategy they have also invested heavily into redevelopments which have allowed for on average 7.8% yields: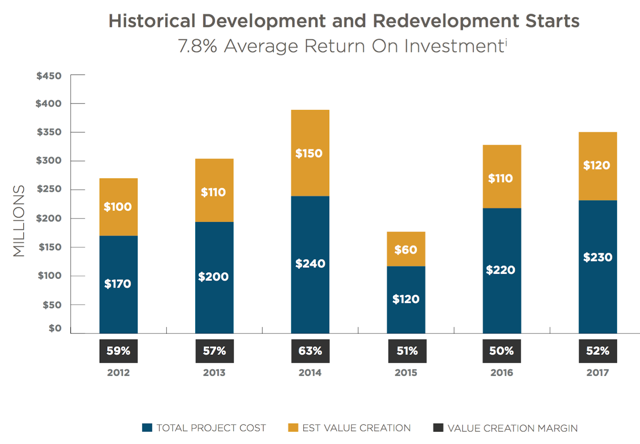 (2018 Investor Presentation)
Redevelopments are a riskier form of growth but I consider this risk to be well managed at higher quality properties as these are more about "adding value" rather than "fixing" potentially worse situations at lower quality properties.
Their strong centers and executions have led to modest but consistent FFO and dividend growth:

(2018 Investor Presentation)
2018 results
As usual, REG turned in a strong quarter. SS NOI grew 4%. They repurchased $125 million shares. Renewal lease spreads came in at 6.8% and new leasing spreads came in at 15.5% for a net leasing spread of 8.4%. The only potential negative I see is the continued decline in lease terms: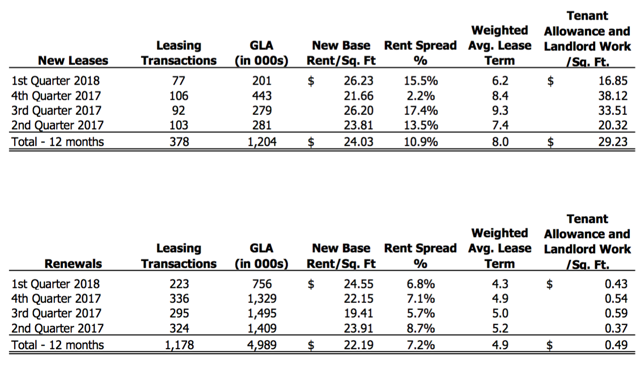 Balance Sheet
Due to their low leverage at 5.6 times net debt to EBITDA and strongly performing properties, REG enjoys high credit ratings:

(2018 Investor Presentation)
I do believe that REG will eventually receive a credit upgrade to A-, though to be honest it may not have such a big impact considering they already have a very low cost of debt with their most recent offering being priced at a 4.125% interest rate.
Valuation
Management has guided for about $3.50 in operating FFO. This places their valuation at about 17 times FFO. Their dividend yield is about 3.7%. While this is not necessarily dirt cheap, REG remains a lower risk way to take a contrarian stance against e-commerce. I continue to believe that shopping centers are a "hit or miss" proposition and thus investors should pay up for higher quality portfolios. Chasing yield in this tough retail environment is likely to be unwise the weakness seen at weaker portfolios may take several years to see impacts to their financials. For now, I am just content with a high quality portfolio trading at 17 times FFO. I view this as a long term hold and have a price target of 20 times FFO, or $70 per share.
Conclusion
REG continues to churn out strong results despite persistent e-commerce headwinds. These are perhaps due to shopping centers being more e-commerce resistant than shopping mall counterparts, or more likely due to REG possessing high quality properties in high quality locations. Shares continue to be attractively priced for all types of investors as the impact of e-commerce looked to be discounted in the stock price of this high quality dividend payer.
If you liked this article, please scroll up and click "Follow" next to my name to not miss any of my future articles. I have a reputation for replying to every comment, leave a comment below!
Disclosure: I/we have no positions in any stocks mentioned, and no plans to initiate any positions within the next 72 hours.
I wrote this article myself, and it expresses my own opinions. I am not receiving compensation for it (other than from Seeking Alpha). I have no business relationship with any company whose stock is mentioned in this article.