In May 3, 2018's "Follow Billionaire David Tepper Into This 8%-Yielding Energy Stock," I recommended that investors follow the hedge fund manager into Energy Transfer Equity, L.P.'s (ETE) units.
Following Tepper, a modern super-investor with a net worth of over $11 billion (enough to cut a $2.23 billion check for full ownership of the Carolina Panthers), into the stock proved a great move: units are up 8.9%.
The average investor has a great deal of information at their disposal. It was only recently in financial history that one could so easily get out of bed, hop on the computer, and have the holdings of the world's best investors right on the screen in front of them with just a few mouse clicks.
Given how hard it can be to find solid investment ideas these days (ones with a solid chance of beating the market), can you think of a better place to start?
I certainly cannot - which is why reading the 13-F filings of the world's biggest hedge funds and companies like Berkshire Hathaway (BRK.A) (NYSE:BRK.B) is one of my favorite past times. It's the straightest path to great investment ideas.
The government requires these world-class investors to tell the rest of us what they're up to. Why not use it to quickly identify market-beating investments so more time can be spent on what is truly important?
Energy Transfer's story continues to improve
David Tepper is no stranger to tough situations. Cutting his teeth in the treasury department of a dying steel company, he eventually found his way to Wall Street where he headed up Goldman Sachs' (NYSE:GS) then-new high-yield debt trading desk. If this sounds sexy think again, most of Tepper's career (and 30%+ annual returns) are thanks to pouring through hundreds of pages of mind-numbing bond prospectuses and legal briefs in search of evidence that the debt of a troubled company was undervalued.
Given his history, the purchase of Energy Transfer Equity is yet another situation where a company overextended itself only to right the ship - which attracted Tepper's attention last year.
As I highlighted in my previous piece, Energy Transfer Equity is the controlling entity of what is known around 'The Street' as the Energy Transfer family. It makes most of its money through Incentive Distribution Rights (IDRs) on Energy Transfer Partners (ETP) - an arrangement that is becoming increasingly lucrative now that a large number of growth projects over at ETP have begun coming online.
Since then, things have only gotten better which explains why shares likely reached their bottom of $14.33 back in March:
On May 29, 2018, Energy Transfer Partners (which is, again, ETE's major revenue source) announced that it had begun accepting proposals to use Phase 1 of its Permian Express Pipeline - a transportation network that will bring up to 50,000 barrels per day of oil equivalent to the coast from West Texas's Permian Basin. More capacity is expected to come online later this year.
Just two days later on May 31, Energy Transfer announced that the Federal Energy Regulatory Commission (FERC) had given approvals to commence service on its Supply Mainline B segments operated by its Rover Pipeline subsidiary which services parts of Canada and Michigan. This is an important milestone as it allows for the full, 100% usage of Rover's 3.25 billion cubic feet per day of natural gas transmission capacity.
Even "the family's" debt situation (which is, admittedly, less than ideal) has received clarity with the June 5, 2018 announcement that Energy Transfer Partners has successfully priced $3 billion in notes with maturities ranging from 2028 to 2048 at yields ranging from 4.2%-6%.
With the first announcement, Energy Transfer let the world know it is primed to benefit from the continued Permian Basin miracle just as its production is surpassing the previous peak of 2014/2015.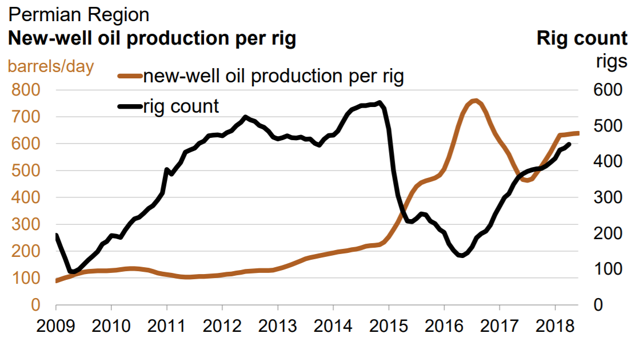 Image Source: EIA Permian Region Drilling Activity Report.
The last point is particularly encouraging, as it gives the company needed flexibility to continue rewarding shareholders (and therefore Energy Transfer Equity):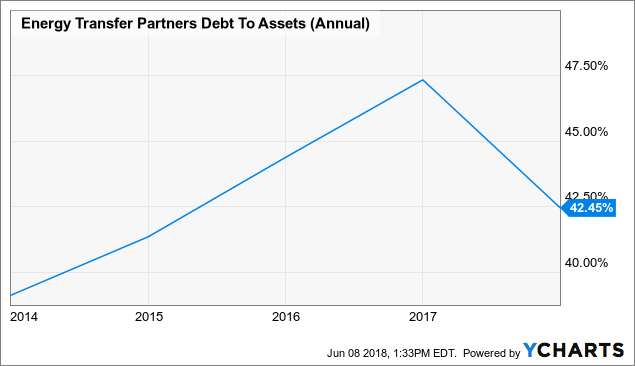 Earnings gave a glimpse into Energy Transfer Equity's fundamental leverage
The last few years have been rough on the energy industry and Energy Transfer Equity was not immune to this secular trend. However, the "winter" of the past few years are about to give way to bountiful harvest - and ETE stands to benefit in a big way.
As the reader is no doubt aware by now, IDRs give Energy Transfer Equity as general partner of Energy Transfer Partners access to an exponentially larger portion of ETP's distributable cash flow as said profits increase.
This is why Tepper shifted from ETP to ETP beginning late last year - he realized that as ETP's projects were coming online it would be the general partner (ETE) that would stand to benefit the most.
This couldn't have been more apparent than in Energy Transfer Equity's Q1 earnings report which hit the presses on May 9, 2018.
Net income was $363 million for the period, up a whopping $124 million (51.88%) YoY. Distributable Cash Flow, that all-important number for MLP investors, rocketed to $395 million for the three-month period, up 83.72% from Q1 2017.
Compare this with the results over at Energy Transfer Partners:
| | | |
| --- | --- | --- |
| | Q1 2018 YoY DCF Growth | Q1 2018 YoY EBITDA Growth |
| Energy Transfer Equity | 83.72% | 45.3% |
| Energy Transfer Partners | 29.41% | 30.17% |
Source: Energy Transfer Earnings Releases.
During the downturn, Energy Transfer Equity waived its IDRs in order to give Partners a fighting chance to ride out the downturn unscathed.
However, now that the sun is shining on the group again, those waivers have begun to roll off. This 'bill coming due' coupled with the large number of growth projects the company now has coming online mean Energy Transfer Equity is a great stock pick for the coming 1-3 years.
What dividend investors need to know
There is nothing gained with nothing ventured, and there are a few caveats to my (and Tepper's) bull thesis. The simple fact of the matter is Tepper is a distressed investor by trade and Energy Transfer Equity (in particular) is currently saddled with a bothersome debt load. Debt-to-assets remains around 50%, and only recently began coming back from its peak of ~56% in 2017.
Should credit markets seize up, or a number of growth projects stumble, things could become less-than-ideal rather quickly.
That being said, Tepper's endorsement and continued purchases give comfort. The entire Energy Transfer family is well positioned to benefit from increased natural gas production. With a 7.3% dividend yield and a billionaire super-investor snapping up shares, that's good enough for me.
Disclosure: I/we have no positions in any stocks mentioned, but may initiate a long position in ETE over the next 72 hours.
I wrote this article myself, and it expresses my own opinions. I am not receiving compensation for it (other than from Seeking Alpha). I have no business relationship with any company whose stock is mentioned in this article.