For yield lovers who want to avoid energy and already have their fill of REITs, an attractive company to consider buying into is Main Street Capital Corp. (NYSE:MAIN). As a BDC (business development company) with a 5.9% yield, the company makes for an interesting prospect, but to really understand the opportunities it offers, investors need to understand where its future growth lies and what implications that will have in regards to its distribution in the years to come. My take is that, while the distribution can grow in the years to come, shareholders should expect less bang for the company's buck.
Stellar growth and a business re-alignment
Main Street Capital has been a terrific growth story over the past several years. As you can see in the image below, the firm's investment portfolio (looking at its fair value, not its cost basis) has grown tremendously since the firm went public in October of 2007. That year, its portfolio stood at just $105.7 million, spread across a modest 27 firms. By 2013, its portfolio had grown by more than a multiple of 10 to $1.29 billion, and in March of this year it measured at $2.31 billion with 199 firms as active clients.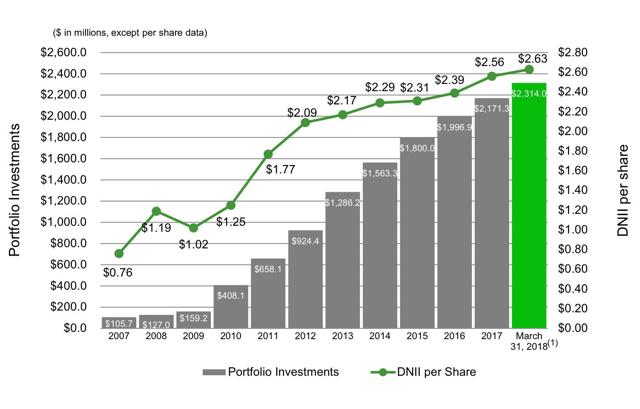 *Taken from Main Street Capital Corp.
Along with this rise in its portfolio's fair value, the company's DNII (Distributable Net Investment Income) per share grew as well, rising from $0.76 per share to $2.63 per share today. What's most impressive to me about this is that the company's performance has been so positive at a time when interest rates have been at or near historic lows. As I demonstrated in a prior article, every 1% increase in interest rates seen should expand the business' DNII per share by around $0.18, so one strong catalyst for the business could be high enough inflation that necessitates interest rate increases.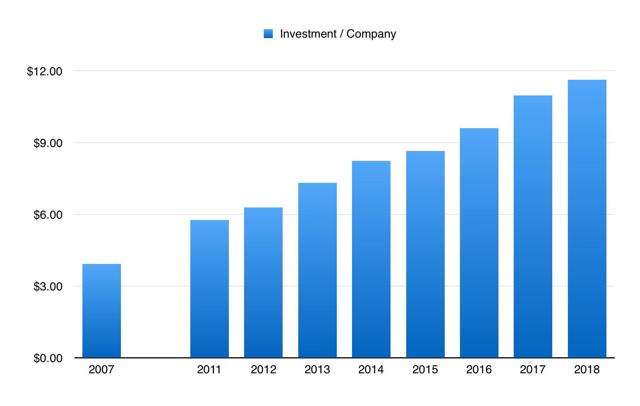 *Created by Author
What I noticed during my analysis, though, is that Main Street Capital's portfolio composition is changing rather significantly and in a way that could have some negative impacts on growth prospects in the years to come. If you look at the chart above, for instance, you'll notice that the investment per company has expanded. Back in 2007, this figure was just $3.92 million. Today, it's $11.63 million. So not only is Main Street Capital taking on more companies as clients (though this has been mostly level for the past four years now), but the amount it's willing to put into these clients has expanded.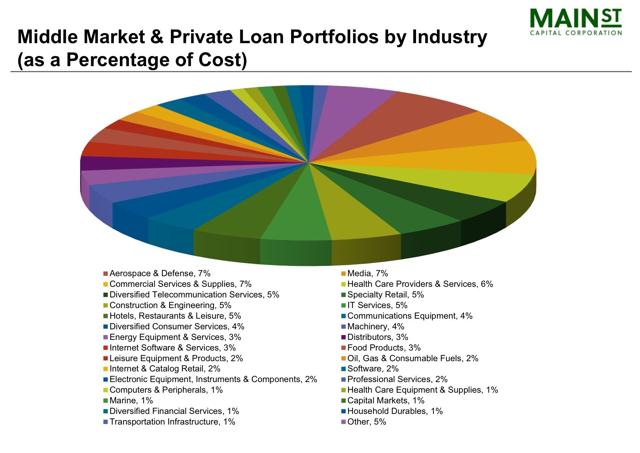 *Taken from Main Street Capital Corp.
In particular, management has really ramped up what it calls its Private Loan business. You see, unlike LMM (Lower Middle Market) and MM (Middle Market) companies, Main Street Capital invests in a wide variety of firms that fall under neither category. This is because these come about as a result of the business' strategic relationships with other funds and because they are entered into on a collaborative basis. Unfortunately, management has not broken out too much relevant data to separate the Private Loan portfolio from its MM portfolio, but in the image above you can see that the mix of its Private Loan and MM portfolio is incredibly diverse. 7% of its investment is allocated to what management classifies as Aerospace & Defense, 7% is allocated to Media, and another 7% is allocated to Commercial Services & Supplies. All other areas represent lower exposure for the firm.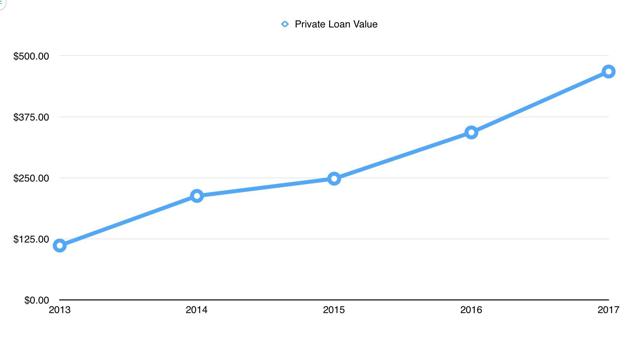 *Created by Author
Management has, over the past several years now, been dedicated to relying on these networks in order to expand their operations. As you can see in the graph above, the portfolio value of its Private Loan business has soared over the past five years, rising from $111.5 million in 2013 to $467.5 million last year. To put this in perspective, the graph below shows that Main Street Capital's Private Loan portfolio has grown during this timeframe from being just 8.7% of the firm's aggregate portfolio value to being 21.5% and there seems to be no stop to this shift.
In addition to Main Street Capital's exposure to this space expanding, the companies included in this line of business are larger than ever before. In the graph below, you can see that the weighted-average EBITDA of firms in this space has jumped from $18.4 million in 2013 to $39.6 million in 2017. One benefit here is that, keeping all else the same, companies with more EBITDA should be less risky than those with less of it. Not only that, management is also taking advantage of their customers' financing needs to negotiate greater equity percentages (as opposed to just debt) from the transactions. Five years ago, around 96% of the portfolio fair value associated with the Private Loan business was in the form of debt. Today, that figure has dropped to 93.6%.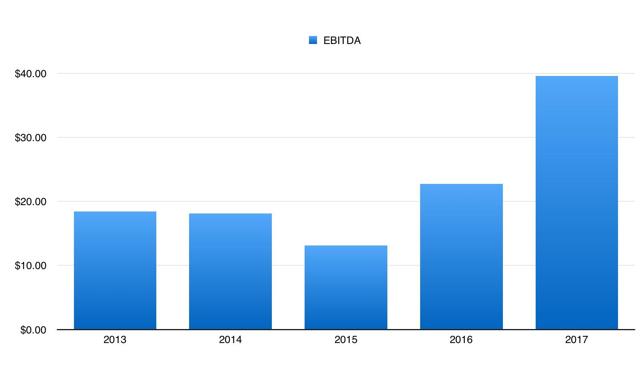 *Created by Author
But there's a cost to this
So far, this all looks great, and depending on your perspective, it is. Management is seeing tremendous growth in what used to be a small (almost immaterial) part of the enterprise, and the size of players in this space looks to be larger, creating some degree (most likely) of safety. Having said that, one piece of downside here relates to the yield management can collect. With safety comes pricing power from customers and that's precisely what Main Street Capital has experienced over the past few years.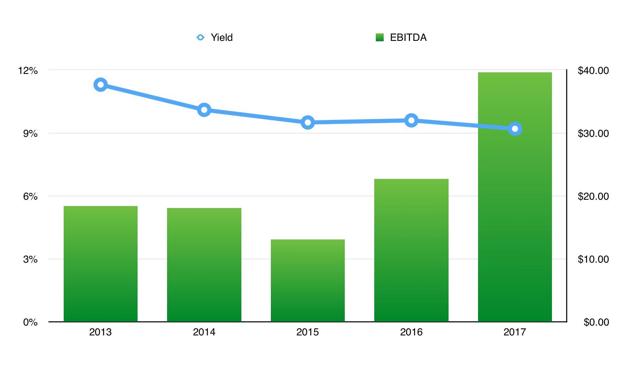 *Created by Author
As you can see in the chart above, as the weighted-average EBITDA has grown within this line of business, the yield has dropped. Back in 2013, this figure was 11.3% per annum. Now, it has fallen to 9.2%. To put this in perspective, I created the next graph below. In it, you can see that the implied aggregate yield (what Main Street Capital should receive each year based on each year's results) has trailed behind what the results would have been had Main Street Capital been able to keep its yield flat from 2013 through today. In 2017, the spread here would have been $9.82 million, but in the four years ending in 2017 it would have totaled $22.7 million. This is significant when you consider that interest rates in the US have been gradually pushed higher by the Federal Reserve, a move that should be helping Main Street Capital.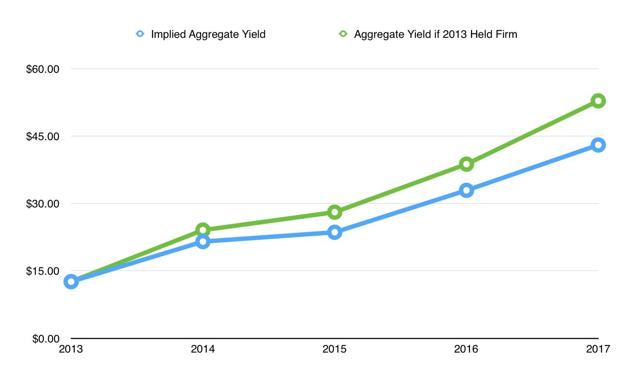 *Created by Author
Takeaway
Main Street Capital is a really interesting business and management has done well to grow the enterprise as quickly as they have. With that said, I do believe that upside growth from here is very probable, but investors shouldn't expect a return to rapid organic expansion. As its Private Loan business becomes more and more integral to Main Street Capital's long-term growth strategy, depressed yields generated by taking on larger and (presumably) healthier clients will mitigate growth prospects and limit the company's distribution upside. Not only will this negatively affect the outcome for dividend growth investors, it will likely affect Main Street Capital's capital appreciation since shareholders view it as a dividend-centric play. This doesn't make it a bad investment, but it does imply that shareholders should weigh these growth downsides before buying into the business.
Disclosure: I/we have no positions in any stocks mentioned, and no plans to initiate any positions within the next 72 hours.
I wrote this article myself, and it expresses my own opinions. I am not receiving compensation for it (other than from Seeking Alpha). I have no business relationship with any company whose stock is mentioned in this article.