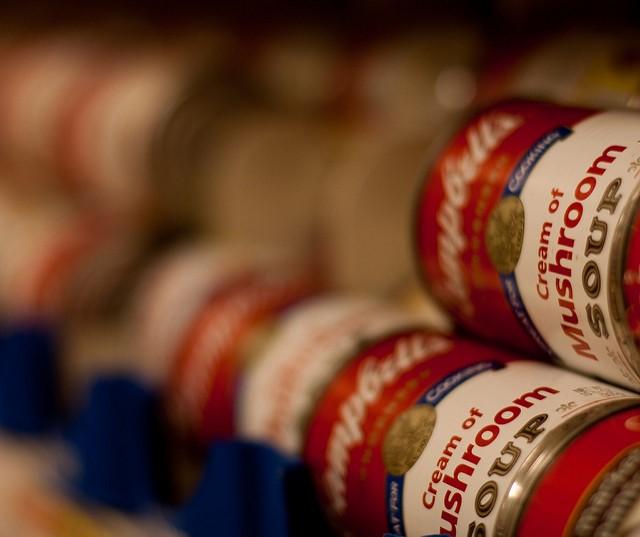 Image Source: Neil Conway
By The Valuentum Team
Campbell Soup (CPB) is a feel-good company -- meaning that you just get good vibes from the brand. Whether it's the childhood memories of collecting its soup labels or its origins dating back to the late 1860s, it's just hard not to like what Campbell Soup has come to stand for. The company's brand is ingrained into American culture, too. Who hasn't seen the 1962 work by Andy Warhol of Campbell's Soup Cans. It's a treasure, and very few companies have been able to transcend the hearts and minds across consumer verticals as that of the Campbell brand. There may be nothing that will be able to derail this beloved consumer staples business.
That said, however, times have been better for Campbell Soup. Many have already forgiven it for its dividend cut in 2001 that has been largely forgotten, but the company is fighting a battle that it might not be able to win. Its gross margins are under attack from pricing pressure and promotional/input expenses, and its debt load leaves a whole heck-of-a-lot to be desired. Exploding as a result of acquisitive activity, Campbell's debt load stood at a whopping $9.8 billion at the end of April 2018, against a meager cash balance of less than $200 million. Not only does a hefty debt burden weigh on its valuation prospects, but it also weighs heavily on its Dividend Cushion ratio, which has fallen deep into negative territory of late. We love Campbell Soup, but we can't get excited about its stock.
Campbell Soup At a Glance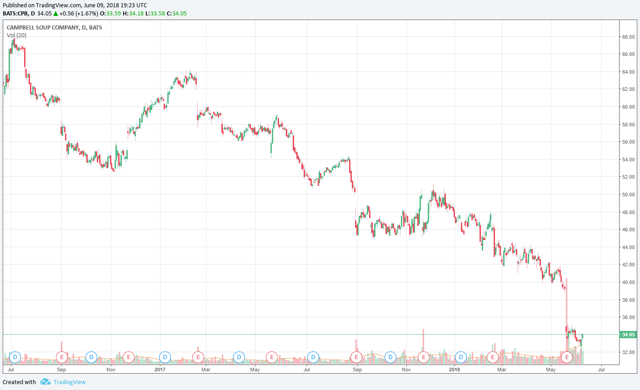 Image shown: Campbell Soup's fall from grace from July 2016.
• Campbell Soup reports in the following segments: US Simple Meals; Global Baking and Snacking; International Simple Meals and Beverages; US Beverages; and Bolthouse and Foodservice. Its products include Campbell's Chunky soup, Goldfish crackers, and V8 juice, among others. The company was founded in 1869.
• Campbell agreed to acquire Snyder's-Lance for ~$6 billion in cash as part of its strategy to expand its faster-growing better-for-you snack portfolio. The transaction is expected to close in the second half of calendar 2018. $170 million in cost synergies are expected by the end of fiscal 2022. The company's previous CEO Denise M. Morrison recently stepped down, however, so synergy estimates have become increasingly more questionable, in our view, given executive turnover.
• Campbell Soup is responding to dramatic shifts impacting the food industry from changing consumer behavior and demographics to the shift to digital. The company is working to reduce costs in its efforts to permanently return to profitable growth, and it recently upped its cost savings program target to $450 million by 2020 from $300 million by 2018. It will have its hands full competing with private-label competition.
• Campbell's top-line has been hit by shifting demographics, changing consumer preferences, the adoption of new shopping behaviors, and the changing retail landscape. Management lowered its fiscal 2018 adjusted EBIT guidance to a decline of 9%-11% over 2017 levels (was previously a 5%-7% decline) due to pricing pressures and cost inflation.
• Shockingly, Campbell Soup's gross margin fell to 29.1% in the fiscal third quarter of 2018 (ends April) from 35.9% in the year-ago period. Even after excluding items to improve comparability, its gross margin still contracted 3.9 percentage points as pricing/promotional pressures, cost inflation, and higher supply chain costs weighed on profitability. We think the troubles won't subside anytime soon.
• Campbell Soup is targeting long-term net sales growth in the low-single-digits and earnings-per-share expansion in the mid-single-digits. Pricing competition and input cost swings will certainly pose a challenge to meeting such goals. While we think these targets are achievable, they won't come easy.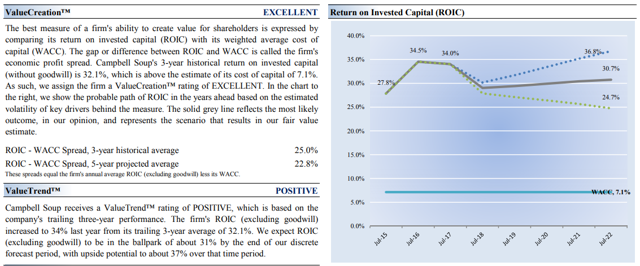 Image Source: Valuentum
• Part of the reason why we think Campbell Soup has a good business, despite the pressures it is currently facing, has to do with its excess economic returns that it generates, as shown in the image above. The company's return on invested capital measure has been and is expected to continue to be far in excess of its cost of capital.
Campbell's Dividend In Jeopardy Over the Long Haul?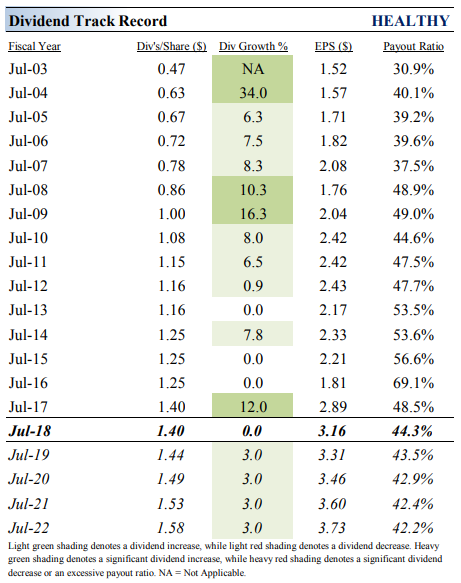 Image Source: Valuentum
It's not all dire at Campbell Soup. The company's operating cash flows advanced to $1.02 billion during the first nine months of its fiscal year 2018 from $1 billion during the same period last year. Capital spending remains controlled, though the measure did advance in the same year-over-year nine-month period, but free cash flow continues to cover cash dividends paid by a multiple.
What is most concerning to investors of Campbell Soup, however, is the company's debt load, which exploded higher as a result of acquisitive activity, with total debt now standing at $9.8 billion at the end of April 2018 against a cash and cash equivalents balance of less than $200 million. Campbell Soup is now a story of gross-margin pressures and too-much leverage, and its ~3.4% dividend yield isn't high enough to tempt us. Its Dividend Cushion ratio stands at -1.2 (negative 1.2).
Here's what we say about the payout in an excerpt from our Dividend Report:
Key Strengths

Though it recently reduced its long-term organic net sales target, Campbell's initiatives to transform its organization, cost structure, and culture are expected to deliver $450 million in annual cost savings by 2020, an increase from its initial target of $300 million by 2018. This cost savings has enabled the company to maintain its bottom-line targets despite the reduction in its top-line guidance, which has been the case in fiscal 2017. The firm's already strong free cash flow generation, which took a step back to $953 million in fiscal 2017 from $1.1 billion in fiscal 2016, should see a nice benefit from the cost savings, further supporting potential dividend growth. The company has paid a dividend since it went public in 1954.

Potential Weaknesses

Campbell's dividend metrics have been severely impacted by its sizable debt load following recent acquisitions. Pricing pressure will continue to be an issue in its competitive industry, though recent core strengthening initiatives could mitigate this risk to a degree. Competing allocations for capital could impact the pace of dividend growth, such as the capital expenditures associated with the further expansion into health and well-being products and developing markets. We aren't expecting these to provide a material threat to the payout, though they could potentially slow the growth of the payout moving forward; we're projecting modest growth over the next few years. We're not fond of the materially increased financial leverage.
Conclusion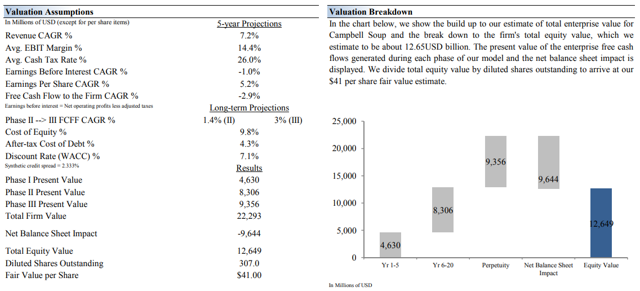 Image Source: Valuentum
Shares of Campbell Soup have been halved since they peaked at nearly $70 in mid-2017, a nightmare for the executive team and holders of shares. We don't like the gross-margin pressures on the business, and competition from private-label won't be letting up anytime soon. We're not too happy with its acquisitive activity either, as recent mergers have now saddled the company with close to $10 billion in debt on the books, with little cash for financial flexibility, especially in the context of needing to pay a dividend that income investors are counting on. We love the company Campbell Soup, but we have a very hard time getting excited about its stock. We value shares at ~$41 each, but we'd only grow interested in them, if shares materially turn higher. You can read more about why we wait for stocks to be both undervalued and their shares moving higher here (pdf). It's why we're called Valuentum (value + momentum within stocks).
This article or report and any links within are for information purposes only and should not be considered a solicitation to buy or sell any security. Valuentum is not responsible for any errors or omissions or for results obtained from the use of this article and accepts no liability for how readers may choose to utilize the content. Assumptions, opinions, and estimates are based on our judgment as of the date of the article and are subject to change without notice.

Disclosure: I/we have no positions in any stocks mentioned, and no plans to initiate any positions within the next 72 hours.
I wrote this article myself, and it expresses my own opinions. I am not receiving compensation for it (other than from Seeking Alpha). I have no business relationship with any company whose stock is mentioned in this article.