Last week, EIA weekly statistics reported some bearish numbers across crude and refined products. Crude, Distillates and Gasoline stocks build over 8 million barrels. More than half of the build came from gasoline. This was unexpected as the market consensus was expecting for a gasoline stock draw given we are entering a high gasoline demand season.
This caused gasoline prices to tumble. Gasoline crack spreads (relative to Brent) tumbled more than $4 this week to reach seasonally low levels.
Chart 1: Gasoline Crack Spread to Brent ($/BBL)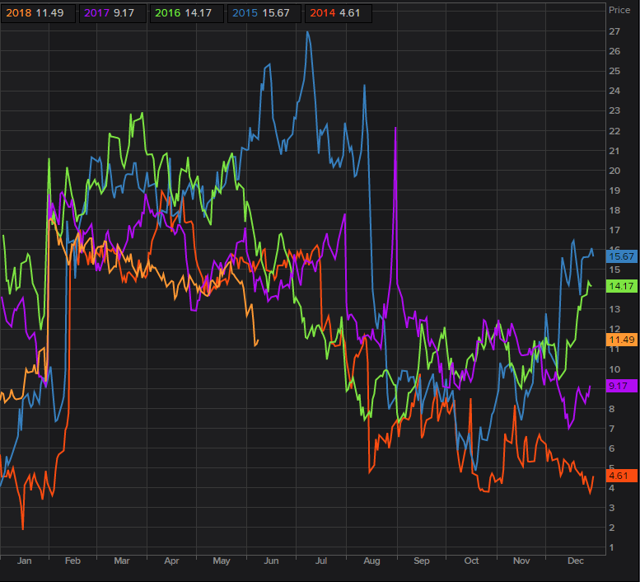 Source: Reuters, CME
EIA weekly statistics: Bad data or something structural?
The surprise gasoline stock build came predominantly due to one reason and that is a drop in demand or how EIA classifies it as "product supplied". Product supplied last week dropped by 713 Thousand Barrels Per Day (KBD) or nearly 7% from last week. This is a very sharp drop as we did not see any gasoline demand bump from Memorial Day this year like we have historically done.
Chart 2: Gasoline Product Supplied (Unit: Thousand Barrels per Day)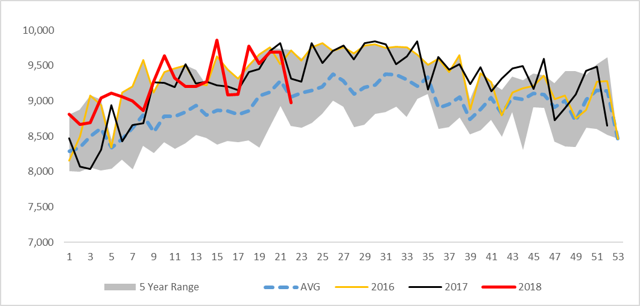 Source: EIA Weekly Petroleum Status Report
It can be easy to dismiss these weekly fluctuations in demand numbers as bad data or a timing effect. We might see a complete reversal in the next week's statistics. The chart below looking at a 4-week average shows a less dramatic drop in demand. However, any drop in demand can have a huge impact on the US gasoline market.
Chart 3: Gasoline Product Supplied (4-week average) (Unit: Thousand Barrels per Day)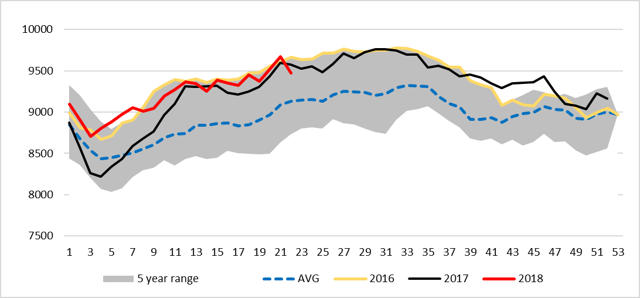 Source: EIA Weekly Petroleum Status Report
On the structural side, we have rising gasoline prices which can cause some demand reduction. Average US retail gasoline prices are now touching $3/gallon for the first time since 2014. However, higher prices might be offset by increasing employment and a growing economy.
Chart 4: Average US Retail Gasoline Prices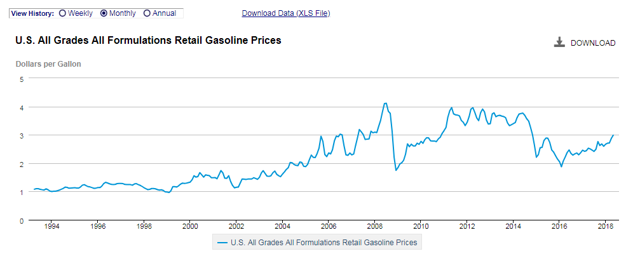 Source: EIA
The next structural issue is rising gasoline production. US refinery runs continue to increase year on year and are expected to hit record highs this summer as refineries de-bottleneck and enjoy cheap crude compared to the rest of the world. With increasing refinery runs, we get increasing gasoline production. In addition, with a lighter crude slate due to increasing shale oil production, US is yielding more gasoline at the expense of distillates.
Chart 5: US Refinery Runs (Unit: Thousand Barrels per Day)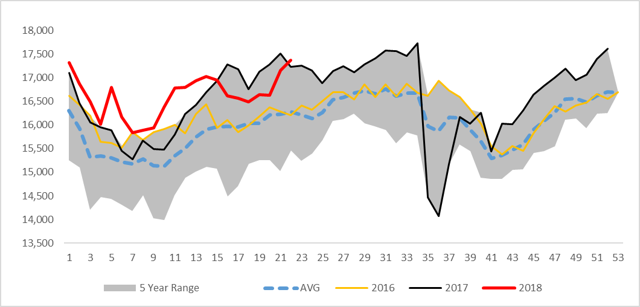 Source: EIA Weekly Petroleum Status Report
However, the main structural issue for the US gasoline market is declining gasoline exports. US gasoline exports have increased dramatically since 2016 due to poor operating refinery run rates in South America and the 2017 earthquake in Mexico which crippled some big refineries.
In the last two years, the US gasoline surplus has been cleared either due to increasing exports (predominantly to Mexico) or unexpected refinery outages caused by Hurricane Harvey. This year, we might get neither. Gasoline exports have begun to fall in the last few weeks.
Chart 6: US Gasoline Exports (Unit: Thousand Barrels per Day)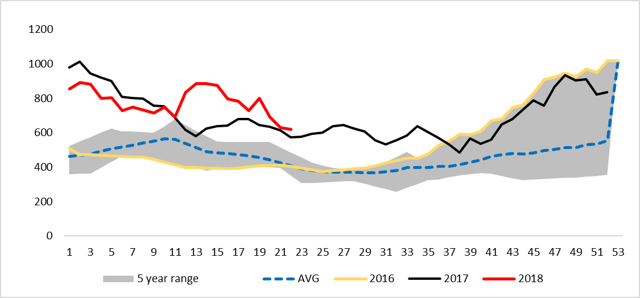 Source: EIA Weekly Petroleum Status Report
There is no definitive reason for the drop in exports but the most likely guess is that Mexico has finally started to increase their refinery runs. Reuters reported in January that Pemex plans to increase refinery runs to 900kbd by second quarter. The last official data we have from JODI is for March where they were producing just above 600kbd. If they have reached 900kbd, this will significantly impact US gulf coast exports.
Chart 7: Mexican refinery runs (Unit: Thousand Barrels per Day)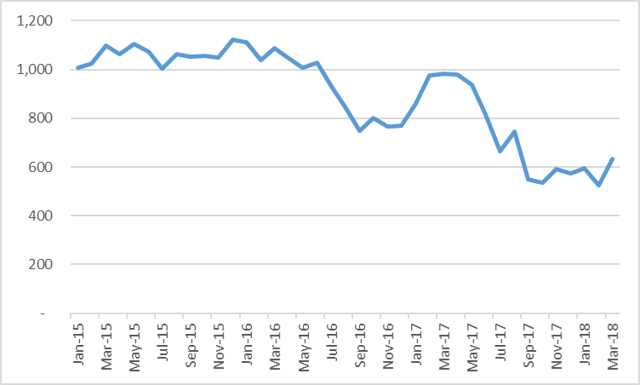 Source: JODI
Conclusion
US gasoline market looks very weak and it looks like the bulls are ready to throw in the towel. We need some big stock draws next week and a rebound in demand. If we don't get a big stock draw next week, that means US gasoline market has some structural issues. A weak gasoline market might not have much impact on short-term oil prices as oil prices are currently linked to OPEC and geopolitics. However, a structurally weak US gasoline market will continue to be a drag on oil prices in the medium term.
Disclosure: I/we have no positions in any stocks mentioned, and no plans to initiate any positions within the next 72 hours.
I wrote this article myself, and it expresses my own opinions. I am not receiving compensation for it (other than from Seeking Alpha). I have no business relationship with any company whose stock is mentioned in this article.