I've owned shares of BBX Capital (BBX) since August of 2016. When I initially invested in it, the thesis was rather complex but also backed up by a number of opportunities to realize the value of this company through stock appreciation, coupled with a solid margin of safety. Most of the moving parts have worked themselves out, while the stock price moved up significantly.
I continue to hold shares of BBX, although this company does not belong into my core holdings that I intend to keep for a long time. As I was wrestling with my decisions what to do about BBX going forward, something caught my eye. A number of analysts continue to argue that BBX should be trading at a significantly higher price that the current $9/share. From what I could gather, this is based on BBX's ownership of Bluegreen, and also on speculations that BBX or Bluegreen will be bought out in light of currently ongoing timeshare industry consolidation.
I decided to write up an analysis and see if on my own I can come to the same conclusion that BBX should indeed be much higher due to its Bluegreen ownership. To save you some time from reading further, I am not so convinced that BBX is trading at a significant discount to its fair value.
If you ever read Daniel Kahneman's book "Thinking Fast and Slow", which I highly recommend, Mr. Kahneman brings up System 1 and System 2 as a way of describing how humans think. System 1 operates automatically and quickly, without much effort. System 2, on the other hand, is deliberate and not always easy to engage because it takes a lot more mental effort. I think BBX valuation is a good example of a human tendency to focus on what's obvious (System 1) and in front of us, accentuate the easy, while ignoring the hard (System 2). In this analysis, I will attempt to bridge both of these, which will explain how I reached the conclusion that BBX does not seem that undervalued anymore.
BBX Valuation vis-a-vis Bluegreen
BBX's main and most valuable asset is a company called Bluegreen that is trading as separate NYSE stock under the symbol BXG, with a market cap of around $1.6b. BBX owns 90% of BXG shares, and thus if BBX would sell all of BXG shares it owns, it would get around $1.4b at today's prices. However, if you look at BBX's own market value, it is only trading for around $900m, in addition to having other assets and no significant debt. In other words, there is a $500m discount or gap that the market is ascribing to BBX, when compared to the 90% of BBX's ownership of BXG. Or put it in another way, the market is slapping a negative $500m value to other businesses that BBX owns. So surely, Mr. Market is silly, and a future 50% appreciation is virtually guaranteed? Although Mr. Market tends to often misprice securities out there, in this case, I'm not so convinced that he is wrong.
Business Description
BBX is a mini conglomerate that owns a number of non-related businesses and operates through the following divisions (Source: BBX 2017 10K):
Bluegreen Vacations: Time share (Vacation Ownership Interests - VOI) company. They sell timeshare units and manage resorts. This is the crown jewel of the company and the one trading under BXG symbol as a separate entity.
BBX Capital Real Estate: Acquisition, development, ownership, and management of real estate and investments in real estate joint ventures. They own over $162m of rental apartments, single family housing communities, and commercial properties, located primarily in Florida.
Middle Market: Ownership of operating companies and businesses ($145m of assets):

Renin Holdings: Design, manufacture, and distribution of specialty doors, hardware, and home decor production.
BBX Sweet Holdings: Manufacturing, wholesale, and retail of chocolate, hard candy, and other confectionery products. This division owns 95 retail locations of IT'SUGAR candy retailer, as well as some other chocolate retailers.
Food for Thought Restaurant Group: Operator/exclusive franchisee of MOD Super Fast Pizza restaurants in Florida. This business is just starting with plans to open up to 60 MOD pizza locations throughout Florida over the next six years.
Bluegreen Vacations - The Main Value Driver
Before we delve into Bluegreen valuation, let's address the elephant in the room. Yes, this is a timeshare business, and some people may have an experience or an opinion about this industry. There are clearly issues with sales tactics or even ethics with certain players in this industry. It is also cyclical, the entire timeshare industry cratered last recession. Lawsuits against the timeshare companies by the occasionally disgruntled timeshare owners are not uncommon, and BBX is no different.
From the personal standpoint, my family does not own a vacation timeshare. This is mostly because of our work and kids' school schedules, we can't always plan our vacations well ahead, so we never felt that timeshare is a good solution for us. Also, my wife and I sat through some of the never-ending sales pitches, and if you've been through one, you can think of more fun ways to spend a few hours while on vacation.
With that being said, many people consider timeshares a good vacation option, they like what they get in return, and a decent part of customers come back for return sales. According to the latest BBX investor presentation, sales from existing customers are at around 50%, so people clearly come back for more.
Just like the rest of the industry, Bluegreen got into a lot of trouble during the subprime crisis, and consequently, just like the rest of the industry, it switched to an asset-light model. The main characteristic of being asset-light is that unlike in the old model, where timeshare companies owned and developed their own properties, asset-light ones market and maintain properties owned and developed by third party companies. Bluegreen thus gets most of its revenues from timeshare sales commissions, property management, secured financing, and reselling foreclosed timeshares.
Below are Bluegreen's selected financials since 2015:
Bluegreen Selected Financials (millions)
Year
2015
2016
2017
Total Revenues
$618
$663
$668
Adjusted EBITDA
$132
$138
$149
Net Income
$70
$75
$126
Operational Cash Flow
$83
$102
$66
Free Cash Flow
$74
$92
$52
Source: BXG 2017 10K
Bluegreen's Competitor Comparison
Most of Bluegreen's competitors are publicly listed, which allows us to understand better its position in this industry. There are currently some ongoing changes and consolidations for three of Bluegreen's large competitors that should be discussed:
Wyndham Worldwide Destinations: The biggest kid on the block in terms of timeshare size, number of owners, revenues, and earnings. Up to June 1st, Wyndham Worldwide comprised of both regular hotel business, as well as timeshare business. However, on June 1st, the hotel and hospitality business was spun off and is now named Wyndham Hotels & Resorts, trading under the symbol WH. The remainder of the company, Wyndham Worldwide Destinations (WYND) will focus on timeshare business.
Below table presents some financial comps for the top 5 public players in the industry. There is one more company that is large in size, Diamond Resorts International, but because it is privately owned (purchased by Apollo Global Mgmt PE fund in 2016), the data for it is not readily available.
Symbol
2017 Revenues ($m)
2017 EBITDA ($m)
Owners
Net Recourse Debt ($m)
Market Cap ($m)
EV ($m)
EV/EBITDA
EBITDA Margin
Wyndham Worldwide Destinations
WYND
$3,425
$915
878000
$2,959
$4,900
$7,859
9
27%
Interval Leisure Group
ILG
$1,444
$361
250000
$448
$4,300
$4,748
13
25%
Marriott Vacation Worldwide
VAC
$1,433
$301
400000
$676
$3,300
$3,976
13
21%
Hilton Grand Vacations
HGV
$1,576
$368
288000
$482
$3,900
$4,382
12
23%
Bluegreen
BXG
$668
$149
211000
$58
$1,500
$1,558
10
22%
Sources: 4/30/18: Marriott Vacations Worldwide to Acquire ILG Presentation: ILG - Investor Relations - Webcasts & Presentations Individual companies' 2017 10K and investor presentations
Once VAC/ILG merger is complete, there will be four public timeshare companies left, two large ones, one medium, and one small. Bluegreen will be the small one.
Based on EV/EBITDA metric, Bluegreen is among the least expensive and trading at 10x, but it is unlikely that the gap will close and that we should expect to see Bluegreen trading at the same EV/EBITDA turn as the others. I believe this to be the case because Bluegreen is smaller, it does not have a strong brand name, its members have less disposable income, and also because of the ownership structure that I will describe later. Considering that the industry is consolidating, there is still a possibility that one of the larger players buys them out to realize scale efficiencies and pick up their 200k+ owners. Existing owners have a value beyond just their current spending. As described above, they keep coming back for more purchases so acquiring those folks via M&A is certainly faster and possibly cheaper. As another example supporting possible buyout, in WYND's pre spin-off Investor's Presentation, on slide 53, the company estimates that over the next 5 years, WYND should generate up to $2.5b of Free Cash Flow. Out of that amount, $1.2b-1.4b is expected to be used for "Business Investments, Share Buyback, and M&A". Certainly, Bluegreen is not out of reach for a larger player hungry for expansion and growth. However, the M&A is a mere speculation on my part, and although possible, it is not something that I would bet on as the most likely scenario or the reason to buy BBX stock.
BBX Capital Real Estate and Middle Market Divisions
There are a number of operating businesses that belong within these two divisions. Some of them have been around for a while, some were recently acquired, and some are still being built up. The value of these holdings is not why I initially invested in BBX. However, it is prudent to present them here and see whether they should add to or subtract from the overall BBX value. Since these are operating businesses, the best way to look at them is to understand their earning power. For that, we can use operating earnings, and BBX lays it out for us in their 2017 10K (Operational income, in thousands):
| | | | |
| --- | --- | --- | --- |
| | 2017 | 2016 | 2015 |
| BBX Capital Real Estate | $18,533 | $34,719 | $45,474 |
| Renin | $2,180 | $857 | $(2,058) |
| BBX Sweet Holdings | $(16,783) | $(14,945) | $(8,768) |
We can see that Sweet Holdings is producing solid losses, that Real Estate has been reducing operating earnings over time, while Renin has been growing, although it has the smallest impact. BBX has recently stated that they are focusing on improving profitability with Sweet Holdings. Additionally, not listed here is MOD Pizza because it is just starting, and building out restaurants requires capital investments. To sum up, looking at these holistically, a nice value that is contained in the Real Estate business is cancelled by the loss-making Sweet Holdings, while Renin is too small to move the needle either way. In other words, these businesses don't add much to the value of BBX, when comparing it to the value of Bluegreen.
BBX, in their latest investor presentation, lists book value of non-Bluegreen's businesses at $239m (slide 62: BBX investor presentation). Because I am not convinced that these businesses can be sold for that much, or what their true earnings power may be, I prefer not to include them in my valuation of BBX. So, I treat them as zero, although I accept that it is probable they should be worth more than zero over time.
Corporate
Clearly, Corporate section is not a division or a revenue generating entity. Quite the opposite, this section is about structure and costs that are important to understand. Let's tackle first the corporate structure.
Founders' Control Structure
BBX founders have a de facto control of the company through their Class B share ownership. As explained in 2017 BBX 10K:
The Company may be deemed to be controlled by Alan B. Levan, the Company's Chairman and Chief Executive Officer, and John E. Abdo, Vice Chairman of the Company. Together, Mr. Alan Levan and Mr. Abdo may be deemed to beneficially own shares of the Company's Class A Common Stock and Class B Common Stock representing approximately 77% of the Company's total voting power. Mr. Alan B. Levan serves as Chairman of the Board and Mr. John E. Abdo serves as Vice-Chairman of the Board for Bluegreen. Jarett S. Levan is President of the Company, a Director of Bluegreen and son of Alan B. Levan.
The founders and executives control approximately 25% of the economic ownership, yet they exert 77% of the voting power due to the Class B stock. Or if you flip that around, the public ownership of 75% of shares outstanding, only allows for 23% of the voting.
What this technically means is there are zero chances an outside investor or an activist can influence what Messrs. Levan Sr, Levan Jr, and Abdo decide to do with BBX, or with Bluegreen, how much they are compensated, what business to invest in, etc. So, if you are going to jump on this ride, you are going to have to make peace with that.
Corporate Expenses
According to 2017 10K, BBX' corporate expenses consist of the following (millions):
| | | | |
| --- | --- | --- | --- |
| | 2017 | 2016 | 2015 |
| BBX Capital's corporate selling, general and administrative expenses | $57.8 | $57.9 | $51.1 |
| Woodbridge's interest expense associated with its junior subordinated debentures | $3.4 | $4.0 | $3.6 |
| BBX Capital's interest expense associated with its $80.0 million note payable to Bluegreen | $6.4 | $8.0 | $5.6 |
| The Company's activities related to its MOD franchise operations | $2.6 | $- | $- |
| Total Corporate | $70.2 | $69.9 | $60.3 |
The largest portion of the above is clearly the SG&A, which includes executive compensation, corporate HQ, accounting, legal, investor relations, etc. To drill deeper, according to the latest Schedule 14A, the four top executives (above mentioned Levan Sr, Levan Jr, Abdo, plus one more) are plenty compensated to run BBX, close to $29m in 2017 alone. This takes form in salary, cash bonus, and stock.
The key question is then, what does total corporate look like without Bluegreen? In other words, how much of these expenses are retained by BBX, and thus should subtract from its overall value? Unfortunately, there is no exact answer here. We can only take an educated guess. To cut through the chase, I decided to keep Woodbridge, BBX's note, and MOD intact, and then add $30m in executive comp. That puts us at around $42m/yr.
What this $42m/yr number represents is what it takes for BBX to keep their doors open, run their operating businesses, and pay their executives. Clearly, without Bluegreen, BBX could not afford this amount. Which brings us to another interesting point - Bluegreen's dividends. When Bluegreen went public (and even before actually), it started to pay dividends to its shareholders. Current dividend is $0.15/qtr, or $0.60/yearly per share. Since BBX owns roughly 67.2m shares of Bluegreen, it now receives around $40m/yr in dividends from Bluegreen. As I've shown above, that's about what it takes to run BBX.
So, what do we conclude out of all this? Couple of things. First, Bluegreen subsidizes the other activities in BBX via its dividend distributions and without these BBX would not be in a position to afford such a high corporate overhead. And second, we can't ignore this cost, and we need to capitalize it properly and subtract from BBX's overall value. If we use 10x ratio, BBX should be worth $420m less because of its cost structure.
Net Cash
To understand BBX's cash position, without Bluegreen's cash, we can take a look at the 3/31/18 BBX 10Q:
Total cash (excluding Bluegreen): $182m
Less money spent on recent share tender: ($60m)
Less Woodbridge Junior Subordinated Debentures: ($65m)
Less Note Payable to Bluegreen: ($80m)
BBX Net Cash (without Bluegreen): ($23m)
Thus, BBX does not have net cash on its balance sheet. And although the number is negative, considering that its assets would certainly sell for more than $23m, we can just call it a wash.
Share Price Performance and Value Enhancing Events
Although the above information on a dual share structure may cause consternation to a person whoever had a bad experience by owning shares in a company controlled by a founder with a separate share class, we need to consider the performance over time. In case of BBX, it is evident that founders have been able to create a fair amount of value over time. Below chart shows BBX price progress in the last 5 years.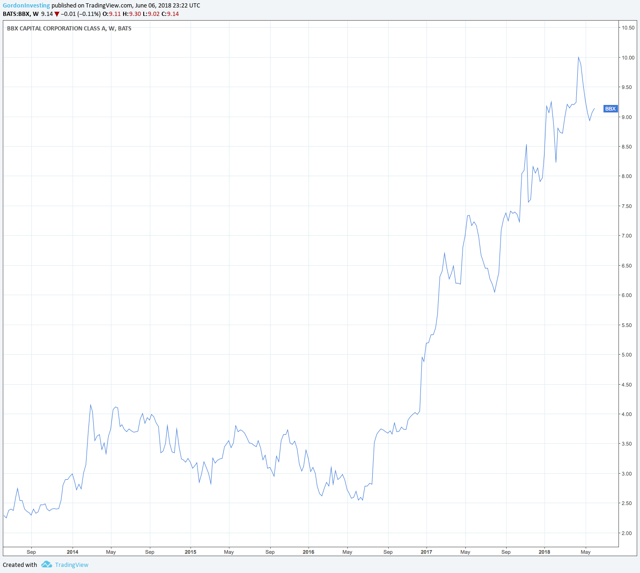 There are a few more things worth mentioning that management undertook which resulted in unlocking value for BBX:
At a time when I initially invested, I was well aware that #1 above was going to be executed. I was also handicapping some possibility that #2 and #3 were going to take place, but I had no way of knowing that would actually happen. Nevertheless, the valuation at the time was a fraction of the timeshare competitors, so I deemed this margin of safety derived from Bluegreen enough to protect the downside and provide some upside. As it turns out, the stock did quite satisfactory, likely because of the above 4 reasons, but also because the entire timeshare industry kept getting expanding multiples.
Putting it All Together
So, what's BBX worth? Based on the above analysis, here is what my rough estimate is:
90% of Bluegreen (67.2m shares x $21/BXG share): $1.4b
Add Net Cash: $0
Add Real Estate + Renin + Sweet Holdings: $0
Less Corporate SG&A: ($420m)
Add up the above, and my estimate of BBX's intrinsic value is $980m
BBX total shares outstanding post tender offer (79.2m A shares + 18m B shares): 97.2m
BBX intrinsic value/share: ($980m/97.2shares) = $10.08/share
BBX Current Market Value: $875m
BBX current share price (June 2018): $9/share
Conclusion
To sum up, although I'd love to see BBX gap up 50%, I am not convinced it is that easy. In my opinion, the market is accurately assigning a discount based on very high corporate expenditures, controlling structure, and an unimpressive portfolio of operating businesses. The market is also probably not convinced that high corporate expenses will abate, considering that the company is controlled by its founders. Interestingly enough, if controlling shareholders were to decide to reduce corporate expenses (and their paychecks), I'm wondering if the market would pay them back in multiples by closing down the gap with Bluegreen.
Admittedly, my analysis is on a conservative side. Here is the list of areas which could lead to a better valuation:
My 10x on Corporate expenses value subtraction could be too high, maybe the multiple could be smaller, thus deeming BBX more valuable
The non Bluegreen businesses could grow and improve in profitability and thus could be worth significantly more than zero
Bluegreen could continue to grow its customer base, revenues, and operational earnings and get rewarded by higher multiples
Bluegreen could be acquired considering the rest of the industry dynamics
BBX management could continue to find ways to unlock value, as they have successfully done in the last few years
For now, I continue to hold BBX shares, mostly because I believe they are well supported by Bluegreen's own valuation and by the abovementioned points that are on the conservative side.
Disclosure: I am/we are long BBX.
I wrote this article myself, and it expresses my own opinions. I am not receiving compensation for it. I have no business relationship with any company whose stock is mentioned in this article.