With all the talk about Auto 2.0 and autonomous cars, it seems to be the time to latch onto the changes that the auto parts industry will face in the coming years. The industry is clearly in transition and now may be a good time to invest in the best the industry has to offer.
I have selected four companies from this industry that offer, in my opinion, the best opportunities for capital appreciation in the coming years. Each of the following companies has a consistent recent history of profitability as measured by operating income; each has a current return on equity in excess of 15%; and each has low levels of debt.
The auto and truck part and equipment manufacturing industry has companies that produce vehicle parts and accessories that are used in assembling cars, SUVs, light off-road utility vehicles and trucks for the auto and truck manufacturing industry. The products include transmissions, airbags, turbochargers, seating, air-conditioning systems etc.
Automotive parts and equipment manufacturing industry is cyclical and sensitive to general economic conditions. A few key drivers for this industry are new car sales, shift in the trend from light combustion vehicles to hybrid electric vehicles, technological advancement, changes in interest rates and oil prices.
HIS Markit reported that light vehicle sales grew 1.2% year-over-year as of January 2018 and that full year's sales should slip.
Dorman Products, Inc. (DORM) is a leading supplier of automotive replacement parts, automotive hardware, brake products, and household hardware to the automotive aftermarket and mass merchandise markets.
The company reported first quarter 2018 net sales of $227.3 million, up 3% compared to net sales of $221.6 million in the first quarter of 2017. Included in net sales were approximately $10 million of sales from MAS Automotive Distribution Inc. (MAS), which was acquired in October of 2017.
Gentex Corporation (GNTX) is a supplier of automatic-dimming rearview mirrors and electronics to the automotive industry, dimmable aircraft windows for aviation markets, and fire protection products to the fire protection market. For the first quarter of 2018, the company reported net sales of $465.4 million, which was an increase of 3% compared to net sales of $453.5 million in the first quarter of 2017.
Lear Corporation (LEA) is one of the world's leading suppliers of automotive seating systems and electrical systems (E-Systems). Lear serves every major automaker in the world, and Lear content can be found on more than 400 vehicle nameplates. In the first quarter of 2018, sales were $5.7 billion, an increase of 15% year-over-year. Excluding the impact of foreign exchange, sales were up 8%.
Magna International (MGA) is a mobility technology company and one of the world's largest automotive suppliers with 340 manufacturing operations and 93 product development, engineering and sales centers in 28 countries. Their competitive capabilities include body exteriors and structures, power and vision technologies, seating systems and complete vehicle solutions. MGA reported a strong first quarter with record quarterly sales, up 21% year over year to $10.79 billion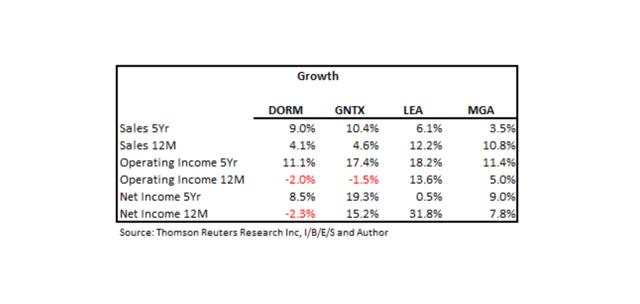 The median industry five-year sales growth is just 4.7% and the one-year rate is 7.8%. The median five-year net income growth rate for the industry is 4.8% and for the one-year period it is 5.5%.
In the past year, DORM has shown some weakness in both operating income and net income though for the past five years both operating income and net income exceeds that of the industry median. GNTX has shown a slight decline in twelve-month operating income but is, nevertheless, a strong performer.
Earning's growth need to be evaluated in relation to profitability.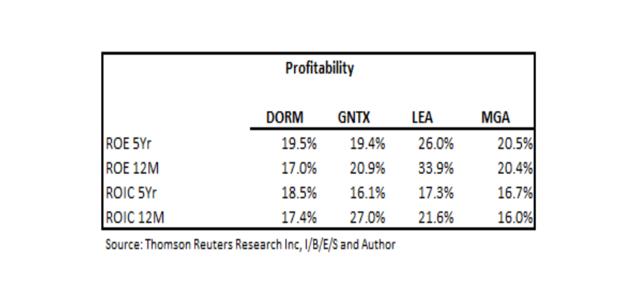 All four companies are distinguished by high levels of profitability as measured by Return on Equity and Return on Invested Capital. The industry median ROE for the year is 17.5%. On a five-year basis, the median industry ROE is 20.5%. The five-year industry ROIC is 13.7%. Each of these companies demonstrate consistently high levels of ROE and ROIC.
The balance sheet data also show across the board strength.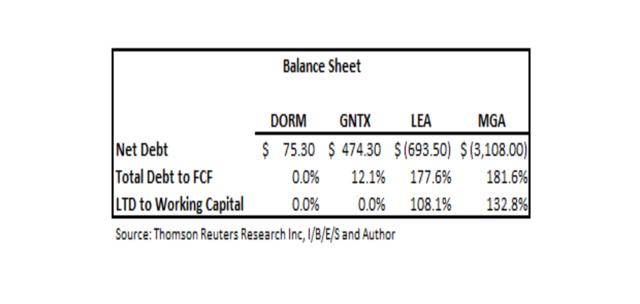 For two of the companies, DORM and GNTX, cash exceeds total debt. LEA and MGA carry net debt. However, in both cases, free cash flow is adequate to pay off total debt in less than two years. Long term debt is not excessive when compared to working capital.
As the Sage of Omaha has been quoted as saying, "price is what you pay, Value is what you get." The following chart reflects popularly used valuation multiples.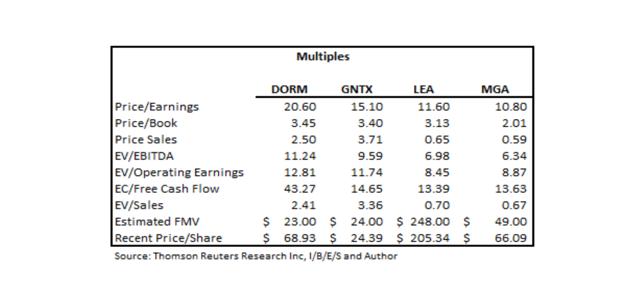 The industry median for P/E, P/B and P/S are 15.4, 2.7 and 0.7 respectively. On a P/E basis, DORM looks overvalued. The P/B ratio indicates that each of the companies with the exception of MGA may be overvalued. However, these days P/B is a poor indicator of value for industrial companies as some expenses, such as Research and Development are not capitalized and therefore do not show up on the balance sheet. The industry median P/S ratio is low because the median net profit margin for the industry is low.
The enterprise-based metrics may give us a better perspective on each company's value. EV/EBITDA is widely used and for these companies we see that LEA and MGA trade at lower multiples than either DORM or GNTX.
I have also included my own estimate of fair market value for each company. These estimates reflect my opinion only. DORM appears to be significantly overvalued at today's share price. I am estimating that GNTX is fairly valued today and that LEA and MGA are significantly undervalued.
Summary
I chose each of these companies because of their histories of consistent profitability and levels of total return. When putting it all together, I think that LEA and MGA offer the best opportunities for excess returns.
Disclosure: I am/we are long LEA.
I wrote this article myself, and it expresses my own opinions. I am not receiving compensation for it (other than from Seeking Alpha). I have no business relationship with any company whose stock is mentioned in this article.