The purpose of Turning Points is to break down the leading and coincidental data along with other economic information to determine if the economy is at a "turning point" - a recession.
Leading Indicators
Let's start with the primary leading numbers, beginning with initial unemployment claims: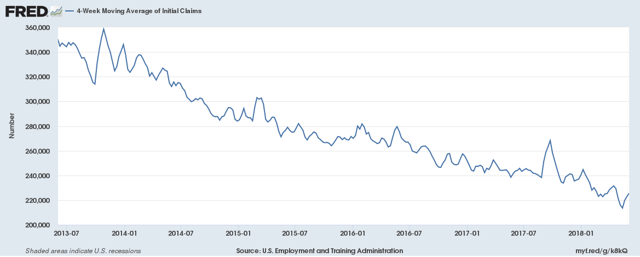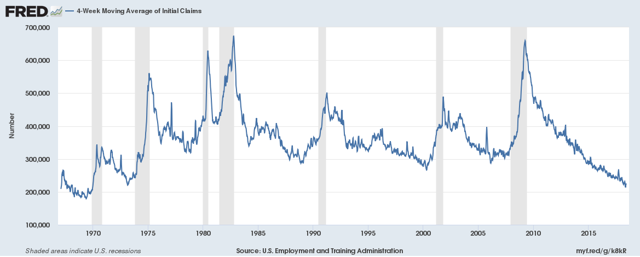 The top chart shows that initial claims continue to move lower. The lower chart places this data into historical perspective; right now, this statistic is near multi-decade lows (for more information on the labor market, see this article from earlier last week). None of the markets in the ten largest states are signaling any underlying problems.
Turning to 1-unit building permits, we have the following data: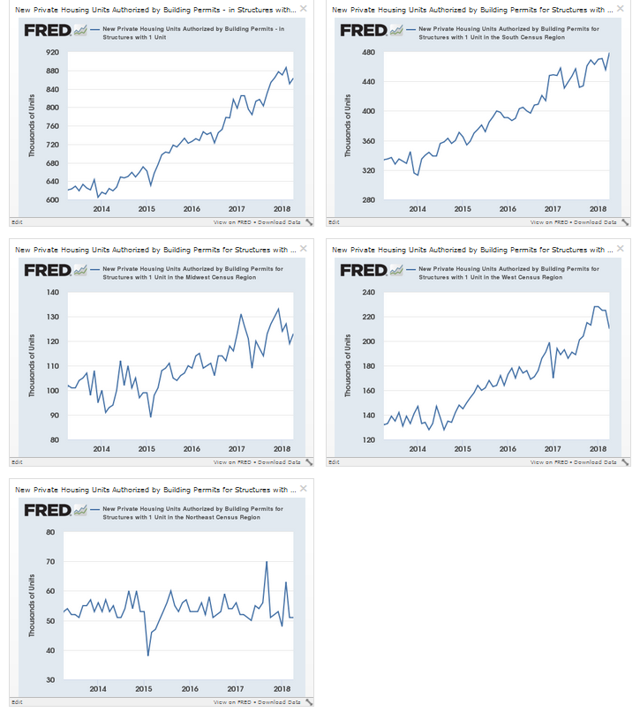 The upper-left chart shows the national numbers for 1-unit building permits, which remains in a solid uptrend. The biggest region - the South (upper right) - recently reported a five-year high. The West (second row right) is pulling back a bit, but not to concerning levels' recent weakness could simply be a pull-back from a recent uptick in activity. The other two regions are treading water.
Finally, the durable goods sector is doing well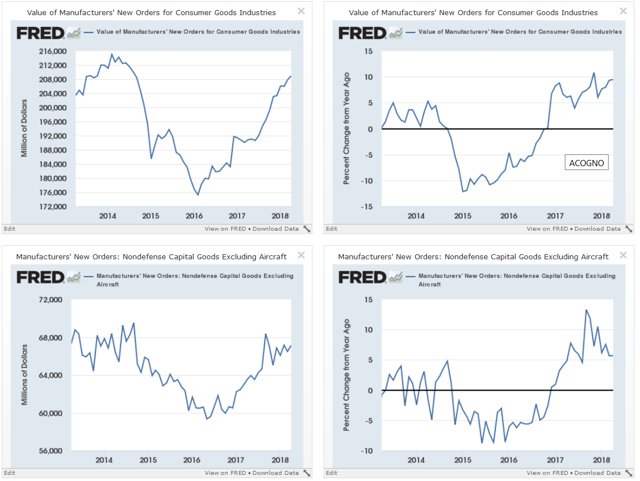 The charts on the left show the absolute value of the orders while the charts on the right show the Y/Y percentage change. New orders for consumer durable goods (top) and manufacturers' orders for non-defense capital goods are both in uptrends with solid Y/Y growth rates.
The leading numbers all point toward growth in the next 6-12 months.
Coincidental Numbers
On the coincidental side, this week we'll look at employment and wages: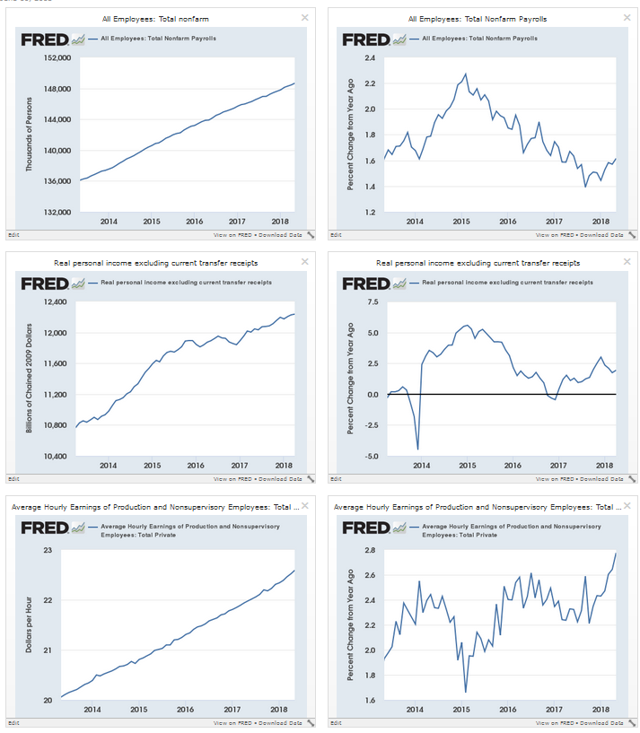 (All left charts show absolute values while the right charts show the Y/Y percentage change)
Establishment job growth (top charts) continues to grow on an absolute basis and is now increasing at a slightly stronger pace on a Y/Y rate. Weak wage growth has perplexed economists for the duration of this expansion, especially over the last 12-18 months as the jobs market has hit and moved below full employment levels. The middle chart shows income less transfer payments, which is a derivative of the BEA's GDP report. This number is in fair shape. But it's not as representative a wages as we'd like. That distinction goes to the lower charts, which show hourly earnings of non-supervisory employees. While the absolute number has been rising (left) the Y/Y rate has finally moved closer to a 3% rate - which is still low historically but certainly better than the mid-2% level.
The Atlanta Fed has a wage tracker that has a slightly higher rate of growth: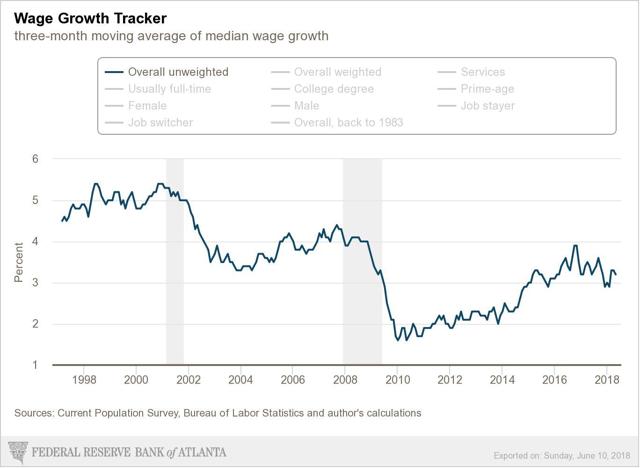 But the pace of growth is still weak by historical comparison across a series of different sub-categories of the data: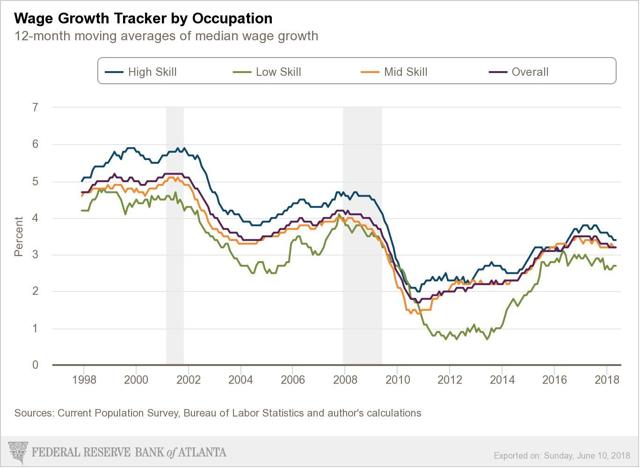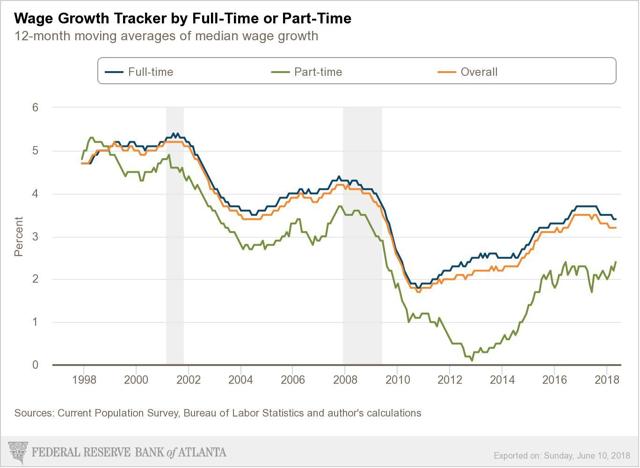 This isn't fatal. In fact, it doesn't seem to have impacted the US consumer at all: retail sales and personal consumption expenditures are both doing well, indicating that consumers are more than happy to spend right now. However, we'd like to see higher growth overall.
Conclusion
The leading numbers are impressively strong, indicating growth for the next 6-12 months. Employment is in great shape. Wage growth is slower than we'd like, but still strong enough to keep consumers spending. There's little reason to argue for a recession in the next 12-18 months.
Disclosure: I/we have no positions in any stocks mentioned, and no plans to initiate any positions within the next 72 hours.
I wrote this article myself, and it expresses my own opinions. I am not receiving compensation for it (other than from Seeking Alpha). I have no business relationship with any company whose stock is mentioned in this article.