Shares of Proteon Therapeutics (NASDAQ:PRTO) have risen by 85% since I first brought the stock to readers' attention in June of last year. Year to date, the stock is in the green by over 30%.
Chart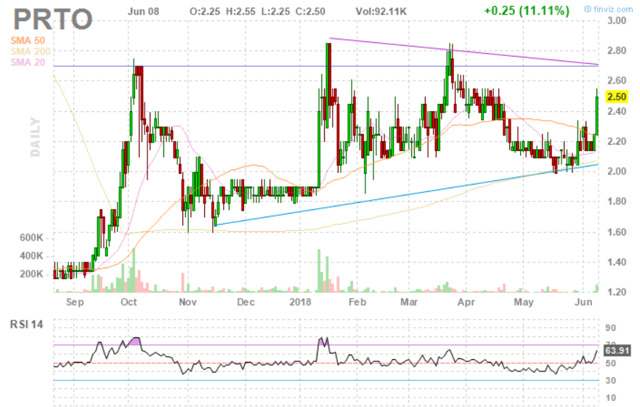 Figure 1: PRTO daily advanced chart (Source: Finviz)

Figure 2: PRTO 15-minute chart (Source: Finviz)
When looking at charts, clarity often comes from taking a look at distinct time frames in order to determine important technical levels and get a feel for what is going on. In the first chart (daily advanced), we can see that after September's move higher, the stock has shown choppy price action and stayed in a relative range until the present. In the second chart (15-minute), we can see decent volume on Friday, indicating that perhaps it's finally time to break out of that range.
Reader Inquiry
In the marketplace service ROTY (Runners of the Year), we search for stocks that are attractive across multiple time frames with potential for high percentage upside within the near to medium term.

Figure 3: Monthly performance for ROTY's 10 stock model account
Recently, I reviewed presentations at Jefferies for one model account position and one Contender, hoping to glean further insights of what we could expect in the second half of the year. I'm also glad that we narrowed down Idea Lab (conviction stock picks from ROTY members) to just 20 ideas, another step taken to improve quality and discussion in Live Chat.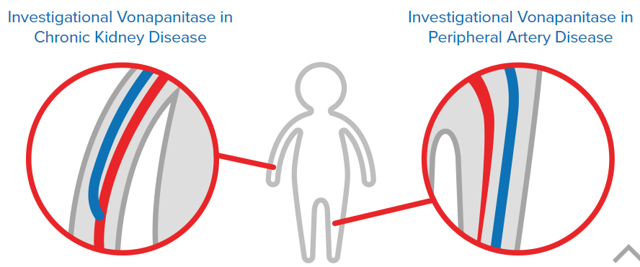 Figure 4: Lead programs (Source: Corporate website)
In the case of Proteon Therapeutics, keys to the original bullish thesis included the following:
Key institutional investors involved in their $22 million private placement (led by affiliate of Deerfield Management, also included Perceptive Advisors and RA Capital).
Possession of a high value asset in the form of drug candidate vonapanitase for increasing arteriovenous fistula secondary patency and use for hemodialysis in patients on or expected to initiate hemodialysis (received the coveted Breakthrough Therapy Designation from the FDA).
A clear pathway to market (the FDA confirmed the PATENCY-2 study combined with prior trials would be sufficient for a BLA submission).
Hints of value displayed by digging into its past collaboration (had a deal in place with Novartis (NYSE:NVS) worth up to $550 million and discussions didn't lead to an agreement, possibly meaning management didn't want to get shortchanged).
A reader reminded me that I haven't updated this one in a while and my goal is to see what's happened recently as well as determine if there's further upside ahead.
Recent Developments
2018 has been a quiet year for the company so far. In March, the company announced completion of enrollment in the second phase 3 study, PATENCY-2, evaluating vonapanitase in patients with chronic kidney disease receiving or expecting to receive hemodialysis and undergoing surgical creation of a radiocephalic arteriovenous fistula. Specifically, the hope is that a single dose of 30 micrograms can lead to improvement in co-primary endpoints (radiocephalic fistula use for hemodialysis and secondary patency).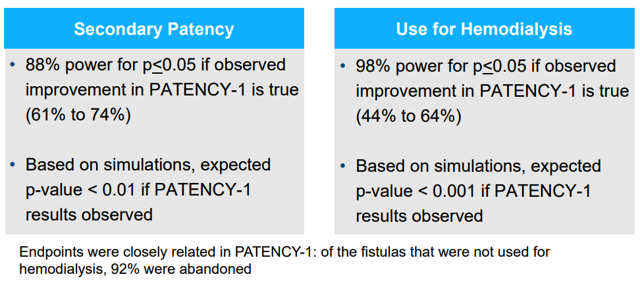 Figure 4: PATENCY-2 study powered based on results from PATENCY-1 trial (Source: Corporate presentation)
603 patients were treated across 39 trial centers in both the United States and Canada. To reiterate what was stated previously, the company received written confirmation from the FDA that if results are positive (reach statistical significance in each primary endpoint), these along with previously generated data will allow for a BLA submission.
In May, the company announced a long-term contract extension with Lonza Pharma & Biotech for the commercial supply of investigational vonapanitase's active pharmaceutical ingredient. Lonza has been its manufacturing partner since 2009 starting with small-scale production and has scaled up to 1,000L scale cGMP manufacture to support the pivotal trial and hopefully commercial launch.
Other Information
For the third quarter of 2018, the company reported cash and equivalents of $36.8 million. Net loss totaled $6.1 million, while research and development expenses stayed steady at $4.1 million. Management is currently guiding for an operational runway into the fourth quarter of 2019.
As for future catalysts of note, top-line data from PATENCY-2 is expected in March next year. This gives us what I call a defined catalyst, allowing traders to get in ahead of time, play the run-up, and then take full or partial profits prior to data depending on their plan and risk tolerance.
Figure 4: Results from PATENCY-1 trial show vonapanitase increased use of fistula for hemodialysis and increased secondary patency (Source: Corporate presentation)
If results are successful, its Biologics License Application filing would take place in the second half of 2019 with the Marketing Authorization Application to the European Medicines Agency in 2020.
As for institutional investors of note, RA Capital owns over 1.3 million shares and Deerfield Management owns over 1.2 million shares. Perceptive Advisors and Baker Bros. have small stakes as well. In my first article we also delved into terms of its $22 million private placement of Series A Convertible preferred stock (names above involved as well as Abingworth, Fairmount Funds, Intersouth Partners, Pharmstandard, Skyline Ventures and TVM Capital).
Insiders have considerable skin in the game as well, with officers, directors and 5% stockholders owning more than 50% of outstanding shares of common stock (per its 10-Q filing).
As for market opportunity, readers should consider that around 130,000 fistulas are created annually (35% to 40% radiocephalic) which is driven by over 100,000 new hemodialysis patients. The economic value proposition is there, since fistulas that fail to become usable are estimated to bring an incremental cost of $24,000 in the first year of surgical creation. While the company's estimate of a billion-dollar market opportunity appears overly optimistic, there's still plenty of potential here to warrant a position.
Final Thoughts
To conclude, as a run-up play with a defined time frame for phase 3 data, a position here could make sense to ride the expected trend upward into results. That said, considering the high binary risk here, taking partial profits prior to data is likely a wise move.
One risk is the possibility of dilution in the medium term (in spite of guidance for an operational runway into the fourth quarter of 2019). It could decide to use its ATM (at-the-market) offering through sales agent Cowen, although I will note that in the first quarter it didn't tap it. Another risk is disappointing results in the PATENCY-2 study which would result in heavy downside, with the only cushion being whatever cash is left on hand. Prior data has somewhat de-risked the present study, but a positive outcome is far from certain. Reliance on third parties for manufacturing and supply entails its own risks as well.
I won't be adding this one to the ROTY Contenders List, but I do believe readers who wish to "play the run-up" will do well here.
Keep in mind that when a stock is selected for ROTY, the corresponding article appears only to current subscribers. Also, for the purposes of due diligence, subscribers are able to access all of my archived work (getting around the 10-day paywall).
Disclaimer: Commentary presented is NOT individualized investment advice. Opinions offered here are NOT personalized recommendations. Readers are expected to do their own due diligence or consult an investment professional if needed prior to making trades. Strategies discussed should not be mistaken for recommendations, and past performance may not be indicative of future results. Although I do my best to present factual research, I do not in any way guarantee the accuracy of the information I post. I reserve the right to make investment decisions on behalf of myself and affiliates regarding any security without notification except where it is required by law. Keep in mind that any opinion or position disclosed on this platform is subject to change at any moment as the thesis evolves. Investing in common stock can result in partial or total loss of capital. In other words, readers are expected to form their own trading plan, do their own research and take responsibility for their own actions. If they are not able or willing to do so, better to buy index funds or find a thoroughly vetted fee-only financial advisor to handle your account.
Disclosure: I/we have no positions in any stocks mentioned, and no plans to initiate any positions within the next 72 hours. I wrote this article myself, and it expresses my own opinions. I am not receiving compensation for it (other than from Seeking Alpha). I have no business relationship with any company whose stock is mentioned in this article.