Fixed income investors of Community Health Systems (CYH) bonds have been holding their collective breathe over the last few months. The hospital system, facing a high debt load with decreasing revenues, is attempting to sell assets to reduce debt to a manageable level. Back in March, I wrote an article expressing why I was holding onto the 2019 maturing bonds. Since, the company has announced its first quarter earnings and a$3.125 debt exchange offering.
The original structure of the offering was to issue up to $1.925 of new 9.875% bonds maturing in 2023 in exchange for 2019 at bonds at par value. Bondholders of 2020 and 2022 maturities had the option of exchanging their bonds for 8.125% bonds maturing in 2024 at par and 75 cents on the dollar, respectively. The exchange was only open to qualified institutional buyers, or QIBs, who hold massive amounts of the bonds. For the retail investor, the short-term investment thesis not only remains, but may be expanded to the 2020 notes.
The company's 2019 notes have rallied to 97 cents on the dollar. Combined with a coupon rate of 8%, the bonds now offer 10.174% yield to maturity. While the price has rallied from a few months ago, the yield to maturity is still very attractive. Since the exchange offer was announced, the expiration date has been changed twice and the interest rate on the 2023 notes has been raised to 11%. While the expiration date of the offer is not until next week, the company has released some early data.

Source: FINRA
On June 4 th, the company announced that it had successfully tendered $1.55 billion in 2019 notes, $960 million in 2020 notes, and $2.83 billion in 2022 notes. Since the total amount exceeded $3.125 billion, the 2022 notes would be prorated. Based on this information, we can create an amended projection of Community's Health debt due by year.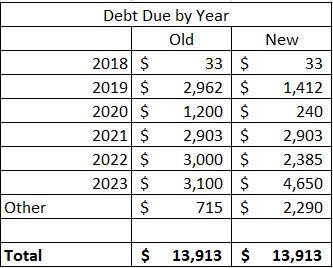 Source: Debt Schedule from 10-K amended from tender offer press release
Community Health still has approximately $1 billion in term loans coming due in 2019. Those loans will either need to be paid down through asset sales and existing cash or refinanced. I believe the company's ability to defer debt will allow for the term loan to be refinanced. This will pave the way for the much smaller balance of 2019 bonds to be retired.
Before updating my projected cash flow model from the last article, I had to make some adjustments to cash flow. While Community Health reaffirmed its guidance for 2018 in its first quarter, I believe some information was overlooked. Based on the tender offers, the company will see an increase in interest expense of $52 million annually. Between this year and next, that will negatively impact operating cash flow by approximately $78 million.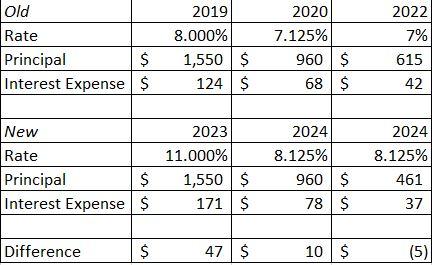 Source: Tender offer preliminary results compared in spreadsheet
Based on an earlier projection of $1.4 billion in asset sales by the year 2019, I believe the company will have $900 million in cash by the end of the next year if it accomplishes these sales and pays down its maturing debts from cash. This analysis also highlights the opportunity in the remaining 2020 bonds since there will less than $250 million remaining after the exchange is completed.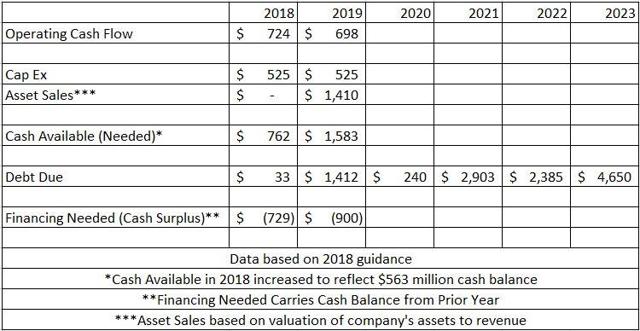 Overall, I believe that near term bondholders of Community Health Systems should breathe a sigh of relief that the exchange offer has progressed so well. Following the closing of the exchange offer, the company will have considerable less debt to deal with over the next three years. I would advise investors to not get greedy and go further down the maturity curve. The company has yet to prove that it can create the organic operating cash flow necessary to make substantial debt reductions.
CUSIP: 12543DAL4
Price: $97.17
Coupon: 8.000%
Yield to Maturity: 10.174%
Date of Maturity: 11/15/2019
Credit Rating (S&P): CCC-
Disclosure: I/we have no positions in any stocks mentioned, and no plans to initiate any positions within the next 72 hours.
I wrote this article myself, and it expresses my own opinions. I am not receiving compensation for it (other than from Seeking Alpha). I have no business relationship with any company whose stock is mentioned in this article.
Additional disclosure: I own CYH bonds maturing in 2019.