this week's opening topic is going to be about IPO delays. After the highly anticipated IPO of m17 Entertainment (YQ) last week that was ultimately delayed, I saw a lot of SA members upset and shocked by the event. I am here to tell you that it is not that uncommon for a company to delay its IPO.
*Note: This will not be explaining the reasoning for M17 Entertainment's delay, but giving common reasons for delays in general
A public listing is a big deal but sometimes things don't go according to plan. There are a plethora of reasons for this but some are more common than others.
One reason is unexpected SEC questioning/regulations. Sometimes the government wants more than the company was originally willing to give up and this gives management cold feet. Cold feet usually occurs after an S-1 has been filed so the company is no longer 'private' but is also not considered public. One article states, "...to file and not price is to give up all the benefits of being private with none of the gains of being public."
Another reason is unexpected/unintended dilution. This can happen when the price of the IPO is lower than intended due to low demand. Low demand can also lead to no pricing because of the above reason and also because the funding goal will not be reached.
A lot of companies have delayed their IPO. Facebook (FB) had a delay due to the macro environment of recent tech IPOs. Many companies had experienced losses rather than gains, and this caused Zuckerberg to delay the offering. Currently, Airbnb and Uber have both had delays in their IPO plans (although not as far along as Facebook was). These delays are due to changes in management over scandals and poor performance. A recent news story is how Saudi Aramco (ARMCO) will delay its IPO. This is a very high profile listing but it will be delayed because there is no consensus on the listing valuation. Management is aiming for a $2 trillion valuation but is falling short, pushing the listing back into 2019.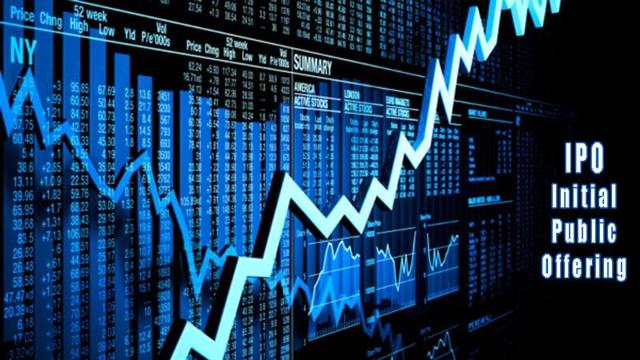 Source: Robot Report
Scheduled IPOs
Adaptive Insights is a "... provider of cloud-based software to modernize business planning." Their cloud software, referred to as 'Business Planning Cloud', allows users to model, compare, monitor, and analyze performance and other aspects. Using the gathered analytics/data users can update plans, test alternatives, and compare to the original plan.
Avalara is a cloud-based tax management system. The system handles everything including: "...determining taxability, identifying applicable tax rates, determining and collecting taxes, preparing and filing returns, remitting taxes, maintaining tax records, and managing compliance documents." The company makes itself available to businesses of all sizes, and processes an average of 16 million tax determinations per day (2017).
Charah Solutions provides "... mission-critical environmental and maintenance services to the power generation industry." The company works with at least 51 coal/nuclear power sites throughout the US. Being the only provider of "a suite of coal ash management and recycling..." is a plus for the company and a competitive advantage. Operations are broken down into 2 segments: Environmental Solutions and Maintenance/Technical Services.
Far Point Acquisition (FPAC)
Far Point Acquisition is a 'blank check' company, whose purpose is to invest and acquire other businesses. Management has chosen to concentrate on the 'Fintech' space and those industries adjacent to fintech. The company is interesting because the CEO is Thomas Farley, previous President of the NYSE Group of Intercontinental Exchange (ICE).
Puxin operates in the after-school education industry inside of China. The company operates K-12 education centers and study abroad tutoring. Infrastructure includes 48 schools and 397 learning centers across 35 cities. The company has mainly grown through acquisition and more than doubled its enrolled student count from 2016 to 2017.
US Xpress Enterprises (USX)
US Xpress Enterprises is the 5th largest trucking company in the United States. The company provides services (with a focus on the Eastern US) for at least 10 Fortune 500 companies, including the likes of Amazon and Walmart. Operating segments are broken down into Truckload (87%) and Brokerage (12%).
Verrica Pharmaceuticals (VRCA)
Verrica Pharmaceuticals is a clinical-stage biopharma company with a focus on unmet dermatology needs. The lead product, VP-102, is meant to treat molluscum contagiosum (pediatric skin virus) and common warts. Phase 3 trials are being initiated for the treatment of molluscum, while Phase 2 trials are being initiated for the treatment of common warts. The company's second product, VP-103, will treat Plantar worts and is advancing into Phase 1.
Potential
This week has a wide variety of companies that are listing. As a result, it was a little difficult for me to narrow down which ones I wanted to talk about. Ultimately it came down to ADIN, AVLR, and USX. Based on the popularity and success of cloud-software companies that have listed this year (DocuSign (DOCU), Pluralsight (PS), etc.) I have decided to focus on ADIN and AVLR.
I ultimately decided not to discuss USX because of the current industry-environment for truckers and because most of their proceeds are planned to be allocated towards debt repayment. However, if this company sounds interesting to you, I recommend the following article by fellow contributor Donovan Jones: "U.S. Xpress Prepares For IPO".

Source: S-1
Adaptive Insights has seen steadily increasing revenue over the past few years. Revenues are broken down into 'Subscriptions' and 'Professional Services/Other'. Growth is as follows:
2016 - 2017
Subscription = 41.2%
Prof. Services = -2.0%
2017 - 2018
Subscription = 34.7%
Prof. Services = 4.3%
Subscription revenue is the lifeblood of the company. While these revenues have grown strongly, Professional Service revenue has remained mostly stagnant. Furthermore, the pace of growth for Subs vastly outweighs the COGS (cost of revenues), which have been steadily decreasing in terms of percentage. COGS for Prof. Services has also been decreasing, but is still more than revenues. This is odd as many software companies will receive a lot of their revenue from services and maintenance.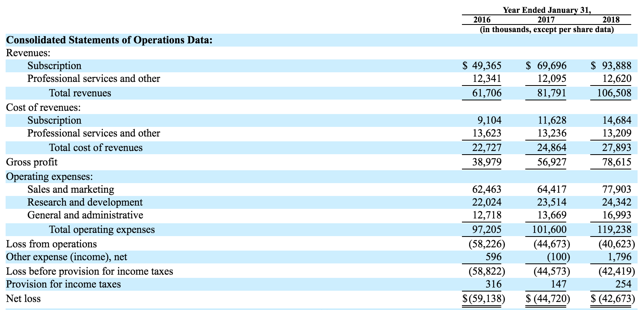 Source: S-1
The company does not give exact numbers for the allocation of the raised funds, but has stated that the funds will be used for general purposes and to repay a portion of its debt. This is a concern of mine as I generally like to see the funds used to promote growth and expansion.
Gross profit for the company has been high and is remaining high (>80%). However, despite this net loss increased from 2017 - 2018 but is still lower than in 2016. This is mainly due to an increase in total administrative expenses.

Source: S-1
Avalara is similar to Adaptive Insights in that both are cloud-based software companies that focus on business. At least 5 acquisitions have been made since 2014 that have expanded the company's reach within the tax space.
Revenues for the company have been growing rapidly, almost doubling within 2 years. Reliance upon Subscription revenue has been growing, reaching 94% of total in 2017. Gross profit has remained relatively stagnant at ~75% and operating/net losses have been improving (besides 2017 where there was a large expense on marketing).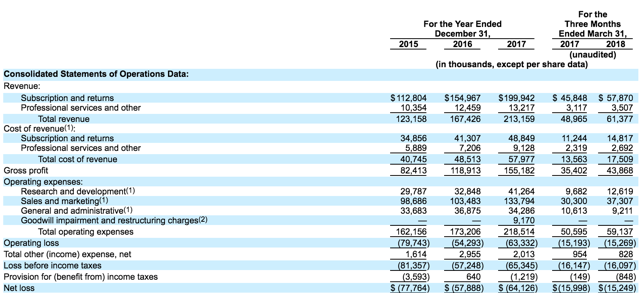 Source: S-1
The company does disclose the exact numbers intended for the use of proceeds. It does state that a portion will be allocated towards expanding headcount, general purposes, and a small portion (max of $26 million) will be used to repay debt.
The company has 2 major KPI's that it tracks: Core Customers and Net Revenue Retention. Core customers has grown 37% in about a year and a half from 5,660 in June '16 to 7,760 in March '17. Net Revenue Retention also reached a high of 109%.
Conclusion
As stated in the beginning of the piece, delays are more common than some may thing when it comes to IPO listings. There are many reasons for this ranging from internal issues to macro performance. Management will always aim for the best environment to list in as this will guarantee the best valuation for their company. It is also important to remember that there is a difference between a company listing because it is ready to and a company listing because it needs to.
It is refreshing this week to have some variety in the IPO listings. Although I chose to focus on cloud-based software companies Avalara and Adaptive Insights, there are other planned offerings this week that are interesting and deserve a further look. However, as seen in the recent performances of DocuSign and Pluralsight the cloud software industry is in demand this year.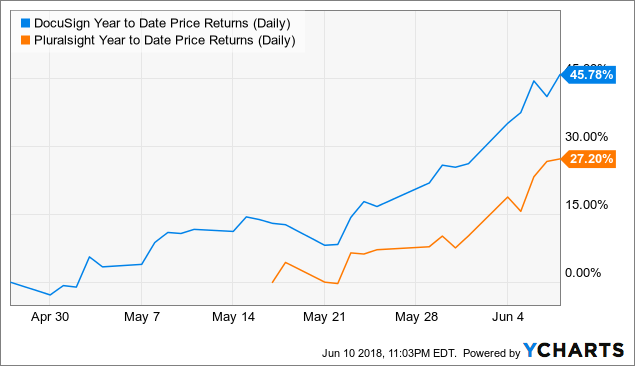 This is why AVLR and ADIN may be worth a further look. I am not a fan of the lack of direction for the funds, but the hype seems to be there. Tax is a very important aspect to business and this is why Avalara leads a tad in my eyes.
Disclosure: I/we have no positions in any stocks mentioned, and no plans to initiate any positions within the next 72 hours.
I wrote this article myself, and it expresses my own opinions. I am not receiving compensation for it (other than from Seeking Alpha). I have no business relationship with any company whose stock is mentioned in this article.