Market Intro

CNBC: 11:04 AM EST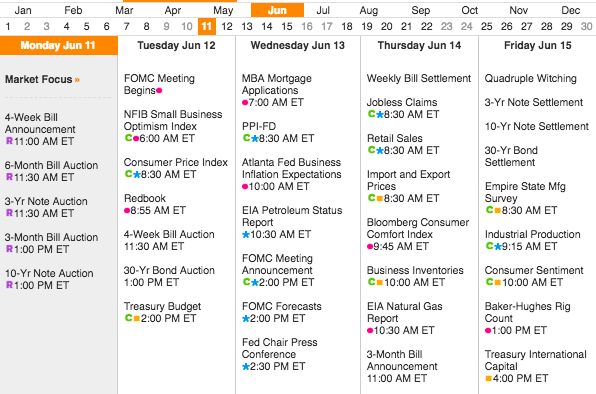 Bloomberg Economic Calendar, Thursday truncated
US stocks (SPY, DIA, QQQ, IWM) are flat to moderately higher in the Monday afternoon session. This week of course marks the FOMC meeting, where the chances for another quarter-point rate hike are quite high. Tomorrow we also get the CPI release, and retail sales are due Thursday. While tomorrow's Fed hike is quite likely, the target Fed Funds rate for September has more uncertainty attached.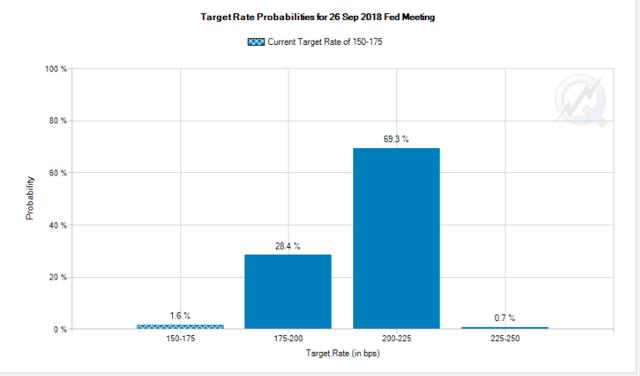 A piece out by CNBC reminds us, monetary policy and economic data may not be the only market disrupters for the week: the meetings between President Trump and Kim Jong Un have the potential either to boost or derail risk appetite. Gold (GLD) could be an interesting asset to watch in the wake of both political and monetary news. The gold VIX trades near 52-week lows.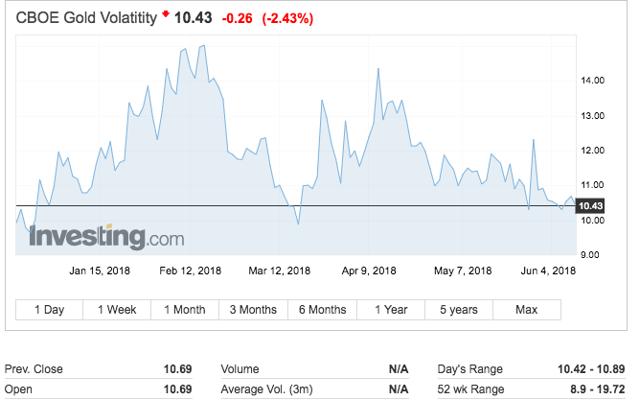 Thoughts On Volatility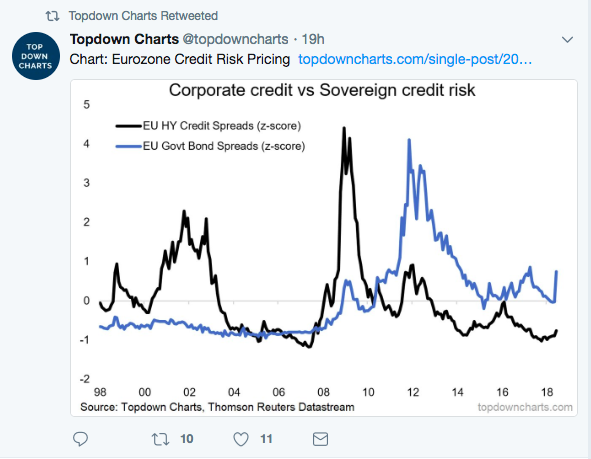 In Z-score terms, the EU sovereign yields are seeing a jump (connected with Italy), but the corresponding HY credit spreads are not taking the bait. I interpret this to mean that for the time being, markets are seeing the Italian debt issue to relate more to internal politics, something likely to be sorted out behind the scenes, than having much in the way of a true economic impact. This is not altogether different from how the markets read Brexit (EWU).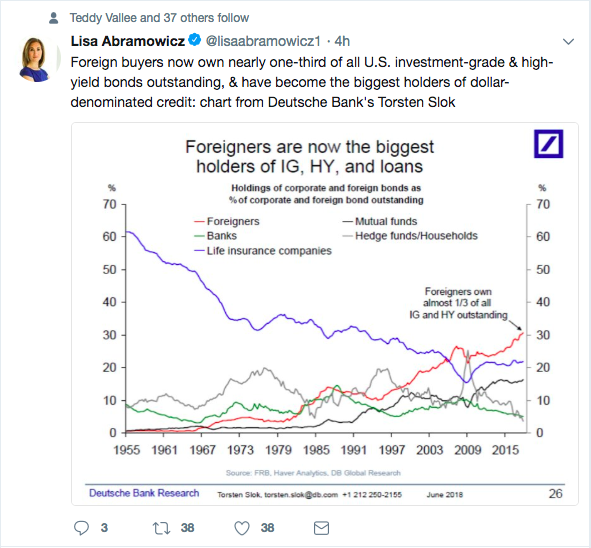 When a country runs consistent (large) trade deficits, it will be exporting capital at the same time. It should come as no surprise, then, that foreign investors have swallowed up securities across a wide variety of types, including corporate debt (LQD, HYG, AGG). Some would argue (I am one of them) that this international quest for yield has tamped down volatility in these asset classes, as it leads to an opportunistic buy-the-dip reaction function.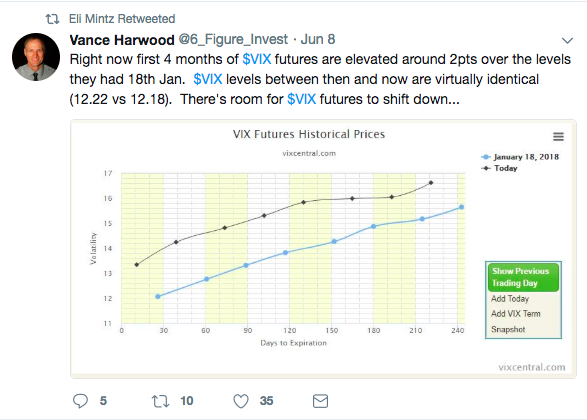 There is room to fall indeed (SVXY). Keep in mind that in mid January was not the low for overall VIX curve, which for the year at least occurred around Jan 12th. At that time, the entire curve briefly fell below 15!
Term Structure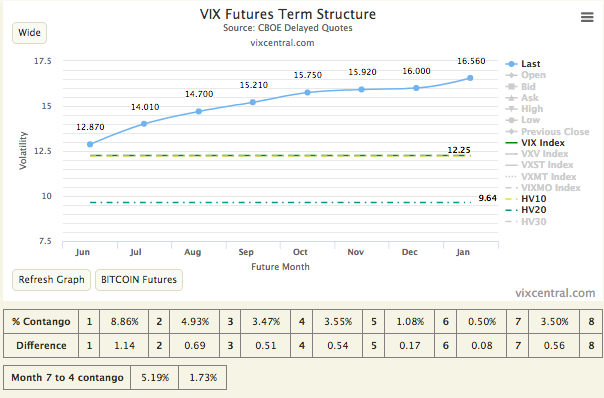 Remember a couple months ago when you had to click the "Wide" button on the vixcentral graphic above to get real perspective because the term structure was so flat? Not no more! Almost four vol points between the M1 and the back contract makes for some interesting possibilities. My own take here is that stocks really have to shine through the FOMC release and Jay Powell's interview thereafter. Each of the last times stocks lost ground from this region, it was during or very near Powell's congressional testimony at the end of February, and then the March Fed meeting.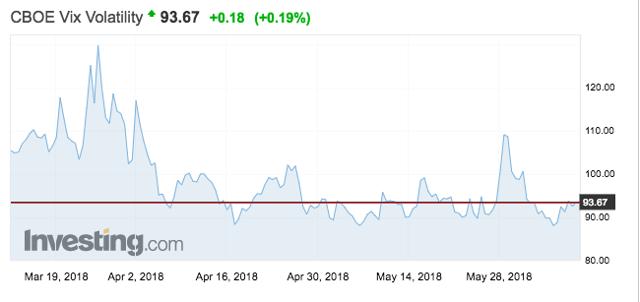 VVIX, the "VIX of the VIX", is calling for reasonably smooth sailing here, though it has picked up some from last week. This bodes well for vol shorts, who at present are the ones benefiting from roll decay.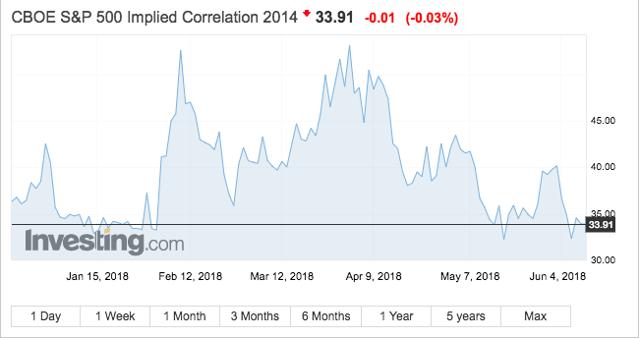 Correlations are getting pretty much to the low end of their range (for this time of year at least so far as it concerns the KCJ index above). In fact, we're not too far off from where the comparable index was last year. To get the ultra low levels of VIX we saw through a good portion of 2017, the KCJ will need to fall quite a bit yet.
Conclusion
If this is your first time reading Market Volatility Bulletin, thanks for giving it a try. If you're a regular, we thank you for your ongoing contributions in the comments section.
Note: Reader Georgy Uspenskiy did a fabulous SA instablog that I'll be covering tomorrow, but for now I recommend you head over and give it a look.

In the prior MVB, Sunil119 asked a solid question that generated some good discussion. VXX always has a 30-day weighted average notional exposure between the M1 and M2 contracts (long both), but those contracts behave quite differently, especially as the M1 approaches expiration.
Thank you for reading.
Please consider following us.
Disclosure: I/we have no positions in any stocks mentioned, and no plans to initiate any positions within the next 72 hours.
I wrote this article myself, and it expresses my own opinions. I am not receiving compensation for it (other than from Seeking Alpha). I have no business relationship with any company whose stock is mentioned in this article.
Additional disclosure: I actively trade the futures and options markets, potentially taking multiple positions on any given day, both long and short. I also hold a more traditional portfolio of stocks and bonds that I do not "trade". I do believe the S&P 500 is priced for poor forward-looking returns over a long timeframe, and so my trading activity centers around a negative delta for hedging purposes.