The End of Tumultuous Times for the Copper Titan
Freeport-McMoRan (NYSE:FCX) is one of the largest global miners of copper, gold, and molybdenum. The company has operations across the globe, with its geographic segments being divided between North America, South America, and Indonesia. Its primary product of operations is copper, with a moderate amount of revenue attributable to gold, and a minority attributable to molybdenum.
Over recent years, the Company has been heavily financially distressed following what was the end of a commodity supercycle in the mid-2010s. As China growth substantially slowed in 2015 relative to the prior decade and Brazil entered a recession, the prices of base metals like copper generally collapsed across the board. Further adding to these woes was the company's decision in 2012 to acquire oil and gas producing assets, primarily within the Gulf of Mexico where breakeven prices were even higher than onshore at the time. This turned out to be a catastrophic transaction for the company, as crude prices collapsed in 2014 making the assets operate for what was generally a substantial loss. The Company ultimately sold these assets at a huge loss.
Amplifying these problems even more over this period was the company's substantial leverage. During the previous boom in base metals, the company had aggressively expanded growth through debt fueled spending in mines and other assets that weren't necessarily the most efficient on a cost perspective. As a result, the company became fairly distressed in 2015 and 2016 as commodity prices collapsed, with speculation of potential bankruptcy as the stock traded down from highs of $30 per share to as low as $3.50 per share at the bottom.
To combat these problems, the company underwent rapid fire sales on non-core assets, and even resorted to issuing equity in order to deleverage and optimize its mining portfolio. Despite the hardships, the company was ultimately incredibly successful at its turnaround efforts, with the stock rapidly rebounding from low single digits to the low teens as bankruptcy concerns dissipated.
Not Out of the Woods Quite Yet
Unfortunately, around this time, the company was hit with another unexpected impediment in the form of the Indonesian government requiring Freeport to divest its majority ownership stake in its Indonesian Grasberg mine or be forced to lose its long-term operating rights. This was in 2016, and talks have continued to drag since. With this being said, however, both sides continue to be in advanced talks, with buyer state-owned Inalum in the final stages of negotiation.
Most recently, the state giant acquired Rio Tinto's (NYSE:RIO) 40% stake in the mine, creating substantial progress for Indonesia gaining the required ownership levels. Current hopes are that a finalized resolution for Freeport's entire Grasberg situation will be the end of June. A recent hiccup however has been a pushback from environmental groups within the country and government callings for increased regulation on the mine's tailings being disposed of in a local river. Freeport responded to this by aggressively pushing back and essentially stating that the agreement and full infrastructure of the mine agreed to 20 years ago had this as a key component of Freeport developing the mineral play. As such, the mine is impossible to run effectively without this aspect.
We had an agreement with the government that over the life of the mine, we would retain 50% of the tailings own land. They are now saying it should be 95%, which just cannot be done. They set suspended solid standards that are actually lower than natural sediment standards that would go through the river system. I mean it's 200 versus an agreement that we've had for 20 years of 18,000. So this is not good news, but it's so out of bounds that I'm very confident we will get this done. It's just -- it's taken some work to do it, but it's not something that I've got you on a technical issue, it is a revisit of the whole system and you can't revisit a system that was agreed to 20 years ago and have been operating effectively over 20 years with no unexpected environmental consequences.

- Richard Adkerson, President, CEO, and Vice Chairman
(Source: Freeport 1Q2018 Earnings Call Q&A)
Amidst this noise, it is our view that the deal will be done by end of year 2018 if not this month in June, primarily due to the following:
The amount of tax and royalty revenue Indonesia receives from the mines combined with the current pain of emerging markets as the USD strengthens amidst a tightening bias.
The impending 2019 Indonesian presidential election.
Freeport looking to move on to the underground development of the mine.
Looking at the first point, the Indonesian government receives a substantial amount of royalties from production at the mine. Furthermore, the expected extension for Freeport operating the mine is through 2041, essentially providing the country a stable revenue stream through that period. If a deal were not to be worked out, there would be a substantial impact on government funding and thus have a substantial impact on the country's current account balance. Given the struggles that many of these emerging markets countries are facing currently, especially against the backdrop of a strengthening dollar, this is the last thing that economic leaders in the country would want.
Moving to point 2, the impending presidential election is set for 2019, and the incumbent administration viewed the divestment agreement for Freeport as a major win for the country. If the deal cannot be successfully closed as the election season rapidly approaches, the incumbent administration may lose support as it is incapable of achieving what was peddled as a large government victory. Furthermore, if the deal does get done, it adds a point to the opposition that could be brought up in the election. This type of rhetoric would be less than ideal to have as the election season approaches, so it benefits both Freeport and the current administration to have a deal done.
Finally, from Freeport's perspective, the company is looking to accelerate development of the underground portions of the mine in order to expand production at the site. Grasberg is a world-class play, and thus the delays over the past year have had direct impacts on their top line in addition to delaying their medium term capital plans. With this being said, both sides have continued to stress that a deal will get done. Thus, our view with regards to the mine continues to be that short-term delays are simply noise, and that a successful deal will be established in the near future.

(Source: Freeport BAML Global Metals, Mining, and Steel Conference Presentation)
Reaccelerating Growth to Drive Future Gains
Shifting our focus to the company itself, Freeport is entering the third stage of what has been a multi-year management strategy. Stage 1 was deleveraging, which is quickly coming to a close with the Company looking to have approximately $4.5 bn net debt on its balance sheet by year end based on our projections and management guidance. Stage 2 has been resolving the Indonesian conflict; however, moving forward, the ball appears to be primarily within the Indonesian government's court outside of negotiations on sales price (with the Rio Tinto stake valuation as a baseline). Stage 3 is now beginning, which is reestablishing growth in the company's production numbers. Management has guided fairly substantial increases in capex over the coming years, which will have long-term effects on the company's total production, thus driving a return to growth.
One caveat of this growth however is that there tends to be a heavy lag time with regards to realized production increases versus capex. Due to this lag, the company has designated 2019 as a transition year, primarily as a result of the lack of capex over the past 4 years in favor of paying down debt and restructuring to improve cash flow levels. Despite this, however, the company has actually guided relative increases to production beginning in 2020 and onward.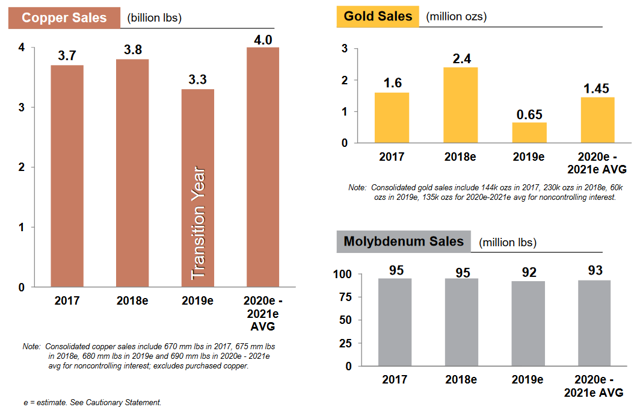 (Source: Freeport BAML Global Metals, Mining, and Steel Conference Presentation)
While the decline is somewhat concerning when looking at gold, it does bounce back fairly rapidly in 2020. Furthermore, keep in mind that the Company is expanding capex rapidly within CFO. This is likely to continue to accelerate moving forward given the favorable pricing background combined with the general low costs that Freeport has versus previous years. As a result, the 2022+ period looks to see the establishment of increasing acceleration of production growth, especially when you consider the longer lead times players in this industry face. Looking at the chart below on capex, you can see the substantial increases planned: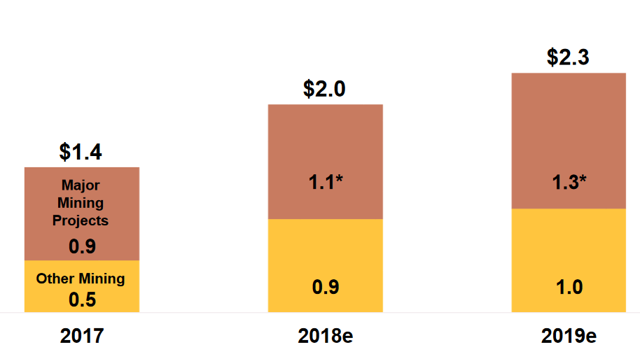 (Source: Freeport BAML Global Metals, Mining, and Steel Conference Presentation)
A further point of note is that the Company has fairly fixed costs at most of its mines at this point, creating fairly high operating leverage. While mining service cost inflation is starting to comeback amid increasing global capex, pricing still remains fairly depressed. Furthermore, given the high quality of Freeport's current assets, many of the upfront costs on previous mines have been fairly established, with capex of new major mining projects looking to accelerate. As such, in an increasing copper price environment, Freeport continues to be likely to see substantial increases in cash flow moving forward.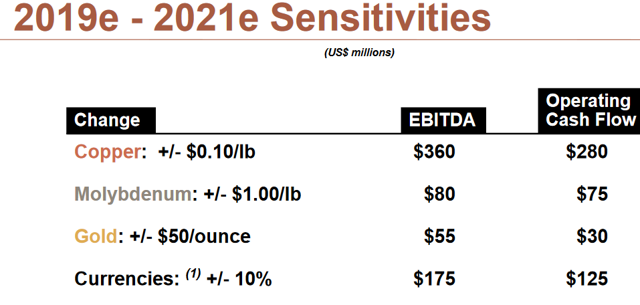 (Source: Freeport BAML Global Metals, Mining, and Steel Conference Presentation)
We Predict a High Likelihood of Share Buybacks
Against this backdrop, the Company has stated that it is looking to shift cash flow more towards returning value to shareholders as excess CFO accelerates into the future. This was communicated when the Company reinitiated its dividend in February. When you combine this management outlook to the future, combined with what is a fairly established capital budgeting plan for the medium-term, one can see the excess cash flow that the company is set to have. When you combine this with the company soon reaching its leverage goal, the likelihood of this skyrockets as there looks to be substantial free cash flow leftover. When you combine this with the company's fairly depressed share price relative to its valuation, it's a no brainer for management to buy back stock. With a current $26 bn market cap combined with likely $5 bn or more in CFO for 2018 and onward based on our estimates and guidance (netting to $2.5-3.0 bn free cash flow after removing capex), it would not surprise us if a multi-billion dollar share buyback plan was announced over the next year.
Further accentuating this likelihood is the inflow of cash the company will likely receive for a portion of its Grasberg stake. With $4 bn in cash currently on its balance sheet and a likely cash inflow of $2 bn or more from Grasberg, management will have substantial flexibility with how to deploy this capital moving forward. Given that management has already set a medium-term capex outlook, it seems only logical that a portion of this would be used to support the stock price.
Furthermore, the dividend will likely continue to increase against this backdrop. The $0.05 quarterly dividend in our view was just a token gesture by the company to establish this idea; however, as uncertainty shifts away from Grasberg and the pricing environment firms, this dividend will continue to increase substantially into the future in our view. Thus shareholders will likely get the one-two punch of both share buybacks and accelerating dividends into the future.
Copper and Gold Fundamentals Remain Bullish
Looking at copper fundamentals, one cannot help but be increasingly bullish on the outlook for pricing as a result of both the demand and supply side.
First, looking at the supply side, there is substantial stagnation in global production growth as a result of the lack of capex over recent years. When commodity prices collapsed in 2015 and took everyone by surprise, virtually every major producer was forced to shift cash planned for growth capex to paying down debt and reducing expenses. As such, as we approach the 4-year period after such decreases, production looks set to reach a brief lull as production growth stagnates. When you combine this with the fairly large lead time producers need to increase production at mines, this supply concern is set to continue to impact markets over the next two to three years if not longer.
On the demand side, the supply deficit will likely continue to widen on accelerating electricity storage demand and mechanical vehicle creation. As all major car producers look to increase electric vehicle lines, pressured by Tesla and global fuel and environmental standards, the demand for copper looks set to soar. A single electric vehicle uses as much as 3x the amount of copper as a single gasoline vehicle, and given the large base metal demand of auto manufacturers this will have a substantial impact on the price of copper in the medium term. Furthermore, while demand from China does remain a concern as its growth profile matures and generally decelerates, the manufacturing and housing sectors have been increasingly resilient in the face of projections for declines. As a result of this, it's likely that China will continue to see substantial demand for copper barring a global recession in the medium term as well. Further supportive of this is the domestic housing industry. As home prices continue to accelerate amid a strong economy and low unemployment, housing starts and building permits are near ten-year highs. As the US economy looks set to continue to expand in the immediate term, these housing trends will also provide a massive tailwind for copper prices.
Further adding to this fundamental dichotomy is supply disruptions in the short term. Most recently, BHP's (NYSE:BHP) Chile Escondida mine saw potential strikes and production disruptions amid a push for wage increases. This comes after a similar issue last year that resulted in a 44-day production strike. Given that this is the largest copper mine in the world, another strike would be a major catalyst for copper to break above its resistance at $3.30/lb. Further amplifying this is that if wages increase substantially, it will create cost pressures for major producer BHP. Current proposals for negotiation include a $34 k bonus for all workers at the mine. Given its large size, this would likely create a fairly substantial dent in BHPs profitability at the mine. Further accentuating this is that workers likely feel emboldened by the success of the trucker strike in Brazil amid higher diesel prices. This strike ultimately ended by Petrobras (NYSE:PBR) conceding price decreases. While these strikes do seem like a recent trend in the industry, these appear to be more so local, isolated incidents, and thus we feel that Freeport is unlikely to experience such strikes at any of its mines.
Looking towards gold, investors are becoming increasingly bullish on the asset, with geopolitical concerns regarding trade wars, Iran, and Italy coming to forefront. This is further accentuated by the disastrous G7 summit this most recent weekend. With the recent collapse of emerging markets assets combined with accelerating realized volatility on equities (with repressed implied volatility implying a concerning divergence in this market), many investors are becoming increasingly bullish on gold. This comes despite a strengthening dollar and rising global rates. If gold breaks out above its $1300 resistance line in the near future, many are predicting a substantial legup to new multi-year highs. As such, such a situation would provide significant benefit to Freeport's bottom line, not mention hedging against short-term volatility in both equity and base metals markets.
Our Valuation and Operating Model
We based our valuation of Freeport on 2019 and 2020 P/CFO and P/E ratios applied to projected CFO per share and EPS estimates based on our model. We utilized a 10x and 15x multiple for each, respectively. We chose to value based on 2019 and 2020 projections as a result of the skew 2018 creates due to the Grasberg mine and other inflated production numbers. Furthermore, with 2019 being a "transitory year" according to Freeport, it creates a conservative base valuation for the company relative to 2018 metrics.
Looking at our revenue build first, we applied production and pricing on a company wide basis while also breaking out historicals across the company's 4 geographic segments. Please note some costs rows are hidden. However, we kept these relatively in line with historicals with a slight tapering down of delivery expenses through time as the company emphasizes cutting costs. We assumed $3.25 and $1,300 for copper and gold, respectively, as our base case scenario, tapering down to $3.00 and $1,200 in 2021 and onward. Production numbers through 2021 are also completely in line with company guidance.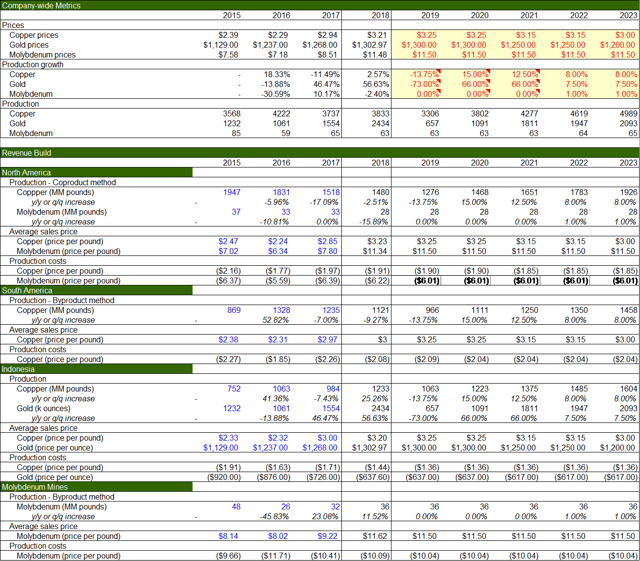 (Source: Self-made Model; Historicals from Company Filings; Some numbers backed into or estimated based on audited and unaudited Company reported numbers)
This leads to our operating model below. Please note once again that rows are hidden for ease of reading. Major assumptions of note include capex being fairly high as a percentage of CFO through 2021, tapering down to the company's historical level. We also assumed a fairly aggressive dividend rate; however, this does not play into our valuation and was more so to establish the company reverting to its previous history of providing a fairly strong dividend to investors, and to see how an accelerating dividend would affect end of period cash balances.

(Source: Self-made Model; Historicals from Company Filings; Some numbers backed into or estimated based on audited and unaudited Company reported numbers)
Looking at our valuation as previously mentioned, this leads to the following implied valuation targets for 2019 and 2020.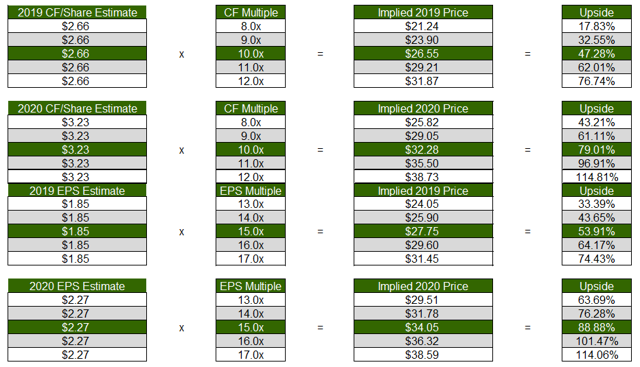 (Source: Self-made Model)
In order to do a sensitivity analysis, we also gapped up and down expected commodity prices in a bull and bear case scenario. Looking first at the "Bear case" we assumed copper and gold fall to $2.50 and $1150 respectively. Please note that we view this case as incredibly unlikely, as there would have to be a substantial slowdown in global growth, bordering recessionary, and for China's economy to blow up. For reference, in 2016, when China devalued its currency amid slowing growth and copper demand was expected to go off a cliff, copper bottomed out at $2.20. Also, note that there were zero solvency concerns in our model associated with these pricings with regards to debt payments and cash flow, even assuming constant capex levels between the bear and base case (feel free to DM me for any questions about the models here, as I've left out the full models for both the bear and base case for ease of reading). Furthermore, both gold and copper gapping down is incredibly remote, as fundamental reasons for a trade down in copper would likely also result in gap up in gold prices in a risk-off move by investors.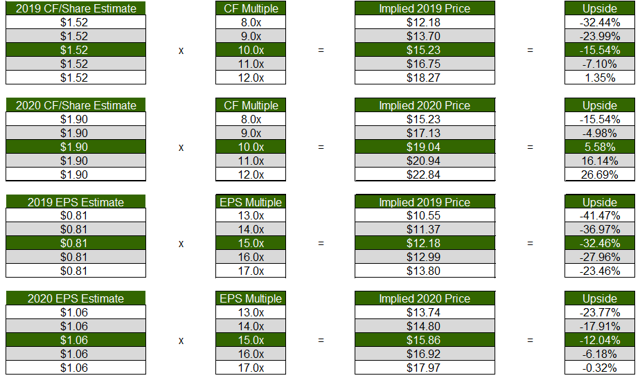 Looking now at our bull case, we assumed $3.75 and $1,450 for copper and gold prices, respectively.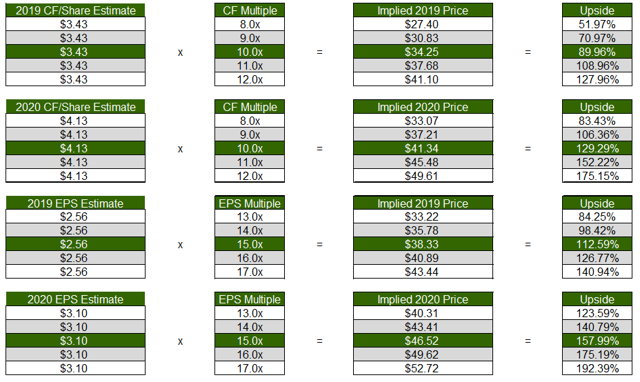 As one can see in the above, risks look incredibly skewed across the board, with over 100% upside in a bull case against minimal downside in a collapse-case scenario. We view this market mispricing as being primarily driven by the Grasberg concerns distracting investors from the short-term fundamental potential of the company from 2019 and onward when the Grasberg situation is resolved. Furthermore, we also see risk to the upside even above what we have projected, as the likely inflow of cash from Grasberg sales will allow the company more flexibility with its budget, not to mention our view of aggressive share buybacks which we did not model out. In the current climate, investors are being heavily distracted from the underlying recovery in the copper market and its impact on Freeport, and we expect the company to rapidly converge to its intrinsic value following the resolution of the Grasberg situation. Furthermore, with many expecting a deal to be finished this month, and the stock moving only moderately after the news of the Rio stake sale which was very bullish for the deal, now represents an ideal entry point for what could be a large gap up in the stock's price over the next month.
Risks
The major risk associated with Freeport is primarily with regards to the Grasberg mining operations. If the deal continues to drag on, it is likely that investors will continue to keep Freeport in limbo as many wait for a deal resolution. It is our view, as discussed previously, that negotiations will wrap up this month, or by 4Q2018, ahead of the presidential election in Indonesia. This is made further likely given that both sides are pushing for a deal to be done, combined with the recent divestment of Rio Tinto's stake in the mine. As such, while this is a tail risk in our view, a blowup of the deal would likely cause a substantial leg-down in the price of Freeport.
The other major concern for Freeport is obviously the commodity risk associated with copper. While the company has primarily reduced its leverage and cost structure to be sustainable in even a low copper pricing environment, prices collapsing back to sub $2.50/lb would likely substantially reduce CFO. While we see such a risk as unlikely given the favorable supply/demand dynamics in both gold and copper, this does remain a worry; however, it would take a substantial move down for actual operations to be heavily impacted based on our model's outputs.
Conclusion
In conclusion, Freeport represents a heavily mispriced security against the current global backdrop. Investors remain overly concerned regarding the Grasberg situation, despite comments from both sides that a resolution appears impending by the end of June or year end 2019. Against the backdrop of heavily constrained copper supply and rapidly accelerating copper demand over the coming years, a copper supply deficit will likely emerge and grow as global growth generally remains in an upswing. Furthermore, as inflation returns to the global economy against this backdrop, copper prices will be further supported as a hedge for these inflationary fears.
Overall, we view Freeport as an obvious holding in any portfolio right now given the huge upside that exists relative to what we view as extremely low downside, and very small tail risk. It is for this reason that it is currently one of our largest positions and, despite short-term volatility, will likely see massive share price appreciation over the next 1-6 months.
***Thanks for reading! If you liked this article and the level of analysis and detail provided, please follow me and check out my other articles concerning investments within the Natural Resources space.
Disclosure: I am/we are long FCX.
I wrote this article myself, and it expresses my own opinions. I am not receiving compensation for it (other than from Seeking Alpha). I have no business relationship with any company whose stock is mentioned in this article.