Welcome to the short-term vs. long-term edition of Oil Markets Daily!
The oil market and its fellow market participants are going through a period of nervous shakedowns. On one end of the spectrum, recent rhetoric from the Saudis and Russia indicate that a production increase will be coming in the June meeting, preempting the market to push prices lower in the short term to compensate for the potential increase in supplies. On the other end, tanker tracking services like Kpler show crude export volumes for Venezuela and Iran hitting a major roadblock in June, prompting some to start wondering whether the efforts by Saudi Arabia and Russia will be enough to move the global oil markets away from a steeper deficit.
And while the market focuses obsessively on OPEC and the implications of the June meeting, U.S. oil storage figures have confounded market participants and left a few wondering if the market is indeed in a shortage. It's safe to say that without clarity in the data, most market participants would have either bailed out by now or have been so shaken by the recent rumors that their confidence has been eroded. To add salt to the wounds, Brent time spreads have also weakened over the last week, prompting some to even call for storage builds.
So, it's now our task to tell you that whatever is developing for the June OPEC meeting, the saying "short-term pain but long-term gain" rings truer than ever.
Noise, Noise, Noise
Iran
It's important to keep in mind when analyzing the global oil markets that most things that should be considered noise aren't considered noise. Take, for example, the recent OPEC rhetoric that a potential production increase is in the making. But the detail that needs to be clearly explained is the fact that Iran crude export volumes have already been impacted by potential sanctions from the U.S.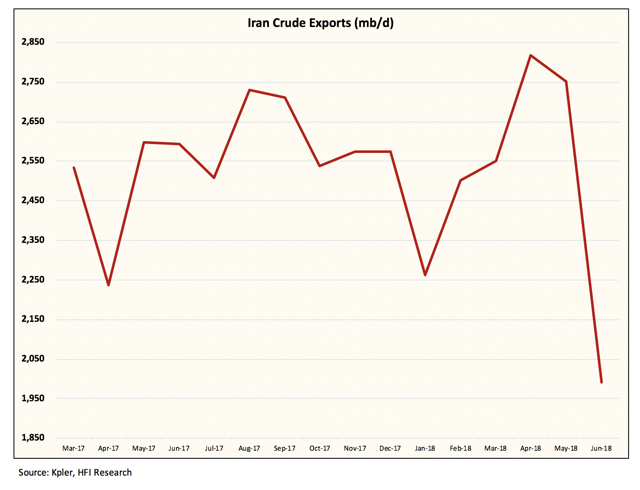 So far, for the month of June, we see Iran crude exports dropping materially. This also lines up with the recent comments from some of the largest Iranian crude buyers, like India's Reliance Industries. In May 2018, India imported 718k b/d of Iranian crude, and the latest figure shows a drop to 340k b/d. During the sanction period, India imported 217k b/d on average from 2012 to 2015.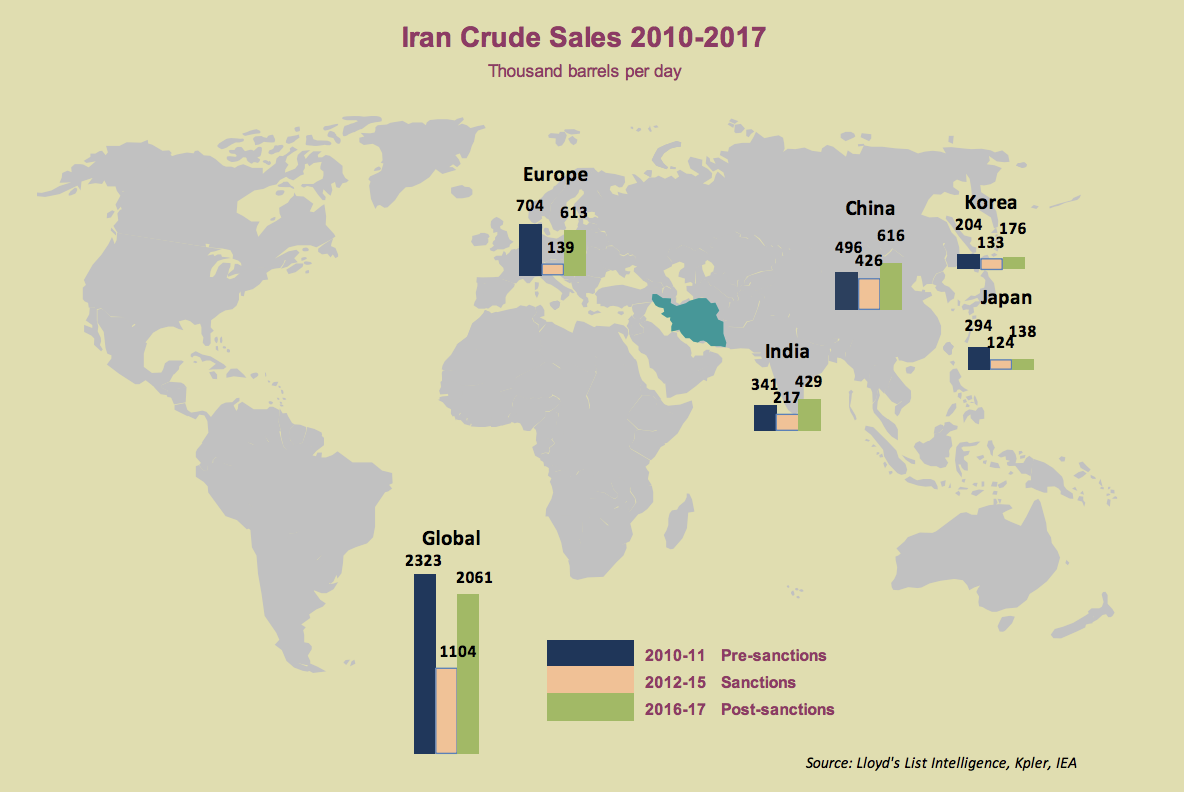 Source: IEA
We estimate that up to 1 million b/d of Iranian crude exports will be impacted by November, and the weakness in exports should start to show up via higher floating storages by then. China will attempt to make up for some of the shortfalls, but the overall increase will be negligible relative to the potential export lost.
Venezuela
Move on to Venezuela. The horror show that's happening there continues to worsen. Tankers are starting to pile up on the coast as Venezuela lacks the necessary funds to pay for crude imports. We've seen a few tankers that have been there since early May that are still waiting to discharge the crude into the ports. This congestion has gotten so bad that there have been rumors that PDVSA will need to announce a force majeure and force customers to accept ship-to-ship transfers, which adds to the cost of transporting the oil.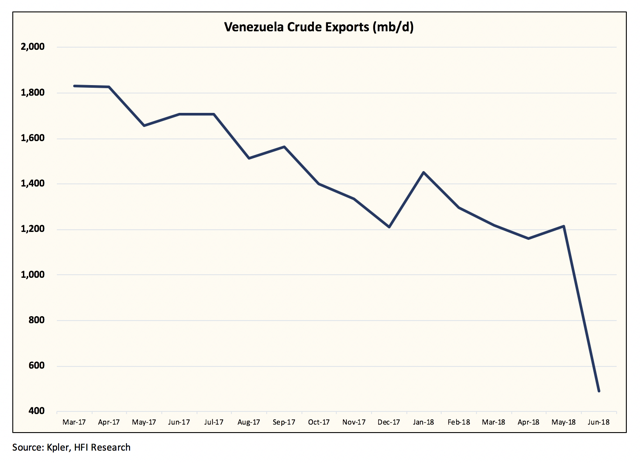 So far, in June, we have seen a sharp drop in crude exports realized. This figure may very well rise in the coming weeks, but it's not looking good for Venezuela exports so far.
Saudi Arabia
Finally, we move on to Saudi Arabia and the news story of how it increased oil production in May by 160k b/d and how exports sizably increased, which might very well be true. But you know what else that's also not being written about with regard to the increase? It's where the increased exports are going.
So far, Saudi's crude exports to the U.S. have been steadily decreasing since March from a high of 867k b/d to as low as ~500k b/d, according to the latest figures. If we map out Saudi's crude exports to the U.S. with a two-month lag and overlay it with U.S. crude storage, this is what we get: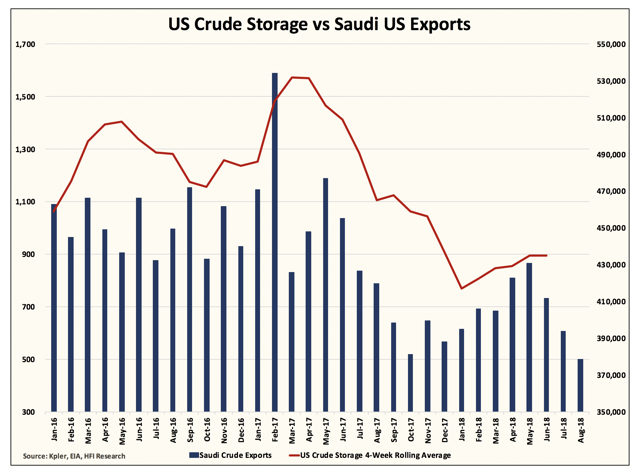 Interestingly enough, our crude storage forecast model is very sensitive to changes in expected crude imports. With refinery throughput expected to reach 17.5 million b/d and U.S. crude exports averaging 2 million b/d, any drop in crude imports will be immediately felt in U.S. crude storage draws.
A Question No One Seems to Be Asking
But with all the noise engulfing the oil markets today, no one seems to be asking these critical questions: Even if Saudi and Russia increased oil production, what happens to global oil market balances? Where's the spare capacity?
These seemingly obvious yet not widely asked questions are perhaps being cast aside for the short-term bearish headwinds like weakening time spreads and bearish U.S. oil storage data. But the law of supply and demand continues to be the most important factor at play here. If Saudi and Russia increase oil production to offset declines in Venezuela and Iran, what happens to spare capacity?
In our latest oil market fundamental balance, even in the face of Saudi and Russia increasing oil production, we see the global oil market deficits increasing: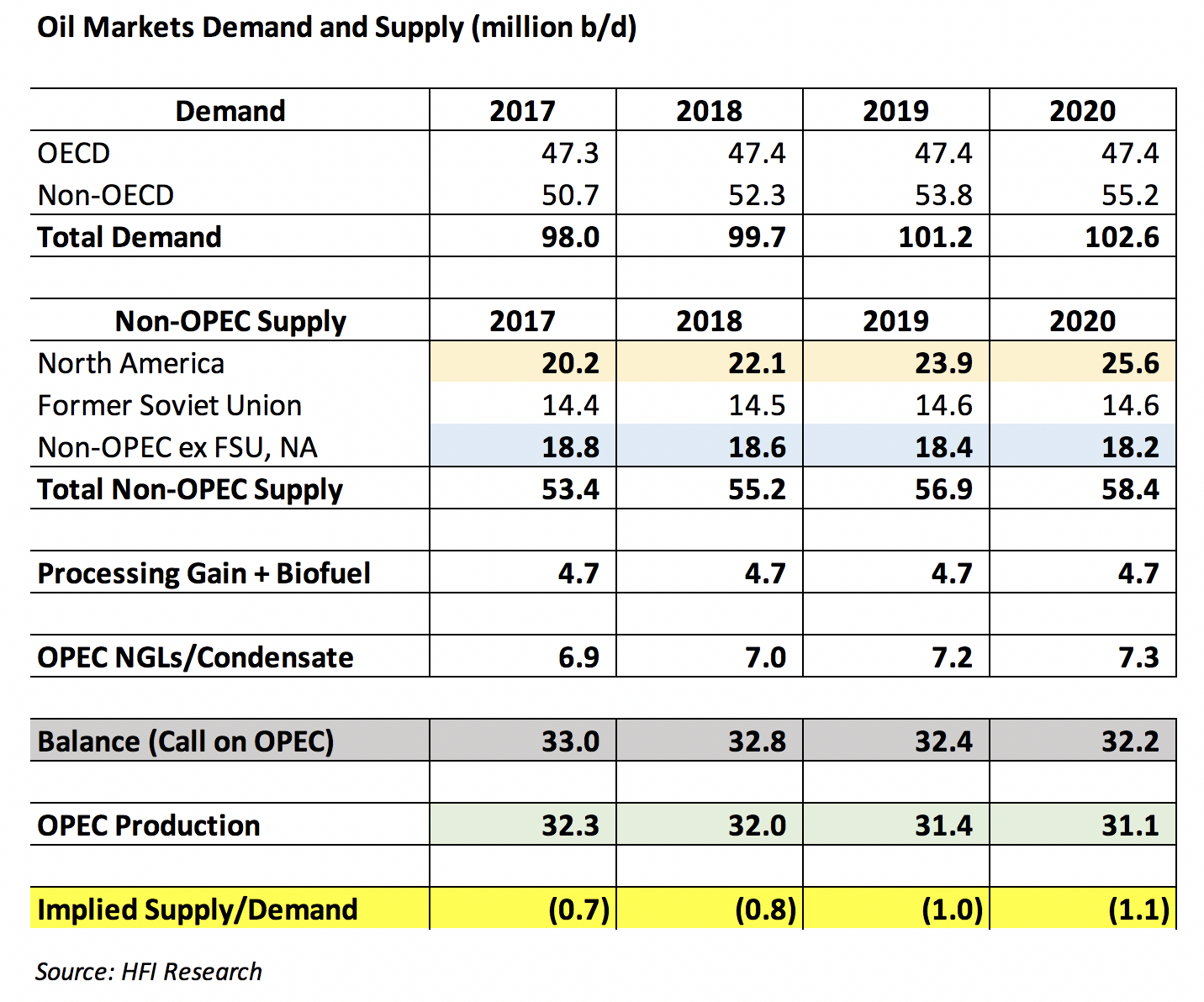 As a matter of fact, even if the GCC allies increase production to the tune of 800k b/d by the end of 2020, declines in Iran, Angola, Algeria, and Venezuela would push overall OPEC production to as low as 31.1 million b/d.
This is why we now believe the outcome of this OPEC meeting is completely irrelevant to the fundamentals of the oil markets. Because our analysis indicates that even in the face of higher oil production from GCC cohorts and Russia, OPEC's overall production will decline and Russia's production increase will only go toward slightly offsetting the production decreases elsewhere.
Just a Matter of Time
It's just a matter of time now before oil prices resume the uptrend. The inevitable collapse of Venezuela's oil production along with the inevitable decline in Iranian exports are just two of the last remaining bullish puzzle pieces that need to fall into place this year. In addition, the tailwind of low oil prices from the last few years, resulting in massive cuts in upstream capex, will be making its debut in non-OPEC ex-U.S. supplies in the second half of this year. The quarterly deficit balances for global oil storage market are set to steepen into year-end, and OECD storage will feel the pinch.
Aside from an inevitable decline in global oil demand resulting from significantly higher oil prices, prices are heading higher, and there's no turning around from that now. It's just short-term pain for long-term gain.
Thank you for reading. If you liked this article, please leave a "Like" at the bottom.
If you have found our oil market articles to be insightful, we know you will find our premium service to offer more value to you. We have been one of the few research firms to have nailed the oil market fundamentals, and if you have questions, we have answers. See here for more info.
Note: Starting June 1, HFI Research has been limiting the number of public articles we publish. Weekly oil storage reports will continue, but all storage estimates - including next week's estimate - will be reserved for HFI Research subscribers.
Disclosure: I am/we are long CRC, GXE.TO.
I wrote this article myself, and it expresses my own opinions. I am not receiving compensation for it (other than from Seeking Alpha). I have no business relationship with any company whose stock is mentioned in this article.