Editor's note: Seeking Alpha is proud to welcome George Wanty as a new contributor. It's easy to become a Seeking Alpha contributor and earn money for your best investment ideas. Active contributors also get free access to the SA PRO archive. Click here to find out more »
Like a lot of us, I hit 65 with about 60% of the nest egg I had hoped to have for retirement. Having been in the real estate development business for the past 25 years with some success, I invested in a sizable residential project in 2006, just a couple of years before the "Great Recession." As you can imagine, 2008 and 2009 were a disaster for my project. Often, when the door shuts on a real estate investment, it shuts tight, without the opportunity for bouncing back. That was the case for me.
Anyway, I was left with a portfolio that needed to generate substantially more than the 4-5% I had planned on in retirement, starting when I was 65. By the way, mine is not a tax efficient strategy, so if taxes are a major concern, my strategy may be unsuitable for you. With tax efficiency being less of a concern for me as a result of real estate losses I could carry forward, I still needed closer to 10-12% to reach my budget goals for the next 25 years. So, for the following year, I read a lot of books about dividend investing (love SA for their many helpful articles!) and also became reasonably well versed in the options market.
As a solution to my income problem, I have developed my own strategy that is essentially a hybrid strategy utilizing dividend income from my equities and premium income from my options. I stick to the old Ray Kroc KISS mantra - "keep it simple stupid" - and, therefore, I focus only on option trades that generate premium income. After all, my goal is simple - generate 10 to 12%, or more, annual income from my portfolio, with an emphasis on minimizing risk.
After a lot of trial and error, I have found that a portfolio invested 60-70% in 3%+ yielding equities provides the perfect foundation for my Equity/Option Hybrid Portfolio. The other 30-40% of the portfolio I keep invested in short term U.S. Gov't securities like Treasury Bills which serves as my liquidity cushion (and should earn me up to an additional 1% annually). And, by keeping a watchful eye on dividend ex-dates, I have found that I can further increase my dividend income by another 2-3% annually. Bottom line - I am able to generate at least 3% annually from dividends and, as I have found, a good bit more when I spend time ferreting out some of the high quality, high yielders (6-7%) often discussed in SA articles.
To illustrate how dividends and options work together to generate 10-12%+ plus annual income, I have selected 7 high quality equities to examine in the 2 tables below. The companies are, arguably, among the best in their sectors: HP Inc. (HPQ), Coca-Cola (KO), Gilead Sciences (GILD), AT&T (T), General Mills (GIS), Blackstone Group LP (BX), and Enterprise Products (EPD).
There are at least 30 other equities that I follow with similar high quality and dividend characteristics, and that I am comfortable owning at any given time. I am never wedded to any single equity. On the contrary, if I own a stock and have a profit, I'm glad to let the stock go, and find another with a near term ex date.
The first table considers how careful management of ex dividend dates can increase annual dividend income and the second focuses on how writing monthly call options against my existing positions can provide very attractive annual income.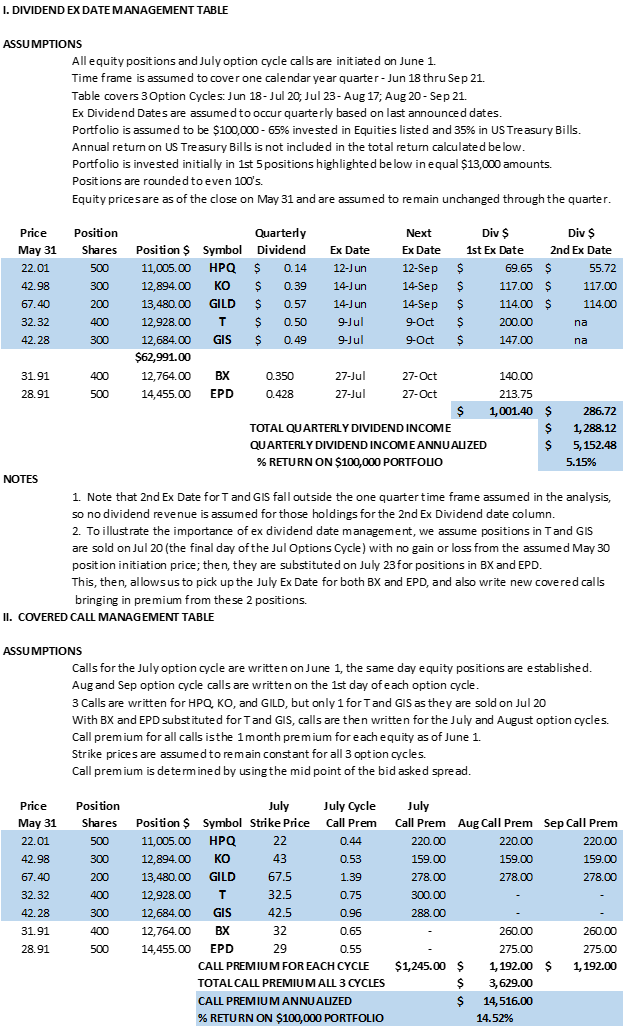 As discussed above, dividends and options working together in a thoughtfully designed equity portfolio should achieve annual "cash flow" returns of 10-12%, and likely more, if an investor is willing to put the time in to manage the portfolio. It is important to emphasize diversification in selecting equities for the portfolio, as often entire sectors of the market can be out of favor for short periods of time as the market goes through its normal rotation process. Obviously, the equity selection process is crucial in achieving satisfactory investment goals. I prefer to add positions in best of breed companies that are in sectors that are out of favor, have attractive dividend yields, have attractive valuations, and for which there is broad research support. And an additional benefit to this kind of high yield portfolio strategy is that during periods of market declines, the portfolio should show better results than the broad market.
There are other considerations an investor needs to be aware of when managing this type of portfolio and I look forward to discussing them in future articles.
Disclosure: I am/we are long HPQ,KO,GILD,T,GIS,BX,EPD.
I wrote this article myself, and it expresses my own opinions. I am not receiving compensation for it (other than from Seeking Alpha). I have no business relationship with any company whose stock is mentioned in this article.