Cal Fire has now determined the cause of most of the wind-driven Northern California wildfires from last October - and not surprisingly, the finger is pointed squarely at PG&E Corp. (PCG).
Friday, in its second release of investigative findings, the state agency concluded that the utility's equipment sparked 12 of the fires. In eight of those cases, the utility was found to have violated state fire codes by failing to clear brush near power lines and/or properly maintain equipment. These cases were referred to county district attorneys for possible criminal or civil charges. This Santa Rosa Press Democrat article explains the findings.
No report was issued for the Tubbs Fire, by far the most complex and destructive. PG&E has claimed the fire may have been started by a privately owned power line near Calistoga, but local officials still expect PG&E to be cited.
Using newspaper articles and Cal Fire incident reports, I came up with this spreadsheet summarizing the situation from the fires that destroyed structures:
Fire
County
Acres
Structures destroyed
Deaths
PG&E equip. cited?
Violations alleged
Tubbs
Napa/Sonoma
36,807
5,636
22
Unknown
Unknown
Redwood
Mendocino
36,523
546
9
Yes
No
Atlas
Napa
51,624
783
6
Yes
Yes
Nuns, etc.*
Napa/Sonoma
56,556
1,355
3
Yes
Mixed*
Sulphur
Lake
2,207
162
0
Yes
Yes
Pocket
Sonoma
17,357
6
0
Yes
Yes
Cherokee
Butte
8,417
6
0
Yes
No
McCourtney
Nevada
76
13
0
Yes
Yes
Lobo
Nevada
821
47
0
Yes
Yes
LaPorte
Butte
6,151
74
0
Yes
No
Cascade
Yuba
9,989
264
4
Unknown
Unknown
TOTAL
8,892
44
*Several fires merged; violations alleged for subsidiary ones only.
Sources: Cal Fire, Santa Rosa Press Democrat, San Francisco Chronicle.
Taking the three most damaging fires other than Tubbs, PG&E was found to have violated state codes only in the Atlas Fire. Violations were not found in the Redwood Fire. No violations were discovered in the Nuns Fire, but they were found in four smaller fires that merged with it, making the liability situation unclear.
Even for the fires where code violations are not alleged, PG&E could be on the hook for economic damage claims based on a legal doctrine used in California known as "inverse condemnation," which the state's utilities have protested vigorously. However, punitive damages - which could be large in fires that killed people - would probably be off the table in these cases.
PG&E is trying to get the Legislature to change the liability laws to protect utilities in fires where no violations are found, but opposition has developed. The San Francisco Chronicle quotes lobbyist and fire victim Patrick McCallum as saying "in my opinion, there are not the votes in the Legislature to change inverse condemnation or strict liability."
Tubbs Fire situation
Still, the Tubbs Fire is the big kahuna, as around 63% of the 8,892 structures destroyed and half of the 44 deaths occurred in that blaze, which started in Calistoga and burned all the way into the city of Santa Rosa. Property in the heart of Wine Country is especially expensive, so it wouldn't be surprising if that fire caused a disproportionate amount of the $10 billion in insurance claims lodged against the utility so far.
PG&E stock opened down 7% this morning but quickly erased much of the loss. A week ago, I wrote that investors should avoid the stock until Cal Fire issues its report on the Tubbs Fire.
That advice still holds, especially since the question of PG&E's liability is so uncertain. If the findings are unfavorable, the stock likely has one more big tumble in it, and dividends may remain suspended for years.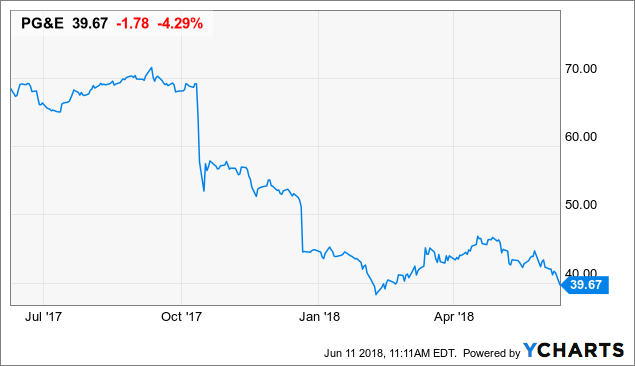 However, aggressive investors who want to bet on a favorable report could consider buying September or January out-of-the-money calls. The risk-reward ratio looks favorable.
If the current pattern of releases is maintained, we can expect the Tubbs Fire report one of these Friday afternoons, after the market closes. Investors then will have a weekend to digest the news and come up with a plan.
Disclosure: I/we have no positions in any stocks mentioned, and no plans to initiate any positions within the next 72 hours.
I wrote this article myself, and it expresses my own opinions. I am not receiving compensation for it (other than from Seeking Alpha). I have no business relationship with any company whose stock is mentioned in this article.