Note: This article was originally published May 23rd on Value Investor's Edge, a Seeking Alpha subscription service. Please take advantage of our two-week free trial going on through June 15th.
Overview
One year ago I authored an article entitled Finally Some Good News For The Offshore Market which explored the possibility of a bottom forming in the OSV (Offshore Vessel) market with improving prospects going forward.
While conditions looked to be setting up for improvement I cautioned in the conclusion:
While it is nice to finally have some good news for a segment that has seen nothing but trouble over the last few years we must keep things in perspective and realize that this situation still has a long, long road to recovery ahead.
So how are things coming along and what does the future hold for the OSV market? Here we will take a look at how the macro fundamentals are shaping up but first a quick review about OSV's.
OSV is a collective term that includes a wide array of vessels employed in the offshore crude oil drilling segment. There are several different segments with specialized vessels for each.
The main types of exploration vessels are: Drillships, Jack Up Vessels, Semi-submersible Vessels, Offshore barges, and Floating Platforms.
The main types of supporting vessels include: Offshore Support Vessels, Anchor Handling Tug Vessels, Seismic Vessels, and Platform Supply Vessels.
Main types of offshore production vessels are: Floating Production Storage and Offloading, Single Point Anchor Reservoir platforms, Shuttle Tankers, and Tension Leg Platforms.
Finally, offshore construction vessels include: Diving Support Vessel, Crane Vessel, and Pipe Laying Vessels.
Some of the US listed companies engaged in one or more of these markets include but are not limited to Transocean LTD (NYSE:RIG), Seadrill Ltd (NYSE:SDRL), ENSCO PLC (NYSE:ESV), Teekay Offshore Partners L.P. (NYSE:TOO), KNOT Offshore Partners LP (NYSE:KNOP), Ship Finance International Limited (NYSE:SFL), Nordic American Offshore Ltd. (NYSE:NAO), and Tidewater Inc. (NYSE:TDW).
Background
A massive drop in oil prices beginning in 2014 led to a rough patch from 2015-2017 as demand for offshore exploration, construction, production and support services fell.
At the start of the downturn, offshore breakeven prices averaged around $70 and with crude trading well below that range for several years, losses began mounting and investment waned.
The pain was spread across the entire offshore segment. As crude prices dropped investment waned. Consequently demand for exploration, construction, production and support vessels fell.
This led to severely depressed rates for those lucky enough to find employment. For others it led to vessel layups as they waited for a market recovery.
Across the board, bankruptcies began to mount, losses drove consolidation, and many companies were scrambling to meet their obligations.
But recent developments have provided a bit of hope.
It Has To Start Somewhere
The aforementioned article cited two main catalysts for recovery. First, higher oil prices, courtesy of OPEC cuts for the most part, were projected to climb even further.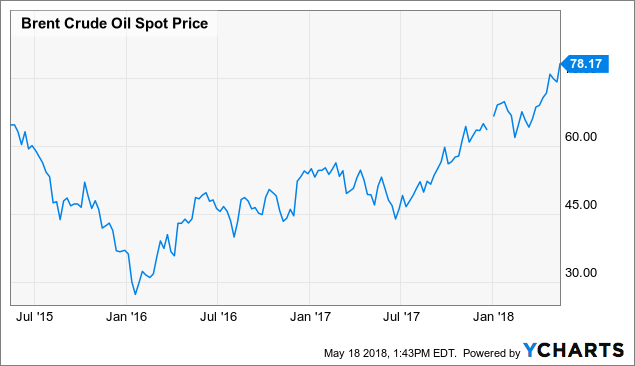 Source: YCharts
Aside from the OPEC cuts, dwindling production out of Venezuela and the potential renewal of US led sanctions on Iran have also added to rising prices.
Second, decreasing breakeven costs for offshore drillers, which were forecast to continue falling. A typical offshore project in the North Sea or in the U.S. Gulf of Mexico had a breakeven price between $60 and $80 per barrel prior to 2014, these days those costs have plunged to $25 to $40 per barrel, according to a new report from the International Energy Agency.
The IEA notes:
Designs are being simplified, standardized and (in some cases) downsized, and a large overhang in the market for offshore services and equipment is also helping to exert downward pressure on costs.
Adding to the potential for a bullish turn is the fact that in 2017 the global reserves replacement ratio and global sanctioning replacement ratio hit lows not seen in over 20 years. Something had to change or a future shortage would be a given.

Source: Transocean
This waning investment, which grew more pronounced with the downturn in oil prices, would eventually lead to lower offshore production, which accounts for roughly 30% of total global production.
The combination of all these factors would lead to higher crude prices which would in turn rekindle offshore investment, which looks to be underway in 2018.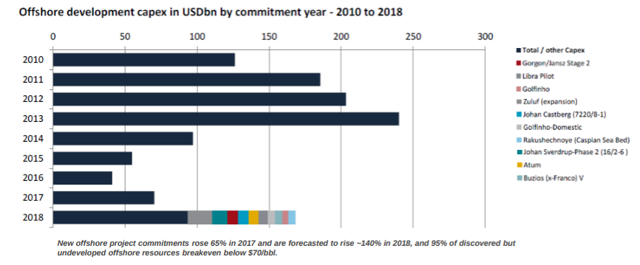 Source: Transocean
Cycles
These cycles are nothing new and the stages are well documented.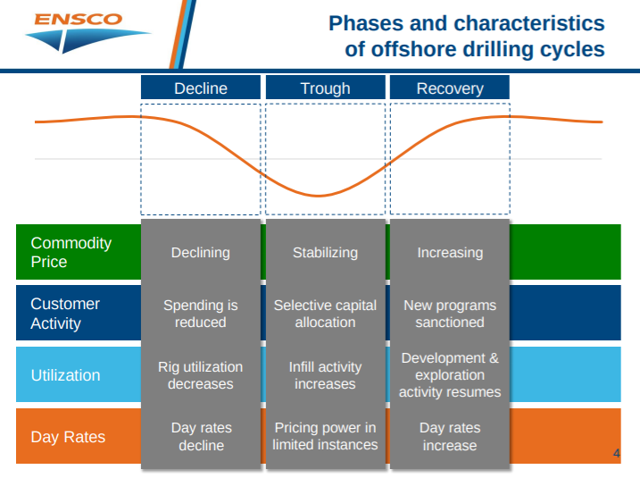 Source: ENSCO April 2017
In fact, since 1985 there have been six major cycles of varying degrees, however, this latest one looks to be the most pronounced.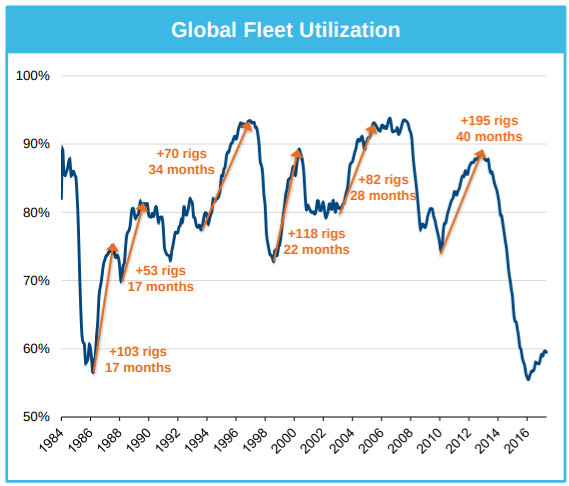 Source ENSCO April 2018
As this chart illustrates, we are in the early innings of a potential recovery period. Previous recoveries have lasted between 17 and 40 months indicating that if this is indeed the beginning of a recovery phase we still have a long way to go.
Recovery phases are characterized by supply and demand moving toward equilibrium. As a result, charter rates begin to increase, eventually surpassing operating costs. However, optimism about the market remains shaky and overall investment remains subdued from both a CAPEX and investor standpoint with just a handful of established entities taking the lead. Mainstream opinions swing back and forth between optimism and pessimism, resulting in volatility for trade volume. Finally, cash flow tends to improve steadily during the recovery stage until a trend is established resulting in an overall market sentiment shift.
Investment Leads Utilization
Although it was stated previously, as crude prices dropped so did investment and consequently rig counts. As rig counts fell so did demand for support vessels.
With oil prices rising along with potential profitability we are seeing the first stages of increased CAPEX impacting the vessels designed for the initial stages of offshore development.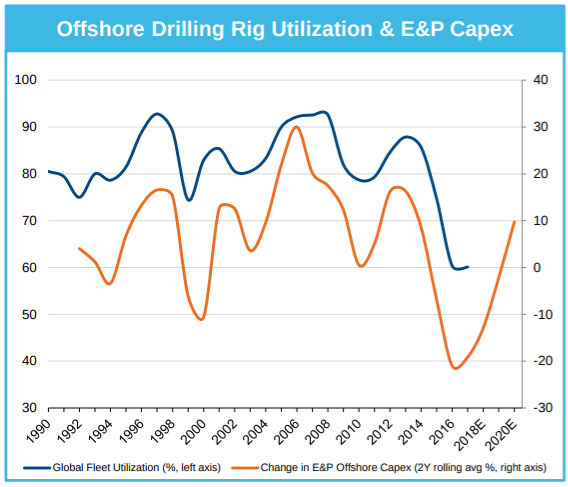 Source: ENSCO
Rig counts are directly correlated to CAPEX. Naturally, as rig counts rise the demand for support vessels will increase.
As noted in figure 3 above, investment in 2018 is projected to rebound significantly. Areas like the North Sea, Asia, Africa, and the Gulf of Mexico have seen renewed interest.
According to Rystad Energy, the current tailwind in the oil market is likely to propel 100 new offshore projects to be sanctioned in 2018, compared to only 60 projects in 2017 and below 40 in 2016.
But perhaps the most interesting region is Brazil where some have predicted "the biggest oil boom in Latin American history," with the focus being on their massive pre-salt oil fields located in the Atlantic Ocean. These fields are thought to contain recoverable oil reserves of a massive 50 billion barrels but in the past, they have proven difficult and costly to extract. But due to improving drilling technology, regulatory changes, labor reforms and significantly improved efficiencies it is believed that the average breakeven price for pre-salt fields could be less than $40 per barrel. This sent foreign energy majors flocking to Brazil's latest oil auction.
It is thought that if oil's rally continues for a sustained period, interest in the region from foreign energy companies will grow at a rapid rate. OilPrice reports:
Analysts have forecast that production from the pre-salt alone could make-up up to almost three-quarters of Brazil's oil output by 2021.
Adding to the attractive exploration and production backdrop, the world's largest oil companies recently posted some of their best earnings in years as they control costs and benefit from rising oil prices.
Rystad notes:
E&P companies have more free cash flow at hand in 2018 than they did during the recent peak years of 2008 and 2011. In fact, 60 percent of the companies looking to finance their project development costs can do so through their cash flow. Supported by strong oil prices, we see a very small risk of these projects not materializing.
Recent exploration efforts are already paying off. Chevron, Exxon Mobil, Shell, the British company BP and the French company Total have all announced significant offshore discoveries in recent months, in the Gulf of Mexico and North Sea, and off the coast of Guyana.
E&P reports:
With higher oil prices, improving exploration performance, and the cost of exploration falling more than 50% since 2013/14 plus fewer companies competing for acreage it could be argued that there has not been a better time to be exploring in the last decade," Keith Myers, president of research at Westwood Global Energy Group, said in a statement about the report. "The focus continues to be on deep and ultra-deep water for high impact discoveries.
Side Note: Before we get to utilization rates, let's take a brief detour to discuss the supply side. The offshore market was hit with a double whammy in the form of low crude prices, but also a massive oversupply of vessels across nearly all segments. The downturn in offshore demand further exacerbated the oversupply situation leading to sub 50% utilization in most segments, with some experiencing 25% or lower.
Therefore, it comes as welcome news that high scrapping rates have been aiding the market since December.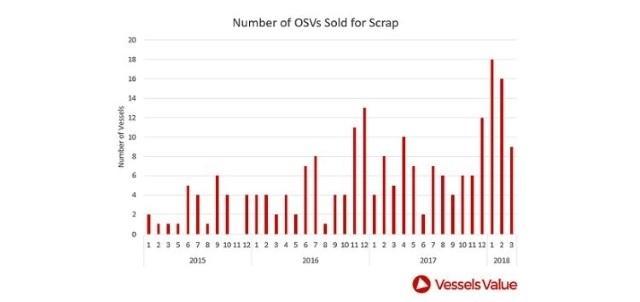 Source: VesselsValue
As of early May, OSV scrapping rates are up 153% year to date.
The combination of potentially increasing demand and high scrapping rates are needed to bring the market back into a state of equilibrium. Additionally, there are still a number of older vessels laid-up which may never re-enter service adding to a permanent reduction of availability. The image below illustrates this structural age problem in the jack-up market.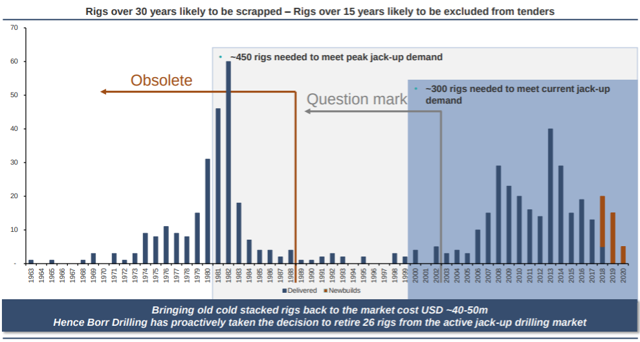 Source: Borr Drilling
This age problem can be carried over to almost all segments to varying degrees. As the supply of vessels shrinks, any demand uptick will have a more pronounced impact on overall fleet utilization and therefore rates.
Turing back to utilization, several analysts and companies have been reporting increased utilization amid a tighter market.
Wintermar Offshore reported that owned vessel utilization rose to 70% for 1Q2018 compared to only 50% in 1Q2017, supported by better utilization of mid- and high-tier vessels which had been idle in the same period last year.
Nordic American Offshore reported:
We are now optimistic for the North Sea market and we have decided to activate our 3 modern vessels in lay-up after which all our vessels are active.
Chart Shipping reported that in some regions availability of shallow water support vessels, small and mid-sized anchor handling tug supply (AHTS) vessels also continued to drop. This is a trend which started back in September and "most owners agree that they noticed a small but perceptible improvement in the volume of tenders coming through the pipeline."
Of course, that is a direct function of jack up tenders which has seen a sharp rise in activity.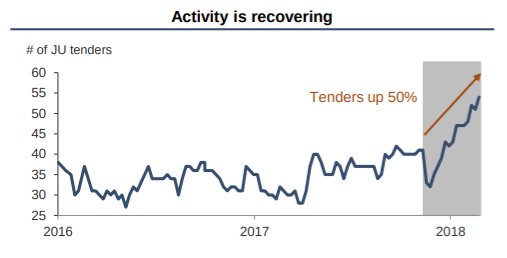 Source: Borr Drilling
Chart Shipping concluded:
The overall number of working rigs has nudged back up, thanks to a small jump in utilisation of drillships, pushing deepwater drilling back into the top slot.
An important point here is the regional nature of these vessels and the fact that not all regions are experiencing the same trends. For example, West Africa is showing an exceptionally tight market while Asia continues to be plagued by lower utilization and pitiful rates.
Rates
Utilization rates are still sub-optimal to say the least, and rates will not see a large boost until utilization crosses the 80%-85% range, but nevertheless some signs of gains are emerging.
GulfMark Offshore reports that Q1 average North Sea rates for their support vessels have seen a 13% jump from Q4 of 2017. They are forecasting North Sea average day rates up a further 20% or more in Q2 2018.
Of course, the North Sea has been leading the charge when it comes to rekindling offshore activity with others areas lagging behind.
But, the Gulf of Mexico is showing first signs of market tightening, with leading-edge, large vessel day rates up 5% since Q4 2017. GulfMark suggests that 2019 may be the turn-around year for that region.
Quintin Kneen, President and CEO of GulfMark, commented:
We are experiencing a strengthening market...I expect that we will see improving performance throughout the remainder of the year.
However, not all news on this front is positive. In Q1 many Asian owners reported lower utilization and charter rates for their vessels. For example, CF Offshore reported a 38% drop in revenue and utilization rates sliding from 67% to just 52%. The Southeast Asian market is the largest OSV market in the world but remains heavily oversupplied and some owners are sending their vessels abroad in search of better returns which may slow recoveries for other regions in close proximity. The good news here though is that of those 100 new projects (mentioned earlier) to be sanctioned in 2018, approximately 30 of those will be in Asia.
Asset Prices
While improving rates are a key to recovery, another important point can't be overlooked, that of asset prices.
VesselsValue was kind enough to provide a forecast for a 2013 Korean built Suezmax shuttle tanker.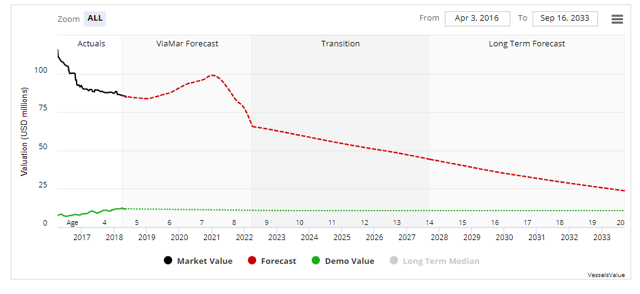 Source: VesselsValue
Notice that in 2019 we begin to see a rise in value that overwhelms expected depreciation. This is due to the expected recovery in the offshore market and to a degree (from what I understand with my conversations with analysts at VV) an expected recovery in the actual Suezmax tanker market.
Let's also take a look at another chart, the fixed age value for a 5 year old PSV.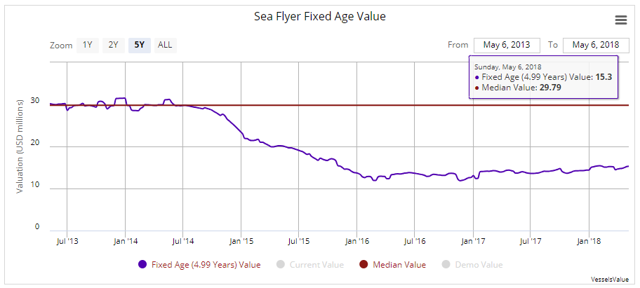 Source: VesselsValue
Notice that the decline in value corresponds to the decrease in crude prices and recently we have been seeing not only a stabilization but a slight uptick in value. This suggests that the market seems to believe that a bottom has been reached and a potential recovery may be manifesting, albeit at what many participants probably feel is at a glacial pace.
Past Bull Markets and Share Prices
We all are familiar with the tagline, "past performance is no guarantee of future results." But below is something I found a bit interesting and thought I would share.
Earlier we examined the cyclical nature of this industry and since every investor dreams of calling a bottom, Borr Drilling teased us a bit with some very interesting statistics on how stocks have performed in the past during cyclical upswings.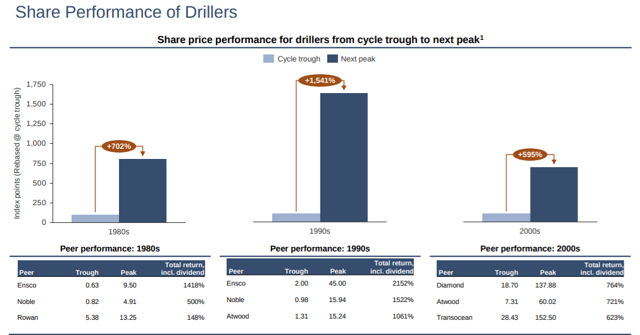 Source: Borr Drilling
Investing in the trough of a cycle has historically produced significant returns. What's more impressive is these returns took place over a short period of time.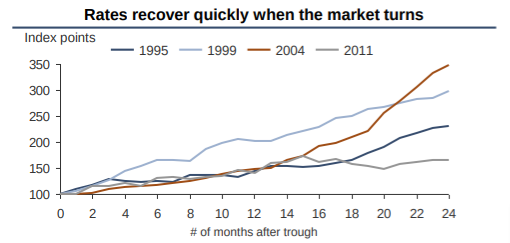 Source Borr Drilling
As noted in earlier, previous recoveries have lasted between 17 and 40 months. But as I have stated several times I believe this recovery effort will be a bit slower as there is still a massive amount of supply to work through in the market. On the other hand, the level of capitulation often can feed into the strength of a recovery and this market has faced one of the steepest slides in decades.
Conclusion
There is still a long road to recovery, but good news continues to emerge.
Crude prices have increased significantly from cyclical lows. This shift coupled with lower breakeven costs for offshore has inspired a fresh interest in offshore project sanctioning.
A return of investment in the E&P stage will ignite a fresh cycle, and vessels in various stages of construction, production, and support will soon feed of this as demand for each moves down the food chain.
Increasing demand along with the removal of older vessels, either through direct scrapping or lay-ups which will eventually be made permanent, should begin re-balancing the market. Returning a stacked rig or laid-up vessel to service will entail certain costs, and many companies do not have the capital to carry that out, and if they do, charterers may not even want these vessels as the reduced breakeven costs are partly due to improved efficiencies across the spectrum of the offshore market.
Offshore is not dead, in fact, we can't afford not to invest in this crucial long-cycle oil play as it is responsible for approximately 30% of our total global production. Ignoring this crucial play would entail disaster. Oil majors know this and had postponed reinvestment here until the cycle turned in their favor. That looks to be the case and more investment is expected as a result.
A recovery is not going to happen overnight. But it appears now that we are in the very early stages of one. However, the main concern going forward is still the massive overhang of vessels. Scrapping rates need to be sustained across the board, with the exception of shuttle tankers, and older tonnage removed. This will hasten a recovery effort and without it we may drag this downturn out a bit longer than needed.
Thank You
If you found this article helpful and/or would like to easily refer back to it in the future, please click the "Like" button and it will be saved to your favorites.
If you would like to stay up to date on my latest analysis, I invite you to follow me on Seeking Alpha (click the "Follow" button next to my profile picture at the top) as I continue to cover all aspects of maritime trade.
Finally, if you are wondering what is the best way to invest in maritime trade please visit Value Investor's Edge.
Disclosure: I am/we are long TOO, KNOP.
I wrote this article myself, and it expresses my own opinions. I am not receiving compensation for it (other than from Seeking Alpha). I have no business relationship with any company whose stock is mentioned in this article.
Additional disclosure: Value Investor's Edge is a top-rated research service dedicated to offering actionable trades and strategic income opportunities. We now cover a variety of deep value and income-driven sectors, while maintaining our focus and very profitable record of shipping industry coverage. Members receive exclusive access to over a dozen reports per month, including regular shipping and commodity macro analysis from James Catlin, exclusive content by top-tier deep value analyst J Mintzmyer, industrial and MLP ideas from Michael Boyd and international insights from Ian Bezek. This winning team has developed a dedicated following of highly knowledgeable investors and industry professionals who also share their own thoughts and ideas.
Editor's Note: This article covers one or more stocks trading at less than $1 per share and/or with less than a $100 million market cap. Please be aware of the risks associated with these stocks.