Gunnebo (OTC:GBOGF) is the type of company where simply knowing what all the business lines do by heart is half the challenge. With four global business lines and several products in each segment, Gunnebo can fairly be described as "multifaceted". However, the Swedish business has been languishing for roughly 10 years. The 5-year-to-date return as of writing (7th June) is approximately 10%.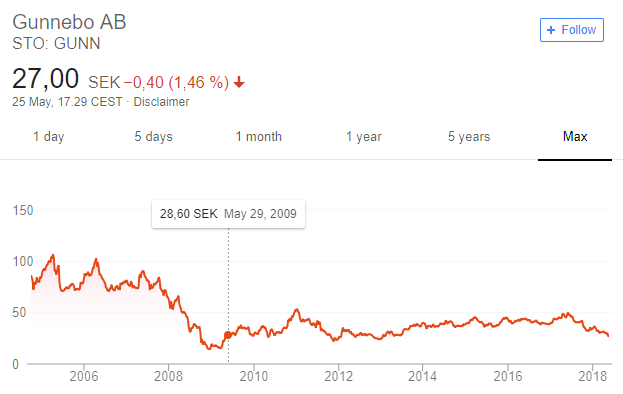 On a 12-month rolling basis, the company has returned -37%. The stock is not well-liked, to say the least.
We will delve further into the issues and opportunities as we move along, but Gunnebo is (in my opinion) a stock for those who like to keep a careful eye out for corporate actions. The 4 business segments are in relatively stable industries, but most are not performing well and are facing secular decline.
Gunnebo has some real risks facing its model and some reasonable strategies to combat stagnation and secular decline. A brief warning: this article is probably best-suited for patient investors who enjoy waiting as a situation unfolds, sitting idle for the perfect entry point. The business model has many facets, a lot of them are slow-moving, and given the relatively obscure Swedish listing, the stock could move slowly at times.
1: Introducing The Business
Seeing as the company has gone without coverage on Seeking Alpha, it makes sense to outline the basic business.
Gunnebo has four distinct business segments, as described below.
1.1: Safes & Vaults - 33% of Sales
Safes & Vaults is a global business, with Gunnebo having a 7% overall market share. The business segment has 62% of sales originating from EMEA, 23% from APAC, and 15% from the Americas. Gunnebo has traditionally been a player in the high-end space with recognized brand names. The utility is quite obvious: to store valuable goods. The customer segment ranges from institutions such as banks and companies to wealthy individuals. The primary buyers are companies which handle large amounts of cash or high-value assets.
Safes come in many shapes and sizes with many specific uses, such as fireproof safes. Vaults are generally high-end products sold to banks.
1.2: Entrance Security - 23% of Sales
Entrance security is an EMEA-focused business unit (61% of sales) with APAC sales of 22% and Americas constituting 17% of sales.
The segment sells access solutions that can manage in- or outflows of people from certain areas. The main offerings are gates with ticket- or card-reading software. The segment also sells electronic article surveillance, the retail store items that discourage stealing of clothes and other small items.
Gunnebo (from reading the company's press releases) primarily seems to sell to airports, train stations, and similar institutions.
1.3: Cash Management - 19% of Sales
The segment is primarily focused on Europe (65% of sales) and the Americas (25% of sales). Its main offerings are machines that handle deposits and cash recyclers.
Gunnebo's "Cash Management" solutions serve two main purposes.
The offerings can be placed in banks where the flow of money is substantial. The machines reduce labor load as they keep track of and transfer cash.
Deposit machines allow customers to deposit cash into their bank accounts. The machines can also be placed in retail stores to reduce the risk of fraud and theft from criminals and employees. The offering can be useful for casinos and other cash-heavy places.
A cash recycler is an essential product for any business that handles "heavy" flows of cash. Retailers, casinos, and banks may purchase the machines on their own, or CIT companies may be an indirect distribution channel.
While I generally don't copy-paste case studies from corporate documents, I did feel that this specific case study outlined the value proposition of cash management services quite well:

(Source: Company 10-K)
1.4: Electronic Security - 18% of Sales
Gunnebo offers electronic security solutions, which is focused on monitoring and detecting security threats.
The market is huge, and the company has less than a 1% market share. There are hundreds of large competitors. The market is attractive, with stable and recurring demand.
Gunnebo manufactures electronic locks and has created a platform to manage video monitoring and other security services.
1.5: Consolidated
On a consolidated scale, EMEA is by far the largest geography measured by sales with 64% of total group revenues. APAC and Americas both make up 18% of sales.
Gunnebo had $680 million in sales with EBITDA of $50 million and earnings of $18 million for the fiscal year '17. The company carries $120 million in debt and a substantial (+$40 million) pension liability. It has a market cap of $230 million, or slightly above 12x earnings and less than 40% of sales. At an EV/EBITDA multiple of ~8x, the company is cheap on an enterprise basis.
Given that we now understand what Gunnebo produces in both offerings and numbers, we can begin our analysis of the company.
2. Secular Decline and Issues
There are some central issues plaguing Gunnebo, and I will attempt to outline the facts briefly but precisely on each topic of interest. The root cause and potential solutions will be presented in the third chapter.
Let us look at the symptoms before attempting to understand the root cause.
2.1. European Trouble
The first difficulty is handily outlined in the image below:

(Source: Company 10-K, Page 27)
With a consolidated operating margin of less than 6% for Gunnebo, the above image doesn't indicate that APAC and the Americas are wildly profitable, but rather that EMEA is facing significant issues. Specifically, France has experienced consistent negative organic growth. EMEA seems to be wildly unprofitable. In fact, the segment has vastly inferior profitability to a very comparable product mix across the Atlantic, even with greater scale: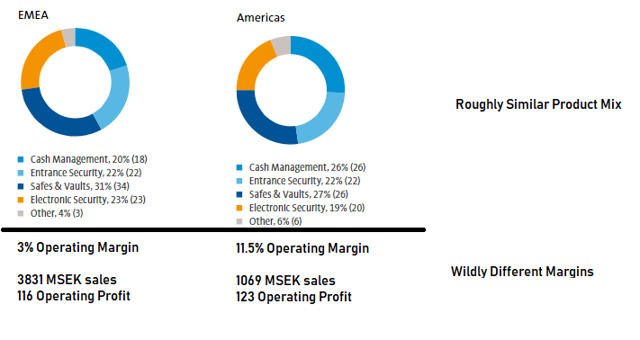 (Source: Company 10-K for graphs, page 64. Company 10-K for Operating figures, page 28. Author's text.)
While the segment operating profit calculation isn't explicitly outlined, there is a decent chance that true cash flow generation is even worse comparably. Below is a comparison photo (compiled by the author) contrasting CapEx to depreciation.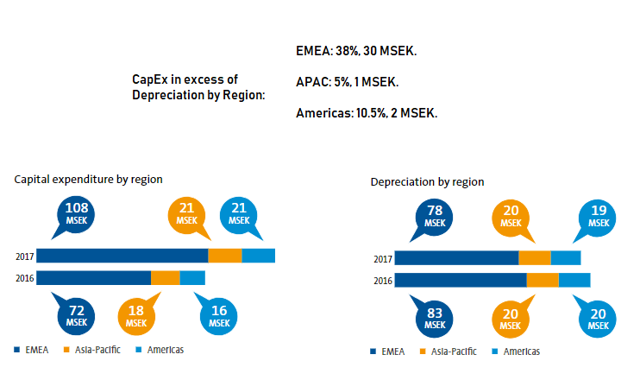 (Source: Company 10-K for images. Calculations author's own.)
The first issue is clearly that the EMEA segment is materially less profitable and more capital-intensive.
2.2: Organic Growth Rate
The second issue is the organic growth rate.
The core issues (covered in Chapter 3) have spread across the company enough to cause wide-scale decline, as evidenced by an extremely lethargic organic growth rate. Keep in mind that most "peers" are growing 3%+ organically. Most aim for (and some achieve) 5% organic growth per year.

(Source: Sentieo, Capital Markets Day Presentation)
The organic decline isn't simply a one-market phenomenon. I have attempted to briefly outline which markets have experienced declines.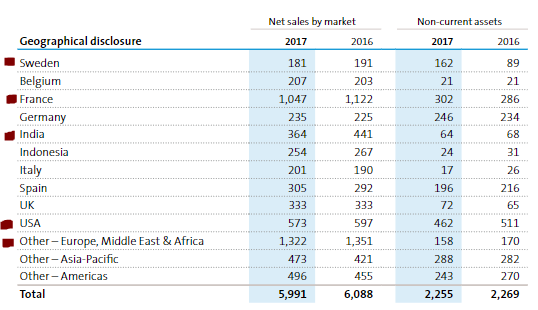 (Source: Company 10-K, red marks by author)
Notice that the non-current asset account doesn't seem to highly correlate to account decreases. In Sweden and France, capital wasn't released - rather the opposite, as sales declined.
The move has continued into the new year, with Q1 sales imitating the figures above.

(Source: Company Q1-18 Press Release)
It is clear that its organic growth is materially below peers' and targets.
2.3. Conclusion and Teaser
Gunnebo has a large segment of unprofitable sales (indicative of a non-functional business unit) and issues with organic growth. A shallow thesis would perhaps leave it at that and call it a day - after all, why would you buy such a dud?
Bad performance is binary. What I mean by that sentence is that bad performance can either improve and grant returns, or it can kill off a business by making it noncompetitive. Much like an improperly capitalized business can profit off a recapitalization (shout-out to peer G4s) or go bankrupt due to an excessive interest expense.
In the ugly performance, there is potential for improvement but also deterioration. The key issue is: What is causing this, and can it be fixed?
To phrase it properly, the question is actually a gradient: To what degree can the issues be fixed? In the next chapter, we outline the root issues and attempt to see how fixable they are.
3. Getting To The Bottom of It All
So we've seen the discouraging fundamental performance, but what is causing it? In a brief outline: Geographical segment issues and business line competitive positioning. There are also several segments and geographies that are performing admirably and seem to be showing great potential. Given the large number of issues, we will briefly outline each, the company response, and personal analysis on the subject matter.
The French Connection
The largest detractor from overall performance has been France. The French segment is important for Europe, but the company hasn't exactly experienced great success. Costs have ballooned, safes & vaults have faced decreasing volumes, and electronic security also contracted as a result of banks. France has two big factories, so it is obviously advantageous if the home market is performing well in terms of logistics.
Gunnebo's management has begun a strategic review of operations. Their immediate reaction was to "focus on developing business in new segments," while streamlining operations, strengthening procurement and consolidating warehousing. The plan kicks in from H1 2018, which is from the next quarter. The new targeted markets are interesting: industrial and high-risk sites, along with mass transit. It seems unlikely that a developed country like France would have massive new-built infrastructure/mass transit needs. I've taken trains all around Europe, including France, and the service is largely in line with that of adjacent countries.
My guess is that transit isn't exactly in the national budget, as French national rail workers are currently striking. The budget will probably be spent on re-mediating the workers' conflict, not new ticket machines.
Cost structure improvements could be viable. The extremely margins definitely indicate that current operations are inefficient.
Given that the production base is in France, divesting the segment would initially seem to be extremely difficult. Roughly 70% of goods are consumed domestically, but 30% of French goods still amount to almost 10% of the rest of EMEA's sales.
France turning around is mission-critical, and there seems to be no easy way out. I will primarily keep my eye on cost structure improvements.
Market Positioning: Selling Safes Won't Save Sales
The segment that I have the most bearish attitude towards is the safes & vaults selling business. In my view, the segment is simply ill-positioned. The company's annual report outlines the reasons well:
"The market for safes and vaults can generally be split into two segments: high-end and low-end. The high-end segment is traditionally Gunnebo's strongest and is shrinking due to the dependency on banks, which are themselves contracting in many parts of the world".
The market for safes is much stronger in emerging markets and low-end safes. Gunnebo is attempting to "pivot" and enter these markets. The market for these goods has a growth rate in excess of 6%. Great, right? Well, I'm bearish on the transition.
First of all, the Gunnebo brand will be hard to maintain with production of low-quality goods, while the brand won't help much in emerging markets. Furthermore, the key markets for safes in Europe are highly sophisticated players such as ATM manufacturers and banks. In the personal low-end market, the sales process will be more focused on branding and distribution channels, like other consumer goods. While Gunnebo management is sound, I am bearish on their ability to pivot the safes & vault segment in a manner that will lead to the segment retaining the level of attractiveness it currently has.
Cash Dying Is A Real Risk
Many journalists seem to think that cash is dying (1, 2, 3). For now, the statistics seem to indicate stagnation more than anything else (except in Latin American countries).
While the death of cash might not be a real worry for the next 6-8 years, the business is more dependent on cash being used than initially imagined. First of all, the company obviously has a cash segment, but the safes & vaults segment also heavily relies on cash being used. Cash safes make up a 15%+ of safes sales (23%, according to this source). Bank branches (the physical buyers of vaults and entrance systems) also largely exist to handle manual deposits and other activities. If these activities largely disappear, the business is more exposed than the segment sizes indicate at a shallow inspection.
Cash management might do well in the short term, but long term the business model is at heavy risk. Even in the medium term, the disruption of brick-and-mortar by e-commerce reduces a key customer demographic.
CMS Risk: Peers Offer Better Services
Besides the macro risk in cash, the CMS segment might also suffer competitive pressures from peers. My work on cash-in-transit player Loomis (OTCPK:LOIMF) outlined that the company's primary corporate strategy (besides the usual cost-cutting and efficiency measures) was to expand its operations in cash management systems, and quite aggressively so.
The offering of Loomis is greatly synergistic. Cash management systems often require safe pick-ups by trained personnel. The economics of density and utilization play a role in making cash-in-transit providers the obvious integrated providers in the space. Loomis is the largest CIT operator in most European countries and in the US. Loomis is more than 3 times the size of Gunnebo. Loomis's CMS segment makes up a third of sales. The newest offerings include FX and denomination projection algorithms. The company has a much broader network of cross-selling opportunities, and its position seems to enable lower-cost services.
Having looked at both Gunnebo and Loomis, I would peg the Loomis offering as superior. Of course, both companies could still experience growth, but if you prefer to invest with best-in-breed operators, then Gunnebo's CMS segment does not offer that. Loomis will be heavily investing into the space, as it makes up a core part of the company's corporate strategy. Loomis expects to grow 4% organically on a consolidated basis. A large percentage of that will be from CMS.
Electronic Systems: David and Goliath
The electronic systems segment is very focused on systems integration - the launch of its new platform, the proud ability to participate in the more technologically innovative aspects compared to safes or coin counters. I don't believe it is a good space to operate in as a small player in the intermediate term.
Security giants like Securitas (OTCPK:SCTBF) and G4S (OTCPK:GFSZF) are heavily investing in the space. That, by itself, is not a major worry - but the key risk is that they offer much better full packages than Gunnebo does. Both can provide manned services, security consulting, systems integration, and are extremely recognized companies. "Nobody gets fired for buying IBM" also applies to security. G4S and Securitas seem to offer material synergies, as the integration of their labor and technology is the main job. Gunnebo offers no synergies. It is at a structural disadvantage.
Luckily, the M&A environment seems strong. Gunnebo could (and perhaps should) divest its operations. It might even be paid extremely well. The cash infusion would also indicate shareholder-friendliness and liven up the soggy multiples currently assigned to the stock.
Summary: Jack Of All Trades, Master of None
I am no great believer in synergies, cross-selling, or most other "strategic" reasons often provided by management teams when talking about acquisitions, but in this specific case, Gunnebo very much seems like half its segments are unable to achieve status as a full-service provider.
Niche providers have their place, but if you're the proverbial ice-cream salesman who only sells cones, you're facing an extinction risk from the shops that sell both cones and ice-cream. The good side of adversity is the opportunity for improvement. With the current state of events, I feel no haste to invest, but if any of the following events were to occur, Gunnebo would look vastly more attractive:
The French operations being gradually fixed.
An Electronic Systems segment divestment.
Product innovation in the CMS space.
A product portfolio in the inexpensive safes market at an acceptable ROE and margin profile.
The Gunnebo story isn't all negative. I've simply focused on the bad aspects as this article was meant to explain the comparative multiple gap between the company and its peers. Positives include access solutions in the APAC geography and exposure to South America. I'm simply not interested in the positives at the current multiples, given the potential "negative runway" on many of issues. Gunnebo is currently below the investing quality threshold, in my opinion.
Disclosure: I/we have no positions in any stocks mentioned, and no plans to initiate any positions within the next 72 hours.
I wrote this article myself, and it expresses my own opinions. I am not receiving compensation for it (other than from Seeking Alpha). I have no business relationship with any company whose stock is mentioned in this article.