Note: This article was originally published May 30th on Value Investor's Edge, a Seeking Alpha subscription service. Please take advantage of our two-week free trial going on through June 15th.
LPG
LPG vessels are designed to carry liquefied petroleum gas such as propane, and butane. Additionally, some are capable of carrying ammonia and petrochemical gas cargoes such as ethylene, propylene, butadiene and vinyl chloride monomer ("VCM").
Companies engaged in the sector include, but are not limited to, Avance Gas (OTCPK:AVACF), StealthGas (GASS), Navigator (NVGS), BW LPG (OTCPK:BWLLF), and Dorian LPG (LPG).
Background
The LPG segment has been suffering from the same oversupply issues plaguing virtually every segment of maritime trade.
2014 saw a surge in rates as US exports boomed and Asian demand increased significantly. This led to a surge in rates.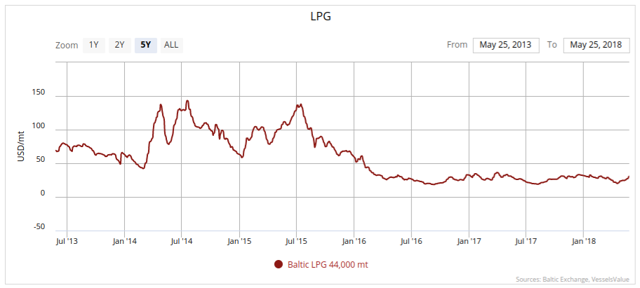 Source: VesselsValue
Another factor also contributed to these high shipping rates aside from robust demand. From 2011-2014 just 26 VLGC's were delivered into the market. To put the amount of vessel supply hitting the water during that time into context, the previous four years witnessed 59 deliveries.
But 35 VLGCs newbuilds hitting the water in 2015 eventually began to take its toll on the market. In August of 2015, rates in the VLGC segment started to respond to this influx of vessels and began what can only be described as a free fall.
It was at this point where the rapidly expanding VLGC fleet began impacting the smaller classes, as a larger share of the LPG trade was being carried on VLGCs due to greater availability and increasingly attractive economies of scale. This is known as cascading and as a result, demand for the smaller vessel segments began deteriorating leading to a decline in time charter rates for these ships as well.
This trend was reinforced in 2016 with the addition of 44 VLGC deliveries. Once again, for context, the 2015 and 2016 vessel additions amounted to 79 vessels which was just six less than what hit the water during the previous 8 years. 2017 saw another busy year with a total of 21 VLGC's hitting the water but things have slowed down in 2018 with just 8 deliveries so far this year and speculation that many owners have pushed back delivery dates until 2019 making further additions in 2018 scarce.
Just to present a complete picture regarding the drop in rates, it is noteworthy that over this time we did see a key drop in demand coming from dwindling arbitrage opportunities which added to rate pressure. The price differential between LPG in the US and Asia has averaged a mere $60 per tonne in the third quarter of 2016, down from $208 per tonne over the same period last year. However, without a doubt the vast majority of the drop in rates continued to come from vessel supply outstripping demand growth.
Furthermore, Platts notes that seasonal arbitrage opportunities as of late have defied traditional expectations, which has placed further strain on LPG shipping rates.
Demolition Potential
There are two ways to correct a supply side imbalance. First, through large amounts of demolitions. Second, by curbing vessels hitting the water so the demand side has a chance to catch up with supply.
Demolitions can have an immediate impact by taking tonnage out of the equation right away. But curbing deliveries can be a more tedious process, which can sometimes take years to play out. It starts with curtailing orders for newbuilds, but due to the lengthy nature of the shipbuilding process that takes a couple years to really see an impact on deliveries. But, even after deliveries have slowed, the market will need additional time to adjust. That amount of time depends on the magnitude of the market disequilibrium.
Since the start of the year we have seen quite a bit of demolition activity. However, VesselsValue shows that only 3 of the 21 demolitions that took place so far are in the LPG segment were in the VLGC class.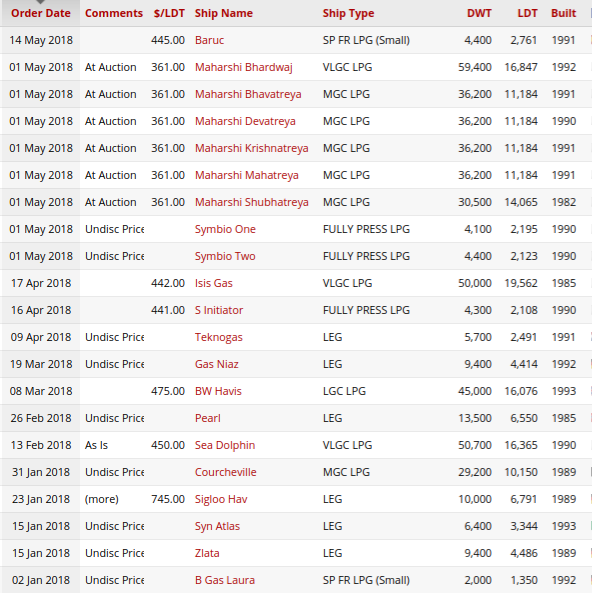 Source: VesselsValue
The youngest vessels to be sent for scrap have been approximately 25 years of age.
On the StealthGas earnings call Harry Vafias, the CEO of StealthGas, commented that there is evidence that values are firming even on older vessels. He noted the company recently sold the Gas Legacy (1998 built fully pressurized 3,514 cbm) at 5.6 times demolition value and the Gas Evoluzione (1996 built fully pressurized 3,504 cbm) at 4.2 times demolition value. This indicates that smaller tonnage in this age range is far more likely to enter the S&P market and not sold for scrap placing a sort of floor in terms of age for the demolition of vessels.
As for the larger classes, such as the VLGC, immediate demolition potential remains limited with just 28 vessels built in 1993 or before, representing less than 10% of the total fleet including the orderbook, and some on the water still from the 1980's showing just how long these vessels can remain in service.
There are only two on the water from the LGC class in that age range, built in 1992 and 1991. While there are only 13 in the MGC class built in 1993 or before representing approximately just 10% of that class.
The point here is that a lack of demo candidates coupled with a second hand market which can provide much better prices than the demolition market to those wishing to divest themselves of tonnage should keep scrapping subdued for the near term.
Expected Deliveries
Just one year ago the LPG market looked to be set to embark on the road to a re-balancing effort in mid-2018. A thin orderbook was paving the way for a recovery as deliveries were set to slow following an approximate 80% fleet growth over a 5 year period which outpaced demand by a massive degree. This was in large part due to the very limited ordering seen in 2016, with just 17 orders for new vessels placed.
But owners again were the cause of their own woes as new orders accelerated in 2017 and into 2018. 31 orders were inked in 2017 with many of those being in the VLGC class. So far in 2018 17 new orders have been placed with the vast majority of those in the VLGC class. Once again, sheer vessel numbers do tell a story, but the real issue here is the amount of capacity these new VLGC orders bring to the market.
To put the vessel numbers vs. capacity metric into context, in terms of vessel numbers the orderbook for the LPG segment totals just 5.8% of the current fleet, which is seemingly a very manageable number. However, in terms of capacity, those orders represent 12.5% of the current fleet.
The vast majority of these orders are found in the VLGC class, and while 2018 is seeing a very subdued delivery year, 2019 won't be so lucky with the potential for 30 deliveries, if the remainder of 2018's are pushed out to 2019 as some expect they might be.
This means that while there is the potential for demand growth to outpace supply in 2018, which would be a precondition for a market improvement, 2019 probably won't see a repeat of that trend.
The potential for a bit of a false start regarding a sustained recovery therefore exists in the short term.
So while brokers have recently noted some strength returning to the market it should be viewed with a cautious eye in terms of it developing into a long term trend. That recent strength can be traced to an uptick in demand. As Fearnley's noted in their week 20 report, an arb trade kicked off in May out of the US gulf and this could be behind some of the recent activity. Of course, arb trades have no set timeline as to how long they can continue and can disappear as quickly as they appeared.
But VesselsValue suggests that this arb trade may continue along with high oil prices. "US Propane prices are closely correlated with WTI oil prices. The low freight environment should encourage more arbitrage shipments from the region, and increase ton mile demand, particularly on VLGCs."
One final question some may have is why so many VLGC's have been ordered as opposed to other classes? The answer might be found in prices for newbuilds. Through 2017 and into early 2018 VLGC newbuild prices were in the high $60m. Whereas in the past they were typically in the mid $70m to low $80m range. Owners likely rushed into the market in an effort to secure these prices which have recently climbed back to previous levels. In fact, the last two orders for VLGC's came in at $85m each, a far cry from the $68m paid for a similar vessel just a few months ago in January.
Smaller vessels didn't see as attractive a situation develop in terms of vessel prices so they were spared from this rush to place orders. In fact, World Maritime News reports that "with regard to the potential ordering of small pressurized LPG carriers, CEO of Epic Gas, Charles Maltby, said that the pricing of newbuildings in the sector is not compelling at the moment. Hence, it is not expected that many owners would be tempted to order new tonnage."
The climbing prices for VLGC newbuilds will hopefully inspire a return to more acceptable levels of ordering which will again pave the way for a future re-balancing effort.
Smaller Vs. Larger
As I recently detailed in my latest container shipping update, the ability for cascading isn't unlimited. Trade lanes, distances, port sizes, regional demand needs, etc. all mean that only so much displacement can occur before the limit is reached.
This indicates that while there is still a supply side issue in the larger VLGC class, the smaller LPG classes will at some point stop feeling major effects brought on by this situation. Rates will again be set by their own supply/demand balance. That inflection point may already be upon us.
In fact, while VLGC rates have experienced a wide range of rates over the course of 2018, falling 80% from their high to low, smaller classes have shown a great deal more stability.
This is largely due to the smaller classes' improving fundamental balance which should continue to favor higher charter rates going forward.
Demand remains strong for regional LPG trades and a very thin orderbook among smaller vessels could actually result in some net fleet reductions in a few classes over the next couple years.
The result of this will likely be a bifurcated market over the course of the next couple years.
Therefore, knowing which companies have a fleet geared toward the smaller LPG classes as opposed to the larger VLGC's will be crucial in determining how to invest in this specific segment.
Demand
Of course, there is one other way for a market to re-balance from a massive oversupply situation - massive demand growth. Going forward two key areas should be watched in order to determine just how LPG demand will fare.
In 2017 there was just shy of 100m tons of LPG cargo traded.
India
In 2017 India surpassed Japan and became the number two importer of LPG just behind China. Data for 2017 shows that Indian imports totaled 11.896 million mt, up 22.27% on the year.
Demand growth is expected to increase by another 3m mt this year and with Indian LPG production growth severely lagging demand increases most of this is expected to be satisfied by imports.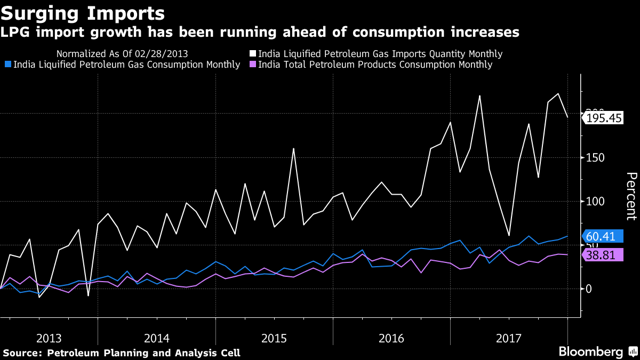 Source: Bloomberg
A cornerstone of this increasing demand is a policy shift which aims to subsidize and supply LPG to numerous areas of India. The Government recently raised its target for providing free cooking gas connections to the poor by 60% to 80 million families.
Prime Minister Modi recently reaffirmed this commitment with the intention to achieve 100% coverage. Not only is a measure which will aid the poor, but it can help to promote clean air, something India has struggled with in recent years.
Policy directed measures are often the most influential forms of market change that occur in shipping thanks to the influence and ability of governments to ensure they are carried out. When these policy shifts occur in a heavily populated area, the impact can be quite impressive. Recently we saw policy directed measures in China which replaced coal heating with LNG and LPG resulting in a massive demand increase for both.
In the near future, thanks in large part to these policy directed measures, India's LPG imports are expected to rise by nearly 17% year on year, almost solely driven by retail demand.
China
Chinese LPG demand is estimated to grow around 7% in 2018. China imported 18.52 million mt in 2017. With China's oil and gas exploration sectors in a downward spiral thanks to an ongoing lack of investment the reliance on LPG imports will continue to grow.
As noted earlier, a policy directed measure to replace coal with LNG or LPG created a boom in demand in 2017, contributing to a 9% increase. Aside from residential uses, which make up a minority of Chinese LPG demand, China's growing petrochemical base will have a major impact on import demand.
As Chinese petrochemical demand grows, increased deployments of the Propane dehydrogenation, or PDH, a process for producing propylene (with lower costs than competing technologies), has led to gains in propane demand.
Attractive margins are expected to continue in 2018 which should further ramp up utilization of China's new plants. Furthermore, two additional PDH units are coming to China with start-ups assumed for 2019. This will bring the total to 10 plants. China has historically been a net propane importer and will remain so going forward. All China PDH projects will have to rely on imported propane from North America and the Middle East since they are configured to use imported propane. About 40% of the propane imported by China is used by PDH plants to produce propylene.
Other
Aside from China and India other significant sources of LPG demand are emerging. In 2017 two other nations contributed in a big way.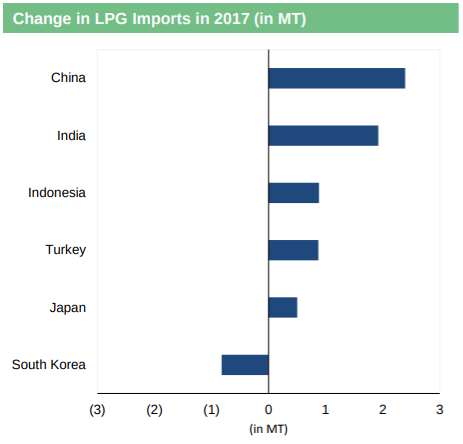 Source: BW LPG
The imports into Turkey may not be a sustainable trend. Star refinery is set to begin operations in October and is expected to halt jet fuel imports while decreasing LPG imports from 79 percent to 70 percent after the plant becomes fully operational by 2019.
However, Data from IHS Waterborne Energy show that Indonesia received 119 very large gas carrier (VLGC) cargoes in 2017, up from 100 in 2016, contributing to a 17% year-on-year increase in imports, which reached 5.2 million tonnes.
A decade ago, Indonesia was a net exporter of LPG, but growing domestic energy demands have turned the southeast Asian country into the fifth-largest receiver of seaborne LPG.
Indonesia's LPG imports have been driven by political efforts to increase LPG consumption as well as falling domestic LPG production.
LPG Supply
Much like the LNG market a couple years ago, availability had a major role to play in future adoption. Stable and abundant supply coupled low prices was instrumental in allowing new and existing importers to feel comfortable making the shift. The US has been a major contributor as of late to global LPG supply growth and consequently exports.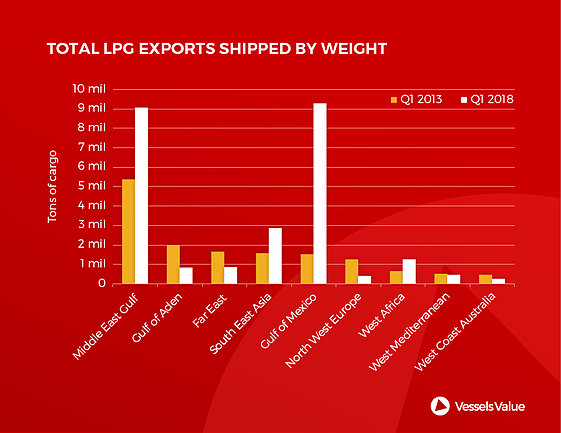 Source: VesselsValue
The other major supplier, the Middle East, actually experienced a decline in LPG exports in 2017, the result of OPEC cuts.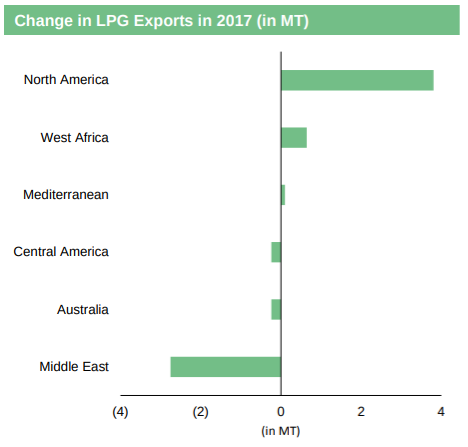 Source: BW LPG
Poten & Partners believes LPG production in the US is anticipated to grow around 9% in 2018.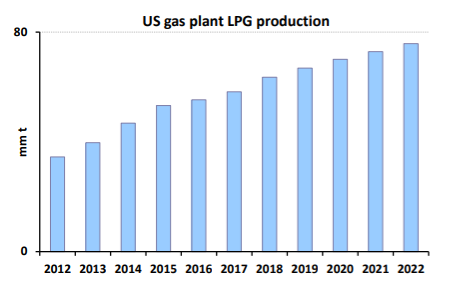 Source: Poten & Partners
The advent of US LPG export growth coupled with the fact that much of that new capacity has been absorbed by Asian markets has led to robust gains in ton mile demand.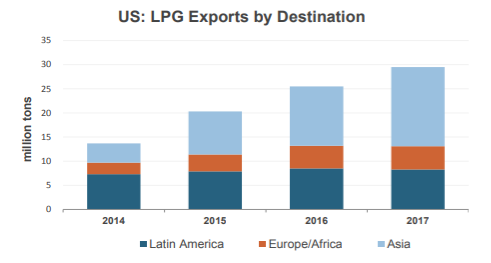 Source: FG Energy
While some suggest there is limited growth in US domestic demand, therefore much of this will be pushed out to the export market, others are not so sure.
Recently DNB made headlines by suggesting that "although US LPG production grows according to forecast (up 8% YTD YOY), a surprisingly strong US domestic LPG demand (up 15% YTD YOY) and lower US LPG inventories YOY has led us to forecast zero US LPG export growth for 2018, for the first time in seven years. This puts both utilisation and rates under pressure to an extent where the peer group's liquidity could become a concern. Thus, we have reduced our sector view to neutral."
Much of the ton mile demand growth we have seen of late has been the result of US export growth to far off destinations. However, if the US truly is held to zero growth in exports this year, ton mile demand would inevitably suffer. But, it is noteworthy that even DNB sees this as a temporary issue. "We forecast LPG tonne-mile demand growth of -1% for 2018e (down from our previous forecast of 8%), while we have raised 2019e to 13% (from 5%) and 2020e to 6% (from 3%)."
While it is true that recent months have seen a decline in US exports of LPG from recent peaks, this trend has been observed several times since 2012 when US exports began gaining prominence. Each time the downtrend has abated after just a few months and soon went on to post new highs. DNB provided no solid evidence (in my humble opinion) as to why this time would be different which is why many may be correct to be skeptical of such a dire contrarian forecast.
Interesting Trade Flow Shift
Almost 99% of India's LPG imports were from the Middle East last year. Platts reports that a source from a state-run company said India will continue to import mainly from nearby Middle Eastern producers.
"The more US shipments go to North Asia, the more supply from the Persian Gulf can be made available to India. India can get better bargains," he said, adding that importers must assess if the US LPG can be economical due to the distance.
The reason why US LPG, which now composes the largest share of global exports, is being excluded is due to the distance. The round voyage takes eight days (excluding port days) from the Middle East to the west coast of India, versus 50 days from the US.
With Australian LNG development comes LPG, which is found naturally in combination with other hydrocarbons and therefore comes from drilling oil and gas wells. Increasingly, Australia is being eyed as a potential supplier to India.
This means that US LPG will likely find it tough to enter the Indian market, but thanks to the recent Panama Canal expansion, which is large enough for all LPG vessels, US LPG is making gains in East Asia.
Therefore, what we will see is East Asia being supplied increasing by US LPG while India is turning to the Middle East. This shift in trade flows could alter the ton mile demand picture of this segment and is another area to keep tabs on.
Initial impressions are that this shift should be positive for ton mile demand. Mind you, the MEG is exporting less and more of that is going to India which means Asia, which composes the lion's share of LPG demand is turning to the USA, which has an almost 4,000 nautical mile increase in distance over that of the MEG.
Conclusion
The distortion in the LPG shipping market can be traced primarily to the massive influx of VLGCs hitting the water starting in 2015. Not only did this take a toll on that particular class but it had a ripple effect through the entire segment.
Demolition prospects appear to be scarce, there are still many newbuild VLGC's on order, and following an 80% increase in vessel supply over the past five years the market remains a bit oversupplied even with the high degree of LPG demand growth.
However, there are bright spots. India and China are both positioning themselves for significant demand growth over the coming years.
Arb trades appear to be opening up which should buoy demand.
Some companies are reporting increasing utilization which should translate into higher rates.
Smaller classes look to be in a far better position with cascading beginning to wane and their orderbooks at extremely thin levels in some cases.
Efforts are being made to control the pace of tonnage hitting the water, and as we see in the container shipping segment among the ULVC's on the Asia to Europe route, this can prove successful.
Rising newbuild prices for VLGC's should discourage the same degree of ordering we have seen since 2017.
Overall, it seems reasonable to expect marginal improvement in smaller classes in 2018 with improvements in 2019 and beyond. This could be aided by negative fleet growth in some classes.
For the larger classes depending on how the US export situation develops, arb trades continue, and the degree to which orders and the pace of newbuilds hitting the water proceed we could begin to see some very slight improvement there as well. However, there are numerous wild cards there that can prove hard to accurately forecast especially since owner decisions and arb windows can be hard to predict.
With VLGC orders hitting the water in 2018 expected to be very low, but pick up pace again in 2019, one should keep a watchful eye on that particular situation as rates may improve only turn down again. The pace of deliveries coupled with demand will be key in determining if any short term bump in rates is sustainable or simply a false start. If demand can remain robust in 2018, surpassing 2018 vessel supply, that would put us one step ahead for how the market could absorb the tonnage in 2019. After all, LPG trade has grown at about 6% per year over the past decade. The tonnage in the VLGC pipeline through 2019 (which comes in at approximately 11.5% in terms of capacity) could be readily absorbed if that continues to be the case.
Thank You
If you found this article helpful and/or would like to easily refer back to it in the future, please click the "Like" button and it will be saved to your favorites.
If you would like to stay up to date on my latest analysis, I invite you to follow me on Seeking Alpha (click the "Follow" button next to my profile picture at the top) as I continue to cover all aspects of maritime trade.
Finally, if you are wondering what is the best way to invest in maritime trade please visit Value Investor's Edge.
Disclosure: I/we have no positions in any stocks mentioned, and no plans to initiate any positions within the next 72 hours.
I wrote this article myself, and it expresses my own opinions. I am not receiving compensation for it (other than from Seeking Alpha). I have no business relationship with any company whose stock is mentioned in this article.
Additional disclosure: Value Investor's Edge is a top-rated research service dedicated to offering actionable trades and strategic income opportunities. We now cover a variety of deep value and income-driven sectors, while maintaining our focus and very profitable record of shipping industry coverage. Members receive exclusive access to over a dozen reports per month, including regular shipping and commodity macro analysis from James Catlin, exclusive content by top-tier deep value analyst J Mintzmyer, industrial and MLP ideas from Michael Boyd and international insights from Ian Bezek. This winning team has developed a dedicated following of highly knowledgeable investors and industry professionals who also share their own thoughts and ideas.