By Lisa Reisman
Based on a quick search of exemption requests to the Section 232 steel tariffs, the Department of Commerce received 9,935 requests as of press time. However, MetalMiner could not find any additional grain-oriented electrical steel (GOES) requests since last month, when Nachi American Incorporated filed four requests on grounds that the only domestic GOES producer cannot produce in the widths required.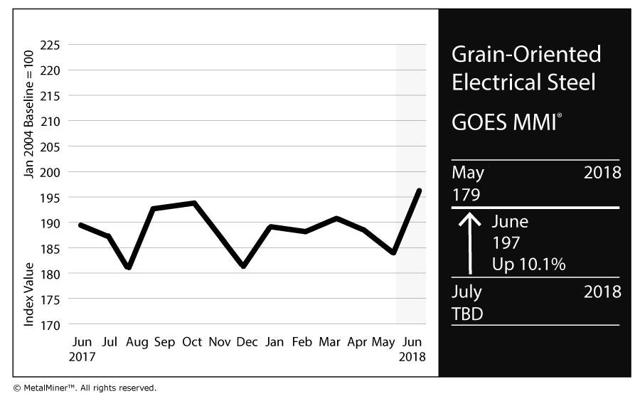 Before Trump's May 31 announcement that country-specific exemptions for Canada, Mexico and the E.U. would no longer be honored, AK Steel (NYSE:AKS) announced a new, high-permeability GOES product family, Trancor X, "for use in high and ultra-high voltage power transformers. High permeability GOES products represent the most technologically-advanced and highest-efficiency electrical steels in the world," according to the company.
Time will tell if this new product offering will make it more difficult for companies to challenge the Section 232 tariffs covering GOES. As of press time, AK had not published additional technical data on Trancor X.
Meanwhile, imports notched back up in May, as did imports from Japan: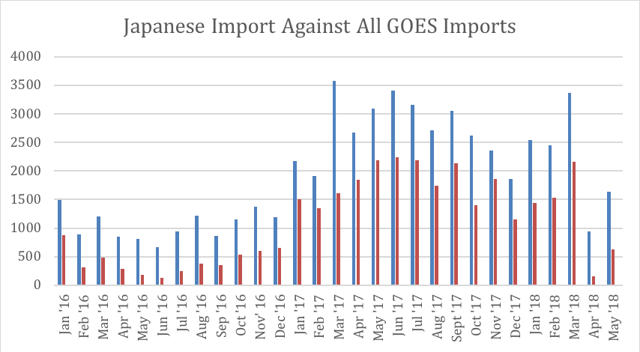 Source: ITA
New Round of Pricing
U.S. GOES M3 prices jumped 8% this past month while Japanese mills have begun their GOES negotiations for the second half of this year, with anticipated price increases of over $100, according to a recent TEX Report.
Exact GOES Coil Price This Month
The U.S. GOES coil jumped from $2,474/mt to $2,712/mt. The MMI increased 18 points from 179 to 197.