Background
This month's article marks the thirty-ninth installment in my on-going series outlining my efforts to achieve dividend growth success. The portfolio is nicknamed the MnM portfolio, which is a moniker for "Minne(sota) 'n Monthly."
Note: The portfolio expanded to 32 stocks. I have recently adopted a revised strategy, resetting my target portfolio size to 33-34, down from my prior target of 40. For me, this portfolio size will be easier to monitor while still maintaining strong diversification.
I also receive 100 free trades each year from my brokerage, so I can trade in small quantities without worry about brokerage trading costs.
That being said, here's what happened in May.
May 2018
After a rough start to the year, it was nice to see the portfolio bounce back a bit this month. The portfolio saw a ~1.8% rise and finished the month down 3.8% for the year. I would say the performance is largely in line with the S&P 500 Value Index which also is down, by ~2.8% for the year. I continue to attribute the difference to the REITs in the portfolio, which have lagged, but are finally starting to see a little bit of a rebound.
I do occasionally benchmark my dividend growth against the Vanguard Dividend Appreciation ETF (NYSEARCA:VIG), which I write about in separate articles on SeekingAlpha. I will update that comparison up in a few months.
I have captured the activity for May and for the year-to-date in the standard rollforward summary below.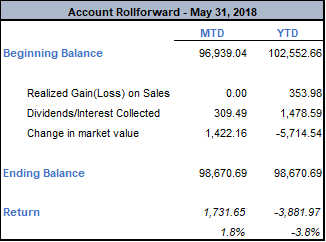 The portfolio collected $309.49 in recurring dividends and $.01 of interest during the month, which is up ~7% from last May's receipt of $290.71. For the current quarter, income is expected to finish up 10.3% year-over-year.
The portfolio was comprised of the following securities as of May 31, 2018: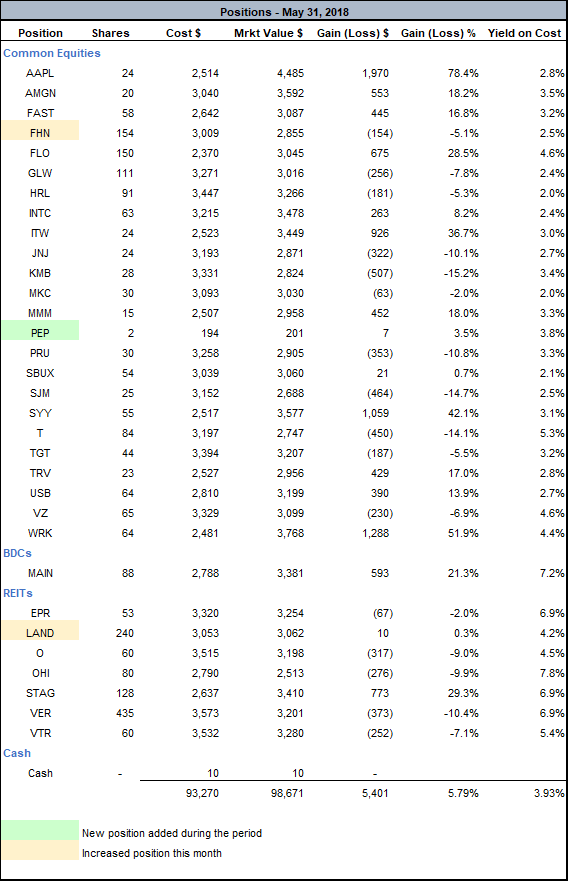 The following sections go into greater detail of the events that have occurred since the end of April.
Sales
None.
Additions
As I highlighted in the title of this month's article, I added PepsiCo (NYSE:PEP) to the portfolio in May. I've been open to filling in the last couple portfolio positions since I rebalanced in March, but wanted to take some time to find solid dividend payers that are also effectively growing earnings. With the recent sell-off, PepsiCo has become a good fit.
What drove me to PepsiCo was largely the fundamentals. I am seeing shares of Pepsi, a dividend champion, that is growing its earnings at a stellar clip (7+%), feature an outsized yield (3.6%), trading at a P/E under 20. Believe it or not Coca-Cola (NYSE:KO) with a 5.7% earnings growth rate is still trading at over 22x earnings. It too has sold-off, but not to the extent that PepsiCo has.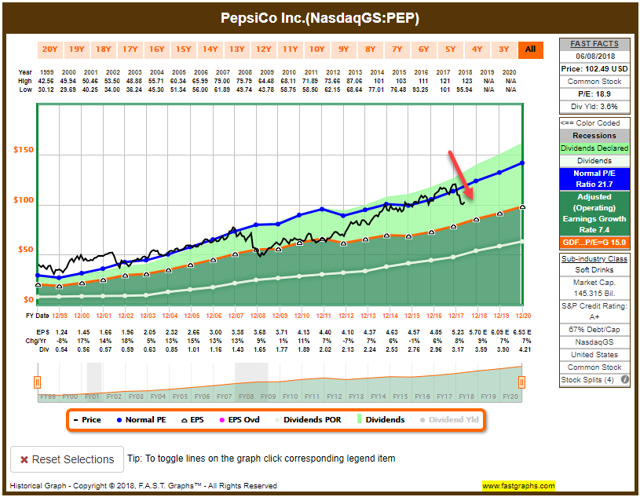 I took the plunge and added two shares of it in May at just under $97 a share. I will continue building the position in the coming months, particularly should the price continue to hover around $100 a share. I don't view PepsiCo's multiple to be deep value, but it's a heck of a lot cheaper than it has been for quite some time.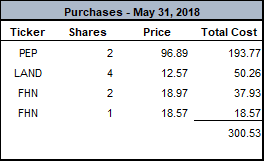 I rounded out this month's purchases by adding some shares of Gladstone Land (NASDAQ:LAND) and First Horizon (NYSE:FHN).
Dividends Collected
As noted earlier, I collected $309.49 in dividends during the month all of which, except $.01 of interest, was from recurring positions held. I have updated and included the forward-looking dividend summary as follows: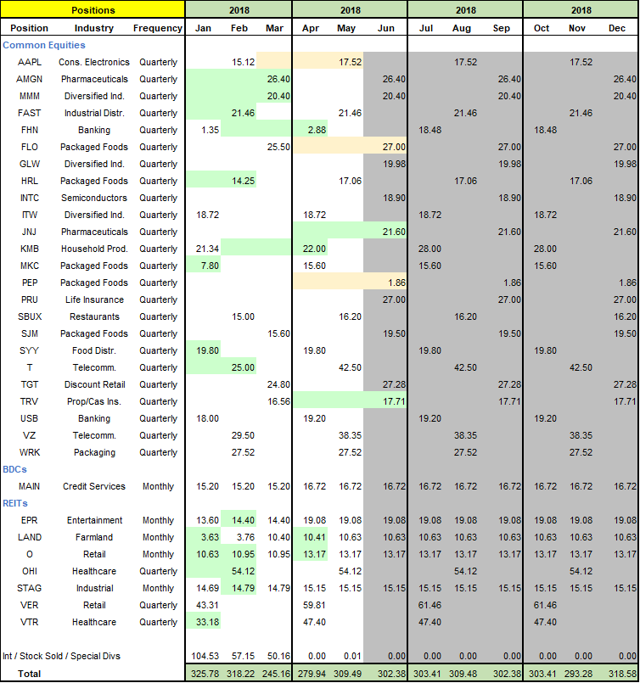 Note: I have highlighted current month dividend raises in a shade of yellow to distinguish from previously reported increases.
In terms of annual dividend growth, this year is looking to be even better than the last. Q2's year-over-year growth will end up exceeding 10%, despite the timing issue of not receiving the full First Horizon dividend when I rebalanced. Q3 is already showing 11.2% growth and Q4 is sitting at 7.2% annual growth with a number of months of reinvestment and raises to go.
Dividend Increases
This month was characterized by two excellent 15% raises. These came from Apple (NASDAQ:AAPL) and PepsiCo. I may as well as take credit for PepsiCo's increase since it's now in the portfolio, even though it was announced a while back. Not to be forgotten was a near 6% bump from Flowers Foods (NYSE:FLO). This has turned out to be a great investment. I was able to snag the stock at the end of 2016 at depressed prices. A year and a half later, I continue to enjoy the 4.6% yield on cost.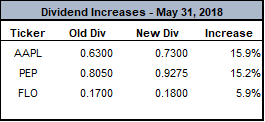 The MnM 401K
This was another standard month for the 401K. Due to timing of bi-weekly payrolls, there were three contributions this month.
We likely will not see any dividends or capital gains distributions until July, but $34k isn't too bad of a total for a year and five months of participation.
Closing Thoughts
I like the idea of adding PepsiCo to the portfolio. I know that as a whole the consumer staples segment has been under pressure and we've seen a number of our favorite dividend payers get hit, but it seems to me that the key is to hold the right consumer staples names. Those that are growing earnings.
I've probably over-emphasized this in recent months, but we need growth in earnings to fuel growth in dividends. It was my main focus when I rebalanced and pruned my portfolio. Pepsi fits my portfolio as it is a dividend champion that effectively grows its earnings, pays a nice yield, and has pulled back recently. I'm okay adding it now.
I haven't decided whether to add any more stocks to the portfolio or not. I know that some utilities are attractive right now, and I have been looking at Dominion (NYSE:D), but I haven't pulled the trigger yet. I have also been keeping an eye on former portfolio stock Unum Group (NYSE:UNM), which continues to trade below $40 per share. Both of these are intriguing and worth a deeper dive.
Overall, this was another good month. It's nice to see the portfolio's valuation start to bounce back a little. It's also great to be able to add another high-quality stock to the portfolio at a fair price. I'm curious to see what others think of Pepsi right now, is anyone else buying at current prices?
Disclosure: I am/we are long THE STOCKS LISTED IN THE PORTFOLIO. I wrote this article myself, and it expresses my own opinions. I am not receiving compensation for it (other than from Seeking Alpha). I have no business relationship with any company whose stock is mentioned in this article.