In the last entry of this series, we took a look at top ideas from Biotechnology Value Fund, a hedge fund with very high returns of late made even more impressive by their lower turnover and concentration in several positions without overweighting to an extreme as some funds do.
Going forward, I hope to continue to delve into the portfolios of successful hedge funds predominantly in the biotech sector, trying to place ourselves in the mindset of the managers and analysts. We do so humbly, knowing that we don't have access to their research or thought processes (and keeping in mind that positions are constantly changing) - nevertheless, it is an interesting exercise that I hope readers find useful.
Today's Fund: EcoR1 Capital
Founded: 2012
Manager: Oleg Nodelman
Strategy: Long/short
Relevant Reading Material: Brief mention in Sohn Conference recap
Market Value: $997,012,000
Top 10 Holdings %: 74.49%
Turnover %: 67.74%
Time Held Top 20 holdings: 2.45 quarters
Performance 6/16- 4/18: 113.03%

Figure 1: Performance compared to S&P Total Return Index (source: Whale Wisdom)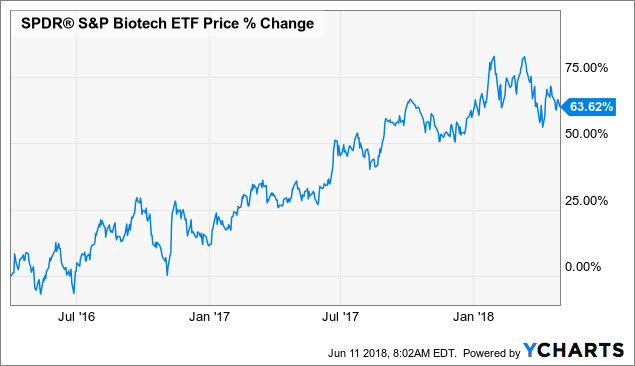 Top 5 Weighted Biotech Positions:
#1: Assembly Biosciences (ASMB) @ 14.5% of portfolio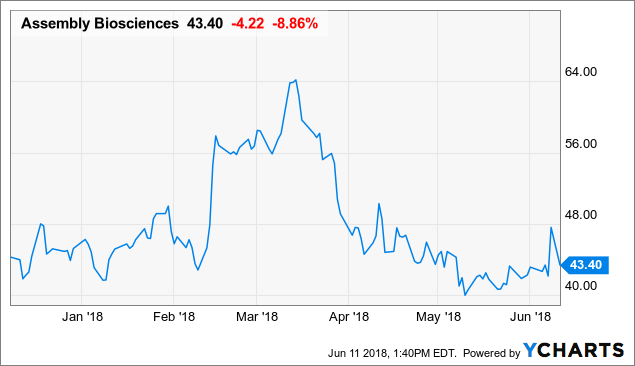 Possible 1 Sentence Thesis: Lead candidate ABI-HO731 in chronic hepatitis B patients has already shown strong efficacy across all populations/segments along with a solid safety/tolerability profile - they also have a decent cash position (another financing is always possible) and deep early-stage pipeline.
Opinion: Perhaps the large bet here also reflects hope for an early acquisition following data from two mid-stage studies in the middle of next year. I'm more inclined to revisit this one toward the end of the year to reevaluate as a possible ROTY Contender.
#2: Ascendis Pharma (ASND) @ 11.95% of portfolio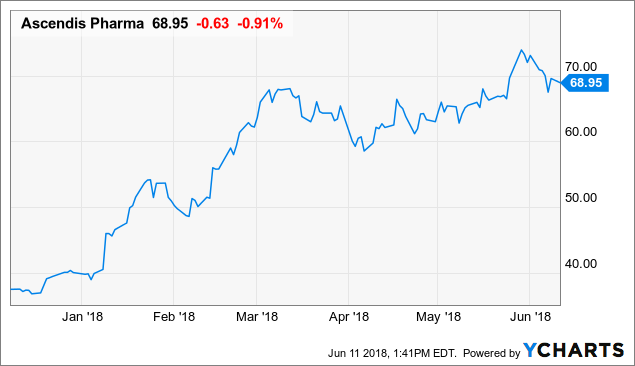 Possible 1 Sentence Thesis: While there is high binary risk with their lead program TransCon hGH, original data gives reason for optimism and other assets such as TransCon PTH give hope that this platform story will continue to deliver for years to come with many potential applications for this unique technology.
Opinion: Readers and ROTY subscribers have done well playing the run-up to Phase 3 data on this one, entering it shortly after Versartis' (NASDAQ:VSAR-OLD) failed Phase 3 study. Their lead candidate is a potential blockbuster and the amount of potential applications for their technology is very exciting to me - after their February equity offering, they have a revamped cash position and clear runway to head higher prior to Phase 3 data. It's worth noting that DAFNA Capital has been adding to the position and that it accounts for over 18% of Ra Capital's portfolio.
#3: FibroGen (FGEN) @ 9.27% of portfolio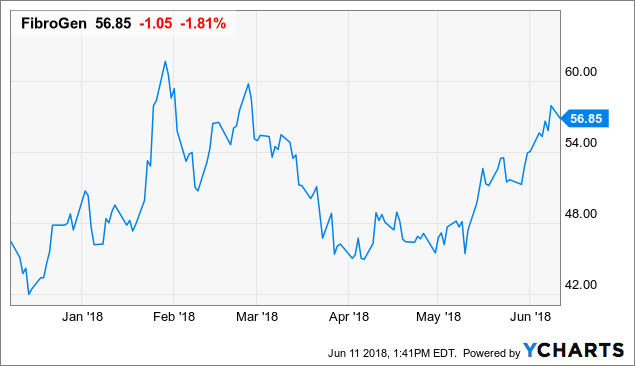 Possible 1 Sentence Thesis: The company has over $700 million of cash and key catalysts coming in the form of Phase 3 data for roxadustat in CKD and possible regulatory approval in China (both in the fourth quarter or near year-end) - IPF and other indications provide optionality, partnerships with AstraZeneca (NYSE:AZN) and Astellas (OTCPK:ALPMY) provide stability, and peak sales for their lead drug candidate could exceed $2 billion.
Opinion: I'm partial to this one as it was one of my first ¨core biotech¨ ideas introduced back in late 2016 - I have a high opinion of management, their lead program and agree this is an attractive long-term story. I'd also like to point out that the stock is the fifth largest holding for Opaleye Management.
#4: Ironwood Pharmaceuticals (IRWD) @ 9.1% of portfolio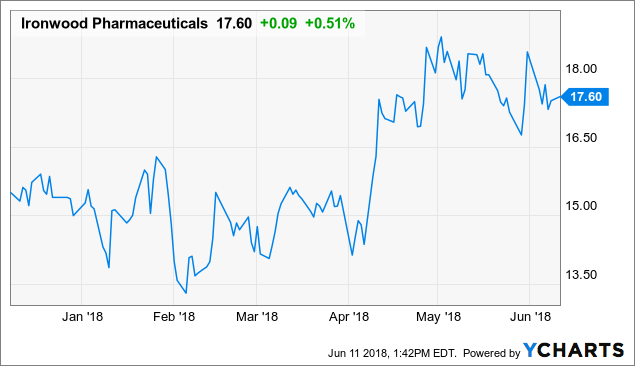 Possible 1 Sentence Thesis: Recently announced strategic plans appear to have noble intentions to create shareholder value, earnings would no longer be weighed down by R&D costs, Linzess has blockbuster potential and they have an interesting pipeline with mid-to-late stage assets set to create value.
Opinion: At the beginning of May the company announced plans to separate into two independent publicly traded companies (soluble guanylate cyclase R&D and commercial/GI business), but it still remains to be seen the exact details of such an action (including Sarissa Capital´s relevant question about cross-ownership). I do agree that accelerating growth observable in ¨the new Ironwood¨ will likely lead to outperformance. The stock is the second largest position for Biotechnology Value Fund.
#5: Kura Oncology (KURA) @ 7.08% of portfolio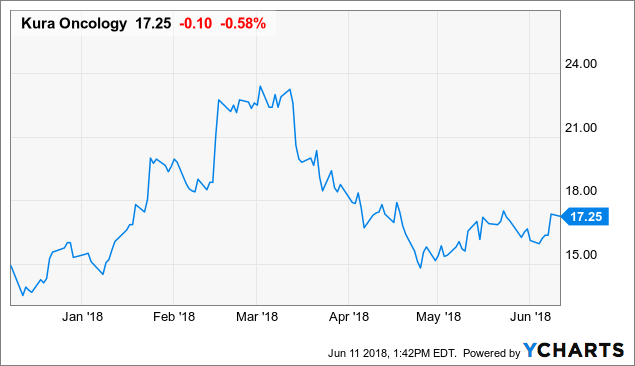 Possible 1 Sentence Thesis: This promising targeted oncology play has already generated promising data in HRAS mutant HNSCC, a registrational study is getting underway as are plans for expansion into additional indications, their early-stage pipeline shouldn't be discounted and their solid cash position allows for a runway into value-creating events.
Opinion: I recently published an update piece on this one for ROTY members that I highly suggest checking out. The theme this one participates in has yielded us several winners, with the most recent one being Mirati Therapeutics (MRTX).
Commentary on Top Weighted Positions: Returns are quite impressive and the fund is significantly differentiated from the competition with a higher percentage of assets under management in its top 10 positions and a higher turnover rate. It's worth noting that founder and managing director Oleg Nodelman served prior as a portfolio manager at BVF for 11 years. Their approach of focusing on the highest quality science and fundamental value of each business means this is one to keep an eye on going forward.
3 New Positions of Note:
Arcus Biosciences (RCUS) @ 3.46% of portfolio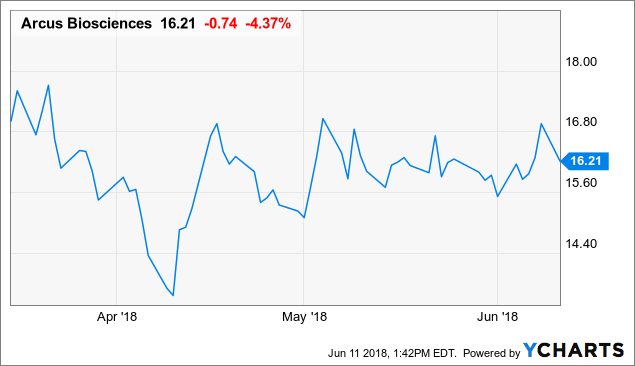 Possible 1 Sentence Thesis: The company recently announced that the FDA cleared IND applications for its two most advanced product candidates, AB928 and AB122- while very early-stage, the hope is that certain tumor types will respond better to adenosine 2 receptor antagonism in combination settings (i.e. with chemo and anti-PD-1 assets).
Opinion: While perhaps interesting for the scientific rationale and keeping in mind they have an intriguing early-stage pipeline (anti-PD-1 asset, anti-TIGIT antibody, CD73 inhibitor, etc), I'm likely to wait on the sidelines until we get a glimpse at early data first. Management is guiding for an operational runway into at least 2020, meaning there's likely time for value creating catalysts to take place (another raise in the first half of 2019 wouldn't surprise).
UroGen Pharma (URGN) @ 2% of portfolio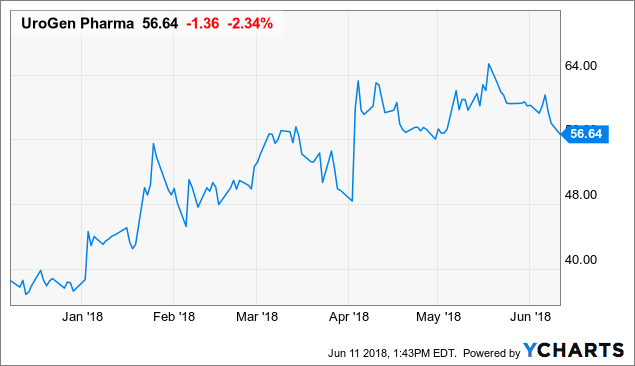 Possible 1 Sentence Thesis: Interim data for MitoGel in upper tract urothelial carcinoma was promising and bodes well for chances of getting to approval, their secondary offering in January significantly extended their operational runway and topline data is expected in the second half of the year with an NDA submission to follow in the first quarter of 2019 (their early-stage pipeline shouldn´t be discounted either).
Opinion: I'm sorry to say this one crossed my radar in the third quarter of last year but I never got around to following up on it. After a well-deserved run up in the share price I'm less inclined to reevaluate at this point.
Akebia Therapeutics (AKBA) @ 1.36% of portfolio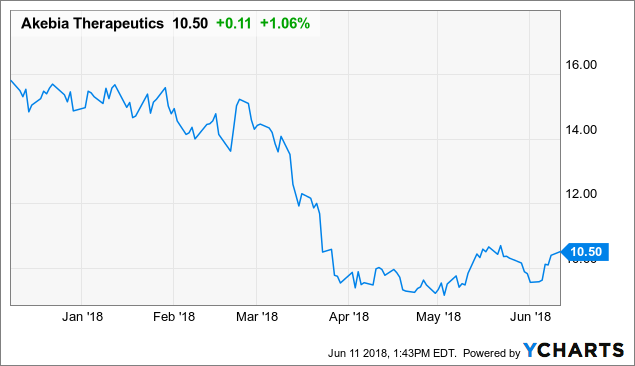 Possible 1 Sentence Thesis: Management is guiding for full enrollment of the PRO2TECT and INNO2VATE registration studies by year-end, lead candidate vadadustat is the subject of validating partnerships (Otsuka, Mitsubishi Tanabi, Vifor Pharma) and looking to disrupt the very large ESA market - if approved access to the U.S. dialysis market via Vifor Pharma could lead to accelerated uptake.
Opinion: To be honest I always considered this one to be the inferior little brother to FibroGen and their star drug candidate roxadustat. The stock has done very little since March's secondary offering. Keep in mind that GlaxoSmithKline's (NYSE:GSK) daprodustat aced the first of three Phase 3 trials and adds another element of competition. Then again, the global EPO market is expected to reach nearly $20 billion by 2025 so there is likely room for several treatments targeting the HIF pathway. It's best that investors not count their chickens before they hatch as the first hurdle is positive data in the first half of 2019.
3 Noteworthy Positions To Which They Are Adding:
Achillion Pharmaceuticals (ACHN) @ 1.36% of portfolio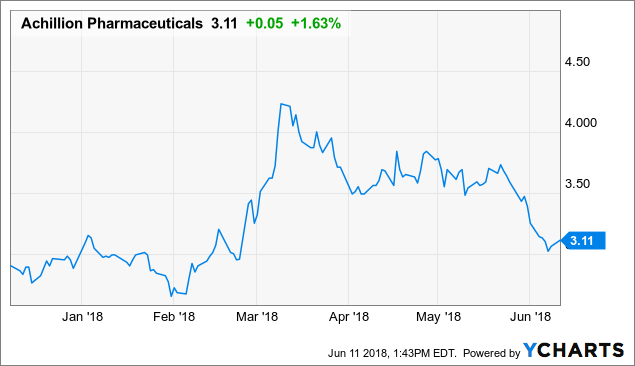 Possible 1 Sentence Thesis: The company has been struggling for quite a while and the departure of their CMO (and other executives) was not a welcome development - however, interim Phase 2 data for their lead drug candidate in C3G and PNH in the fourth quarter along with results for their next generation product candidates could be the first step in turning the ship around.
Opinion: Each time I looked at this company in the past, I considered it an "also ran." With data readouts coming up perhaps it's time to give them a second look - however, with Alexion's recent strong results for ALXN1210, I continue to believe there is less and less room for competition.
Wave Life Sciences (WVE) @ 5.86% of portfolio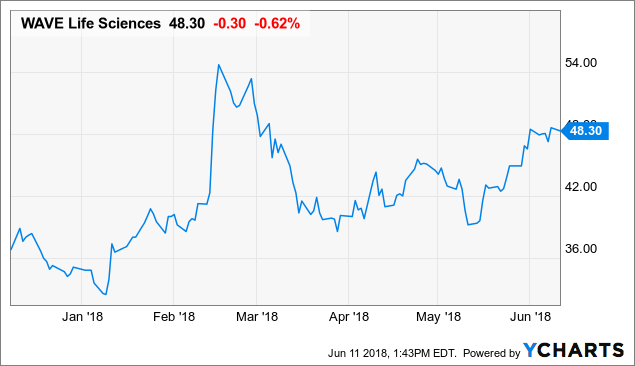 Possible 1 Sentence Thesis: Their Huntington's Disease drug candidates could generate data that's quite competitive with or even superior to proof of concept results of Ionis Pharmaceuticals' (NASDAQ:IONS) IONIS-HTTRx - their platform has received important validation from partnerships including the February pact with Takeda (TKPYY) to develop drug candidates for genetically-defined neurological diseases and the progression of their hepatic collaboration with Pfizer (NYSE:PFE).
Opinion: I've written four articles on this one and continue to like it. Personally I think their HD data could be superior to IONIS-HTTRx although the jury is still out. I've also pointed out before that their DMD program could generate a candidate superior to Sarepta's (SRPT) Exondys 51 due to much higher skipping efficiency (early data suggests 20% versus around 1%). That said until we get some data in the clinic risks shouldn't be discounted. For readers who've tuned into this series for a while, you probably recall that the stock accounts for a 22% weighting in Ra Capital's portfolio.
MacroGenics (MGNX) @ 3.66% of portfolio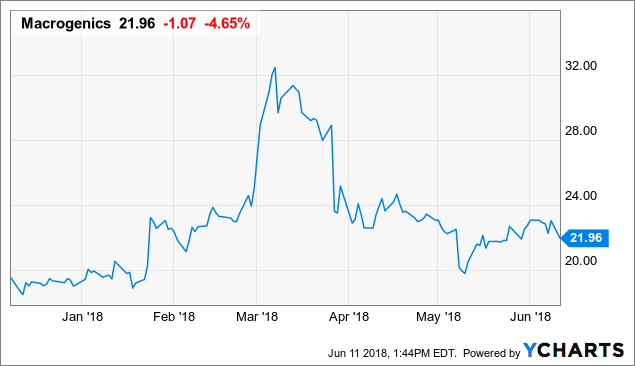 Possible 1 Sentence Thesis: The company has an extensive pipeline of bispecific antibodies, several catalysts coming in the near to medium term (including top line progression-free survival data from a pivotal Phase 3 study in MBC in the first half of 2019), novel assets entering the clinic soon, a PD-1 program partnered with Incyte and over a quarter of its market capitalization comprised of cash.
Opinion: At one point the stock rose by over 50% since my October write-up but has pulled back significantly. Closer to the end of the year, I believe it's worth a revisit to determine if there's an opportunity into 2019 that we can capitalize on. BB Biotech and Boxer Capital also own significant stakes here.
Bonus Section: Five 13G/13D Filings Of Note
With many of these bigger biotech funds, it's especially important to look into their recent 13G/13D filings (required when they buy up more than 5% of a company's shares).
For example, Baker Brothers' holdings in Idera Pharmaceuticals (IDRA) makes up less than 1% of their portfolio - however, it accounts for 18% of the company's shares and thus is quite significant.
#1 Scholar Rock Holding Corp. (SRRK) - owns over 10% (SEC Filing)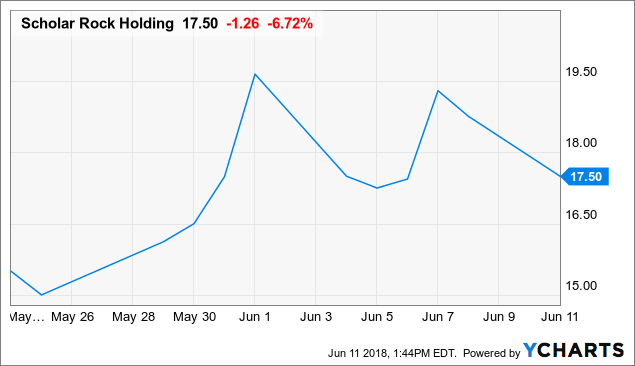 Thoughts: This is another one that looks too early stage for my tastes, with the company having just finished up dosing of the first cohort of a Phase 1 study evaluating lead candidate SRK-015 in healthy volunteers with plans for a mid-stage proof-of-concept study to get underway in the first quarter of 2019 in patients with later-onset SMA. SRK-015 could become the first muscle-directed therapy to reverse or prevent further muscle atrophy in these patients and the company also possesses an intriguing early-stage pipeline. I'm likely to revisit in the middle of next year.
#2 Eiger BioPharmaceuticals (EIGR) - owns over 7% (SEC Filing)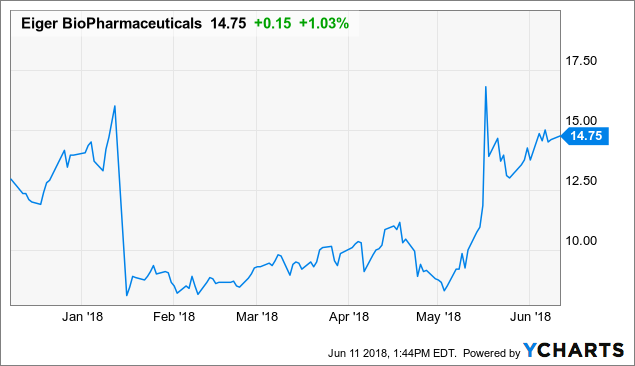 Thoughts: The ROTY chatroom had several members that did well getting into the stock around the $10 level early on after news came out that the company expanded its licensing agreement with Merck (MRK) to include rights for the treatment of Hutchinson-Gilford Progeria Syndrome. The stock is currently one of 20 ROTY member-submitted stock picks in Idea Lab, and readers interested in this story might want to check out the One Sentence Thesis found there as well as prior due diligence utilizing the search feature in Chat.
#3 Immune Design (IMDZ) - owns over 4.4 million shares (SEC Filing)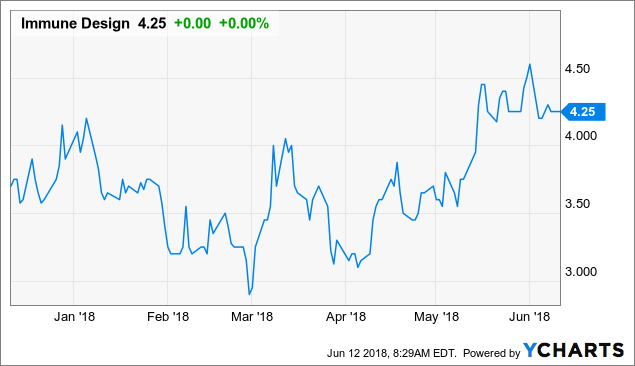 Thoughts: Updated data from two studies evaluating lead candidates CMB305 and G100 in NY-ESO-1+ soft tissue patients was very encouraging (median overall survival significantly exceeding standard of care), updated results in follicular non-Hodgkin's lymphomas were also promising (impressive response rates) and management is guiding for an operational runway into mid-2020.
I know one of my weaknesses is prior bias, but I still thought their secondary offering last fall was the result of incompetence and poor timing. That said, institutional clustering here is a green flag, updated data later in the year is likely to drive upside and their Phase 3 study should get underway shortly. It should be noted that BVF has a significant stake as well.
#4 Onconova Therapeutics (ONTX) - owns nearly 10% (SEC filing)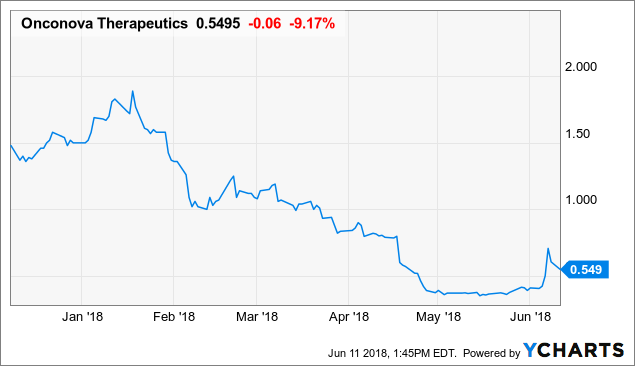 Thoughts: The stock popped up in my short-lived idea scanning series a few months back- later this month shareholders will vote on a 1 for 15 reverse split, typically not a good sign for a struggling company although there are exceptions. Fully diluted I believe they have something in the range of 170 million shares, so after the reverse split that´d be a more palatable 11 million shares or so. While there´s a lot of moving parts here, the story merits digging deeper (further analysis available inside ROTY).
#5 Dicerna Pharmaceuticals (DRNA) - owns over 9% (SEC Filing)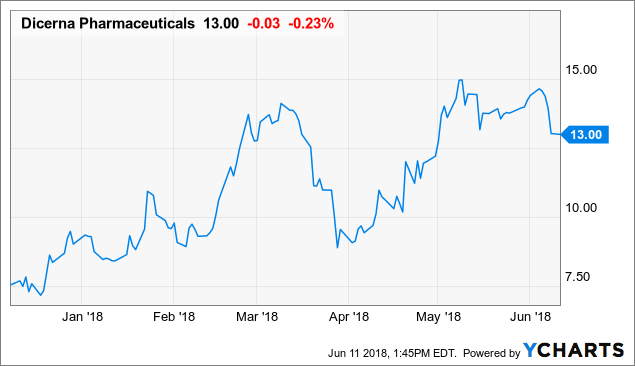 Thoughts: The stock was an excellent turnaround play (experienced a near double as a ROTY Contender before we removed it) and it has a very deep pipeline even if most candidates are in the preclinical to research stage. If successful its lead program has the potential to do between $500 million to $1 billion in peak sales and I look forward to the IND filing for the hepatitis B program in the fourth quarter. If this one continues to pull back I might be inclined to revisit.
Conclusion/Final Thoughts:
As you can see, this is by no means a comprehensive piece and just covers a few of the fund's positions that stuck out to me or to which they were heavily adding.
I hope you found the above article useful. I look forward to reading your feedback in the comments section, including which stocks mentioned above that you own or also find attractive (along with your thesis and plan if you'd like to share with the Seeking Alpha community). Another interesting question to debate is which institutional investor we will choose next!
Disclaimer: Commentary presented is not individualized investment advice. Opinions offered here are not personalized recommendations. Readers are expected to do their own due diligence or consult an investment professional if needed prior to making trades. Strategies discussed should not be mistaken for recommendations, and past performance may not be indicative of future results. Although I do my best to present factual research, I do not in any way guarantee the accuracy of the information I post. I reserve the right to make investment decisions on behalf of myself and affiliates regarding any security without notification except where it is required by law. Keep in mind that any opinion or position disclosed on this platform is subject to change at any moment as the thesis evolves. Investing in common stock can result in partial or total loss of capital. In other words, readers are expected to form their own trading plan, do their own research and take responsibility for their own actions. If they are not able or willing to do so, better to buy index funds or find a thoroughly vetted fee-only financial advisor to handle your account.
Disclosure: I am/we are long ONTX. I wrote this article myself, and it expresses my own opinions. I am not receiving compensation for it (other than from Seeking Alpha). I have no business relationship with any company whose stock is mentioned in this article.
Editor's Note: This article covers one or more microcap stocks. Please be aware of the risks associated with these stocks.