May has been an exciting month. The weather is finally starting to turn warmer. Wedding season is in the air. I was fortunate enough to take a small vacation. Also, celebrated my birthday as well as buying myself a little birthday gift of stock when I last purchased ABBV. While the whole time my portfolio was doing work and collecting dividends.
Below are the dividends collected in May.
Dividends
T - $33.55
HCP - $19.67
NNN - $14.29
GIS - $12.71
HRL - $5.74
O - $6.55
LTC - $3.36
ABBV - $10.59
May dividends, add up to $106.46 which represents an increase of 58.4% from last year where I made $67.23. These dividends came from 8 companies which is an improvement from the 5 that paid me last year in the same month. The portfolio is growing in both value and quantity. Below are some charts from my portfolio page to better visualize the results.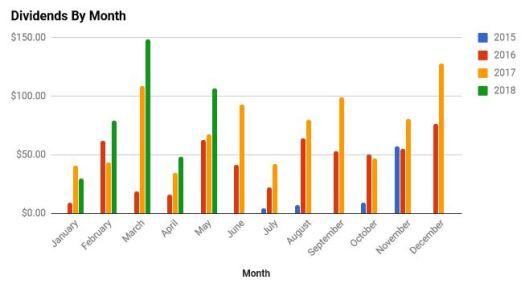 There are lots of reasons why I received over 50% growth since last year. First, adding fresh new capital. Three new companies paid this year with O, LTC, and ABBV. Two of them being monthly dividend payers, so it is nice to watch them compound. I also added a new position with ABBV and have added to it twice on top of that so far this year.
My favorite reasons always revolve around the dividends themselves. Mainly dividend increases. That is what every dividend investor loves to see. All companies in my portfolio have a history of paying and increasing dividends. Management of these companies should be shareholder-minded and focus on consistent long-term growth and rewarding shareholders for holding. Being able to DRIP dividends into more shares also increases the forward dividend income and provides growth.
Let's also break this down by year. Dividends collected are slowly catching up to the total from 2016. I was hoping to hit that this month but I am still a little ways off. June is a quarter ending month so I have a good feeling I can surpass that number on my next update.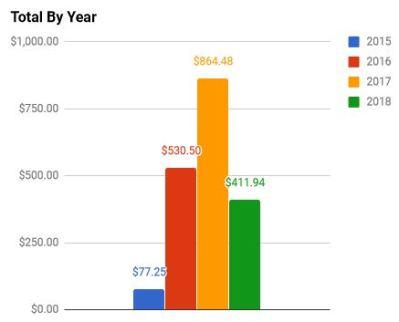 I also want to point out that this was kind of a milestone in itself. I have now only reached a triple-digit month four times total so far. Two from last year, and two from this year. Every month I achieved this goal has been a quarter ending month, which tend to be higher anyway. Finally, this is the first time I have reached the triple-digit mark in a single month outside of a quarter ender! With three quarter-ending months still left to go this year, hopefully we should be seeing a few more of these.
I am very happy with these results. Hitting a triple-digit on and off month, seeing the results of my latest purchases in action as well as the past year of DRIPs. Dividend increases and time are the keys to making this portfolio stronger. It shows that it has been paying off well so far.
How did your portfolio perform in May? Did you achieve any big growth numbers or hit any milestones? What companies are on your watch list to purchase? Comments are always welcome below.